A customized print-friendly version of this recipe is available by clicking the "Print Recipe" button on this page.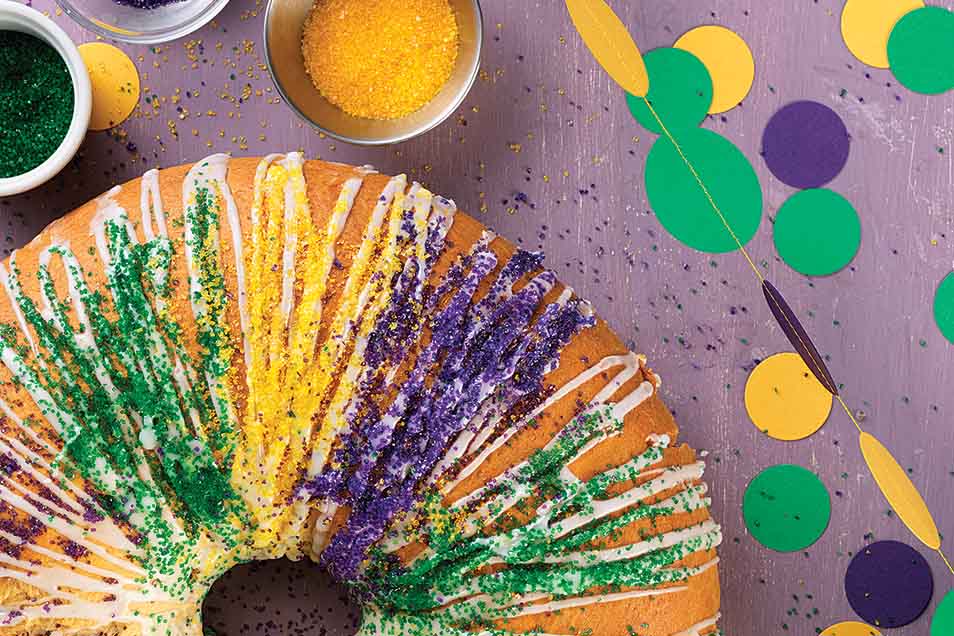 This moist, tender, buttery yeast bread, lightly sweetened then drizzled with vanilla glaze, sprinkled with colored sugars, and sometimes crowned with candied cherries, is a traditional New Orleans favorite. Served beginning on Epiphany, or Twelfth Night (January 6), it's enjoyed right on through Mardi Gras, a sweet symbol of this festive season. The sugars decorating the top of the cake mirror the color scheme of many a Mardi Gras parade float: gold (yellow) for power, green for faith, and purple for justice.

Originally King Cake was a rather plain bread whose flavor was almost all in its sweet toppings. Beginning in the late 1980s, however, customers began to demand something a bit more special. These days, most King Cakes are made with rich, brioche-like dough, and filled, most often with cream-cheese filling. While we give that version here, feel free to dream up your own filling: other New Orleans favorites include butter/cinnamon/sugar; almond (see "tips," below); various kinds of fruit; chocolate, and praline.
Ingredients
Icing
2 cups confectioners' sugar
pinch of salt
1 teaspoon vanilla extract
2 tablespoons + 1 to 2 teaspoons milk, enough to make a thick but pourable glaze
Garnish
yellow, purple, and green fine sparkling sugars
candied red cherries (optional)
Instructions
Lightly grease a baking sheet, or line it with parchment.

To prepare the dough: Using a stand mixer, electric hand mixer, or bread machine, mix and knead all of the dough ingredients together to form a smooth, very silky dough. You may try kneading this dough with your hands, if desired; but be advised it's very sticky and soft.

Allow the dough to rise, covered, for 1 hour. It'll become puffy, though it probably won't double in size.

Transfer the soft dough to a lightly greased work surface. Pat and stretch it into a 24" x 6" rectangle. This won't be hard at all; it's very stretchy. Let the dough rest while you prepare the filling.

To prepare the filling: Beat together the cream cheese, sugar, and flour until smooth, scraping the bowl once. Add the egg and flavor, again beating until smooth.

Dollop the filling down the center of the long strip of dough. Then fold each edge up and over the filling until they meet at the top; roll and pinch the edges together, to seal the filling inside as much as possible. Don't worry about making the seal look perfect; it'll eventually be hidden by the icing and sugar.

Place the log of dough onto the baking sheet. The dough will be very extensible, i.e., it'll stretch as you handle it. So pick it up and position it on the pan quickly and gently. Pinch the ends together.

Cover and let rise for about an hour, until it's puffy. Preheat the oven to 350°F while the dough rises.

Whisk the reserved egg white with 1 tablespoon water, and brush it over the risen cake.

Bake the cake for 20 minutes, then tent it lightly with aluminum foil. Bake it for an additional 30 minutes, until it's a rich golden brown.

Remove the cake from the oven. After about 15 minutes, transfer it from the baking sheet to a rack to cool.

To make the icing: Beat together all of the icing ingredients, dribbling in the final 2 teaspoons milk until the icing is thick yet pourable.

Pour the icing over the completely cooled cake. While it's still sticky, sprinkle with alternating bands of yellow, purple, and green sugars. Space candied cherries in a ring around the top.

Yield: 1 loaf, about 16 servings.
Nutrition Information
Serving Size

1 slice (105g)

Servings Per Batch

16
Amount Per Serving:
Calories

340

Calories from Fat

110

Total Fat

12g

Saturated Fat

7g

Trans Fat

0g

Cholesterol

80mg
Sodium

260mg

Total Carbohydrate

51g

Dietary Fiber

1g

Sugars

29g

Protein

7g
* The nutrition information provided for this recipe is determined by the ESHA Genesis R&D software program. Substituting any ingredients may change the posted nutrition information.
Tips from our bakers
Feeding a crowd for Mardi Gras? To make a larger cake, double the recipe. Form a long, narrow, 48" x 6" rectangle, and dollop the filling down the center of the dough. Fold each edge up and over the filling until they meet at the top; roll and pinch the edges together to seal the filling inside as much as possible. Shape the log into an oval, seam side down, on a large, lightly greased or parchment-lined baking sheet, pinching the ends together. Proceed with the recipe as written.
To make an almond-filled King Cake: Crumble 1 cup (10 ounces) almond paste into a large bowl with 4 tablespoons softened butter and 1 teaspoon almond extract. Beat until the butter is incorporated. Add 1/2 cup Baker's Special Sugar (superfine sugar) or granulated sugar, and 2 cups fresh soft white bread crumbs. Mix until evenly distributed; the mixture will be very stiff, but moist. After rolling out your dough, pat and spread the filling over the surface, leaving a 1" margin along the long edge closest to you. Brush the bare edge of the dough with water, and starting with the covered long edge, roll the dough into a log, pinching the seam closed. Proceed with the recipe as written.
Reviews
To counter how slack the dough is, I treated it like a brioche dough, and put it straight into an oiled container and into the refrigerator to chill overnight immediately after kneading. The next day, it had puffed up, and was firm and easy to work with. I was able to quickly roll it out, spread it with the almond filling I had made in advance, roll it up, get it onto a sheet pan and form it into a ring before it got too soft again. I let it prove for about 2 hours covered with a tea towel before egg-washing and baking, and it turned out great. As others had recommended, I put an oiled ramekin in the center of the ring before proofing and baking to keep the hole in the middle - this dough really wanted to spread out!
This recipe made delicious king cake! I made a few changes. Not being able to find fiori di Sicilia, I used 1 tsp of grated orange rind in the dough. I doubled the filling because we love cream cheese king cake at my house. A tsp of vanilla, 1/2 tsp of lemon extract, 1/2 tsp of orange extract, and a T of grated orange rind gave the filling a wonderful flavor. The filling seemed a bit too soft - next time I'll use only one egg. The dough was easy to work with No need to add extra flour. I shaped it on greased parchment paper and slid it right onto the pan. It seemed more manageable to make two smaller cakes but they both were pretty good size. For the icing, I used 1 T of milk and 1 T plus 1 tsp of orange juice with the powdered sugar. I liked another reviewer's idea of placing greased ramikins in the center of each ring. That worked well for keeping the center open during baking. I baked for 17 min, tented with foil, then baked for 20 more. This was a bit too long so next time I'll try 15 and 15. Someone had the idea of using a parchment lined springform pan. Next time I'll give that a go. My husband is from New Orleans so he knows his king cake, and he gave this an A+.
I made this yesterday and it came out okay, but I had some issues/comments: (1) Two great tips here in the comments. First, rolling it out, filling it, and shaping it on parchment paper makes getting it to the pan infinitely easier. Second, the hole in my king cake was beautiful because I used a ramekin during rising and baking (last time I made a king cake, the hole closed up on me during baking). (2) I doubled the filling based on comments here that there wasn't enough filling. And...that was definitely too much filling for the dough to handle. It went in the oven intact and then kind of split open at a number of places. It was salvageable with some cosmetic decorating using the icing and sugar (and actually looked great once all that was done). Next time, though, I'd go for 1.5 times or do the regular amount of filling and add some jam or something. (3) My biggest problem was that the dough didn't rise. I know that could be for a number of reasons, but any ideas from KA staff or readers about why that happened? I thought maybe it was because I didn't knead the dough enough (the directions didn't specify a certain amount of time for the kneading so I just stopped when the dough mostly came together). I'm wondering, too, if the excessive filling kind of weighed the thing down - although it really hadn't risen before I filled it or after it was filled/before it went in the oven. Any suggestions or ideas would be helpful for next time. A note that I served this to a bunch of New Orleans transplants who loved it. One person is also morally opposed to filled king cakes (he's a staunch traditionalist) and I think he became a convert last night.

Hi Ginger! We're glad this hit the spot for your NOLA friends and yourself, and we're happy to share some ideas about why the dough didn't rise well.

This is considered an enriched dough, (it has sugar, eggs, and butter) and boy, do enriched doughs take forever to rise. Using a yeast that's geared toward enriched doughs (SAF Gold Instant Yeast for example) is a way to help speed things along a bit, it just isn't as readily available as regular instant yeast is. (Though it is on our website if you're interested in trying it out!)

You may be onto something with the kneading. Along with taking forever to rise, enriched doughs take a longer time to knead and develop a strong, stretchy gluten structure that doesn't tear when you pull off a golf ball-sized piece of dough. This could take 10+ minutes in a mixer set to speed 2. The dough will be shiny for a while because of the butter, but let it keep going until it's very silky and smooth as the instructions say, and the dough should lose that shine as the butter is fully incorporated and absorbed. You'll know it's done for sure when you can pull off a piece of dough and stretch it very thin until you can easily see the light through it without it tearing.

Letting dough rise in a warm area helps speed things along. In the microwave, on the dryer or on top of the fridge, all good places.

Lastly, any extra flour added to the dough (either because flour packs itself into the measuring up or bench flour from working with it on your counter) will greatly impede rise. It would also cause the finished bake to be dry and dense, and potentially have less flavor. Weighing your ingredients is the best way to avoid this. We hope this brainstorming helped! Annabelle@KAF
In general this recipe is good. However the baking time is way too long...70 minutes! It was quite dry and firm. If I were to do it again I would bake it for 30 minutes which is what works for a similar Christmas cinnamon yeast cake.
I made four, (four!!!) of these cakes over the weekend, all to rave reviews! I subbed our the cream cheese filling for brown sugar/cinnamon filling in the Cinna-Buns Recipe; the only issue I had with that was the tendency of the filling to seep out of the dough. Additionally, I had some issues with the bottom of the cake over-browning pretty substantially on the first run. I know my oven runs a bit hot so reduced the oven temp to 325 and dropped the baking time to 25 minutes once tented with foil; this helped somewhat, but I still had a problem with over-browning. I don't want to play with the bake time too much lest I should have the cake come out underdone - is there a target temperature for the cake we can use instead? Dropping a probe thermometer in the cake during baking may help give a more consistent result. At the end of the day I'd definitely make this again. Thanks for another great recipe!

Hi there, Chad! We're so glad to hear that you're enjoying baking this recipe! A good internal temperature to shoot for will be 200°F. If the bottom of your cake is getting brown too quickly even with the oven at a lower temperature, you might try using a lighter colored pan or it could be too close to the heating element — you want to place it in the oven as close to the center as possible. We hope this helps and happy baking! Morgan@KAF
This King Cake is delicious, but the formation part of the recipe needs work. The dough is too stretchy for an amateur baker to reliably transfer to a baking sheet without tearing a hole and revealing the filling. I recommend stretching and filling the dough on a long piece of lightly oiled parchment paper, and then forming the log, followed by the oval, on the same piece of paper. Then cut off the ends of the paper, sizing it to a baking sheet, the slide the paper on to the baking sheet. So much easier.
I made this cake last weekend. I did not use the cream cheese filling, not a big fan of cheese fillings. I used a cinnamon sugar and almond dry filling. The cake was fabulous. Light, airy and really nice flavor. I did want a ring so I formed it then put it a large spring form pan. If you lock a sheet of parchment into the spring form taking the cake from the pan to rack to plate is a breeze.
I have used another recipe for a few years. I had good luck with a few other King Arthur recipes so I thought I'd try this one. After I baked it the bread was really soft and squishy and collapsed when it cooled. I couldn't find any of the cream cheese filling after it baked and the bread no flavor. I had to throw it away it wasn't good at all.

We're sorry to hear that this well-loved recipe didn't do the trick for you, Jamie. If we can help pick out a recipe that better fits your tastes, or discuss this one, please give our Baker's Hotline a call at 855-371-BAKE (2253). Kindly, Annabelle@KAF
I baked this yesterday and we had it for breakfast today. The dough is very soft, as mentioned; glad I used my bread maker to make it! I doubled the filling as other bakers have recommended. This is the first time I've ever used Fiori di Sicilia - what a marvelous flavor! The size of the cake before baking is rather unwieldy, and mine doesn't look anything like any of the pictures I've seen. Still, my family likes it, and I'm pleased with how it turned out. I will be making this again next year. Thank you, KAF, for a wonderful recipe!
It was difficult to understand the directions and how the cake was supposed to look when out of the oven. It says put the "log" in the oven, which to me is the long rectangle, but the picture looked different. Is the dry milk added dry? or reconstituted? what shape is the cake? Mine didn't rise as it was supposed to. Called the Hot Line, but no answer, and no return. Do more amateur bakers test these recipes before they get put on line? I guess it's Walmart for me.

Sally, we're sorry to hear you struggled with this recipe! Let's see if we can't address your questions one at a time. The log is a long rectangle when you fill it. Then you place it on the baking sheet, pull the edges so that it's in the shape of a ring, and pinch them together. Dry milk should always be added as a dry ingredient and never reconstituted. (Most brands will state this on the package.) The final shape is a ring, with a hollow space in the middle like a giant doughnut. Hope that helps! Kat@KAF