A customized print-friendly version of this recipe is available by clicking the "Print Recipe" button on this page.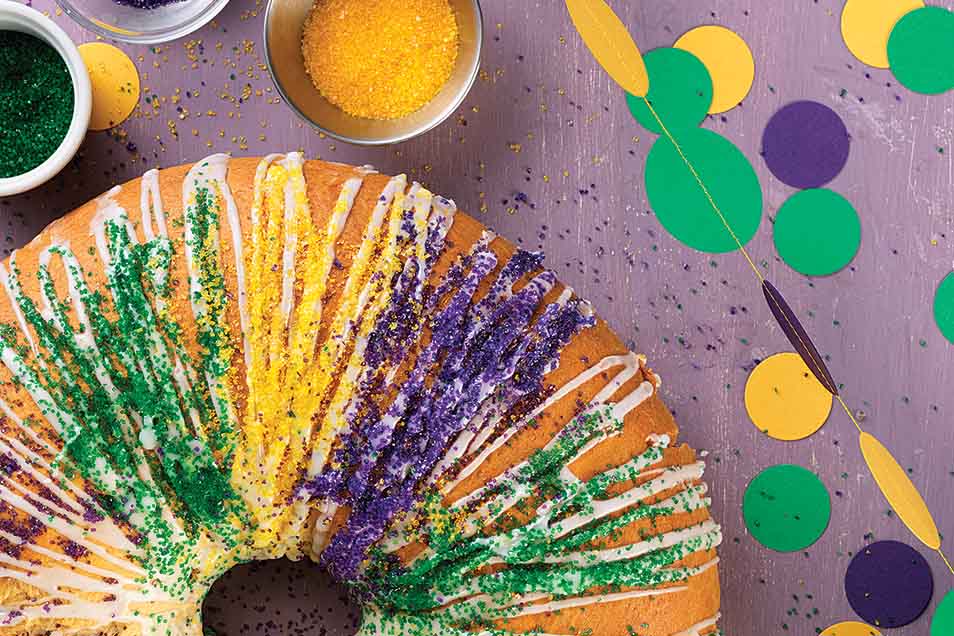 This moist, tender, buttery yeast bread, lightly sweetened then drizzled with vanilla glaze, sprinkled with colored sugars, and sometimes crowned with candied cherries, is a traditional New Orleans favorite. Served beginning on Epiphany, or Twelfth Night (January 6), it's enjoyed right on through Mardi Gras, a sweet symbol of this festive season. The sugars decorating the top of the cake mirror the color scheme of many a Mardi Gras parade float: gold (yellow) for power, green for faith, and purple for justice.

Originally King Cake was a rather plain bread whose flavor was almost all in its sweet toppings. Beginning in the late 1980s, however, customers began to demand something a bit more special. These days, most King Cakes are made with rich, brioche-like dough, and filled, most often with cream-cheese filling. While we give that version here, feel free to dream up your own filling: other New Orleans favorites include butter/cinnamon/sugar; almond (see "tips," below); various kinds of fruit; chocolate, and praline.
Ingredients
Icing
2 cups confectioners' sugar
pinch of salt
1 teaspoon vanilla extract
2 tablespoons + 1 to 2 teaspoons milk, enough to make a thick but pourable glaze
Garnish
yellow, purple, and green fine sparkling sugars
candied red cherries (optional)
Instructions
Lightly grease a baking sheet, or line it with parchment.

To prepare the dough: Using a stand mixer, electric hand mixer, or bread machine, mix and knead all of the dough ingredients together to form a smooth, very silky dough. You may try kneading this dough with your hands, if desired; but be advised it's very sticky and soft.

Allow the dough to rise, covered, for 1 hour. It'll become puffy, though it probably won't double in size.

Transfer the soft dough to a lightly greased work surface. Pat and stretch it into a 24" x 6" rectangle. This won't be hard at all; it's very stretchy. Let the dough rest while you prepare the filling.

To prepare the filling: Beat together the cream cheese, sugar, and flour until smooth, scraping the bowl once. Add the egg and flavor, again beating until smooth.

Dollop the filling down the center of the long strip of dough. Then fold each edge up and over the filling until they meet at the top; roll and pinch the edges together, to seal the filling inside as much as possible. Don't worry about making the seal look perfect; it'll eventually be hidden by the icing and sugar.

Place the log of dough onto the baking sheet. The dough will be very extensible, i.e., it'll stretch as you handle it. So pick it up and position it on the pan quickly and gently. Pinch the ends together.

Cover and let rise for about an hour, until it's puffy. Preheat the oven to 350°F while the dough rises.

Whisk the reserved egg white with 1 tablespoon water, and brush it over the risen cake.

Bake the cake for 20 minutes, then tent it lightly with aluminum foil. Bake it for an additional 30 minutes, until it's a rich golden brown.

Remove the cake from the oven. After about 15 minutes, transfer it from the baking sheet to a rack to cool.

To make the icing: Beat together all of the icing ingredients, dribbling in the final 2 teaspoons milk until the icing is thick yet pourable.

Pour the icing over the completely cooled cake. While it's still sticky, sprinkle with alternating bands of yellow, purple, and green sugars. Space candied cherries in a ring around the top.

Yield: 1 loaf, about 16 servings.
Nutrition Information
Serving Size

1 slice (105g)

Servings Per Batch

16
Amount Per Serving:
Calories

340

Calories from Fat

110

Total Fat

12g

Saturated Fat

7g

Trans Fat

0g

Cholesterol

80mg
Sodium

260mg

Total Carbohydrate

51g

Dietary Fiber

1g

Sugars

29g

Protein

7g
* The nutrition information provided for this recipe is determined by the ESHA Genesis R&D software program. Substituting any ingredients may change the posted nutrition information.
Tips from our bakers
Feeding a crowd for Mardi Gras? To make a larger cake, double the recipe. Form a long, narrow, 48" x 6" rectangle, and dollop the filling down the center of the dough. Fold each edge up and over the filling until they meet at the top; roll and pinch the edges together to seal the filling inside as much as possible. Shape the log into an oval, seam side down, on a large, lightly greased or parchment-lined baking sheet, pinching the ends together. Proceed with the recipe as written.
To make an almond-filled King Cake: Crumble 1 cup (10 ounces) almond paste into a large bowl with 4 tablespoons softened butter and 1 teaspoon almond extract. Beat until the butter is incorporated. Add 1/2 cup Baker's Special Sugar (superfine sugar) or granulated sugar, and 2 cups fresh soft white bread crumbs. Mix until evenly distributed; the mixture will be very stiff, but moist. After rolling out your dough, pat and spread the filling over the surface, leaving a 1" margin along the long edge closest to you. Brush the bare edge of the dough with water, and starting with the covered long edge, roll the dough into a log, pinching the seam closed. Proceed with the recipe as written.
Reviews
This us the first KAF recipe I have been disappointed in. I weighed all my ingredients and the dough was quite lovely to work with however, when baked, it had little taste and the texture was not great. With that much butter and eggs, I really expected to be blown away with both texture and taste. The cream cheese filling was very good but next time I will chill it a little. It oozed out because it was so soft. That was on me. I think next time I will just use the cinnamon roll dough.
This was my third attempt ever to attempt a bread recipe and I was born in NOLA so I am familiar with Randazzo's and Paul's Bakery as well as generic king cakes at Wal Mart. I used my stand mixer and it came together very well. The zest helped contribute to the overall flavor of the dough. I felt directions explained the consistency so I wasn't alarmed. I did let rise on parchment which made it easier to handle. I would use more cream cheese filling next time. I feel this recipe does stand up to authentic king cake and was so easy!
Simple and delicious, I ran out of eggs so I substituted 1/2 oil and 1/2 a banana. Came out wonderful
I made this for a party and it was greatly enjoyed by all. Two areas for improvement: I agree with several others that more cream cheese filling is needed. That's usually my favorite part of king cake and the flavor was mostly list. Second, the bread itself was less moist than I'm used to. I'm not sure if I needed to knead, rise, or bake a different amount of time or if I just like a different bread than this recipe calls for. Maybe more sugar in the bread?

Thanks for the suggestion about upping the filling, Jen. As for the texture of the cake itself, we'd hazard a guess that if yours felt less moist than you're used to, this likely had to do with flour measurement or over-baking. We find that flour measurement is the most common baking pitfall of all, as the amount of flour that makes its way into your dough can vary as much as 20% depending on the way the flour makes its way into your measuring cup. Too much flour can lead to a denser, drier product that struggles to fully rise. For best results, we recommend measuring your flour (and other dry ingredients) by weight or using the fluff, spoon and sweep method we describe under "measuring standards". Hope this helps! Mollie@KAF
I made this twice, within a few days, and I give it 5 stars with the caveat that you have to watch the dough very carefully as it comes together in order to get the flour right. I measured my flour by weight, which I generally consider more accurate, but both times the amount wasn't nearly enough. I think I added at least an additional 1/4 cup each time, just to get it from a batter to a soft dough. I'm an experienced baker, so I'm comfortable doing that, and I know conditions like humidity can also affect how much flour you need, but if you're a novice, just be aware that this recipe will probably need some extra flour, at least if you measure by weight (by volume, you're likely to end up adding a little more and may get closer to the right consistency). I made one cake with the almond filling and one with the cream cheese. The almond one was particularly good, and that filling, being a little thicker and drier, was much easier to work with when rolling up the cake. I didn't want to use bread crumbs, so (based on a different KAF recipe) I added about 1/3 cup each of flour and almond flour to my almond paste, and it was delicious. For the cream cheese filling, I made 1 1/2 times the amount, based on comments that the cake needed more, and this was great. I definitely suggest rolling and filling the dough on parchment paper and then transferring the whole thing to your baking pan. I baked mine on a round pizza stone, which was the perfect size. The greased ramekin in the middle is also a great idea; I saw it in some of the other reviews, and it was a big help. I refrigerated the cake after filling and rising but before baking, and that probably helped keep the filling together. It was also really convenient because the cake tasted best the first day, so I'm glad I didn't have to bake it the night before the event.
This is the second year I've used this recipe - we love it! I used the almond filling - substituted the butternut flavoring in lieu of almond (which I don't have!) and it doesn't seem to make a difference. In the cake I used the Fiori di sicilia flavoring in the cake. (We call that "liquid gold" - we love it!) We think this is a delicious cake. We plan to use the basic recipe for a coffee cake. I do have one question: should this be refrigerated because of the filling.
Great recipe & so easy! For my second one, I'm going to use an almond filling. I made my own almond paste: 2 cups blanched slivered almonds, 1/2 cup granulated sugar, 4T softened butter, 2 egg whites, 2 tsp almond extract. This makes 20 oz., so I'll only use half for one king cake. Do I still need to add butter, sugar, egg white, and almond extract for the filling? I assume not, but that I should still add the bread crumbs. Please advise. Thanks.

BB, we think your baking instincts are exactly right--using your homemade filling, you can leave out those other ingredients, but you'll still want to add the bread crumbs. Your King Cake will undoubtedly be delicious! Kye@KAF
I baked this today. I decided to divide the dough into two cakes. The taste is wonderful! I had a problem getting the ends of the roll to stay together. I pinched and pinched but upon rising one separated and the appearance of the other was not as nice. Any recommendations for keeping the ring together and making it look better?

Kathryn, it sounds like your dough may have been just a bit dry if it wouldn't stick together. Try holding back a 1/4 cup of the flour next time, and brush the dough with water or milk around the edges where they'll be connected next time. The dough should be slightly tacky so that when you pinch them together, the ring seals. I hope that helps! Kye@KAF
If you are going to try and make the almond filled king cake, do you still use lemon or the flora flavoring in the dough or would you substitute almond and vanilla in the dough?

It's up to you, Susan! Some folks might find that the flavor of the almond alongside the lemon or citrus-y Fiori di Sicilia is too much, while others find the combination pleasant. If you want to play it on the safe side, then use just the vanilla and almond extract. Either way, it's bound to be delicious! Kye@KAF
This is a great recipe- I have used it twice with the almond filling. It's reliable & delicious