A customized print-friendly version of this recipe is available by clicking the "Print Recipe" button on this page.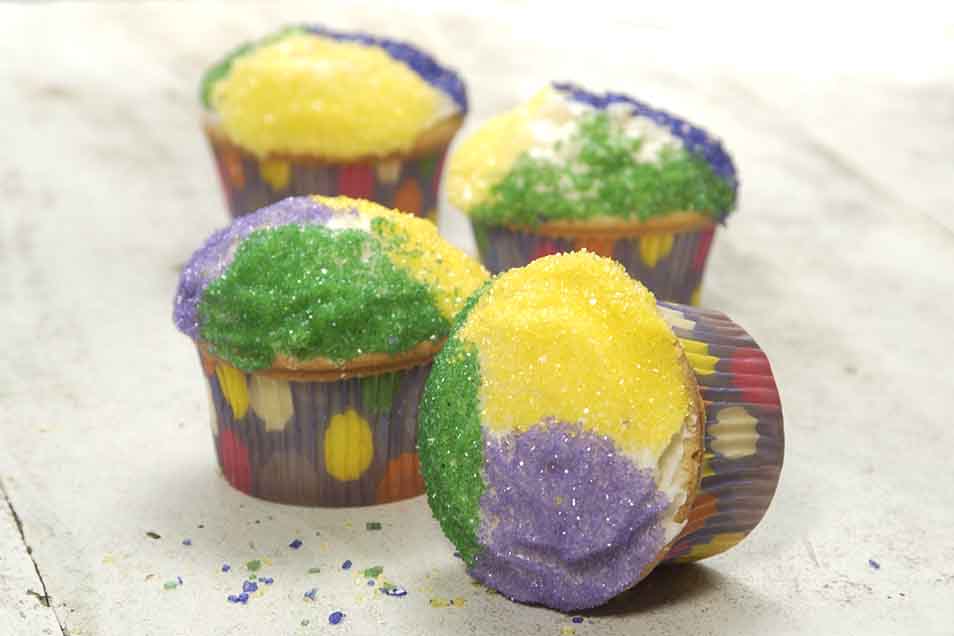 The flavors of King Cake, Mardi Gras' signature confection, are mirrored in these nutmeg- and lemon-scented cupcakes. Cream cheese icing, garnished with sparkling sugars in traditional New Orleans Mardi Gras colors, add the perfect touch.
Ingredients
Cupcakes
1 cup granulated sugar
1 2/3 cups King Arthur Unbleached All-Purpose Flour
1 1/4 teaspoons baking powder
1/4 teaspoon ground nutmeg
1/2 teaspoon salt
6 tablespoons soft butter
2/3 cup milk, at room temperature
1/4 teaspoon Fiori di Sicilia; OR 1 teaspoon vanilla + 1/8 teaspoon lemon oil
2 large eggs
Icing
3 tablespoons butter, at room temperature
1/2 cup (half of an 8-ounce package) cream cheese, at room temperature
1/2 teaspoon vanilla extract
1/8 teaspoon lemon oil
2 cups confectioners' sugar
1 to 2 tablespoons milk, enough to make a spreadable icing
colored sugars, preferably purple, yellow, and green
Instructions
Preheat the oven to 350°F. Lightly grease and flour a muffin tin. You can also line the muffin tins with papers, and spray the insides of the papers.

To make the cupcakes: In a large mixing bowl, whisk together the sugar, flour, baking powder, nutmeg, and salt.

Add the butter and beat with an electric mixer at low speed, until the mixture looks sandy.

Combine the milk and vanilla and add, all at once. Mix at low speed for 30 seconds, then increase the speed to medium and beat for 30 seconds. Scrape the bottom and sides of the mixing bowl.

With the mixer running at low speed, add 1 egg. Increase the speed to medium and beat for 30 seconds. Add the second egg, again beating for 30 seconds.

Scrape the bottom and sides of the bowl, and beat briefly, just till smooth.

Scoop the batter by heaping 1/4-cupfuls into the prepared muffin tin. A muffin scoop works well here.

Bake the cupcakes for 23 to 25 minutes, until they've domed, and are a light golden brown around the edges. They'll spring back when pressed gently on top, and a toothpick inserted in the center will come out clean.

Remove the cupcakes from the oven, and place on a rack to cool completely before icing.

To make the icing: Combine the butter, cream cheese, vanilla, and lemon oil in a medium-sized bowl, and beat them together until light and fluffy.

Add the sugar gradually, beating well.

Beat in the milk a little at a time, until the frosting is a spreadable consistency.

Spread each cake with icing, and immediately dip in gold, purple, and green sparkling sugars, covering about 1/3 of the cupcake with each color sugar.

Store at room temperature for several days. For longer storage, wrap well and freeze.

Yield: 12 cupcakes.
Reviews
Excellent! Great flavor combination. Made for Mardi Gras party and will make again for Easter.
I have made this recipe twice and it's delicious! The first time I decorated as Mardi Gras cupcakes. The second time I used homemade candied lemon peel slices...artfully arranging a few on each cupcake. Please note that the recipe doesn't specify when to add the lemon oil to the batter...I just added it to the milk with the vanilla. I also used a little less than 1/4 cup batter for each cupcake and ended up with 20 cupcakes. This recipe is a keeper!
I made this recipe as a single layer cake. It was delicious and got many thumbs up at the party where I brought it. Next time I think I might do it as a two layer cake. More to like! The flavors were sooooo good!
Did anyone put in the little plastic babies into their cupcakes?
Is there a way to make this recipe without the artificial colors particularly the aluminum (lake) colors?
For more subtle colors, make your own by using a food processor, granulated sugar and your choice of gel pastes. Enjoy! Elisabeth@KAF
This is the 2nd year in a row that I have made these cupcakes for Mardi Gras. This year I made 5 dozen to take to workers at one of our pet food suppliers for the animal shelter. Huge hit. I had ordered the purple, green, and gold coarse sugars from KAF and they were all beautiful jewel tones. Very festive and rich looking. Used the vanilla / lemon oil option as that is what I had on hand.
My friend wants these on her birthday, likes them filled with almond paste (approx. 1 tsp) - the goopy kind in a can, not marzipan. I use the cupcake-filling technique from your inside out carrot cake muffins so I don't have to pull out the apple corer or use a syringe (which just feels wrong to bring into the kitchen if you use them at work). I use cupcake papers (in case some of the filling escapes). The flavors of lemon, nutmeg, almond and the cream cheese icing are incredible together. If my birthday weren't in the middle of berry season, I'd ask for these too. I don't bother to put sugar on top. The texture of the sugar takes away from all the incredible flavors and they're plenty sweet already.
Super yummy! And easy. I followed the recipe exactly and they were perfect. I used fiori di sicilia in the batter. I put candy sugar pearls in one of them, but they may have melted. I'm not sure though because we still have two cupcakes left, and the pearls might be in one of them. Another great recipe from my favorite website. Thx KAF!
Great recipe! I made this for my coworkers for Mardi Gras and they were a big hit.
I made these to thank a friend who did a good deed, and also some extra for another friend. Got outstanding reviews for both taste and presentation, and a request to make these for Easter. I suppose I could use different pastel colors if I wanted an Easter / Spring theme. I used the vanilla/lemon oil option as that is what I had on hand.