A customized print-friendly version of this recipe is available by clicking the "Print Recipe" button on this page.
Marilyn's Whole Wheat And Rye Sourdough Bread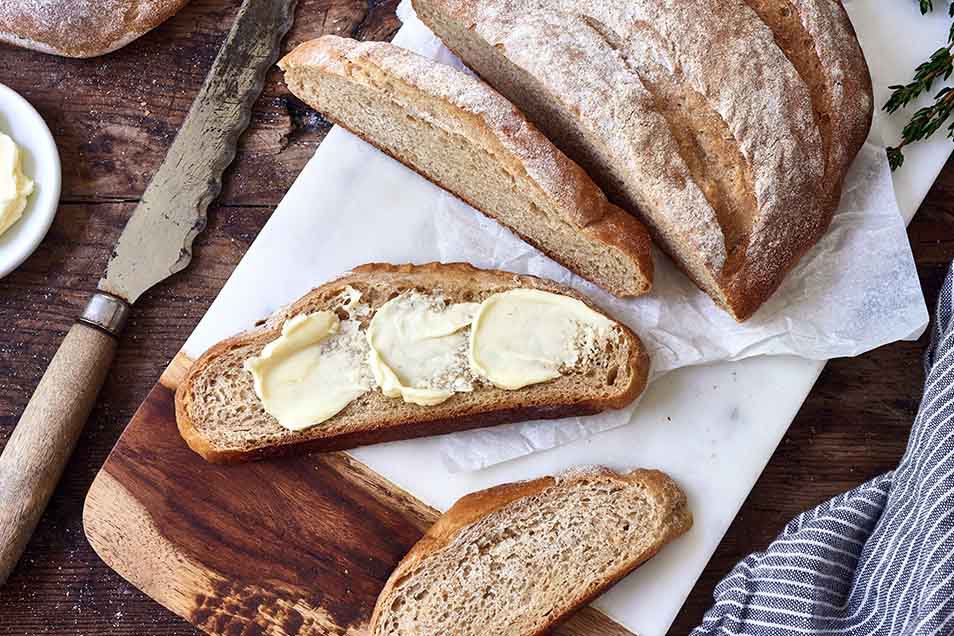 This moist and flavorful bread contains warm spices that add a background aroma to all sorts of beautifully decorated loaves and rolls. If you're a liverwurst-and-onions aficionado, try it on this bread, slathered with hot-sweet mustard. Heaven!
Instructions
Combine the yeast, milk, starter, sugar, salt, cardamom, and seeds. Stir in the rye flour and beat until the batter is smooth.

Add the whole wheat flour, then the unbleached all-purpose flour, a cup at a time, stirring well after each addition. When the dough has formed a shaggy mass, turn it out onto a lightly floured counter.

Knead the dough and add just as much flour as you need to keep the dough from sticking to the counter. The dough should be a little tacky, but not sticky.

Place the dough in a greased bowl. Cover with a damp towel or plastic wrap and let rise until it has doubled in bulk, about 1 1/2 to 2 hours.

Gently deflate the dough and place it on a lightly floured counter.

Shape as desired; you can make one huge loaf, three normal loaves, four mini loaves, or about 24 rolls.

Cover the loaves and let them rise for about 45 to 60 minutes, or until they're puffy.

Preheat the oven to 400°F.

If you've made loaves, slash them a couple of times across the top; this will help them rise evenly in the oven. Bake the bread for about 25 minutes, or until it's nicely browned and sounds hollow when thumped on the bottom; its internal temperature should be about 205°F. Remove from the oven, and cool on a rack.

Store, well-wrapped, for 3 days on the counter. Freeze for up to 3 months.
Tips from our bakers
If you feed your starter first, the dough will rise a bit more quickly.
You can also reserve a small amount of dough and roll it into long, thin strips that can be snipped with scissors to form a stalk of wheat to decorate the top of each loaf.
Need some sourdough starter to get started? See our step-by-step directions for creating your own sourdough starter from scratch. Or, if you're looking for a head-start, check out our classic fresh sourdough starter, a simpler path to fresh, ready-to-use sourdough starter.
This recipe comes to us from Marilyn Mulgrew of Rochester, New York.
Reviews
I love this recipe and have made it often to rave reviews. My only change is to add a whole chopped onion when mixing. My suggestion is to add a sponge recipe for those people who don't keep sourdugh on hand. What would be the proportions to make a 2 cup sponge that could be started a couple of days ahead of time?

Great question, Marilyn. The starter is equal parts of flour and water by weight, so to make a quick overnight sponge, you'd combine 2 scant cups (226 grams) of all-purpose flour and 1 cup (226 grams) of water with a pinch (1/16th teaspoon) of yeast. Stir, cover with plastic wrap, and let sit on the counter overnight. Annabelle@KAF
I used 2 cups of fresh rye starter, just one cup of white flour, and the rest whole wheat flour. All risings were done in the fridge. Very spongy light mass after two days, with a strong but pleasant yeasty aroma. Yet the taste isn't sour and I only used 2 tablespoons of sugar. The flavor is so mellow for that much sourdough and "development." Amazing!
Made the whole recipe in my capacious Paula Dean 10''x 5'' loaf pan, which I rarely use but bought at a thrift store before I had ever heard of her. It is literally a monster. Can't wait until it cools but the little bit of tender dough that stuck on the thermometer at 190 degrees was moist and light, so it's almost done! Indeed, a very tender and flavorful crumb. Thank you!
I make this bread every other week. Its a great way to use unfed sourdough. I love the spices. It also freezes great. I use a 9 x5 pan. Turns out great every time.
This bread is the best non-white bread I have ever made or eaten! I forgot to add the rye flour but I don't miss is at all. Also I didn't have cardamom and instead used equal amounts of cinnamon and nutmeg. I will be making this every week!
I made this dough in my bread machine using 1/2 rye and 1/2 pumpernickel (which I'd definitely use again) and regular whole wheat and all the other recommended ingredients. If you use your bread machine as I did be sure you hover over it until the consistency is what you want. Mine started out heavy and dry (maybe due to the pumpernickel?), I had to help it along with a spatula from time to time, adding more water as needed. If I hadn't helped it along I may well have burned out the motor on my machine, so don't get it started an walk away. Once I got it to the right consistency all went along great, I put the dough in two 9 x 5 loaf pans, they rose beautifully. Everything went along well and then I slashed them. Wrong! They deflated a bit but still tasted great. I'll definitely make this again, loved the taste!
I made the dough Saturday night and put it straight into the fridge overnight. Sunday I split the dough and made a loaf in a 4x8 pan and the flavor was good, texture was great. Monday morning I made the rest into rolls in an 8x8 pan and baked them at the office in our Breville Pro oven. Wonderful flavor! The 36 hours in the fridge made for a nice full sourdough flavor with oven spring still in them. I didn't have white rye so I used the KA 3 rye mix. I also used white whole wheat rather than regular whole wheat. No adjustments for high altitude although I used the minimum flour it called for and worked with a pretty wet dough.
I am about to try this very appealing recipe (half portion). Two questions: 1. I don't have a bread machine; can I do the whole thing by hand or would it be a mistake to try? 2. What should it be baked in? Dutch oven? loaf pan?

We apologize for any confusion, Joan. This recipe doesn't call for a bread machine but rather calls for a stand or electric mixer to beat the dough. You're welcome to try making the dough by hand, but you'll want to want to rapidly beat the dough using a wooden spoon during the first step, then you can knead normally by hand. The recipe is written to bake the bread free form (on a sheet pan), but you can also divide the recipe in thirds and bake one in a 4 quart Dutch oven and the other two in standard loaf pans (8 1/2" by 4 1/2'). Another option: bake one third as a loaf and the other portion of dough as a large boule in the Dutch oven. Adjust the baking time as necessary; larger items will take longer to bake through. When the bread reaches 195-200°F, it's done baking. Kye@KAF
Updating my earlier review. During prep I discovered I was out of caraway, so I subbed in 1/4 teaspoon deli rye flavor. I also made it into 3 mini loaves for gifts. Turned out excellent, nice flavor. Ham, provolone and mustard enhance the flavor of this bread. YUMMY
I have been baking this bread regularly for about a year. Great way to use sourdough discard. The flavor and texture is great. I love the hint of cardamom, Makes great sandwiches and toast.