A customized print-friendly version of this recipe is available by clicking the "Print Recipe" button on this page.
Marzipan Shortbread Cookies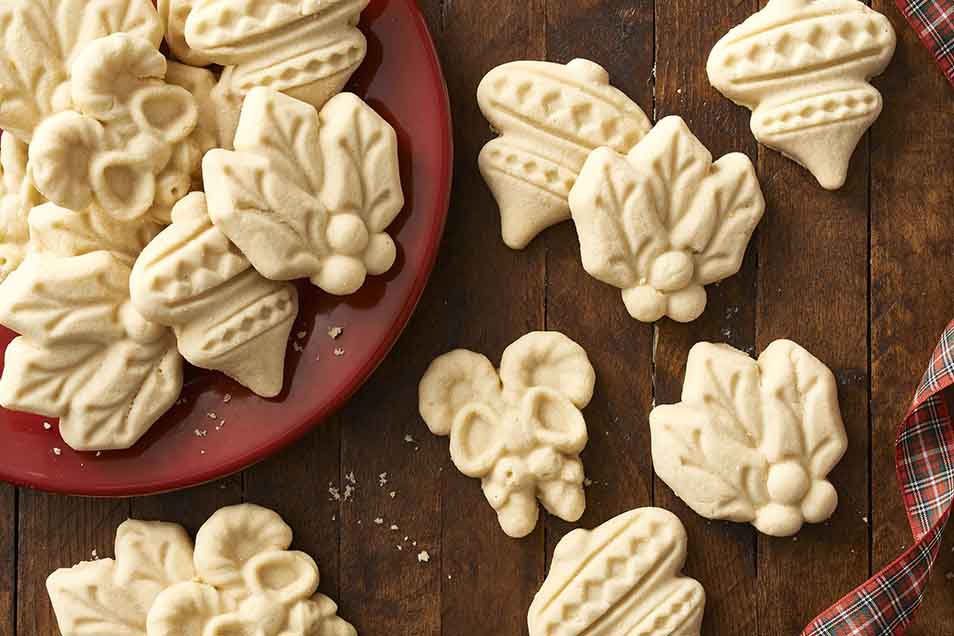 Buttery, crisp, and ever so slightly chewy, these almond-laced cookies offer a flavorful twist on classic shortbread. Stamped to perfection with custom-made Nordic Ware stamps, these will surely distinguish themselves amidst the crowds of holiday cookies.
Instructions
Preheat the oven to 300°F and have two ungreased baking sheets ready.

Whisk together the flour and salt; set aside.

In a medium mixing bowl, beat together the butter, marzipan, sugar, extracts, and egg yolk at medium-high speed until pale and creamy, about 1 minute, scraping the bowl as necessary.

Stir in the dry ingredients.

Scoop heaping tablespoon-sized balls of dough and space them about 3" apart on the ungreased baking sheets; a level tablespoon cookie scoop works well here.
Dip a cookie stamp in flour, center it over a ball of dough, and press it down until the dough is 1/4" to 3/8" thick.

Remove the stamp, tapping the edge firmly against the pan if the dough happens to stick.

Remove any excess dough if necessary or desired; it's easy enough to neaten up edges once the cookies have baked.

Bake the cookies until they're a light golden brown around the edges (their tops will still be pale), about 18 to 22 minutes.

Remove the cookies from the oven, cool them for a minute or two, then transfer them to a rack to cool completely.

Store leftover cookies in an airtight container for up to 5 days; freeze for longer storage.
Tips from our bakers
If cookie stamps aren't part of your baking toolkit, the balls of dough can be pressed flat using the tines of a fork or the bottom of a glass or measuring cup.
Reviews
This recipe makes wonderful. buttery, lightly almond tasting cookies. Through much research, I found grating the Marzipan helps it meld with the sugar, extract and egg yolk. Dough is very crumbly, adding a tsp of cold water did seem to help a bit.. I rolled it into a log and refrigerated for 30 minutes. Cut the dough into 3 portions and rolled it out for cookies to be cut with a cookie cutter. Rolled dough between two sheets of parchment paper. Baked the first batch at 300 degrees, took 22 minutes. Raised the temp to 350 for second batch, took 12 minutes, and were a bit too brown. Oh well, thinking 325 is better. Iced the cookies with Royal Icing, using Almond Extract instead of Vanilla Extract. Super yummy! I intend to use the cookie stamps next time.