A customized print-friendly version of this recipe is available by clicking the "Print Recipe" button on this page.
Marzipan Shortbread Cookies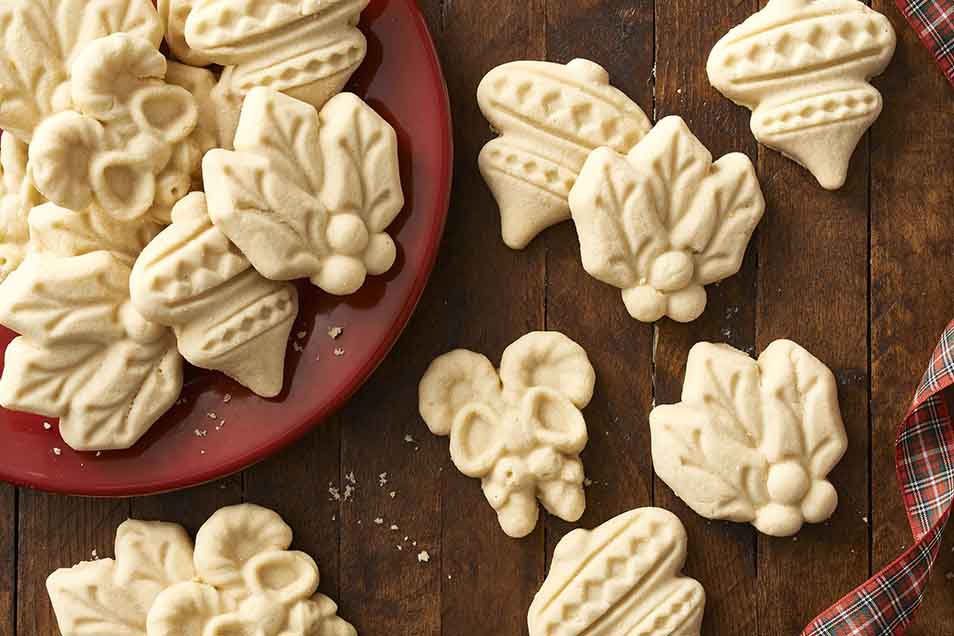 Buttery, crisp, and ever so slightly chewy, these almond-laced cookies offer a flavorful twist on classic shortbread. Stamped to perfection with custom-made Nordic Ware stamps, these will surely distinguish themselves amidst the crowds of holiday cookies.
Instructions
Preheat the oven to 300°F and have two ungreased baking sheets ready.

Whisk together the flour and salt; set aside.

In a medium mixing bowl, beat together the butter, marzipan, sugar, extracts, and egg yolk at medium-high speed until pale and creamy, about 1 minute, scraping the bowl as necessary.

Stir in the dry ingredients.

Scoop heaping tablespoon-sized balls of dough and space them about 3" apart on the ungreased baking sheets; a level tablespoon cookie scoop works well here.
Dip a cookie stamp in flour, center it over a ball of dough, and press it down until the dough is 1/4" to 3/8" thick.

Remove the stamp, tapping the edge firmly against the pan if the dough happens to stick.

Remove any excess dough if necessary or desired; it's easy enough to neaten up edges once the cookies have baked.

Bake the cookies until they're a light golden brown around the edges (their tops will still be pale), about 18 to 22 minutes.

Remove the cookies from the oven, cool them for a minute or two, then transfer them to a rack to cool completely.

Store leftover cookies in an airtight container for up to 5 days; freeze for longer storage.
Tips from our bakers
If cookie stamps aren't part of your baking toolkit, the balls of dough can be pressed flat using the tines of a fork or the bottom of a glass or measuring cup.
Reviews
This was an easy shortbread recipe, and some of the most delicate, melt-in-your-mouth cookies of pure butter and almond flavor. My mother in law was staying with us for Christmas, and she could not quit eating these cookies. I wasn't able to get two dozen, I (like one other review I read) got exactly 19 with a bite of dough left to nibble. Mmmmmmmm, so awesome!
This was an absolute fail. I followed the directions to the letter, and the resulting dough was so crumbly there was no way to make it hold, let alone press out or imprint. I followed one suggestion of adding a teaspoon of water, making into a (crumbly) log, and chilling before trying again. No improvement. I have no idea how these successful reviews came about.

We're genuinely surprised and sorry to hear this well-loved recipe gave you some trouble, Ruth. We'd love the chance to talk through the recipe with you, so we encourage you to reach out to our free and friendly Baker's Hotline staff to help troubleshoot at 855-371-BAKE (2253). Kindly, Annabelle@KAF
Outstanding! These were so easy and turned out beautifully. I got exactly 24 cookies, and will probably head back to the store for more Marzipan to make another batch. I made them vegan by using Vegan Margarine, and I had Just Egg to use for the Egg Yolk. These came out so nice, and were so simple to do , that I think this is my new go to cookie. I had to adjust cooking time slightly.. because I'm at altitude, but an additional 2 minutes did the trick.
At last! A recipe which holds the cookie stamp design through baking! I made the recipe exactly as written using the tube of "Marzipan cookie dough" I found at the grocery, not almond paste. I used a simple and intricate cookie stamp and both worked well. Cutting the cookies after stamping made them look much prettier and neater. The cookie flavor is mild and almondy.
These cookies are really good. I have a couple of tips, however. If you want the cookies to look like those in the picture, you have to trim them after stamping and before baking. I found that a heaping tablespoon of dough was too much; a level tablespoon left little to be trimmed. I did not get 24 cookies...exactly19, plus a little piece of dough, which I baked and ate!
Thanks for the almond paste variation - perfect! I have to freeze them now or there will be none left by tomorrow. These are easy, fast, and delicious. I have no cookie stamps so I rolled out to 3/8" thickness and used a little fluted cutter. The dough is super easy to roll, reshape, cut, and lift. No refrigeration needed because it goes so quickly. I sprinkled some colored sugars on top only to add color to my Christmas cookie tray, but if Santa brings me stamps I will not need that.
I had almond paste in the pantry. After an online chat with Irene, I decided to go ahead and experiment. I checked ingredients for several different brands of marzipan and almond pasteI and used the whole egg, an additional 1/4 cup of sugar, and 1/8 teaspoon more almond extract to compensate for the differences. They turned out very well - crisp edges and chewy centers exactly like one of the other reviewers described. I baked them at the recommended temperature for about 22-25 minutes. They weren't as pretty as the KA picture but that wasn't necessary for an experiment. I used my old Father Christmas terra cotta cookie stamp which worked well. They tasted great. Thanks Irene for the chat.
I am at high altitude, 7000 feet. Because of dryness up here I recommend another egg yolk to be added. The recommendation of another reviewer to grate the marzipan was brilliant! I also agree that baking at 325 degrees is better than 300 and more appropriate for the time stated in the recipe. Overall YUMMY!
They just came out of the oven! I didn't have any store-bought marzipan so I had to make my own. Great recipe; easy to put together at the last moment. The cookie is crispy on the outside but soft once you get to the middle. Thank you KAF for another incredible recipe.
Once again, you have hit it out of the park! These cookies are truly special and will now be an annual tradition. I grated the marzipan as suggested by another reviewer and followed the recipe exactly. Perfection!