A customized print-friendly version of this recipe is available by clicking the "Print Recipe" button on this page.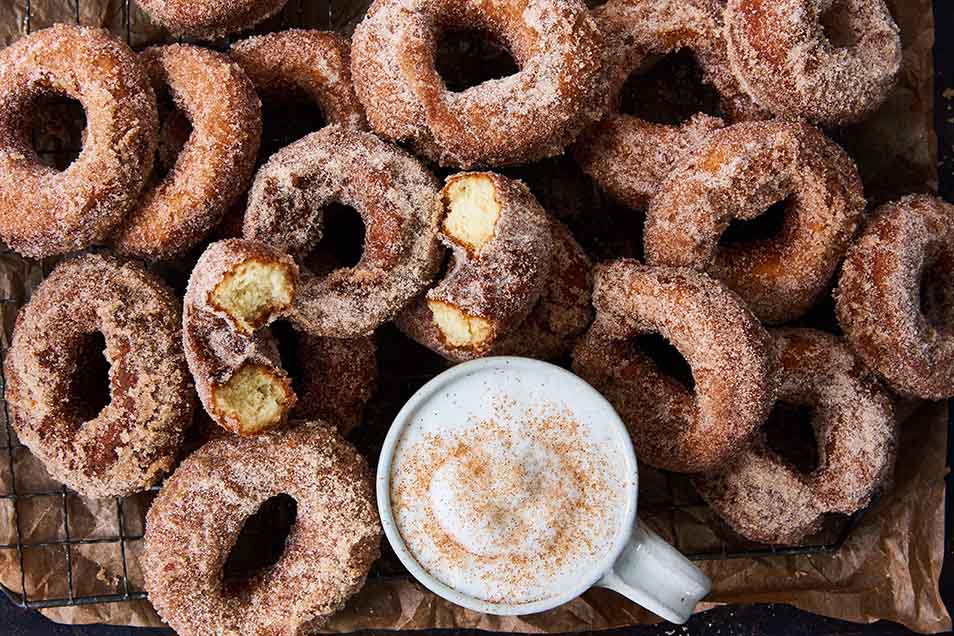 Berry Gordy Jr. wrote that he could "dance the mash-potato" but he probably never used mashed potatoes to make cake doughnuts. This magic ingredient and the following recipe from Grammie Nut will bring you back to that picture-perfect fall day ? the one that isn't complete without a cup of fresh cider and an old-fashioned (a.k.a. cake) doughnut.
Ingredients
Doughnuts
2 1/2 cups King Arthur Unbleached All-Purpose Flour
1/4 teaspoon baking soda
1/2 teaspoon salt
2 teaspoons baking powder
1 teaspoon nutmeg
1/4 cup vegetable shortening
1 cup sugar
2 large eggs
3/4 cup mashed potato
1/2 cup milk
1 1/2 quarts (3 pounds) lard, shortening, or vegetable oil, for frying
Coating
granulated sugar or cinnamon sugar, for coating
Instructions
Sift together the flour, baking soda, salt, baking powder, and nutmeg. Set aside.

In a separate bowl, cream together the shortening and sugar. Add the eggs and mashed potatoes to the shortening mix.

Measure out the milk. Add the flour mixture and milk alternately to the creamed mixture, beginning and ending with the flour mixture.

The resulting dough will be quite soft, more like a drop-biscuit dough instead of a "rollable" dough. The dough can be covered and refrigerated overnight, if desired.

Turn the dough out onto a very well floured surface and knead a few times to make it stiff enough to roll with a rolling pin. Roll the dough using a well-floured rolling pin until it's about 1/2" thick. Dip a doughnut cutter in flour (each time you cut), and cut out the doughnuts. Save the holes; or re-roll them with leftover dough. Try to handle the dough as little as possible; the less you work the dough, the more tender the doughnuts will be.

Heat the fat to 365°F. Test the temperature with a thermometer; or with a slice of bread, as follows: lower half a slice of bread into the hot fat. If it takes 1 minute for the bottom side to brown nicely, the fat is at the best temperature for frying doughnuts.

Fry doughnuts about 2 minutes on each side or until golden brown. Drain on brown paper bags or paper towels. Check one of the fried donuts after it is cooled to be sure the center is cooked through.

While still warm, shake doughnuts in cinnamon-sugar or plain granulated sugar.

Yield: About 2 dozen doughnuts (plus holes), depending on the size of the cutter.
Tips from our bakers
How do you add dry and wet ingredients "alternately?" In this case, you want to add the flour mixture and liquid in 5 additions, as follows: add about 1/3 of the flour mixture and stir until mixed. Then add half the liquid, stir until mixed, the next 1/3 of the flour, and so on until the ingredients form a dough. This is called the cake method of mixing and helps create a light, fluffy baked (or fried) food.
This doughnut dough can be held or refrigerated overnight. Equally good doughnuts will result from making the dough and frying the same day, OR making the dough one day and frying the next.
Older recipes are often very large — too large for today's bakers. For instance, the original recipe that inspired this one started with 5 cups of flour. This variation was cut in half for today's bakers.
Reviews
This is the first time I've been successful making donuts. Previous attempts have all been too oily to actually eat. The crumb is tender and moist, and cooked up perfectly. I only give it 4 stars because I would have liked the donut to have more flavor. I will experiment with adding different flavors! Thank you KAF!!
Can you do a recipe for yeast donuts with mashed potatoes? I have experimented with lots of donut recipes but I haven't found the best one yet. I like the taste and texture of yeast donuts better than the cake ones, and I've been craving the softest, fluffiest homemade yeast donuts. Thanks!

Hi Rae, thanks for your suggestion. We love the texture and flavor of moist mashed potato doughnuts. If you'd like to experiment with a yeasted version, consider starting with our Yeast-Raised Doughnuts recipe. Reduce the flour to 2 3/4 cup and add 3/4 cup of mashed potatoes to the dough. Reduce the milk to 1/2 to 3/4 cup, adding more as necessary to make a smooth, slightly tacky dough. If you decide to give this a try, feel free to share your results with us. Happy baking! Kye@KAF
Best doughnuts I've ever made! I had the original recipe that makes 4-5 dozen doughnuts, and usually make them around the holidays. The best way to make these is to cover the batter, and refrigerate it overnight. I've also noticed that frying them in lard makes them taste so much better, and doesn't leave the doughnuts tasting oily. I would love to see the original recipe. Nothing says you care, more than a dozen homemade doughnuts!
Just made my first batch of these doughnuts. Wow! Delicious. and tender. I fried mine in canola oil, since that is what I had in my deep fryer. It's so much easier for me to maintain proper temperature that way, rather than using a pan. To finish, I rolled the doughnuts in cinnamon-sugar, using Vietnamese cinnamon. I highly recommend it, as opposed to the stuff from the dollar store. This is where you really want the spice to shine. My 3 inch doughnut cutter made 10 cut doughnuts, 10 doughnut holes, and 2 free-form doughnuts. After 1 re-roll, I rolled the scraps into logs and pinched the ends together to form rings. They weren't as pretty as the cut doughnuts, but they were just as delicious. For those trying the recipe for the 1st time, don't be afraid to add a LOT of flour to the dough to be able to knead and cut it. A dough scraper or wide spatula really comes in handy, here. WARNING, if you turn on your back on these doughnuts, all your doughnut holes will suddenly disappear. :)
I made this with mashed purple sweet potatoes (ube), which are slightly starchier than orange sweet potatoes. The pigment in the potatoes reacted with the baking soda to turn a bizarre neon shade of teal, but they were otherwise perfect. (I wonder if a recipe that used yeast instead of soda would prevent this reaction.) I made smallish donuts and fried them for 1 min on each side. They were deliciously crisp at first, but soon became soft throughout. After cooling and glazing, I kept them in an airtight container and they remained passably fresh for 3 days.
I did not bake this recipe. Not sure why that is a question. The recipe was so good my husband asked me to make them again. These were a lot lighter that I anticipated. Very yummy!
Made the recipe night before and placed in refrigerator. Instead of white potatoes I used a large sweet potato. Used pumpkin pie spice instead of just nutmeg. After frying sprinkled with a powdered sugar and nutmeg/clove mix while warm and again after cooling. Yummy! Crispy on the outside and a beautiful cake finish inside. The dough was easy to work with cold as long as you use a fair amount of flour. Love this recipe has less sugar in it versus so many others I found. Will definitely make again.
I made a double batch of these yesterday. A couple things. For starters I mixed everything up the night before, but at the last minute decided to use up some cake flour in place of the allpurpose. I wouldn't suggest this as the next day when I took the dough out of the fridge it was more the consistency of whipped cream. I was able to work in a bit more flour to get the dough workable, but even then they were hard to handle. My fault not the recipe. The other thing is that I typically make yeast donuts and tend to skimp on oil, as old recipes often call for a gallon; yeast donuts don't tend to absorb much oil, so I typically just use a little in a pot. Do heat the amount of oil the recipe suggests as the donuts absorb a lot. Yes even with the oil hot enough. A couple people that tried the donuts would have given it 5 stars, but I kinda prefer yeast donuts to cake donuts. Having said that I would make the recipe again. Summery. Good donuts but do use the right flour, use enough oil, they do take as long as the directions say to cook.
I made this recipe with my 14-year old daughter over the weekend. We were underwhelmed -- a lot of work for "meh" results. I found the dough sticky and hard to work with, so we made many more "holes" than doughnuts. We carefully monitored the oil temperature but still found the end result greasy. She hasn't given up on finding a perfect doughnut, this just isn't the one. Next time we'll try a recipe with yeast.
This is a very slack dough that benefits from enough flour to turn it from the drop batter into a soft dough. An overnight rest for the dough is helpful before you add enough flour that will thicken it into the soft dough that will hold it's shape when cut. Most of our cake doughnut recipes do start out quite slack. Maybe a baked doughnut recipe is a better place to start? Happy Baking - Irene@KAF
I made these with sweet potatoes because I had some baked and in my fridg. They were delicious and they were incredibly delicious when they were cold. My whole family loved them, from age 4 to 47. Thanks so much for such a fantastic recipe.