A customized print-friendly version of this recipe is available by clicking the "Print Recipe" button on this page.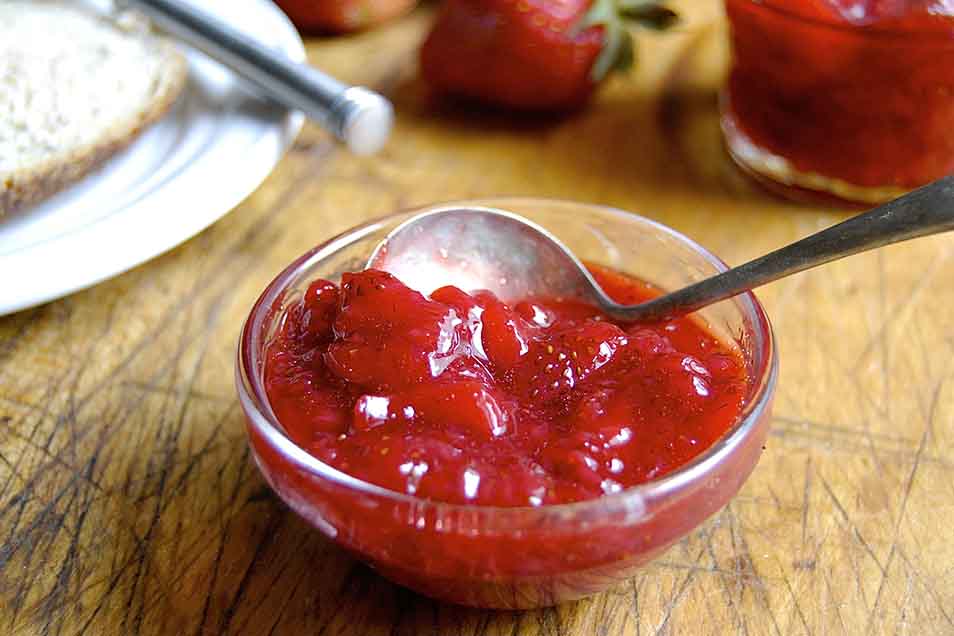 When you've been berry picking and have a surfeit of fresh berries on hand, refrigerator jam is a great option. And when you cook the berries in the microwave, instead of in a saucepan over a burner, you save yourself much of the stirring and "tending" this task would usually take.
Ingredients
2 cups berries, sliced if large
1/3 to 1/2 cup sugar, to taste
1/8 teaspoon salt
2 tablespoons freshly squeezed lemon juice
Instructions
Combine all of the ingredients in a large microwave-safe bowl. Make sure the bowl is large enough; the berries/sugar shouldn't fill more than 1/3 of the bowl, as they'll bubble up quite a bit as they cook.

Cook the berries for 5 minutes in the microwave.

Remove the bowl from the microwave, stir the berries, and cook for another 5 minutes.

Remove the bowl from the microwave, and stir thoroughly. If the mixture hasn't become sauce-like and slightly syrupy, cook for an additional 5 minutes.

Stir to combine any liquid, and refrigerate. The jam will thicken as it cools.

Yield: 1/2 to 3/4 cup jam.
Tips from our bakers
Can you use frozen berries? Yes. You'll probably need to cook them for 15 minutes rather than 10, due to their excess liquid.
What about using other fruits? We tried mango/strawberry, and it worked fine. Experiment; you'll soon discover your own favorite fruits, or fruit/berry combinations. Whatever fruit(s) you choose, weigh out 10 ounces (about 2 cups), and go from there.
To make a berry or fruit sauce, simply serve the jam hot out of the microwave, rather than waiting for it to chill/thicken. Blueberry sauce is wonderful atop pancakes or waffles.
Can you double the recipe? Yes; you'll need to double the cooking time, as well.
Reviews
Doesn't get any easier than this. I did notice a difference using fresh strawberries than frozen. They tasted fresher with the fresh berries. I am currently trying a batch of frozen peachs. Slow cook ing since they are frozen.
This is the best recipe in world!!!! Thank you!
I used some Concorde grapes. To remove the seeds I followed the Instruccions given in the recipe "Concorde Grape Pie" until you have in a bowl the skins and the seedless flesh, the I added the sugar and the lemon juice. It turned out quite well. And the colour is amazing!
This makes a wonderful jam. So easy and tasty. I tried a batch with 2 cups diced Black Mission Figs (fresh) and used lime juice instead of the lemon juice, cut the sugar some because ripe fresh figs are sweet already - it is excellent. Love this way of making a small batch of jam. Thank you KAF!
I used this as a guide to make atoo quick batch of sugar free BlackBerry jam then added chia powder to help thicken so I didn't cook quite as long. Thank you!
Fun recipe we completed with our kids after visiting a U Pick berry farm. Thanks K.A.Flour!
Super easy. I like that it makes a smaller amount that a two person household can eat in a few weeks. I did add the zest from the fresh lemon.
I made this jam today using pears from my tree in the yard. The pears are starting to turn slightly yellow, but are still very firm. I used lime juice, instead of lemon juice as I only had a lime on hand. This is a delicious combination. It did take the extra 5 minutes cooking time to get the correct consistency. My tree produces lots of pears, so now I plan on making lots of this jam for the freezer. This is a great recipe and is extremely economical. I have an apple tree, too, and I am going to give apples a try. Thank you for another wonderful recipe.
Love this recipe! I've used it several times with different fruits and it's worked well with each of them. It's quick, easy and nice to brag you made your own jam. Can this be frozen?

A little brag always feels good, Mamapitzer - so glad you've been enjoying this recipe! This jam can certainly be frozen and enjoyed at a later date. Just be sure to fully cool and thicken it before packing it up. Mollie@KAF
Easy is an understatement! I wish all my recipes were this good and this easy. Having said that this jam came out delicious. Used the less amount of sugar because we don't like too sweet but next time I will use the full 1/2 cup of sugar because I think it needed it. I will surely make this over and over again and I recommend it highly!