A customized print-friendly version of this recipe is available by clicking the "Print Recipe" button on this page.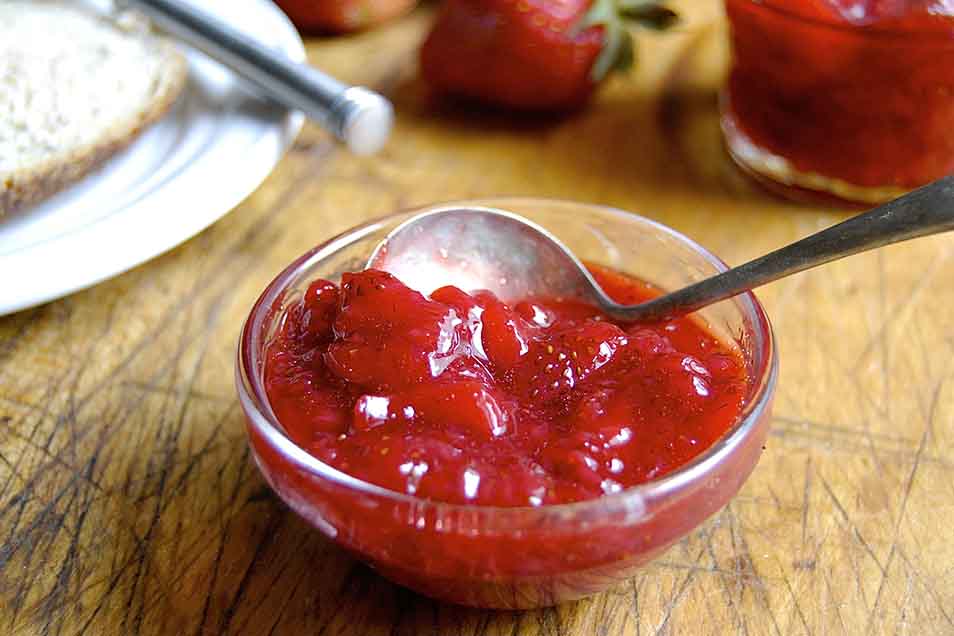 When you've been berry picking and have a surfeit of fresh berries on hand, refrigerator jam is a great option. And when you cook the berries in the microwave, instead of in a saucepan over a burner, you save yourself much of the stirring and "tending" this task would usually take.
Ingredients
2 cups berries, sliced if large
1/3 to 1/2 cup sugar, to taste
1/8 teaspoon salt
2 tablespoons freshly squeezed lemon juice
Instructions
Combine all of the ingredients in a large microwave-safe bowl. Make sure the bowl is large enough; the berries/sugar shouldn't fill more than 1/3 of the bowl, as they'll bubble up quite a bit as they cook.

Cook the berries for 5 minutes in the microwave.

Remove the bowl from the microwave, stir the berries, and cook for another 5 minutes.

Remove the bowl from the microwave, and stir thoroughly. If the mixture hasn't become sauce-like and slightly syrupy, cook for an additional 5 minutes.

Stir to combine any liquid, and refrigerate. The jam will thicken as it cools.

Yield: 1/2 to 3/4 cup jam.
Tips from our bakers
Can you use frozen berries? Yes. You'll probably need to cook them for 15 minutes rather than 10, due to their excess liquid.
What about using other fruits? We tried mango/strawberry, and it worked fine. Experiment; you'll soon discover your own favorite fruits, or fruit/berry combinations. Whatever fruit(s) you choose, weigh out 10 ounces (about 2 cups), and go from there.
To make a berry or fruit sauce, simply serve the jam hot out of the microwave, rather than waiting for it to chill/thicken. Blueberry sauce is wonderful atop pancakes or waffles.
Can you double the recipe? Yes; you'll need to double the cooking time, as well.