A customized print-friendly version of this recipe is available by clicking the "Print Recipe" button on this page.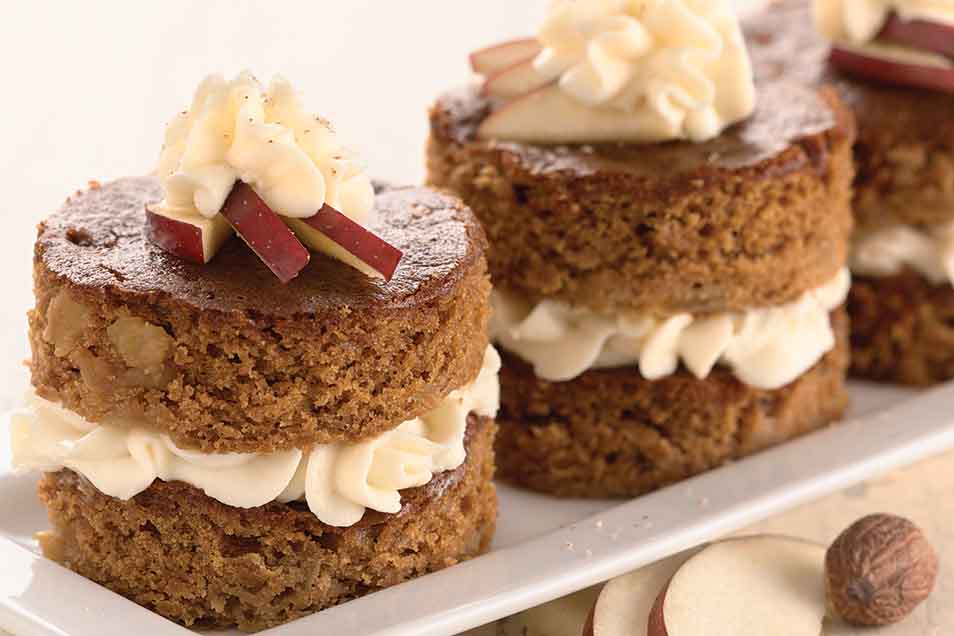 A biscuit cutter helps transform this moist, spicy sheet cake into elegant individual layer cakes. To make cutting the cake easier, freeze it for several hours.
Ingredients
Cake
1 cup light brown sugar
1/3 cup molasses
1/3 cup boiled cider or frozen apple juice concentrate, thawed
¾ cup vegetable oil
2 large eggs
2 1/2 teaspoons Apple Pie Spice
1 teaspoon baking powder
1 teaspoon baking soda
1/2 teaspoon caramel color or black cocoa, optional
½ teaspoon salt
3/4 cup water
2 1/2 cups peeled finely chopped apples
*Or substitute 1 3/4 teaspoons ground cinnamon, and 1/4 teaspoon each ground nutmeg, ginger, and allspice.
Cream Cheese Frosting
1 teaspoon Instant ClearJel, optional; it helps the frosting hold its shape
3/4 cup confectioners' sugar, sifted
1 cup heavy or whipping cream
1 (8 ounce) package cream cheese, softened
1 teaspoon vanilla extract
2 drops lemon oil or 1 teaspoon grated lemon rind (lemon zest), optional
Instructions
Preheat oven to 350°F. Grease, flour, and line with parchment a half sheet pan or 9" x 13" pan.

In a large mixing bowl, beat together the sugar and molasses until smooth.

Mix in the boiled cider, vegetable oil and eggs.

In a separate bowl, whisk together the flour, apple pie spice, baking powder, baking soda, caramel color or black cocoa, and salt.

Add the flour mixture alternately with the water until all is combined. Stir in the apples. Spread into the prepared pan.

Bake until the cake springs back when pressed lightly in the middle, about 30 to 40 minutes (the 9" x 13" pan will take the longer amount of time; the half sheet pan, the shorter).

Remove from the oven, and cool in the pan for 1 hour. If cutting the large cake into circles for mini layer cakes, place it in the freezer for 2 to 3 hours before cutting. The cake circles will come out perfectly if the cake is frozen.

To prepare the frosting, sift the Instant ClearJel with the confectioners' sugar. Add to the cream and start whipping it. When the cream reaches a soft peak, put it aside.

Whip the cream cheese, vanilla, and lemon oil together until fluffy.

Whisk in 1/4 of the whipped cream and stir until completely combined. Fold in the rest of the whipped cream.

For mini layer cakes, use a 2 3/4" biscuit cutter to cut 20 circles out of the cake baked in the half sheet pan.

Frost half of the cake circles, top with the remaining circles and top that with a dollop of frosting.

Sprinkle with the garnish of your choice: crystallized ginger, a dusting of cinnamon mixed with confectioners' sugar, or toasted nuts.

Yield: one 9" x 13" cake; or about 10 layered mini cakes.