A customized print-friendly version of this recipe is available by clicking the "Print Recipe" button on this page.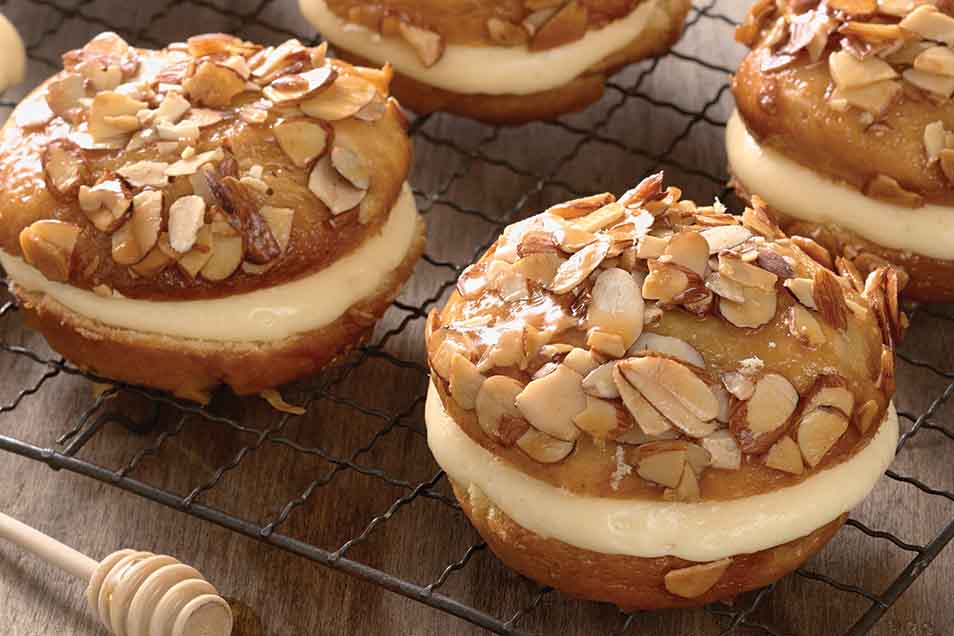 Take two yeast-based cakes. Top with honey and butter and almonds. Fill with delicious vanilla cream. That's the Mini Bee Sting, our individual-serving take on one of our Bakery's most popular pastries. This delicious dessert is perfect for special guests.
Ingredients
Cakes
1/2 teaspoon salt
1 tablespoon sugar
2 1/4 teaspoons instant yeast
1/3 cup lukewarm milk
3 tablespoons unsalted butter, melted
1 large egg
1 teaspoon vanilla extract
Topping
1/4 cup (4 tablespoons) unsalted butter
1/4 cup sugar
1/4 cup honey
pinch of salt
3/4 cup sliced almonds
Instructions
Prepare the pastry cream filling according to package instructions. Transfer to a bowl and refrigerate.

To make the cakes: Mix and knead everything together to make a smooth dough. Cover and let rest for 45 minutes.

To make the topping: Combine the butter, sugar, honey, and salt, and bring to a gentle boil on the stovetop.

Remove from the heat, and stir in the almonds.

Divide the dough into 6 pieces. Pat each piece of dough into a flattened 3 1/2" circle.

Place each dough circle into the greased cups of a hamburger bun pan; or onto a baking sheet, spacing 2" to 3" apart. Prick each several times with a fork.

Spread the topping over the dough circles. Cover and let rise until doubled, about 45 minutes. Towards the end of the rising time, preheat the oven to 350°F.

If you're using the bun pan, place it on a baking sheet to catch any spills.

Bake the cakes for 20 to 22 minutes, until golden and bubbly.

Remove them from the oven, and after 10 minutes transfer them to a rack to cool.

When completely cool, cut the cakes in half; pipe or spread each of the bottom halves with 1/3 cup filling; and top with the remaining halves.

Yield: 6 pastries.
Tips from our bakers
Here's an easy and delicious substitute for classic pastry cream: Mix 1 small box instant vanilla pudding mix with 2 teaspoons vanilla extract and 1 3/4 cups light cream (rich) or heavy cream (ultra-rich) until thick. Refrigerate until ready to use.