A customized print-friendly version of this recipe is available by clicking the "Print Recipe" button on this page.
Mini Chai Latte Cheesecakes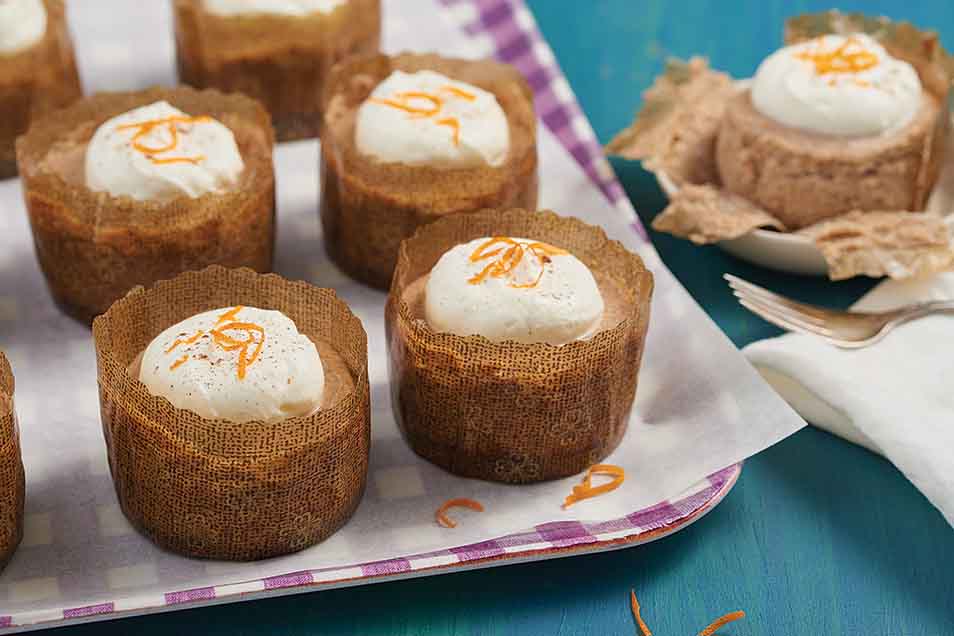 Inspired by our visit to The Confectional, a boutique cheesecake bakery in Seattle's Pike Place Market, these individual chai-spiced cheesecakes are baked and served in charming, versatile mini-panettone papers. A spicy gingersnap crust is a perfectly harmonious base for the silky, creamy, aromatic filling. This is an extra-special treat to share and enjoy when the weather gets chilly.
Ingredients
Crust
1 1/4 cups gingersnap cookie crumbs; about 25 store-bought cookies, more or less if you're using homemade
1/2 teaspoon chai spice
2 tablespoons brown sugar
1/4 cup (4 tablespoons) unsalted butter, melted
Filling
2 pounds (four 8-ounce packages) cream cheese, at room temperature
1 2/3 cups sugar
2 teaspoons vanilla extract
1/4 teaspoon salt
3 tablespoons chai spice
2 large eggs
3/4 cup heavy cream
Topping
1/2 cup heavy cream
2 tablespoons confectioners' sugar
orange zest and/or chai spice, for garnish; optional
Instructions
Preheat the oven to 350°F. Lightly grease 12 mini-panettone paper pans and place them on a baking sheet large enough to hold them without crowding. (See "tips," below, for an alternative to mini-panettone pans.)

To make the crust: Mix the crust ingredients until crumbly.

Press a heaping tablespoon of the crumbs into the bottom of each paper pan.

Bake the crusts for 6 to 8 minutes, until their edges are lightly browned. Remove from the oven and set aside.

Reduce the oven heat to 275°F.

To make the filling: Mix the cream cheese, sugar, vanilla, salt, and chai spice at medium-low speed until smooth, scraping the bottom and sides of the bowl.

Mix in the eggs one at a time, again at medium-low speed, scraping the bowl between additions. Stir in the cream.

Divide the filling evenly among the crust-lined paper pans.

Bake the cheesecakes for 40 to 45 minutes, until the edges of the cakes are set; a digital thermometer inserted into their centers should read 165°F or above.

Remove the cakes from the oven, and allow them to cool completely at room temperature. Refrigerate for at least 2 hours (or overnight).

To make the topping: Whip the heavy cream with the sugar just until soft peaks form.

Dollop the topping onto the center of each cheesecake and top with grated orange zest and/or chai spice just before serving.
Tips from our bakers
If you don't have mini-panettone paper pans, smaller versions of these cheesecakes can be made in standard muffin pans. Line two muffin pans with cupcake papers and lightly grease the papers. Press about 2 teaspoons of the crust mixture into the bottom of each paper and bake in a preheated 350°F oven for 5 to 6 minutes. Divide the filling evenly among the 24 cups and bake the cheesecakes at 275°F for 30 to 40 minutes, until the edges are set. Once the cakes have cooled, top them with a small dollop of whipped cream.
Reviews
This recipe did not turn out at all. They reached the temperature indicated in the recipe but were nowhere near done, and then they collapsed. What a waste of my time and ingredients. I have made many cheesecakes over the years and have never encountered such failure with a recipe. I am not sure I will try this recipe again.

We're so sorry to hear this well-loved recipe gave you some trouble, Diane. We'd love the chance to talk through the recipe with you, so we encourage you to reach out to our free and friendly Baker's Hotline staff to help troubleshoot at 855-371-BAKE (2253). Kindly, Annabelle@KAF
LOVE LOVE LOVE! I did how ever use condensed milk and added the orange zest into the batter. Absolutely the best. My new favorite cheesecake
I loved this recipe. The only thing is that the mini panettone cups are still pretty big, so this recipe makes 12 rather large individual desserts. If you are making them for a party or gathering, mini muffin pans are a better way to go. Otherwise, I followed the directions 100% and they came out perfectly. This recipe is a keeper.
I, too, found the recipe problematic. It sure smelled good though. I used the twelve mini-panettone paper forms but I had lots of batter left over. At the 45-minute mark, I inserted a digital thermometer as the recipe instructed, only to find that the batter was still uncooked even though the thermometer did register 165 degrees. Unfortunately, once I opened my oven to test the cheesecakes, they deflated when I carefully closed the oven door. I'm an experienced baker so I will try the recipe again at another time. Perhaps the baking time or temperature needs to be adjusted. Certainly, maybe back to the drawing board in your test kitchen. I will let the cheesecakes cool and will put them in the refrigerator later so I can, at least, test-taste them. In the meantime, I'll just purchase another dessert for tomorrow.

Thanks for sharing your experience baking this recipe with us, Yolanda. We're surprised to hear your cheesecakes were underdone when the thermometer read 165°F, as this a commonly used threshold to test cheesecakes for doneness. It's important to note that the cheesecakes may still look soupy while they're in the oven, but once they cool and chill the center will solidify. You may consider testing your thermometer to ensure it's properly calibrated, and if you give this cheesecake recipe (or any other cheesecake recipe) a try, make sure you test well into the center to get an accurate reading. We hope this helps! Kye@KAF
I made this recipe for Christmas dessert. Used mini muffin tins with liners. A huge hit, everyone loved them. These will be a permanent Christmas dessert for our family. Using the mini muffin tins and liners makes for easy cleanup. Does make over 60 mini muffins, but I froze half and they thaw with no problem.
I thought this was the best cheesecake recipe ever! I made them for a client dinner at my home and they were very impressed. I have to admit the 3T of Chai spice scared me so I used only 2, but it was delicious. Thank you for such great tested recipes!
The cheesecake itself is tasty, but the process is tedious and I think the cooking times/quantities may be off a bit. The first time I made it, I used standard muffin pans and baked it at least 50 minutes. When I bit into one, it was a gooey mess and not cooked all the way through. What a disappointment. Then, I baked it a second time and put less in each pan and made some other changes including increasing the cookie crumbs to 1 2/3 c and reducing the butter in the crust to 3T. The first time there was not enough crust and it was very oily. Again, I baked it for 50 minutes and this time I made 30, not 24. I still had at least 2 cups of cheesecake filling left over the second time. They were much better the second time. But, for all the hassle of the crust and pressing it into all the little cups and then scooping the batter into each one, I'm going to go back to a traditional cheesecake recipe and simply add the chai spice powder. I think that will save a great deal of time and will be much easier overall.

Melanie, we're sorry to hear you had trouble with this recipe. We hope you'll consider try baking this recipe in our Mini-Panettone Paper Baking Pans to see if you like the results better, as we think you'll find they produce cute, tall cakes that are perfect for individual desserts. We'll share your feedback with our test kitchen in the meantime. Kye@KAF
I used the version that gave me 24 standard cupcake-sized cheesecakes. These were easy to make and a huge hit! Several guests want the recipe, and I will definitely make these again. It would be great if the recipe included a method for making this into a standard cheesecake as well.