A customized print-friendly version of this recipe is available by clicking the "Print Recipe" button on this page.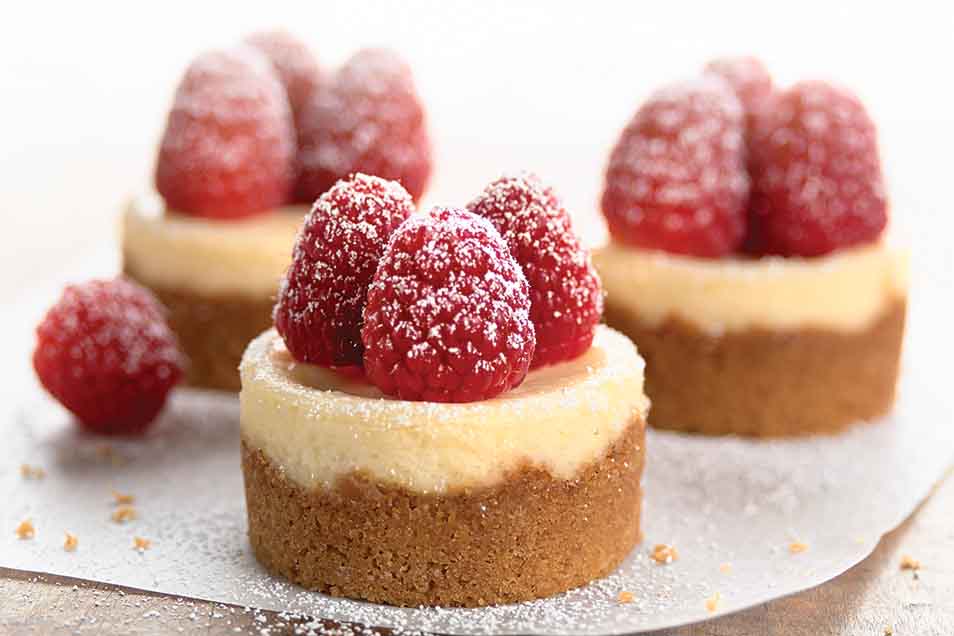 For super-elegant presentation — and the perfect end to a holiday dinner — bake single-serving cheesecakes, and top with fresh raspberries.
Ingredients
Crust
1/3 cup almond flour or ground almonds
2 tablespoons brown sugar
1/4 teaspoon salt
3/8 cup (6 tablespoons) butter, cold
Batter
1 cup (one 8-ounce package) cream cheese, room temperature
1/4 cup sugar
2 tablespoons heavy cream OR sour cream
1 large egg
1 teaspoon vanilla extract
Optional swirl-ins
1 ounce bittersweet or semisweet chocolate, melted
2 tablespoons good-quality jam, warmed slightly and stirred until smooth
Instructions
To make the crust: Preheat your oven to 425°F. Whisk together the flour, almond flour, sugar, and salt. Cut in the butter with a pastry blender or two knives, or rub together with your fingers until the mixture resembles coarse sand. Sprinkle in a teaspoon or two of water if the dough is too crumbly to hold together when squeezed.

Divide the crumbs among the 12 cups of a bite-size cheesecake pan. Press them firmly to the bottoms and about 1/2" up the sides. Bake in the preheated oven for 8 to 10 minutes, until set and just beginning to color. Remove from the oven and let cool. Reduce the oven temperature to 325°F.

To make the batter: In a medium-sized bowl, beat the cream cheese and sugar until smooth. Add the cream, egg and vanilla; mix well. Spoon the batter into the cooled crusts, using about 2 tablespoons in each. Top with a scant half teaspoon of melted chocolate or jam, if desired, and use a knife blade to swirl it into the batter.

Bake the cheesecakes for 18 to 20 minutes, until just set. Remove from the oven and let cool for at least 30 minutes — the tops will sink slightly. Use a knife to gently loosen the edges, then carefully invert the pan and push the cheesecakes out. Immediately turn the cheesecakes right-side up and chill them. To remove the metal plates before serving, run the blade of a table knife under hot water to warm it, then run the knife between the crust and the metal disk to free up the cheesecake.

Just before serving, garnish with fresh berries or pie filling and whipped cream, if desired.
Nutrition Information
Serving Size

45g

Servings Per Batch

12
Amount Per Serving:
Calories

160

Calories from Fat

80

Total Fat

9g

Saturated Fat

4.5g

Trans Fat

0g

Cholesterol

35mg
Sodium

115mg

Total Carbohydrate

16g

Dietary Fiber

1g

Sugars

7g

Protein

3g
* The nutrition information provided for this recipe is determined by the ESHA Genesis R&D software program. Substituting any ingredients may change the posted nutrition information.
Reviews
This is a great recipe! I tripled both the crust and filling and made 36 adorable little cheesecakes for a reception. I will definitely be making this one again. I had some Biscoff cookies on hand and added a few to the crust for a little extra flavor. Here are several ways to make this recipe MUCH less time consuming/labor intensive: 1) Make the crust by pulsing ingredients in a food processor (i/o using a pastry cutter.) 2) Use a cookie scoop to evenly distribute crust and filling into wells of mini-cheesecake pan. (I used 3/4 of a medium scoop for each crust, and 2 small scoops for each filling.) 3) Use the larger end of a tart tamper to press crust into wells of mini-cheesecake pan, then use the smaller end to make a shallow circle in the center of each crust. This makes it easy to press the edges of the crust up the sides of each well in the pan. 4) Use a bottle brush to clean the wells of the mini-cheesecake pan. (also works well with decorative bundt pans.)
I added scharffen berger coco to the crust recipe. It's really good and it holds together well. Doesn't crumble. For the cheesecake, I added 1 tab of freshly ground coffee and Kailua instead of the vanilla.
We loved the crust for this recipe! Nice change from a graham cracker crust. I also ended up with far more crust than filling. I make another batch and doubled the crust and tripled the filling - it was perfect. I was making many of these in a deep mini cheesecake pan with wells the size of a regular muffin pan. It took some practice getting the baking time right but they came out gorgeous! Thanks for the recipe.
These were a HUGE disappointment! The crust was not tasty at all, which makes me wonder why it didn't just call for a graham cracker crust? Plus the recipe makes way to much crust for batter, so I had empty crusts, and the main flavor of the ones that were filled, was the gross crust! The filling was OK, nothing special about it, but that dang crust is just so overpowering. We ate two and just threw the rest out. I really don't understand the rave reviews. What a waste of amazing cream cheese.

We're sorry to hear these little desserts weren't what you were looking for. Some bakers like the way an almond flour crust bakes up, providing a nutty, buttery base for the cream cheese filling. If you know you prefer a classic graham cracker crust, then you're welcome to use that instead. We like pressing the crust up the sides of each pan slightly to produce the effect that's shown in the photo. If you like crust just on the bottom of your cheesecake, you can probably make 3/4 of a batch of crust. It sounds like you know what flavor you're looking for in your cheesecake, and we hope you find a recipe that delivers on all accounts. Kye@KAF
I used a regular muffin tin without paper liners so as to get a smooth side. With a baking spray, they came right out after being chilled. They didn't look as nice as pictured, but still looked very good. Tasted excellent! I cooked the cheesecakes for 18 minutes with a pyrex dish under it filled with hot water. Had no issue with cracks or sinking middles.
These received RAVE reviews from all who tried them! I purchased the mini cheesecake pan from KAF (also wonderful!) and decided to give their recipe a try. Everyone said the crust was a great complement to the filling and they aren't too sweet. One taster even said they're "perfect"! I did add a blueberry swirl to each - just cooked some blueberries with sugar and a bit of cornstarch, then strained through a fine mesh sieve. Placed a dollop on each, then swirled. They didn't need anything more. I will definitely be making these again with different swirls/add-ins. Thanks for yet another winner, KAF!
1. Can I substitute pecans for the almond flour or ground almonds? 2. Can I use a regular muffin tin with cupcake liners, I prefer a bit bigger (I don't have cheesecake pans). 3. What would the bake time be? 4. If I use mini muffin tins with cupcake liners, what would the bake time be? Thanks! Yes you can put almonds or pecans in your food processor and grind them up and use them. Yes, you can use a cupcake tin with liners for this recipe. I would bake them approximately 30-32 minutes. The minis are baked for 18-20 minutes. We love answering baking questions. The best avenue to ask questions is the following: *Go to main website *Click on shop *Scroll to bottom and click on contact us under Customer Service *Fill in info and ask question *You will get a response back to your email address This avenue is for rating and reviewing recipes. Thanks! JoAnn@KAF
I made this recipe yesterday and the family loved it!!! I followed the recipe using sour cream instead of cream and with an Oreo crust (12 cookies crushed mixed with 2 tbsp of melted butter). I baked it for exactly 18 minutes. I let it cool to room temperature for a half hour and then refrigerated it for 2 hours before serving. I didn't bother running a knife around the edges, I had my son hold the inverted pan while I gently pushed each through catching it as it came out. They were picture perfect! I will definitely make again!
I have made these little cheesecakes twice and they turned out well each time. The first time I followed the recipe exactly using the cream. The crust was very good and I liked that it had a almond flavor and was different from the usual graham cracker crust. The second time I made them I was having a Fall party and substituted a gingersnap crust and used sour cream. That was good too. In both cases the filling was smooth and so easy to prepare. Having tried both the cream and the sour cream versions, I prefer the cream and will use that in the future. I used the mini cheesecake pan from KAF and 18 mins was perfect baking time for me. They really are very pretty on a dessert tray and people love their little size.
I made this recipe with a standard graham cracker crust instead of the almond flour crust called for in the recipe, and after chilling the cooked cheesecakes they oozed a considerable amount of melted butter, making them inedible. The filling looked great and baked up nicely - what did I do wrong with the crust? Given that I didn't follow the recipe as written I will recommend it- but would love to know how to prepare a standard graham cracker crusted cheesecake in the mini cheesecake pan!

Let's see if we can help make your mini cheesecakes a success next time, Elizabeth! If you would like to prepare a standard graham cracker crust, we recommend using the crust portion of our "Easy Cheesecake" recipe. There is no need to bake the crust before putting the cheesecake filling on top of it, but be sure to distribute the crust crumbs evenly among your mini pans and then use your fingers or the bottom of a glass to press the crumbs into the bottom of the pan(s) firmly. This will help solidify the crust and prevent it from crumbling or "oozing butter" as you described. I hope this helps! Happy baking! Kye@KAF