A customized print-friendly version of this recipe is available by clicking the "Print Recipe" button on this page.
Mini Cinnamon Swirl Breads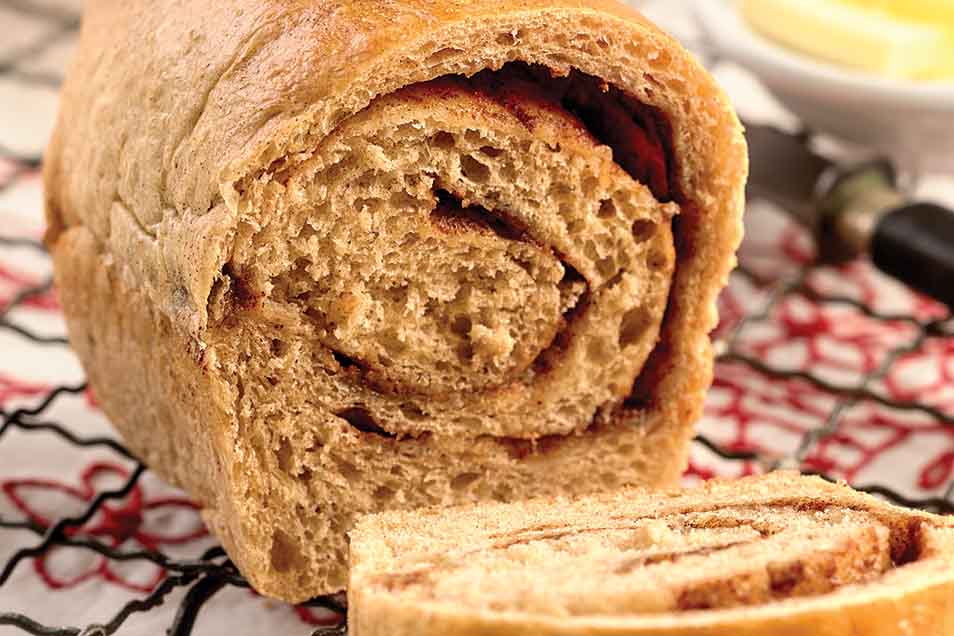 These mini loaves offer assertive flavor — cinnamon lovers, rejoice!
Ingredients
Filling
1 large egg mixed with 1 tablespoon water (egg wash)
1/4 cup Cinnamon-Sugar Plus or cinnamon-sugar
1 cup cinnamon mini baking chips
Instructions
To make the dough: Mix and knead the dough ingredients together — by hand, mixer, or bread machine — until smooth.

Place the dough in a lightly greased bowl, cover, and let rise until nearly doubled in bulk, about 1 hour.

Grease the 8 wells of a mini-loaf pan and place the pan on a baking sheet lined with parchment (to catch any drips).

On a lightly greased work surface, pat the dough into an 8" x 32" rectangle.

Brush the dough with egg wash (you'll have some left over; set it aside), and sprinkle with the cinnamon-sugar and chips.

Starting with a long side, roll the dough into a log.

Cut the log into eight 4"-long segments, and transfer them seam side-down to the prepared wells.

Allow the breads to rise until they've barely crested over the rims of the pans, 40 to 60 minutes. Towards the end of the rising time, preheat the oven to 350°F.

Brush the breads with the remaining egg wash.

Bake the breads for 18 to 20 minutes, until golden; the interior of the breads should read 190°F on an instant-read thermometer.

Remove the pan from the oven. Cool the breads in the pan for 5 minutes, then turn them out onto a rack to cool completely.

Yield 8 mini loaves.
Tips from our bakers
To make one large cinnamon swirl loaf, stretch your risen dough into a 9" x 24" rectangle. Brush the dough with the egg/water mixture and sprinkle with the cinnamon sugar and the chips. Starting with a short end, roll the dough into a tight log, and place seam-side down into a greased 9" x 5" loaf pan. Allow the loaf to rise, covered, for 40 to 60 minutes, until it's crested 1/2" over the rim of the pan. Brush the loaf with the egg wash, transfer to a parchment-lined baking sheet (to catch any drips), and bake for 45 to 60 minutes, until golden. The interior of the bread should register 190° on an instant-read thermometer. Cool the loaf in the pan for 10 minutes, then transfer it to a rack to cool completely.
Reviews
If I could give this a hundred stars or more, I would. This is absolutely delicious! I made them in mini form and after eating two, I had to freeze the remaining six or I'd have eaten them all. The dough is absolutely dreamy to work with and the taste was out of this world!!!!!
delicious. Has anyone added raisins to the mix.
This recipe is perfect. I make a single larger loaf rather than the eight minis. It is great as toast but even better as French toast! The only bad thing is that now I will never be able to have Fresh toast at home unless I make this bread first and eating French toast at a restaurant is now out of the question!
Just made this got rave reviews from my husband, took some to my neighbor and she ate it while I was there and wants the recipe. I had read the review about the size of the rectangle the recipe calls for. I decided to try something and it worked. I divided the dough in 1/2 and rolled each rectangle into 8 x 16, and divided filling. It worked great, I cut 4 at a time and followed the recipe as it was written with this modification. The KAF Mini Loaf pan was wonderful. It was the first time I had used it. I can see recipe being a great at Christmas, or just giving it to a friend. We will be have more with tea tonight. Thanks KA!
I tried substituting the two tablespoons of dry milk for 4/3 tablespoons condensed milk. I also used half and half whole wheat and white flour. It did not work out. It baked perfectly but the taste seems off. I feel like it should be sweeter, but I will wait for it to cool all the way and see if that changes anything. Next time I will be careful to follow the recipe to a T because it looks really yummy!
If you used Premium WW, try using White WW the next time for a lighter texture and flavor. Thanks for trying this recipe! Elisabeth
My loaves weren't quite as pretty as the picture but one bite and you don't care! I used all of the KAF ingredients except I mixed my own cinnamon sugar. I used1/4 cup sugar and 1/2 tablespoon of Vietnamese cinnamon. To roll out the dough into a rectangle I used the KAF mat and since its not long enough I laid a silpat next to it. I sprayed them lightly with Pam and it didn't stick. For second rise my oven has a proof setting so I put them in it for just 20 min instead of the 40 for counter rise. I will definitely make these again and at Christmas these would be perfect little gifts.
great balance of ingredients make for a not overly sweet bread. there are bursts of cinnamon that make it reminiscent of a yummy cinnamon roll though which I really enjoyed. I hadn't used cinnamon chips before and i was concerned they would have an artificial taste. i found they were a nice addition and have plans to make the scones. also, the Vietnamese cinnamon is worth it - the flavor is so much better than the 99cent containers I had been buying! lol.