A customized print-friendly version of this recipe is available by clicking the "Print Recipe" button on this page.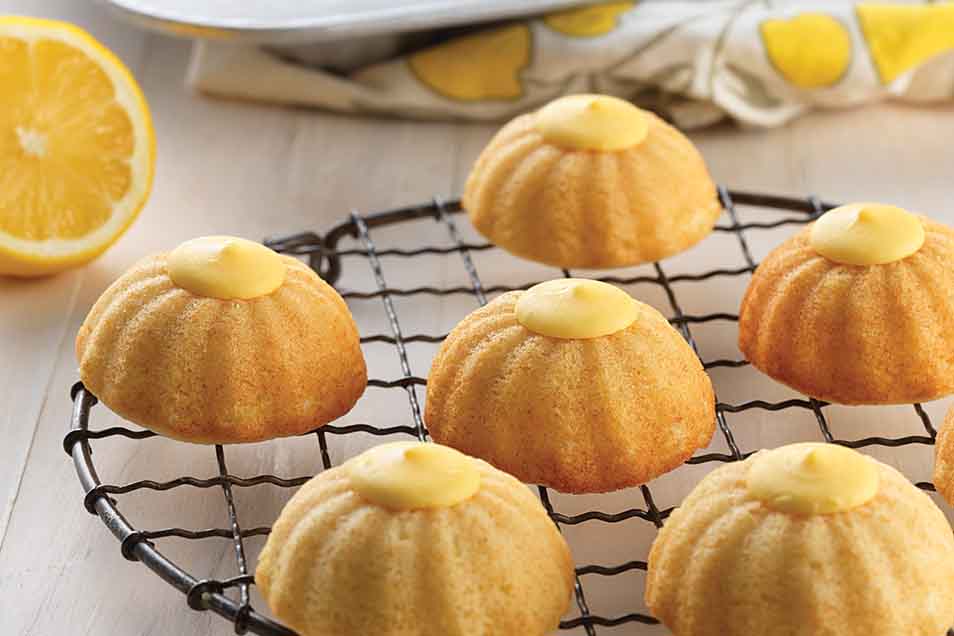 These charming, extra-tender little cakes pack a punch when it comes to lemon flavor. They'll brighten up any afternoon tea or dessert course, particularly when topped with our lemon wafers, which melt into creamy lemon lusciousness.
Instructions
Preheat the oven to 350°F. Lightly grease the cups of a fluted cupcake pan.

To make the cake: In a small bowl, stir together the cake flour, baking powder, salt, and lemon juice powder, mixing until thoroughly combined. Set aside.

Beat together the butter and sugar until pale and creamy.

Add the egg and lemon oil or zest, and beat until light and fluffy.

Stir in the dry ingredients and then the milk, mixing until well combined.

Divide the batter among the prepared wells; our jumbo cookie scoop works well here.

Bake the cakes until the edges start to pull away from the sides, and a cake tester or toothpick inserted into the center of one cake comes out clean, 11 to 13 minutes.

Allow the cakes to cool for 3 to 5 minutes, then turn them out onto a rack.

Immediately top each cake with a lemon wafer; this allows the wafer to melt ever so slightly and adhere to the cake.

Allow the cakes to cool completely.
Tips from our bakers
If using pan spray to grease your pan, we recommend wiping each cup with a paper towel after greasing to get rid of any air bubbles.
For slightly less zesty lemon flavor, or if our lemon juice powder is not in your pantry, omit it from the dry ingredients and add a tablespoon of lemon juice when you add the egg and lemon oil or zest.
These cakes can also be baked in a mini muffin pan. Scoop the batter by heaping tablespoon into the cups and bake the cakes for about 10 minutes. The recipe will make about 24 mini muffin-sized cakes, so you'll need 24 lemon wafers to top them.
Reviews
While the recipe was easy to put together and did not take long, the resultant cakes were dense and dry. To eat them you need a hot beverage to wash it down for sure. I am quite proficient at baking and was sorely disappointed in how these came out. The plan was to bring them to a luncheon but there was a need to make something else quickly as these were unacceptable to bring. Though put on immediately when warm, the lemon wafers did not melt much and popped off when trying to move the cakes from the cooling rack to a plate. Lemon flavor was fair. Usually KAF has some good recipes, but this one is not on my list.

Hi there, fellow baker. We're very sorry to hear that this recipe didn't do the trick for you. If we can help troubleshoot or pick out a recipe that better fits your tastes, please give our Baker's Hotline a call at 855-371-BAKE (2253). Kindly, Morgan@KAF
Made theses yesterday and I think they are even better the next day. Light, not too much lemon and best of all, easy. Love the pan. What other recipes will fit well using the fluted pan? Muffins?

We're so glad these were a hit, Kate! Any recipe calling for 1 to 1 1/2 cups of flour will fit in this pan, so most single layer cake recipes would work, or you can make a half batch of a cake recipe that makes two layers, usually 8" or 9" rounds. We hope this helps! Annabelle@KAF
Made these for my wife, who likes all things lemon, from the KAF bundle. Followed the recipe exactly, by weight, except used a bit more lemon oil. As almost all other reviewers have noted, these are dry. At 11 minutes baking time the toothpick came out wet; baked for 2 more minutes and they were done. When I make them again, I will extend baking time in 1-minute increments. Also, they stuck in the muffin pan; perhaps KAF's "lightly grease: is not the same as our "lightly grease". Interestingly, while the cake is dry, it is also sticky, adhering to the serving plates; neither my wife nor I can figure that one out. Could that have been a function of the extra lemon oil? But they did have a lovely lemon flavor. They're just not the kind of thing I want to serve outside the home. ;) Recommended with reservations.
Lemon flavor a little more subtle than I expected. Definitely need to watch baking time; the difference between perfect and dry is a matter of seconds.
Made these several times. Love them! Also made them with lime juice powder and the lime oil. Topped with lemon wafers. Loved the lemon-lime flavor!
I have made these three times exactly as the recipe stated using mini cupcake pans and iced them with a powdered sugar/lemon juice/butter/vanilla icing. Took two batches to a party yesterday and everyone loved them. The cake is light as a feather, mild flavored, and the icing gave it just the right kick. Many times people rave about a recipe--I know peoples' tasters are different--but don't strike me as special, but this one truly is. It will be a "forever" recipe. Wonder if KA could come up with an orange juice powder?

Carol, I'll pass along your recommendation for an orange powder! Barb@KAF
These are really good. I used orange oil and did 1T OJ plus 5T cream for the milk part. Otherwise as directed, cake flour, etc. I measured everything out with the scale in grams. My 6 year old thought that was a blast! Two thumbs up from us, this is really tasty!
These were quite good. My guests and their small children loved them! I did make one change, I used 50% whole wheat flour. I thought the flavor of the whole wheat worked well with the lemon. I used lemon juice and lemon rind and I thought the lemon flavor wasn't very pronounced, so I added a lemon glaze which gave them the lemon boost they needed. Very cute and tasty cakes.
I'm on my third time baking these. I love that they're not too sweet and are a perfect tea cake. One thing I did do - I used half and half instead of milk - I didn't have any milk other than that.
I just made the fluted Lemon cakes. I also thought they were a little dry but very tasty. So I decided to make a lemon glaze, drizzled it on top of the lemon cakes. I added 1/2 cup powdered sugar & 2 tablespoons of fresh lemon juice. Now they're perfect !!