A customized print-friendly version of this recipe is available by clicking the "Print Recipe" button on this page.
Mini Gingerbread Whoopie Pies with Cream Cheese Filling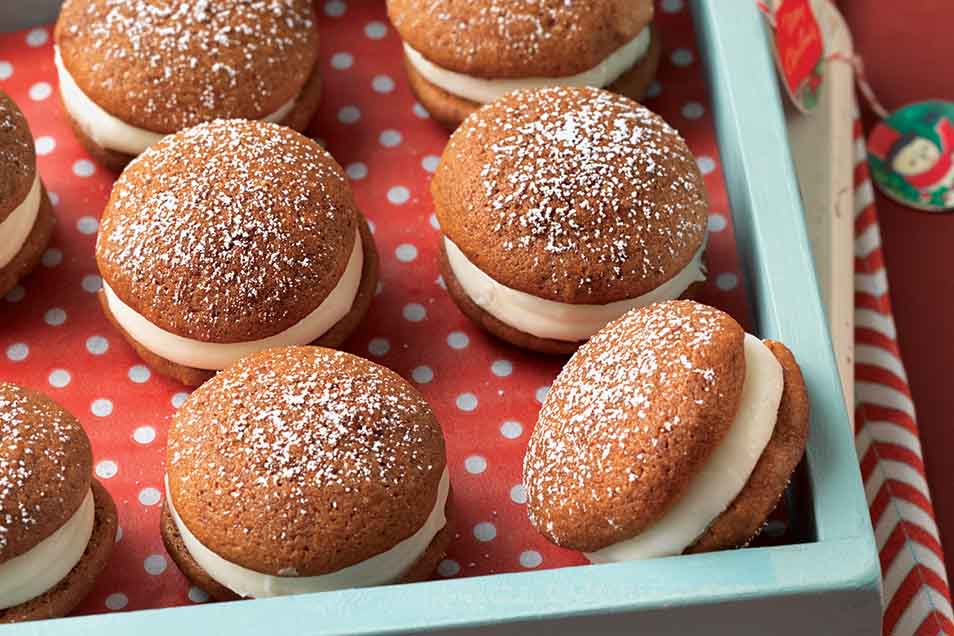 Our holiday version of this New England specialty is miniaturized, making it perfect for your cookie swap.
Ingredients
Cakes
2 ½ cups King Arthur White Whole Wheat Flour
½ teaspoon salt
1 teaspoon baking powder
1/4 teaspoon baking soda
1 1/2 teaspoons ground ginger
1 teaspoon ground cinnamon
¼ teaspoon ground cloves or allspice
½ cup unsalted butter, softened
¼ cup brown sugar, firmly packed
1 large egg
3/4 cup molasses
1/2 cup buttermilk or plain yogurt
¼ cup finely diced crystallized ginger (mini diced ginger)
Instructions
To make the cakes: Preheat the oven to 375°F. Lightly grease three baking sheets, or line with parchment.

Whisk together the flour, salt, baking powder, baking soda, and spices; set aside.

Combine the butter and brown sugar, beating until the mixture is fluffy.

Beat in the egg, scraping the bottom and sides of the bowl.

Add half the dry ingredients. Mix to combine, then beat in the molasses, the remaining dry ingredients, and the buttermilk.

Stir in the crystallized ginger.

Use a rounded teaspoonful or a teaspoon cookie scoop to drop the batter onto the prepared baking sheets. Leave at least 1" between cakes to allow for spread; scoop no more than 12 per pan. You'll need to bake these cakes in batches.

Bake cakes until puffed and set, about 10 to 12 minutes. Remove from the oven, and cool on the pans until set enough to move. If you've baked on parchment, transfer the parchment and cakes to cooling racks, so you can use the pans for the next batch more quickly. Once all the cakes are cool, make the filling.

To make the filling: Sift the ClearJel with the sugar.

Add the cream cheese, butter, and vanilla, and beat until smooth.

To assemble the cakes: Spread a heaping teaspoonful of filling onto the flat side of half the cakes. A teaspoon cookie scoop, not quite filled, works well here.

Top each filled cake with a second, unfilled cake, rounded side up, and refrigerate until serving.

About 1 hour before serving, remove whoopie pies from the refrigerator; these are more tasty at room temperature.

Yield: about 32 whoopie pies; 70 unfilled halves.