A customized print-friendly version of this recipe is available by clicking the "Print Recipe" button on this page.
Mini Gingerbread Whoopie Pies with Cream Cheese Filling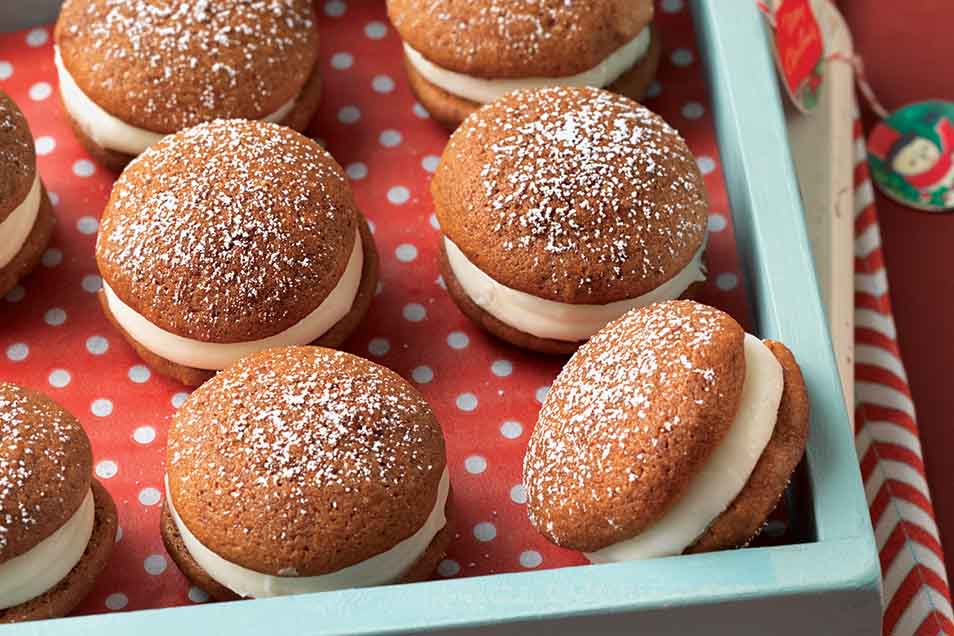 Our holiday version of this New England specialty is miniaturized, making it perfect for your cookie swap.
Ingredients
Cakes
2 ½ cups King Arthur White Whole Wheat Flour
½ teaspoon salt
1 teaspoon baking powder
1/4 teaspoon baking soda
1 1/2 teaspoons ground ginger
1 teaspoon ground cinnamon
¼ teaspoon ground cloves or allspice
½ cup unsalted butter, softened
¼ cup brown sugar, firmly packed
1 large egg
3/4 cup molasses
1/2 cup buttermilk or plain yogurt
¼ cup finely diced crystallized ginger (mini diced ginger)
Instructions
To make the cakes: Preheat the oven to 375°F. Lightly grease three baking sheets, or line with parchment.

Whisk together the flour, salt, baking powder, baking soda, and spices; set aside.

Combine the butter and brown sugar, beating until the mixture is fluffy.

Beat in the egg, scraping the bottom and sides of the bowl.

Add half the dry ingredients. Mix to combine, then beat in the molasses, the remaining dry ingredients, and the buttermilk.

Stir in the crystallized ginger.

Use a rounded teaspoonful or a teaspoon cookie scoop to drop the batter onto the prepared baking sheets. Leave at least 1" between cakes to allow for spread; scoop no more than 12 per pan. You'll need to bake these cakes in batches.

Bake cakes until puffed and set, about 10 to 12 minutes. Remove from the oven, and cool on the pans until set enough to move. If you've baked on parchment, transfer the parchment and cakes to cooling racks, so you can use the pans for the next batch more quickly. Once all the cakes are cool, make the filling.

To make the filling: Sift the ClearJel with the sugar.

Add the cream cheese, butter, and vanilla, and beat until smooth.

To assemble the cakes: Spread a heaping teaspoonful of filling onto the flat side of half the cakes. A teaspoon cookie scoop, not quite filled, works well here.

Top each filled cake with a second, unfilled cake, rounded side up, and refrigerate until serving.

About 1 hour before serving, remove whoopie pies from the refrigerator; these are more tasty at room temperature.

Yield: about 32 whoopie pies; 70 unfilled halves.
Reviews
If you like ginger you'll love these whoopee pies. Nice combination of textures and flavor, and using parchment paper on the cookie sheets the results were nearly perfect. The recipe as it appeared in the KAF November catalogue says 40 pies. They mean about 40 halves -- 20 pies.
I made these mini gingerbread whoopie pies per the recipe and was disappointed with the outcome. I like a spicy, not overly sweet gingerbread, so I thought this recipe would be a keeper as it only has 1/4 cup brown sugar. Although the little cakes actually looked fine, they were dry-tasting (was that because of the white whole wheat flour?) and pretty bitter. What would you advise to make the cakes more moist and less bitter?
I wonder if you might prefer a gentler molasses. Please call us at the Hotline so that we might troubleshoot together. ~Jaydl@KAF
I made these yesterday. They are tasty but I can't really taste the ginger. Nine ounces of molasses really overpowered the whoopie pies and that is the prominent flavor. The recipe didn't specify what type of molasses to used. I used what I had at home, Brier Rabbit full-flavored molasses. Next time I think I'll cut the amount of molasses to 4 ounces.
You might consider cutting back one or more of the other spices - the cloves/allspice or cinnamon instead of reducing the liquid/molasses. Happy Baking! Irene@KAF
These are adorable and delicious! I love gingerbread and whoopie pies, so I HAD to make these. The size is great for holiday baking - normal size whoopie pies are just too big for a cookie tray. These weren't very hard to make, and they came out great with what I happened to have on hand: no white whole wheat, so I used all purpose, and I didn't have crystallized ginger, so I just left it out. The only issue I had was with the icing. I think there really needs to be instructions in the recipe for making the icing without the clearjel. I didn't have any, so I tried leaving it out. This left the icing too runny, which is to be expected, since clearjel is a thickener. I ended up having to add more confectioner's sugar, and also a bit of cornstarch, since I didn't want the icing to be overly sweet. It turned out fine in the end, but it would have been nice not to have to wing it.
These were easy and delicious. I added a tiny bit of orange zest to brighten the flavors a bit, but it wasn't necessary. I didn't use the cream cheese filling - I filled them with a stout buttercream that I found on another site - delicious combination!!
Have wanted to make these since the catalog came. Easy and delicious! Did the test run today for my daughter's K class holiday party next week to see if they'd appeal. I'm thinking yes. Used a Tbs scoop instead of tsp and they came out perfectly sized, at the same cooking time (odd). Thank you for a different and fun take on gingerbread!
we used these with a tiny scoop of vanilla ice cream and made the best ice cream sandwiches. love them.
I loved this recipe! I used white flour instead since I didn't have what the recipe called for. I also didn't use the crystalized ginger or the clearjel. Yum Yum Yum is all I can say!
First let me say that I've gotten quite a baking reputation mostly utilizing kaf recipes. I liked the idea of this one but I agree w the reviewer of the full size version I just saw--remind me a bit of bran muffins. I don't mind them but definitely didn't win over my husband who has an aversion to even the white whole wheat which he swears he can taste. The cake by itself really isnt sweet at all. The filling compensates but it's not an overly sweet cream cheese icing. Together ok but not as sweet as your typical whoopie and not as sweet and spicy as your typical gingerbread. I did leave out the crystallized ginger as I'm not a big fan but i can't imagine that that would've sweetened it much. All in all ok but not the success I've become accustomed to w the kaf recipes.