A customized print-friendly version of this recipe is available by clicking the "Print Recipe" button on this page.
Miraculous Spinach Quiche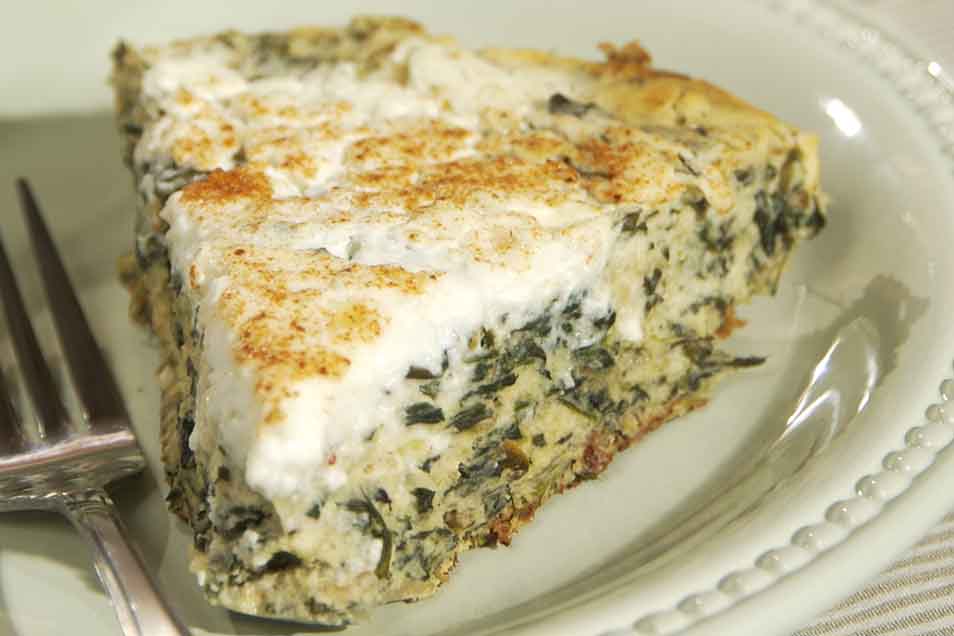 This lower-fat, healthier spinach quiche doesn't require rolling and fitting a crust. It "miraculously" forms its own whole-grain crust as it bakes.
Ingredients
Filling
1 cup onion, peeled and diced (1 medium onion)
2 tablespoons butter or 2 tablespoons vegetable oil
1/8 teaspoon dried thyme
1/4 teaspoon ground nutmeg
2 cups (15-ounce container) ricotta cheese
1/2 teaspoon salt
3/4 cup egg substitute, or 3 large eggs, beaten
1 (10-ounce) box frozen chopped spinach, thawed and thoroughly wrung dry*
1 cup grated low-fat cheese: jalapeño or plain cheddar, Jarlsberg, or the low-fat cheese of your choice
*If desired, use fresh spinach. You'll need about 1 cup cooked, drained, chopped spinach.
Topping
1 cup low-fat yogurt cheese, or low-fat sour cream (See "tips", below.)
paprika, optional
Instructions
Preheat the oven to 375°F. Use non-stick vegetable oil spray to heavily grease a 9" deep-dish pie pan (a 9" pie pan that's at least 1 1/2" deep), or a 9" springform pan.

To make the crust: In a large bowl, whisk together the flour, baking powder, salt, and dry milk.

Mix in the butter with a fork, a pastry blender, a mixer, or your fingers, until crumbly. Set it aside momentarily. You'll be adding the filling ingredients shortly.

To make the filling: Sauté the onion in the butter until it's soft and golden brown, about 10 minutes.

Stir in the thyme and nutmeg.

Remove the filling from the heat, and add it to the crust mixture in the large bowl along with the ricotta, salt, egg substitute or eggs, spinach, and grated cheese.

Mix everything together thoroughly, and spoon it into the prepared pan.

Spread with the yogurt cheese or sour cream. Dollop the sour cream atop the filling, then use a spatula, or the back of a spoon, to smooth down and connect the dollops. Sprinkle some paprika on the top, if desired.

Bake the quiche in a preheated 375°F oven for 50 to 55 minutes, or until it appears set almost all the way into the center, and has begun to brown slightly. It may crack, that's OK.

Remove it from the oven, and cool it on a rack for at least 20 minutes, preferably 30, before serving.

Refrigerate any leftovers for up to 3 days.
Tips from our bakers
Yogurt cheese is yogurt that's been drained until it's very thick. If you're feeling ambitious, you can make your own yogurt and drain it; read about this in our blog: Homemade Yogurt: Simple Pleasure.
Reviews
This recipe is not a quiche per se, as it has a bread pudding kind of consistency. I used cooked broccoli, not spinach, and sauteed mushrooms with the onion. Instead of the sour cream topping I did a spiral of sliced tomatoes. We loved it with these changes. It made all of it lighter and more flavorful. We'll make it again.
This was the first quiche I ever made and it all worked out great. It's lovely to just throw things together and have them come out right. It's nothing like a regular quiche though. I recently tried the Basic Vegetable Quiche from the KA cookbook and it was to die for rich and flavorful. This is more of an average, easy meal. Good for a weekday night when you don't want to think too much.
With such great ingredients, it's surprising how disappointing this recipe was! It wasn't until I started to actually cook that I realized that the crust ingredients had to be mixed in with the filling ingredients, which created a very doughy, heavy dish more similar to a (very dense) fritatta than a quiche. I don't even understand why the recipe even breaks down the steps and ingredients into "crust" and "filling" when it's all just mixed up in the end? After we each had a piece I had to throw it all out because it was just too bland and heavy. I agree with Barbara from Reno.
I'm sorry this recipe was not what you were hoping for. The 2 steps are separated to allow the butter and flour to be blended before the addition of the "liquid" ingredients. Frank @ KAF.
I don't normally use low-fat recipes, but I made this the other day and we all enjoyed it. It's even better the next day. If you make it, I think you will like it.
sorry, too stiff and flavorless. I tried it, but just was dry and no creamy texture you would expect from a quiche. Nice try to make us healthy, but would rather ration out a normal quiche than eat this sorta expensive substitute. A mess of a recipe....come on you guys..
absolutely great! I added in some drained canned mushrooms for extra flavor and didn't use the salt (the mushrooms have enough)
Delicious, easy..no crust to make.....healthy and low fat. Made it with fresh garden spinach, it was awesome. Shared with a friend who said it was the best quiche she ever made and her family loved it.