A customized print-friendly version of this recipe is available by clicking the "Print Recipe" button on this page.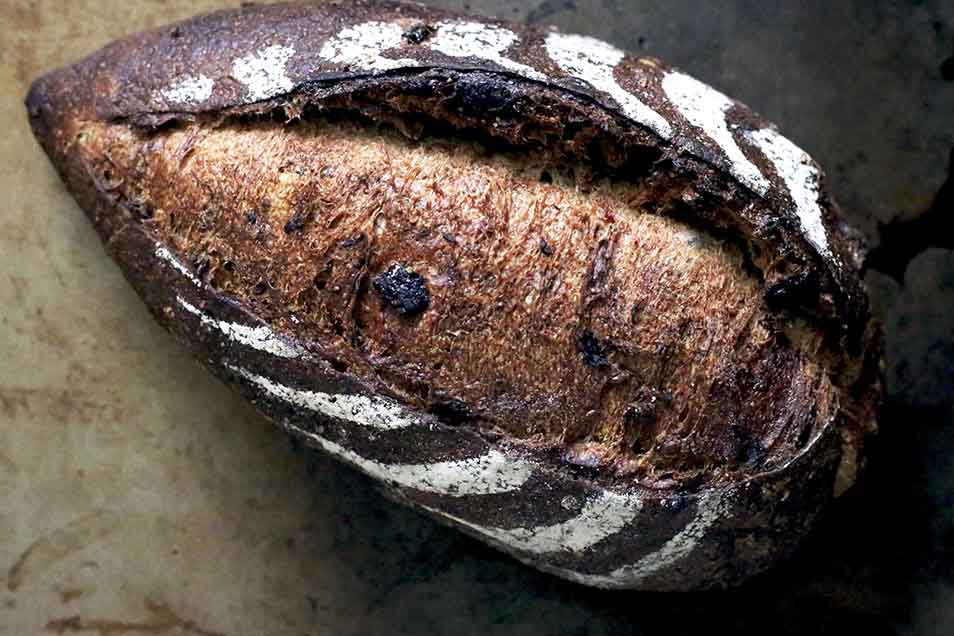 This dense and chewy bread, with its crunchy crust, is packed with flavor. Read all the way through the directions before starting; it's an overnight bread, so you'll need to plan ahead. Also, this recipe comes from baker Martin Philip and our King Arthur Flour Bakery. Since our bakers put together their formulas using gram measurements, rather than ounces or volume, you'll be most successful if you make this bread with the aid of a gram scale.
Ingredients
Soaker
6 tablespoons water
1/2 cup + 1 tablespoon cracked wheat
Dough
1 3/4 cups King Arthur White Whole Wheat Flour or Premium Whole Wheat Flour
1 teaspoon instant yeast
1 scant cup room-temperature water (about 70°F)
all of the preferment (above)
a scant 2 1/2 teaspoons salt
all of the soaker (above)
1 cup dried Mission figs, stemmed and chopped slightly larger than marble size
1 1/2 teaspoons anise seed, toasted in a skillet until lightly browned
Instructions
To make the preferment: Mix the flour, water, and sourdough starter until thoroughly combined. Cover and let rest at room temperature for 12 to 16 hours; the dough will be nice and bubbly.

To make the soaker: Toast the cracked wheat in a skillet set over low heat until the grains are lightly browned, and smell toasty. Combine the wheat and water, and let rest overnight.

To make the dough: In a large bowl, combine the flours and yeast, then stir in the water, mixing until no dry bits remain. If you're using a stand mixer, this may take up to 3 to 4 minutes at low speed.

Let the dough rest in the bowl, covered, for 20 minutes.

Add the preferment, soaker, and salt, mixing until fully incorporated. Mix for 6 to 7 minutes at medium-low speed; the dough should be smooth (aside from the cracked wheat) and elastic.

Add the fig and anise seed, mixing on low speed until evenly distributed. The dough may be quite stiff; that's OK.

Check the dough temperature; it should be between 75°F and 80°F. This is the optimum temperature for rising dough, so try to find a spot that's around that temperature.

Cover the bowl, and let the dough rise for 15 minutes. Give the dough its first fold by reaching into the bowl and pulling a corner of dough up, folding it back toward the middle, and pushing it down. Repeat, working your way around the dough ball, for a total of 4 to 6 times. This will both de-gas the dough, helping the yeast to work; and strengthen the dough's structure.

Repeat folding the dough after another 15 minutes (at the 30-minute mark since it started rising), and once more at the 45-minute mark.

Let the dough rise for 90 to 120 minutes, or until it's noticeably puffy, though perhaps not doubled in bulk.

Gently deflate the dough, and divide it into two pieces about 560g each.

Gently pre-shape the pieces by gathering the corners of the dough and folding them to the center to form a loose ball. Place the balls, seam-side down, on a very lightly floured surface, cover, and let rest for 10 to 15 minutes.

Working with one piece of dough at a time, shape as a batard with tapered points. Tuck one end underneath to create a teardrop shape. Place seam-side up on a flour-dusted couche or smooth cotton towel. Repeat with the second piece of dough. Need help shaping? See our tips for shaping a batard video.

Gently cover the loaves, and let them rise for about 60 minutes, until they're puffy.

While the loaves are rising, preheat your oven to 450°F, with a baking stone on the middle rack. Place a cast iron pan on the oven's lowest rack; you'll use it to create steam.

To bake on a stone: Roll the proofed loaves, seam-side down, onto a peel dusted with semolina or whole wheat flour. If you aren't using a stone, roll them onto a parchment-lined baking sheet, seam-side down.

Score the dough with a baker's lame or very sharp knife, cutting an arc from the midpoint of the tip to the midpoint of the base.

Add 1 cup boiling water to the cast iron pan. Quickly use the peel to load the loaves onto the stone (or place the pan in the oven), and close the door.

Bake the loaves for 32 to 37 minutes, or until they're a rich mahogany color. The top crust will feel firm, and the bottom crust will be robust, but not burned. If you have a digital thermometer, the loaf's center temperature should be about 200°F.

Remove the loaves from the oven, and transfer them to a rack to cool.

Yield: 2 loaves.
Tips from our bakers
Want to try Martin's favorite figs? Look for unsulphered, dried Black Mission figs.
If your figs seem especially dry, give them a quick soak in hot water for about 20 to 30 minutes, then drain and add to the recipe as usual.
Reviews
Excellent recipe. The dough is easy to work with and my results, like the other reviewers, were just as pictured. My only suggestion to KA, for those of us who use metric weights, is to PLEASE also convert the salt and anise into grams (rather than volumes). I buy my spices in bulk from organic vendors, and the anise seeds I use are smaller than the commercial bottled ones available in the grocery - I believe that I likely used more anise than the recipe intended (flavor was still great, but I will cut back a bit next time).
I Followed the spirit of the recipe but made some substitutions 2tsp fennel for anise and toasted wheat germ for cracked wheat. I skipped the soaker but added the water+. This has all the elements of a great artisan bread. I will make it again.
I baked this yesterday morning, the crust is to die for. I didn't have a few ingredients so I substituted fennel for the anise and toast
I've made this bread twice now, exactly according to the instructions and then again using soaked barley instead of wheat. Both were fantastic. We loved the anise flavor, and the figs were a treat, too. I would like to try again. The height of the bread was not as I'd hoped. I reached out to your help line about this, but I think the ambient temperature in my kitchen this winter has not been working in my favor. Still, this recipe says in the "proven winners" file.
Excellent!!! great flavor and crumb. The recipe is easy to follow, instructions well written. The bread is great. Please make. Thanks KAF for the recipe.
I still consider myself a novice bread baker (maybe even on the beginner end of novice) but I love figs and anise so I just had to try this. It was also my first experience with sourdough starter. Even for a novice who was flying by the seat of her pants, this bread came out beautifully! It was so delicious. I kept one loaf and gave the other away, and my friend loved it too.
I followed the instructions closely and it came out just as photographed. It is a delicious loaf and stayed fresh for quite a few days. I will definitely make this again. I added 2 tablespoons of vital wheat gluten as we live at over 6,000 ft. and it had good oven spring.
This bread is so flavorful. I love figs and I like anise in small doses. This bread was the perfect combination of the two flavors. They complimented each other beautifully. The bread is very easy to make. You just need to plan ahead. I used dried Mission Figs that I purchased on the internet. I soaked my dried figs in water for an hour before using them in the bread to prevent them from sucking all of the moisture out of the dough. It worked perfectly. This recipe is a keeper. Thanks KAF for another great recipe.
This is a bit more involved than the average artisan loaf, but it's worth the extra effort. Gorgeous crust and chewy interior. I happen to love figs, and found them irresistible in combination with the anise. Fabulous with soft cheeses.
As soon as I saw this recipe photo I knew I had to make it! This bread was a feast for the eyes and palate. I've never made a bread with figs, but it seemed appropriate for the season. I made the bread as instructed and it turned out just like the photo. I love the different shaping technique. The only reason for 4 stars instead of 5 was that my family wasn't overly fond of the anise/licorice taste. But that is purely our preference.