A customized print-friendly version of this recipe is available by clicking the "Print Recipe" button on this page.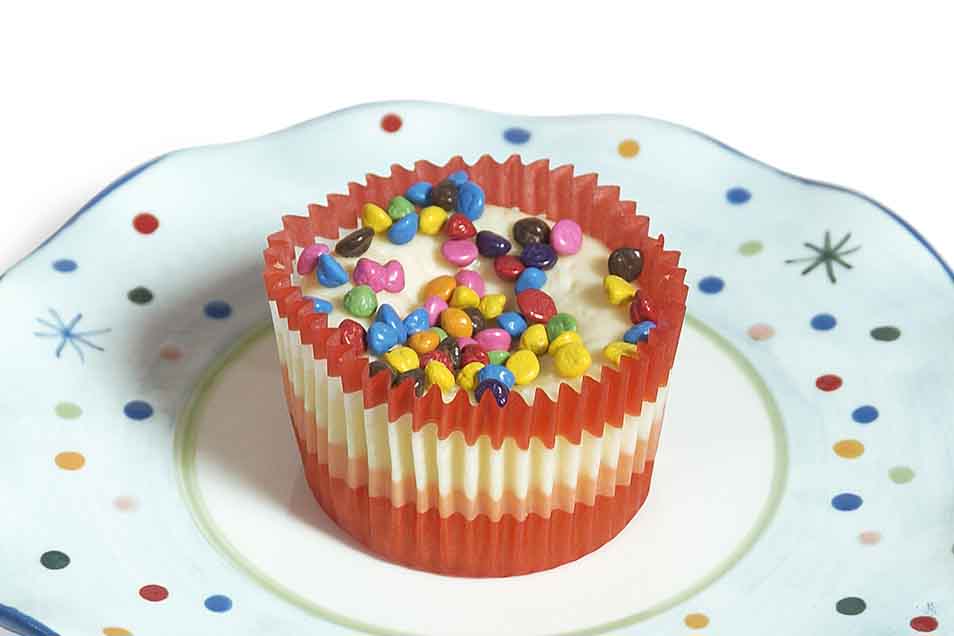 This innovative recipe uses a ready made cake mix for the crust, and plenty of vanilla in the filling. The result is a satisfying cheesecake bursting with vanilla flavor, a perfect foil for your favorite fruit topping.
Ingredients
Filling
1 cup reserved cake mix
2 (8 ounce) packages cream cheese, room temperature
1/2 cup granulated sugar
3 eggs
1 1/2 cups milk
3 tablespoons lemon juice
3 teaspoons vanilla
Instructions
Preheat oven to 300 degrees. For the crust place the cake mix (minus one cup dry mix) in a mixing bowl, or the bowl of your stand mixer. Add 3 tablespoons of vegetable oil, 3 tablespoons of water, and one egg and blend on low speed until the mixture holds together when squeezed.

Divide the crust mixture evenly into 20-24 greased or paper lined muffin tins. Press the mixture evenly into the bottoms, and about 1/4 inch up the sides of the muffin wells. Set aside.

To begin the filling, mix the lemon juice with the milk and set aside.

In a mixing bowl, place the reserved one cup of mix, the cream cheese, 1/2 cup sugar and 3 eggs. Beat on medium low speed for one minute, until creamy.

Turn to low, add in the milk/lemon mixture and mix for 30 seconds. Add the vanilla and blend until smooth. Avoid overbeating, this can cause your cheesecakes to sink in the center.

Divide the batter evenly into the prepared muffin tins. A pitcher with a pouring spout makes this quite easy.

Bake at 300 degrees for 20-25 minutes, or until the centers are just set. Turn off the oven, and prop the door open with an oven mitt or pot holder. Let the cakes cool in the oven for 30 minutes.

Carefully remove the cakes from the pans. Refrigerate 3-4 hours or until well chilled. Top with cherry pie filling (my favorite) or other fruit filling. Serve cold, refrigerate any leftovers.
Tips from our bakers
This cheesecake can also be baked in a 13-9x2 inch pan. Bake at 300 degrees for 45-55 minutes. Refrigerate for 6-8 hours before serving.
For a deliciously mild chocolate cheesecake, replace the Golden Vanilla Cake mix with our Deliciously Simple Chocolate Cake mix. All other ingredients and instructions remain the same.
Be sure your cream cheese is well softened. This will prevent lumps in your batter.