A customized print-friendly version of this recipe is available by clicking the "Print Recipe" button on this page.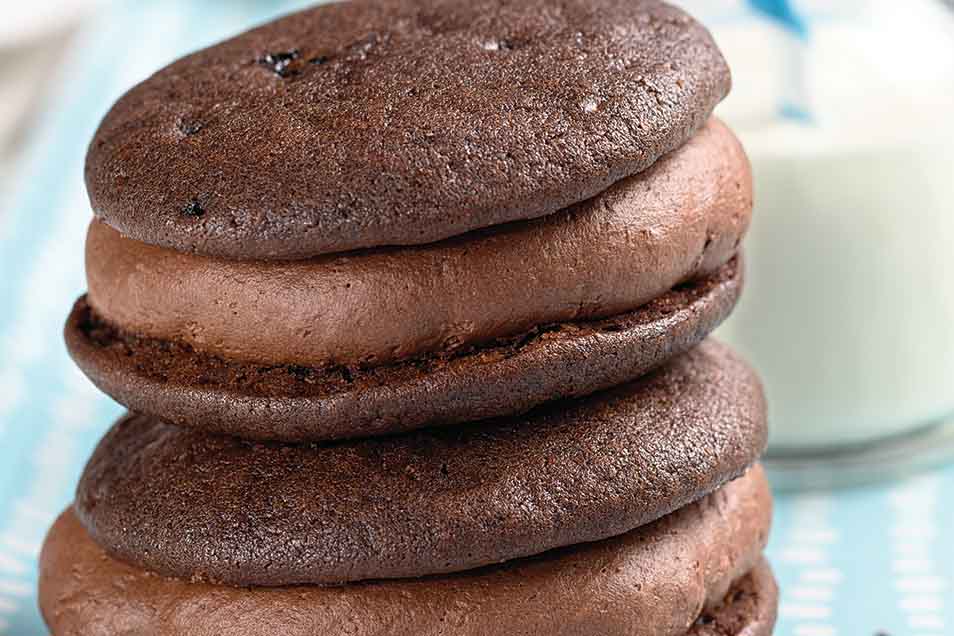 Coffee and chocolate are a wonderful match. Here we've sandwiched a rich chocolate ganache filling between espresso-enhanced cake rounds to make a delightful treat fit for your best cup of coffee.
Ingredients
Cakes
1/2 cup (8 tablespoons) butter, at room temperature
1 cup (7 1/2 ounces) brown sugar
3 tablespoons espresso powder*
1 teaspoon baking powder
1/2 teaspoon baking soda
3/4 teaspoon salt
1 large egg
1/2 cup King Arthur All-Purpose Baking Cocoa or Dutch-process cocoa
2 1/3 cups King Arthur Unbleached All-Purpose Flour
1 cup milk
*This amount of espresso powder makes the cakes very strongly coffee-flavored. If you're not a big coffee fan, cut the espresso powder back to a level you think you'll find acceptable; or for plain chocolate whoopie pies, eliminate it entirely.
Filling
2 cups semisweet chocolate, chopped
1 cup heavy cream
Instructions
Preheat the oven to 350°F. Lightly grease two baking sheets, or line with parchment.

To make the cakes: Beat together the butter, sugar, espresso powder, baking powder, baking soda, and salt until smooth.

Add the egg, again beating until smooth. Stir in the cocoa.

Add the flour alternately with the milk, beating until smooth, and scraping down the sides and bottom of the bowl.

Drop the dough by the tablespoonful onto the baking sheets, leaving about 1 1/2" to 2" between the rounds.

Bake the cakes for 10 to 12 minutes, until firm to the touch. Cool on the pans for 10 minutes, then transfer to a rack to cool completely.

To make the filling: Heat the cream to just below simmering. Pour over the chocolate, let sit for 30 seconds, and stir until smooth, reheating briefly if necessary. Cool to room temperature. Refrigerate for several hours, to set.

When ready to fill the cakes, beat the chocolate mixture until it's light and airy.

Spread the flat side of half the cakes with the filling. Top with the remaining cakes, rounded side up; press down gently.

Yield: 20 to 22 mini pies.
Tips from our bakers
For a traditional-size whoopie pie, drop the batter by 1/4 cupfuls onto the baking sheets and bake for 14 to 16 minutes until set. Finish as directed in the recipe.
Feel free to substitute semisweet chocolate chips for the chopped semisweet chocolate called for in the filling. The better-quality chocolate, the better the flavor, so choose your chopped chocolate or chips accordingly.
Reviews
I wanted to make whoopie pies with a buttercream Irish cream filling, but wanted a recipe I could trust. I came to this site because I knew that kaf allows you to use weighing rather than measuring. I always try to weigh ingredients because you always are assured of consistency. I was not disappointed in these pies! They are cake-like and soft. I sprinkled the tops of them before baking with sparkling sugar, which added a subtle, yet perfect crunch. I agree with another review that they are even better the next day (stored in an airtight container). The best thing is I got rave reviews at the neighborhood party, yet I had never made them before. I felt that confident in kaf. I will be trying the filling next time!
I ended up throwing the whole recipe away!!! The cakes were as dry as sandpaper and they crumbled when you tried to press them together over the filling. And I followed the recipe exactly for the filling - but after I refrigerated the filling and tried to beat the chocolate mixture - is separated. So unfortunately I trashed the whole thing and had to go to the store and bring something "store bought" to the party. This one was a waste of my time and some very good chocolate!

We're sorry that one didn't work for you. It sounds as if there was a bit too much flour in the cakes, making them dry. Use a scale or dip, sprinkle, scrape method of measuring. If the basic ganache filling got too cold, as it beats it will appear to separate. Next time, try warming it slightly over a double boiler, then beating it. Even if it appears to break, keep beating it and it will come back together- it's what I like to call a "Walk away" moment. Happy baking! Laurie@KAF
THESE were really, really good. They took a bit of time to make, but I think it was worth it. I made a batch of the classic whoopie pies at the same time and forgot which were which on my cooling racks, so some got mixed in with the wrong filling, but I couldn't tell. These weren't particularly mocha-y, but very choclately and good. Not overly sweet either, which was nice. I got worried for a second when I was filling them and after about eight pies, the filling started to, I guess, seize up on me and not fill smoothly. I Just had to beat it again and I think I may have added a smidge more liquid, can't remember, but then the rest filled perfectly. Made 'em for a big event and I don't think any were uneaten. I'll definitely make these again.
These are dangerously good! My first time making whoopie pies & the recipe was easy to follow, they came out perfectly. I used instant coffee & whole wheat pastry flour. For the filling I used a chocolate buttercream frosting recipe so they did not have to be refrigerated. They were gone in 2 days.
Mmmmm - That sounds mouth-watering good! Thanks for sharing your recipe variation - happy baking! Irene@KAF
I have made these twice and have learned as I went. I used coffee emulsion instead of espresso powder (it was what I had on hand) and I have found that using a pastry bag to pipe the batter into circles works much better than using a spoon or scoop. The first time I made them (while delightful and yummy) they were quite large and poofy; the second time, using the pastry bag, they turned out smaller and with the perfect amount of poof. I would recommend this recipe to anyone. I have coworkers who request these and there have never been any left when I have made them.
It is in between the chocolate cookie and individual cake. The recipe has just right amount amount of sweet and chocolate, moisture, and most of all, Deeelicious!
Oh, yeah. I made these and couldn't keep them around very long. Made a second batch the next day and hid a few away. Two days later I opened the hide-away stash and they actually tasted better than when first out of the oven, not that the fresh out of oven ones weren't great either! We are very pleased with this recipe.
I made these with a small change. For the filling, I added a jar of marshmallow creme and 1/4 cup of powdered sugar to cut back on the death by chocolate factor. I earned RAVE reviews on these! Thanks KAF!