A customized print-friendly version of this recipe is available by clicking the "Print Recipe" button on this page.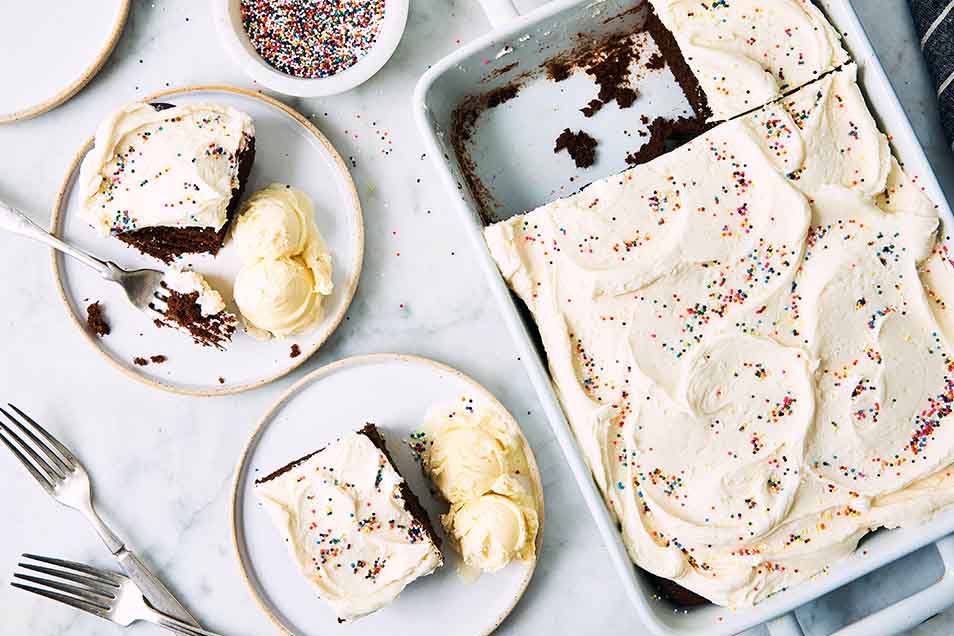 This rich chocolate cake relies on our King Arthur Unbleached Cake Flour Blend for its lovely texture.
Ingredients
1 1/2 teaspoons baking powder
1/2 teaspoon baking soda
1/2 teaspoon salt
3/4 cup unsweetened cocoa powder
1 3/4 cups granulated sugar
1/2 cup (8 tablespoons) unsalted butter, very soft
1/3 cup vegetable oil
1 teaspoon vanilla extract
1 cup milk
1/2 cup brewed, cooled coffee, or water
4 large eggs
Instructions
Place a strainer over a large mixing bowl. Measure in the flour, baking powder, baking soda, salt, cocoa, and sugar. Sift/shake the dry ingredients through the strainer into a mixing bowl, to eliminate any lumps.

Add the butter and mix at low speed for 1 minute. With the mixer running, add the oil and continue mixing until the mixture looks like sand.

Combine the vanilla with the milk and coffee or water, and add all at once. Mix for 1 minute at low speed, stop and scrape the sides and bottom of the bowl, then mix for 30 seconds.

Add the eggs one at a time, beating well at medium-high speed between additions. The batter will be thin.

Pour the batter into the prepared pan of your choice (one 9" x 13" pan, two 9" round pans, or three 8" round pans). Bake in a preheated 350°F oven for 34 minutes for a 9" x 13" pan; 28 to 30 minutes for 9" layers; or 24 to 26 minutes for 8" layers. The cake is done when a toothpick inserted in the center comes out clean. Remove from the oven and cool on a rack before frosting.
Reviews
Just to confirm does this recipe go in two or three 8 inch pans? There is conflicting information between what it yields saying three to a comment on reviews saying two. My first trial of half this mixture in one 8 inch oak was dense and sunk after removing. I'm wondering if splitting this into three 8 inch pans would help with this?

Chloe, thanks for pointing out the discrepancy to us! We're taking care of the comment as we speak. Yes, this should work better in three 8 inch pans, as written in the recipe. We really appreciate your reaching out! Happy baking! Kat@KAF
How can i half this recipe can someone tell me the measurements

Hello, A! While we're not able to calculate or modify recipes, you can multiply each ingredient by two to create either four 9" rounds, six 8" rounds, or two 9"x13" cakes. Happy baking! Annabelle@KAF
This recipe was on the back of the King Arthur cake flour box years ago. It is my go to for chocolate cake. It is a bit messy in the stand mixer, but worth it. Very moist and stands up well to layering. I use dark chocolate baking powder.
I baked this recipe and it turned out perfect! With raspberry and chocolate buttercream it was a success at my party, although while I followed directions the batter was thick but filled two 9" round cake pans and was very moist, despite one cake needing to be cooked longer. The cake came out with domes, but was alright to be used in a two layer cake. I would definitely make this again. Also, I used hot cocoa instead of coffee and added 2 tsp of raspberry puree mixed with water. Turned out wonderful!
This is a great recipe! The flavor and texture is on point! It received great reviews eaten plain, and paired with vanilla buttercream. I baked this recipe twice and the cakes came out with domes. Is this typical of the recipe? Not complaining, as I just trimmed it off and went with it, only curious. Thanks so much!

BakerMom, most cakes will have somewhat of a dome, but try cutting back on the time spent mixing the batter, that usually plays a big role. Bryanna@KAF
Just baked this recipe for the first time, though I make all our treats and baked goods from scratch, this was the first effort with Moist Chocolate Cake. I used my go to butter for baking, Kerry Gold unsalted, TCHO chocolate, unsweetened almond milk in lieu of cow's milk, reduced the sugar to 1 1/2 cups (heavy) because we prefer less sugary sweets and the coffee as suggested. Lastly, used excellent quality (oil should not be stored in plastic--ever) avocado oil though would recommend safflower as a preference for baking. This is delicious! The crumb is delicate and the cupcakes have good structures. The reduced sugar is to our liking, however, the taste leads me to feel that even the full amount would not result in an overly sweet cake. The cupcakes were cooked in a convection oven (meant to change from convection to just bake, but forgot) and took 23 minutes--I do not recommend convection. The cake is delicate and the fan actually caused the tops of the cupcakes to be slightly off center. Paired this with the Fluffy White Buttercream frosting to very positive reviews. This was a trial run to test the recipes and I specifically requested critical feedback to which I received....don't change a thing! The taste is excellent and the after taste is equally delicious. This chocolate cupcake with vanilla frosting will be featured at my daughter-in-law's baby shower.
I love this recipe, it was my first time ever baking a cake from scratch. I made cupcakes for my soon to be daughter in laws bridal shower next week. These were delicious, moist, and OMG so chocolaty. They have to be the best ever. The only thing I did different was, instead of milk I used buttermilk. Well I made homemade buttermilk by using one cup of 2 % milk and 1tbsp of cider vinegar. This recipe was easy and made about 42 mini cupcakes. I also made another batch it made about 16 regular cupcakes. If you like chocolate cupcakes this is the recipe for you!
Hello, I'd like to know if this recipe can be made into cupcakes? If so, what would be the baking time and temp.? Thanks.
Yes, most layer cakes can be made into cupcakes and baked at 350°F for 18-20 minutes. MJR @ KAF
I followed this recipe to a T and although the cupcakes are moist and nice & rounded on top, they taste doughy and bland. Ew.
We are sorry to hear that you had trouble with this recipe. Please do contact our hotline if you'd like help troubleshooting. MJR @ KAF
The recipe was too big for my old but functional Kitchen Aid 4, which has a 4 qt bowl. I don't have a spatter guard but draping a towel usually works. Not this time. The dry ingredients flew everywhere. Then the dry ingredients with butter flew everywhere. I tried adding the liquids while the mixer was running and splats of chocolate batter went on the wall and cupboards. After the eggs the batter was only two inches from the top of the bowl. The cake sunk. Perhaps I lost enough ingredients that the proportions were off. Maybe I beat it too much or too little as I was figuring out how to beat it at all without Vesuvian results. It is likely I was feeling impatient about the extra clean up and pulled the cake out of oven too early. One good thing came out of this. I discovered the icing made with flour, milk and granulated sugar. It is excellent. Certainly better than the cake. So the cake was heavy and preparation was a royal pain. If you are using a mixer make sure the bowl is big enough or find a recipe that doesn't require flinging around the dry ingredients at the beginning. I can't fault the recipe, though. HOwever I suggest mentioning that the recipe is too big for smaller mixers annd the cook needs a 5 quart bowl.