A customized print-friendly version of this recipe is available by clicking the "Print Recipe" button on this page.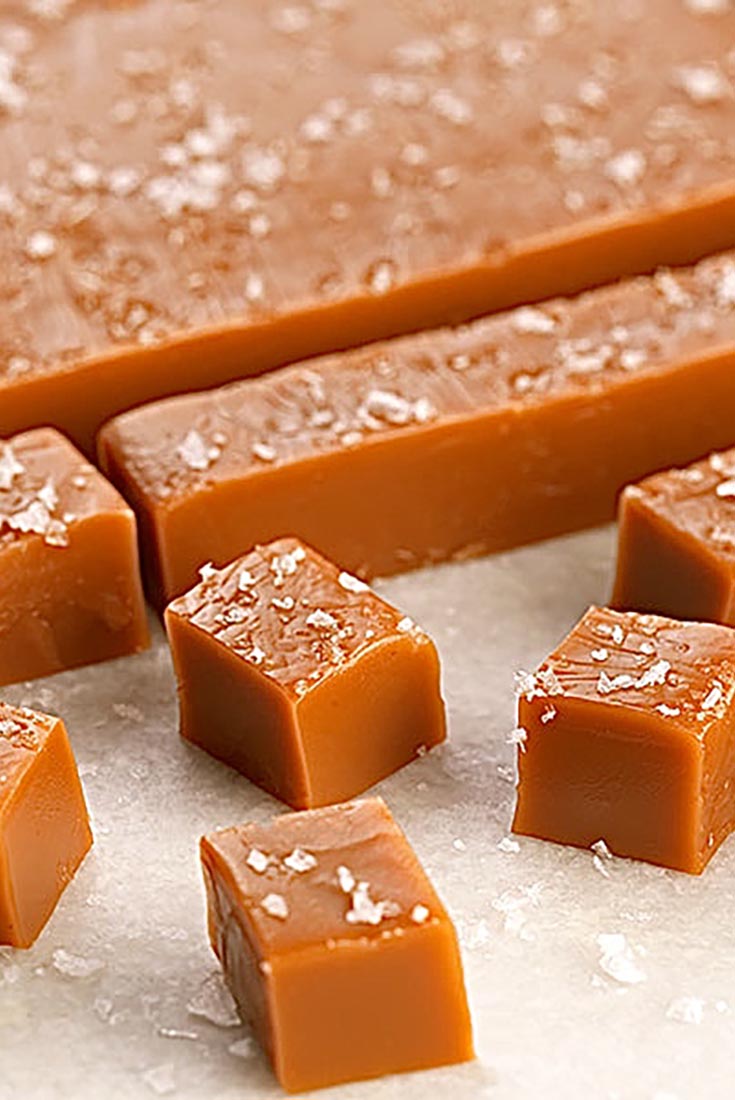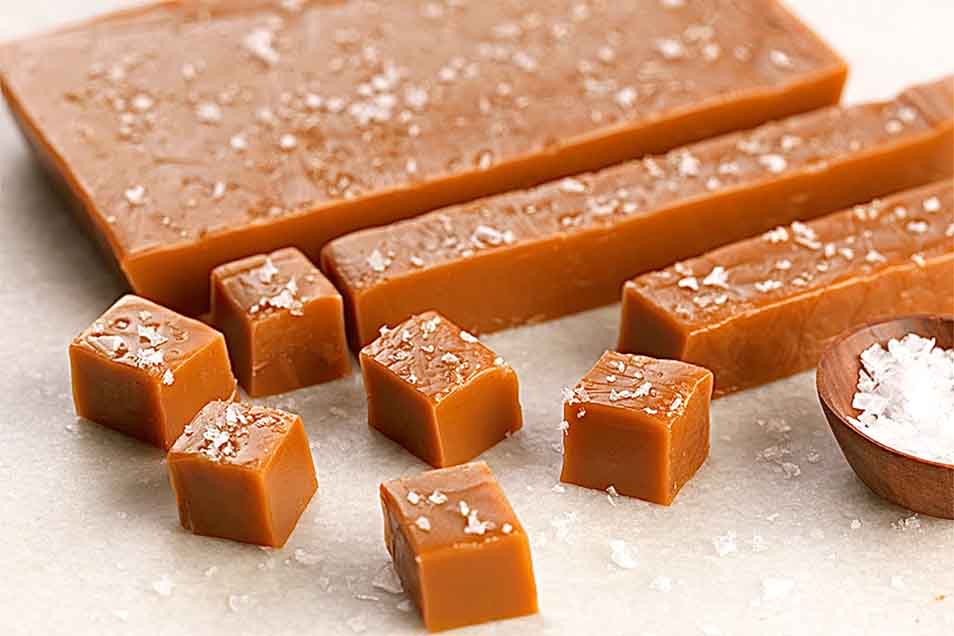 Barb Alpern, a member of our King Arthur Flour bakers' support team, says about these caramels, "There was one recipe that my mother made each year during the holidays that was truly great. Caramels, in the ethos of my mother's farm upbringing, were a handmade gift, a special indulgence, and a test of culinary prowess." You'll find this candy to be all of these!
Ingredients
8 teaspoons (2 tablespoons + 2 teaspoons) vanilla extract
2 cups (1 pound) unsalted butter
4 cups (1 quart) half & half
2 cups (1 pint, 16 fluid ounces) light corn syrup*
4 cups granulated sugar
2 cups light brown sugar
2 teaspoons salt
*See "tips," below.
coarse flake sea salt for topping, optional; for salty caramels
Instructions
Butter two 8" x 8" or 10 1/2" x 6 1/2" pans. Measure the vanilla into a small container, and set it aside for later.

Cut the butter into 1" chunks, to help it melt faster. Combine the cut-up butter, half & half, corn syrup, sugars, and salt in a heavy-bottom, 5- to 6-quart saucepan.

Heat the mixture over medium-low heat until everything has melted, stirring constantly. Attach a candy thermometer to the side of the pan.

Cook slowly, stirring constantly, until the mixture reaches 248°F, or until a small amount dropped in cold water forms a firm ball. As the mixture boils it will become thicker and thicker and the frothy bubbles will give way to a more blurpy bubble that resembles thick lava. This happens gradually, but you'll notice it around 230°F and higher. This is when you really have to pay attention and watch the temperature carefully, as it tends to move more quickly from 230°F up. The whole process will take about 2 hours.

Remove the pan from the heat, and carefully stir in the vanilla; the mixture will bubble and boil.

Quickly pour the caramel into the prepared pans. Don't add any residue from the pot into the pans; instead, scrape it into a separate container. Baker's treat!

Wait 30 minutes, then sprinkle with coarse-flake sea salt, if desired.

Cover the candy securely, and refrigerate.

Remove the candy from the pan by loosening its edges with a knife or offset spatula, and banging the pan on a cutting board until the slab releases from the pan. Allow the candy to warm up a bit if it's hard, or it'll shatter when you bang the pan.

Cut the caramels into squares, and wrap in waxed paper. Store in the refrigerator for longest shelf life. Wrapped caramels can also be frozen.

Yield: about 10 dozen 1" caramels.
Nutrition Information
Serving Size

1 caramel (28g)

Servings Per Batch

120
Amount Per Serving:
Calories

90

Calories from Fat

35

Total Fat

4g

Saturated Fat

2.5g

Trans Fat

0g

Cholesterol

10mg
Sodium

45mg

Total Carbohydrate

15g

Dietary Fiber

0g

Sugars

15g

Protein

0g
* The nutrition information provided for this recipe is determined by the ESHA Genesis R&D software program. Substituting any ingredients may change the posted nutrition information.
Tips from our bakers
Don't be confused by the weight of the corn syrup. A standard-size bottle will say 16 fluid ounces on the label; but when you actually weigh the syrup on a scale, it'll weigh 22 ounces. Your easiest bet is simply to use one standard-size bottle.
Reviews
I followed the instructions exactly and these caramels turned out absolutely perfect! I hadn't made caramels in 15 years so I wasn't expecting such perfection! Just try it, you won't be disappointed!
Made these for the first time and they were amazing! The only trouble I had was trying to get the candy up to temperature. I have an electric stove that cycles the heat on and off. This extended the cooking time to 3 plus hours. I finally had to raise the stove setting to medium high after 2 hours to get to the right temperature.
I LOVE this recipe, this has been my third Christmas making these and handpainting mugs to put them in as gifts. I do a couple of things a little different than the recipe. When combining the ingredients I first melt the butter with the salt. I then add all the white and brown sugar and mix very well with the butter and let it warm just a minute. After that has warmed I slowly add the Karo, once again mixing thoroughly and allow it to warm another minute or two. After that I add the cream 1 cup at a time and allow the mixture to warm before adding the next cup. I find mixing it this way helps it get up to temp a little quicker without increasing the heat on the stove. You really only want to cook this on medium. As another commenter mentioned, I also double the vanilla and use relatively decent vanilla. This year I treated myself and bought 2 8x8 silicon baking pans and it makes the whole process so much simpler when making several batches.
These were incredible. I made a half batch for our small family; turned a third of it into 'turtles' and left the rest to set in an 8x8 pan for a rainy day. After the pan had set, I carefully removed it and wrapped it tightly in plastic wrap and then a freezer bag. I pretty much forgot about it in my deep freeze for a year until I was headed to a holiday party. The frozen caramels thawed overnight in the fridge. I cut them and sprinkled lightly with some salt for presentation - everyone was impressed and no one knew my work had been done a year prior!
I was nervous to try making caramels as it was a first for me. Found cute wrappers on Etsy so I forged ahead. It was definitely a process but I followed to the letter and had great success. In one pan I added chopped pecans and loved. As I wrapped I dropped a little flake salt in and they were a big hit. It makes so many I wish I made them earlier for gift giving but will definitely repeat. A family classic is born.
I was a little hesitant to try these despite the high reviews, you really have to plan on 2 hours of continuous stirring. I used an instant read thermometer and did as a reviewer suggested, calibrating it by checking the temp it registered in boiling water; I needed to adjust the temp by 2 degrees, worked perfectly ! I dipped them in dark chocolate (Ghiardelli wafers) & they are incredible ! If you like a hard caramel texture, keep them refrigerated. (Think frozen Milky Ways). At room temp they are soft and chewy. Heavenly ! I ended up with 12 dozen caramels, so plan on giving them as hostess gifts or cut the recipe in half. I already have requests to make them again, the compliments keep coming.
I made two half batches. They both turned out perfectly. I was grateful to have a thermometer - the temperature rises pretty rapidly after 240 degrees. The first time I accidentally used twice the amount of vanilla I should have: my husband and I both agree that we like the batch with double vanilla better!
Hi there! This recipe looks great! ~ Would it be OK to double this recipe?

Hi Ariel, I've doubled this recipe in the past, but you end up stirring for a much longer time and the flavor and the color of the caramels becomes darker and more intense as a result. Keep in mind that you'll need a much larger pot as well. After years of making very large batches and stirring for hours on end, I've discovered that it's easier to make two batches, even if you end up making them on the same day! Barb@KAF
They came out perfectly. I think your choice of vanilla is important, but I always feel that way. It did take longer than 2 hours to move above 225. But it does go a long faster at 230. I greased my pans with coconut oil and it did not release that well. But taste testers approved. Will use again!
This is by far the best caramel recipe I've ever used. The caramels turned out perfect and taste delicious. No short cuts, do exactly as the recipe says. Expect to stir at least one hour, and don't turn the heat up too fast because It will scorch. I poured them into 2 9x13 glass baking dishes. Let them cool 30 mins, then covered and refrigerated them. I didn't cut them until the next day. They had set up perfectly. They're also great with chopped pecans.