A customized print-friendly version of this recipe is available by clicking the "Print Recipe" button on this page.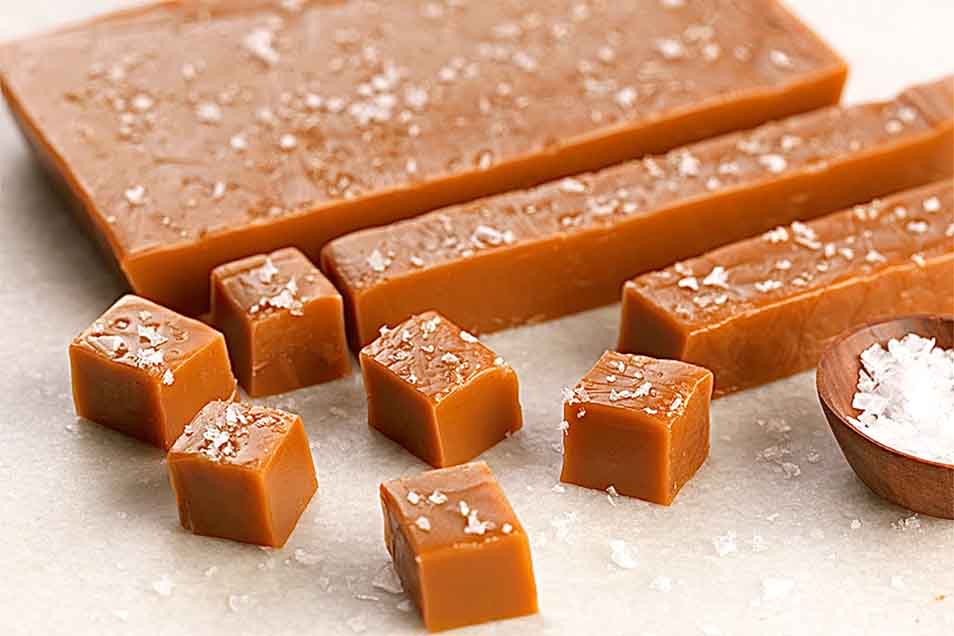 Barb Alpern, a member of our King Arthur Flour bakers' support team, says about these caramels, "There was one recipe that my mother made each year during the holidays that was truly great. Caramels, in the ethos of my mother's farm upbringing, were a handmade gift, a special indulgence, and a test of culinary prowess." You'll find this candy to be all of these!
Ingredients
8 teaspoons (2 tablespoons + 2 teaspoons) vanilla extract
2 cups (1 pound) unsalted butter
4 cups (1 quart) half & half
2 cups (1 pint, 16 fluid ounces) light corn syrup*
4 cups granulated sugar
2 cups light brown sugar
2 teaspoons salt
*See "tips," below.
coarse flake sea salt for topping, optional; for salty caramels
Instructions
Butter two 8" x 8" or 10 1/2" x 6 1/2" pans. Measure the vanilla into a small container, and set it aside for later.

Cut the butter into 1" chunks, to help it melt faster. Combine the cut-up butter, half & half, corn syrup, sugars, and salt in a heavy-bottom, 5- to 6-quart saucepan.

Heat the mixture over medium-low heat until everything has melted, stirring constantly. Attach a candy thermometer to the side of the pan.

Cook slowly, stirring constantly, until the mixture reaches 248°F, or until a small amount dropped in cold water forms a firm ball. As the mixture boils it will become thicker and thicker and the frothy bubbles will give way to a more blurpy bubble that resembles thick lava. This happens gradually, but you'll notice it around 230°F and higher. This is when you really have to pay attention and watch the temperature carefully, as it tends to move more quickly from 230°F up. The whole process will take about 2 hours.

Remove the pan from the heat, and carefully stir in the vanilla; the mixture will bubble and boil.

Quickly pour the caramel into the prepared pans. Don't add any residue from the pot into the pans; instead, scrape it into a separate container. Baker's treat!

Wait 30 minutes, then sprinkle with coarse-flake sea salt, if desired.

Cover the candy securely, and refrigerate.

Remove the candy from the pan by loosening its edges with a knife or offset spatula, and banging the pan on a cutting board until the slab releases from the pan. Allow the candy to warm up a bit if it's hard, or it'll shatter when you bang the pan.

Cut the caramels into squares, and wrap in waxed paper. Store in the refrigerator for longest shelf life. Wrapped caramels can also be frozen.

Yield: about 10 dozen 1" caramels.
Nutrition Information
Serving Size

1 caramel (28g)

Servings Per Batch

120
Amount Per Serving:
Calories

90

Calories from Fat

35

Total Fat

4g

Saturated Fat

2.5g

Trans Fat

0g

Cholesterol

10mg
Sodium

45mg

Total Carbohydrate

15g

Dietary Fiber

0g

Sugars

15g

Protein

0g
* The nutrition information provided for this recipe is determined by the ESHA Genesis R&D software program. Substituting any ingredients may change the posted nutrition information.
Tips from our bakers
Don't be confused by the weight of the corn syrup. A standard-size bottle will say 16 fluid ounces on the label; but when you actually weigh the syrup on a scale, it'll weigh 22 ounces. Your easiest bet is simply to use one standard-size bottle.
Reviews
I made this recipe last year for the holidays to rave reviews! I have an electric stovetop that switches between on and off (as another reviewer mentioned too), so it actually took much longer than 2 hours. But they were so delicious - definitely worth it. I want to make these again this year, but was hoping for advice - last year, the caramels really stuck to the wax paper. Some seemed almost impossible to unwrap. The caramel wasn't gooey or soft, just very stuck to the paper. Any ideas for a smoother unwrapping this year?

Hi Hailey, I've found storing the wrapped caramels in the refrigerator, freezer, or protected porch in the winter helps keep the stickiness down. It's also possible that the type of wax paper you're using is on the thin side, and a thicker brand might work better for you. Barb@KAF
These are fabulous. I make them every holiday season and they are a big hit. I would love to make some chocolate. Any tips for this??

Hi Jackie, because candy making requires precision in terms of both ingredients and methods, your best bet for making chocolate caramels is to find a good recipe that's already been written to include chocolate. We don't currently have such a recipe on our website, but there are some good ones available online. Barb@KAF
I made these for the first time and they are absolutely fantastic. My co-workers want to know when the next batch will be coming to the office. They are worth the 2 hours of stirring. Soft, buttery and chewy. Perfect!
I've made these a couple times and they are fantastic! They are the perfect chewy caramel. I covered them in dark chocolate and it was amazing. I have a question though. The day after I made caramel, I used some to make turtle candies, which turned out great at first, but over night the caramel turned grainy and lost its chewy texture, while the remaining caramel from the same batch stayed chewy. Can anyone explain why the melted caramel turned grainy the next day and how I can keep it chewy?

Hi Wendy, melting the caramels likely introduced crystals that caused the caramels in your turtles to be grainy and not chewy. Homemade caramels are going to be more susceptible to this type of crystallization when you melt them in this way. For this type of project we recommend using store bought caramels or our Caramel Block, which contain emulsifiers that help protect against crystallization. Barb@KAF
So this is my first time making caramels and this recipe is OUTSTANDING. It wasn'ta whole lot of fun stirring for two hours but by golly it's worth it. These are the best caramels I have ever tasted. I do have a quick questioni hope someone can answer. The first is while my caramels are at room temperature they have this film like feeling to them that built up on my hands over time. After cutting for awhilei had to go rinse my hands a few time so I felt comfortable using my knife. Is this normal or doi need to cook them fora little longer? Also cutting them, is a knife the best tool? I used a pizza cutter at first, then I tried kitchen scissors but the knife in the end worked best for me.

Hi Nathan, we're so glad to hear you found all that stirring worth the effort! Don't worry, the sticky film you're noticing is common as the caramels warm up at room temperature. Sometimes returning the slab of caramel to the refrigerator briefly helps make them less sticky and easier to cut. Working with small portions at a time at room temperature can also be helpful, rather then letting the entire slab warm up all at once. I also prefer to store my wrapped caramels in a cool place (the refrigerator or outside on the screened porch in the winter) to keep the stickiness at bay. I've always found a sturdy, sharp knife is the best tool for cutting. I hope this helps! Barb@KAF
Question - I've noticed more and more recipes these days calling for the use of unsalted butter instead of salted, and I don't understand why. I generally substitute salted butter, as that's what I keep in the house, and I've never noticed a problem. Regarding this specific recipe, why is it important to use unsalted butter? Can I substitute salted?

Hi Ricki, recipes often call for unsalted butter because it gives the baker more control over salt content, and because unsalted butter tends to be fresher than salted butter. That being said, you could certainly use salted butter in this recipe. When using salted butter, just reduce the amount of salt added to 1 teaspoon instead of the 2 teaspoons called for in the recipe. Barb@KAF
I decided to make my own caramels for the base of the salted vanilla caramel icing, because my fiance loves salted caramel. Boy, am I happy I choose THIS recipe! I was a little worried about the whole "stir constantly for 2 hours" thing but the time was actually quite relaxing and passed quicker than I thought it would. It did end up taking almost exactly two hours from start to pouring, so the timing is dead on. I went ahead and read the accompanying "Flourish" blog post, and it was a wonderful addition to this recipe. Thanks to the information there, I went ahead and settled at around the 247 degree mark (using a candy thermometer and a digital one-- thanks for the tip, Barb!) because I was after a chewier, softer caramel. The result is incredible. I topped mine with some Maldon Sea Salt Flakes and my, oh my-- these things are addictive! I'm glad I made the full batch because, as the blog post says, if you're going to take the time, why not?! Now I can definitely share with my family! This recipe is most definitely becoming a part of my recipe box at home. If you're concerned about the process, I'd urge you to give it a go. It's much simpler and less scary than you think to make your own caramels, and it's so worth the end result. Thank you, Barb, for sharing this wonderful family treat with us!
This was my first time every trying caramels and while I anticipated ruining the first batch I am happy to report that they turned out great! I followed the recipe to a T (except halved it) and the flavor, consistency and look is just what I wanted. I do have one question though! I let them set overnight in the fridge, cut the next morning and wrapped in wax paper to keep in the fridge. They are PERFECT right out of the fridge but if left out to room temperature they lose their shape and start to get more gooey. Suggestions on where I went wrong?

Hi Marin, it sounds like you you may have needed to cook the caramels to a slightly higher temperature. While it's normal for the caramels to be softer and a little stickier at room temperature, they shouldn't lose their shape. Be sure to calibrate your thermometer (as described in the accompanying blog post) and aim for 248 degrees for a firm caramel. Barb@KAF
I have now made these amazing treats half a dozen times. I do have a few suggestionsor at least some hints from what has worked for me. I do not vary one item of the recipie. It is perfect just the way it is. I like using a 9 X 13 pan. The resulting thickness and shape of the caramels works really well. 246 degrees on a very accurate candy thermometer seems to be the secret. Results are soft, smooth, and chewy but not sloppy or threatening to pull out fillings! They take a full 2 hours of constant stirring. What works best for me is a pub-height chair pulled up to the stove so I can sit, a television nearby to distract me, and two little (teenaged) helpers to relieve me. I get to take breaks and the stirring continues. We make 1/3 salted, 1/3 toasted pecans, and 1/3 plain. I am greeted enthusiastically everywhere as "The lady who makes the caramels!" So much fun.
what is half & half? I am so confused, Thank you

Hi Cecelia. Half & half is something commonly found in the dairy section of grocery stores here in the United States. It's a mixture of half heavy cream, half milk, and is often used in coffee. Please feel free to create your own by using heavy cream and milk. Annabelle@KAF