A customized print-friendly version of this recipe is available by clicking the "Print Recipe" button on this page.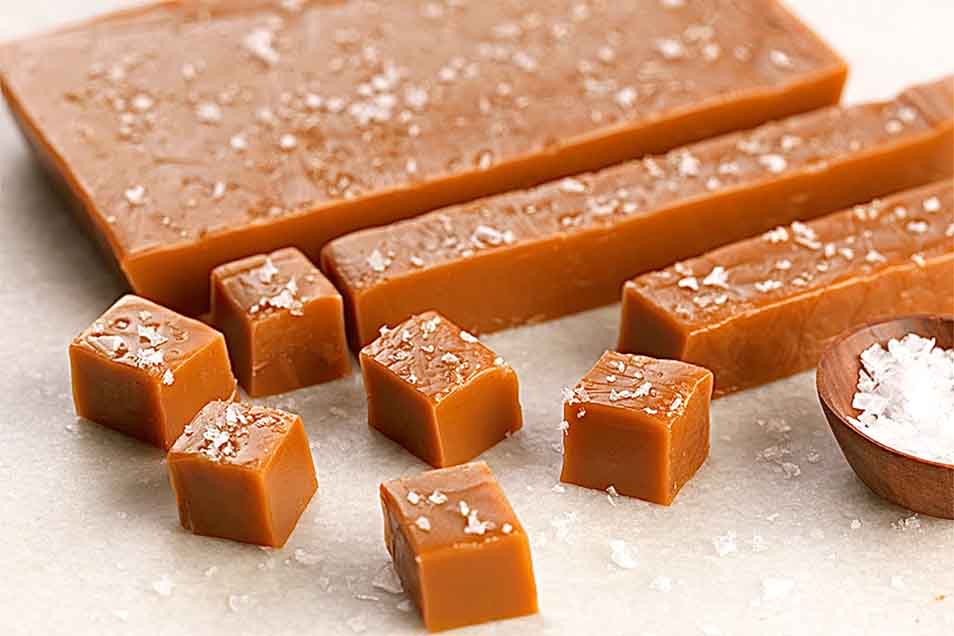 Barb Alpern, a member of our King Arthur Flour bakers' support team, says about these caramels, "There was one recipe that my mother made each year during the holidays that was truly great. Caramels, in the ethos of my mother's farm upbringing, were a handmade gift, a special indulgence, and a test of culinary prowess." You'll find this candy to be all of these!
Ingredients
8 teaspoons (2 tablespoons + 2 teaspoons) vanilla extract
2 cups (1 pound) unsalted butter
4 cups (1 quart) half & half
2 cups (1 pint, 16 fluid ounces) light corn syrup*
4 cups granulated sugar
2 cups light brown sugar
2 teaspoons salt
*See "tips," below.
coarse flake sea salt for topping, optional; for salty caramels
Instructions
Butter two 8" x 8" or 10 1/2" x 6 1/2" pans. Measure the vanilla into a small container, and set it aside for later.

Cut the butter into 1" chunks, to help it melt faster. Combine the cut-up butter, half & half, corn syrup, sugars, and salt in a heavy-bottom, 5- to 6-quart saucepan.

Heat the mixture over medium-low heat until everything has melted, stirring constantly. Attach a candy thermometer to the side of the pan.

Cook slowly, stirring constantly, until the mixture reaches 248°F, or until a small amount dropped in cold water forms a firm ball. As the mixture boils it will become thicker and thicker and the frothy bubbles will give way to a more blurpy bubble that resembles thick lava. This happens gradually, but you'll notice it around 230°F and higher. This is when you really have to pay attention and watch the temperature carefully, as it tends to move more quickly from 230°F up. The whole process will take about 2 hours.

Remove the pan from the heat, and carefully stir in the vanilla; the mixture will bubble and boil.

Quickly pour the caramel into the prepared pans. Don't add any residue from the pot into the pans; instead, scrape it into a separate container. Baker's treat!

Wait 30 minutes, then sprinkle with coarse-flake sea salt, if desired.

Cover the candy securely, and refrigerate.

Remove the candy from the pan by loosening its edges with a knife or offset spatula, and banging the pan on a cutting board until the slab releases from the pan. Allow the candy to warm up a bit if it's hard, or it'll shatter when you bang the pan.

Cut the caramels into squares, and wrap in waxed paper. Store in the refrigerator for longest shelf life. Wrapped caramels can also be frozen.

Yield: about 10 dozen 1" caramels.
Nutrition Information
Serving Size

1 caramel (28g)

Servings Per Batch

120
Amount Per Serving:
Calories

90

Calories from Fat

35

Total Fat

4g

Saturated Fat

2.5g

Trans Fat

0g

Cholesterol

10mg
Sodium

45mg

Total Carbohydrate

15g

Dietary Fiber

0g

Sugars

15g

Protein

0g
* The nutrition information provided for this recipe is determined by the ESHA Genesis R&D software program. Substituting any ingredients may change the posted nutrition information.
Tips from our bakers
Don't be confused by the weight of the corn syrup. A standard-size bottle will say 16 fluid ounces on the label; but when you actually weigh the syrup on a scale, it'll weigh 22 ounces. Your easiest bet is simply to use one standard-size bottle.
Reviews
I've made these several times with great success! I even forgot the vanilla one time and they were still great. Pointers that have helped me: - Large enamel cast iron pot is necessary! - Butter the pans. I use a 1/2 sheet pan and it's the perfect size for the whole thing, - If using salted butter, reduce the salt by half. - Medium-low on a gas range is a lot hotter than in my electric range, you may need to turn it up. - Stir with a whisk in the beginning, very frequently, but not constantly. I find that it takes longer to cook because all the motion decreases the heat. - After caramel starts to brown, I switch to a silicone scraper and scrape the sides and bottom and stir more frequently. - After 230 degrees, I stir constantly, but not aggressively, scraping the sides. - Definitely use an instant read thermometer at the end to check for 238. Candy thermometers are great, but those tiny lines are way too close together for accuracy. - Put your vanilla right next to the stove so you don't forget it! Highlight this step in the recipe if printed. - Because I've scraped and stirred, I don't get any brown bits, everything goes in the pan. - Prepare ahead for the long haul. Get a book, online games, podcast, food, drinks. You're going to be chained to the stove for a couple hours!
I actually made some adjustments to this - even when I'd never made caramels before! I subbed in goat's milk for half & half and salted goat butter (since unsalted is nigh unto impossible to find), and just omitted the added salt. I had to use imitation vanilla as well. All of this because of my family's weird food sensitivities! But that said, this turned out AMAZINGLY. The goat's milk actually adds a nice sharp undertone and I've had no trouble with it setting up. My family basically insists I make this every year at Christmastime now. Definitely a hit!
This recipe is fantastic! I've made other caramels before but never had results as fantastic as these. They have been highly requested that we make them again immediately. Half of them we sprinkled salt on and the other half we dipped in bitter-sweet dark chocolate. Your recipe is spot on for the time, temperature, and stirring required. We used a digital thermometer, that I use making candy and as a second reference thermometer in our chocolate tempering machine, with excellent results.
First time ever making caramels on my own. I halved the recipe and it worked just fine. I used regular salted butter because that's what I had and then just cut salt back to a bit less than 1 teaspoon and did not salt the top when done. After reading reviews on how long it took to make this I hit the bathroom, got a drink, and pulled up a chair for the long haul before starting. I don't know why but it only took a little over 30 minutes for my mixture to reach temp. I tried the ice water thing and didn't like that. Then remembered I had a digital thermometer and that made all the difference. Only change I would make is to follow your suggestion to just butter the pan. I used waxed paper and sprayed it but still had to cut off the edges all the way around. Yummy!
I made these for Christmas gift box sets. I couldn't complain if I wanted too. But you might want to have a extra prepared pan ready. After they set I decided to hand wrap each one after cutting in 1inch by 1inch squares. I ended up with over 300 pieces. To add I followed the recipe to a match.
These caramels are delicious but they did take FOUR hours to reach the necessary temperature rather than two. I cooked the mixture over medium-low heat, as the directions stated to do, so I think the reason they took longer may have been altitude. We live at around 4500 feet.

Hi Carolyn, we're glad to hear your caramels turned out delicious after all that stirring! At high altitude it's very important to calibrate your thermometers as described in the blog post, and adjust your final cooking temperature accordingly. Barb@KAF
Wow these are excellent! I made a half a batch and it was more than enough. I used Irish butter and Mexican vanilla and they just melt in your mouth. Make sure you use a big enough sauce pan as they boil up a lot. What a treat! Would make them again.
OMG, Barbara! These are absolutely AMAZING! I agree with the others in this being a labor of love, but so worth it. I'm saving this recipe for future caramel makingthank you!
They were not kidding about two hours. Best caramels I have ever had. Sticky, gooey, chewy. Unbelievable.
Perfect!!! Amazing but a labour of love, that's for sure!! My kitchen Reno isn't done yet, but right now I have a ceramic cooktop.... but I also have an induction "hot plate" for outside corn boiling (I know... lol). I opted to use that instead of my cooktop! It worked out perfectly!!! This is going to be a new tradition for our family! Thank you!!