A customized print-friendly version of this recipe is available by clicking the "Print Recipe" button on this page.
Morning Glory Breakfast Cookies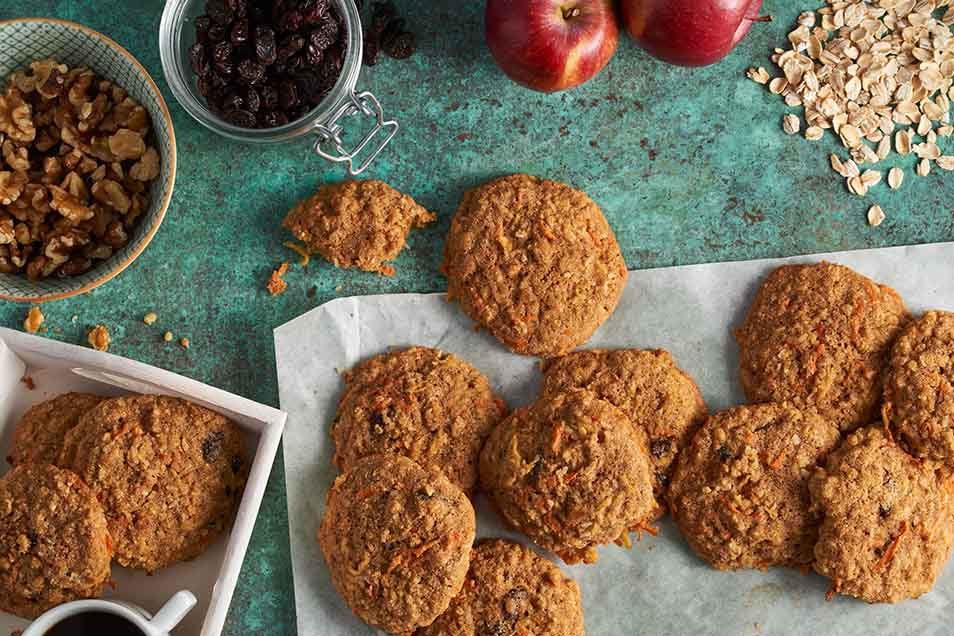 Based on their namesake muffin, these grab-and-go breakfast cookies are loaded with everything you need to get your morning started off right. Their soft, almost muffin-like texture is the perfect balance for the plethora of bits and chunks that accompanies each bite.
Ingredients
1 1/2 cups King Arthur White Whole Wheat Flour or Premium 100% Whole Wheat Flour
1/2 cup amaranth flour or whole wheat flour
1 teaspoon baking powder
1/2 teaspoon baking soda
1/2 teaspoon salt
2 1/2 teaspoons cinnamon
3/4 teaspoon ginger
1/2 cup coconut oil
1/4 cup (4 tablespoons) unsalted butter, softened
2/3 cup brown sugar
1/3 cup granulated sugar
2 large eggs
2 teaspoons vanilla extract
1 cup quick-cooking oats
1 1/2 cups peeled and grated carrots
1/2 cup peeled, cored, and grated apple (about 1 medium)
1/2 cup unsweetened shredded or flaked coconut
1/2 cup chopped walnuts
1/2 cup raisins
Instructions
Preheat the oven to 350°F. Lightly grease (or line with parchment) two baking sheets.

In a small bowl, combine the two flours, baking powder, baking soda, salt, cinnamon, and ginger. Set aside.

In a separate large mixing bowl, beat together the coconut oil, butter, and sugars until pale and creamy.

Add the eggs one at a time, beating until smooth and scraping the bottom and sides of the bowl after each one; then beat in the vanilla.

Stir the dry ingredients then the remaining add-ins into the wet mixture just until evenly incorporated.

Drop the dough in 2" balls onto the prepared baking sheets, spacing them about 2" apart; a jumbo cookie scoop is the right-sized tool for this job.

Bake the cookies for 13 to 15 minutes, until they're just set at the center.

Remove the cookies from the oven and transfer them to a rack to cool.

Store baked cookies in an airtight container for up to 2 days. Store in the freezer, wrapped airtight, for up to 1 month.
Reviews
The cookies don't look baked... they hv a pale colour. But are cooked n taste fine. Where did I go wrong? There is no option to attach pic.

Mika, you've really stumped us with this one! Very pale cookies are often the result of too little sugar or unusually light ingredients, neither of which should be an issue in these cookies, especially since they're made with whole wheat flour. We know the timing might be tricky to call our Baker's Hotline from India, but we also have an online chat (you can find it if you scroll all the way to the bottom of our website and click on Baker's Hotline) or you can email us at customercare(at)kingarthurflour(dot)com so that we can work with you in more detail to help you get your cookies nice and browned. Happy baking! Kat@KAF
These are excellent breakfast cookies. In the tradition of Morning Glory Muffins -- where you use whatever you have on hand -- I swapped out dried cherries for the raisins, mixed in 1 cup (8 oz) grated apple, used 2 cups (16 oz) freshly ground whole wheat, and added 1/2 cup (4 oz) milk chocolate chips. Made 17 2-inch cookies. Next time I will add 1/2 cup (4 oz) all-purpose flour to see if I can make the cookie less crumbly (probably due to the fresh ground whole wheat flour). After reading the reviews, using diced dried apricots for the fruit and including 1/2 cup (4 oz) dark chocolate chips sounds like a scrumptious combination.
Made these today and they are very good. I used 1/2 cup of brown sugar, no white sugar, all wheat flour, and I subbed greek yogurt for the butter to reduce the fat and calories. With the changes my dough seemed a bit dry so I used more apple, at least a cup or maybe a bit more, wish I had written it down while I was baking. I like that they accept the changes so many reviewers have made.
A delicious, simple, nutrition-packed cookie. I added a quarter cup of dried cherries instead of the apple because I didn't have one on hand. That didn't seem to affect the outcome. I also added some sunflower seeds because I like their crunch.
These cookies are wonderful! Soft and crunchy (from the oats, coconut, and walnuts), not savory but not too sweet either, and with lots of good-for-you ingredients - these are a home run.
Great tasting cookies! Made it without brown sugar and it was sweet enough between carrots, apple and amount of regular sugar the recipe calls for. Also I forgot to add oats, so cookies came out a bit on a softer side. Delicious and on a healthy side . Even though I was turn away at first when I saw long list of ingredients it was easy to make.
Delicious. Used olive instead of coconut oil, cut the sugar by 1/2 and used candied ginger. With all the wholesome ingredients, will give some to my fitness trainer.
These were really really good. I used some whole wheat pastry flour with whole wheat flour for the recommended amount of flour. Seeing I didn't feel like grating an apple I used grated zucchini as it was already grated but the rest of the ingredients I used as listed. I used my large ice cream scoop which I thought was a 2' but I only got 15 cookies - but who cares - this way you just say you had one cookie. I did flatten mine a bit cause I didn't know if they would by themselves and glad I did. I have kept this recipe and will certainly make again.
I made these for my son's tennis team. They LOVED them! I made a double batch and they were gone in less than 5 minutes. Followed recipe exactly.
I made these while my 90 year old mother was visiting and we both loved them! I left the nuts out for her but will include next time.