A customized print-friendly version of this recipe is available by clicking the "Print Recipe" button on this page.
Multigrain Sourdough Boule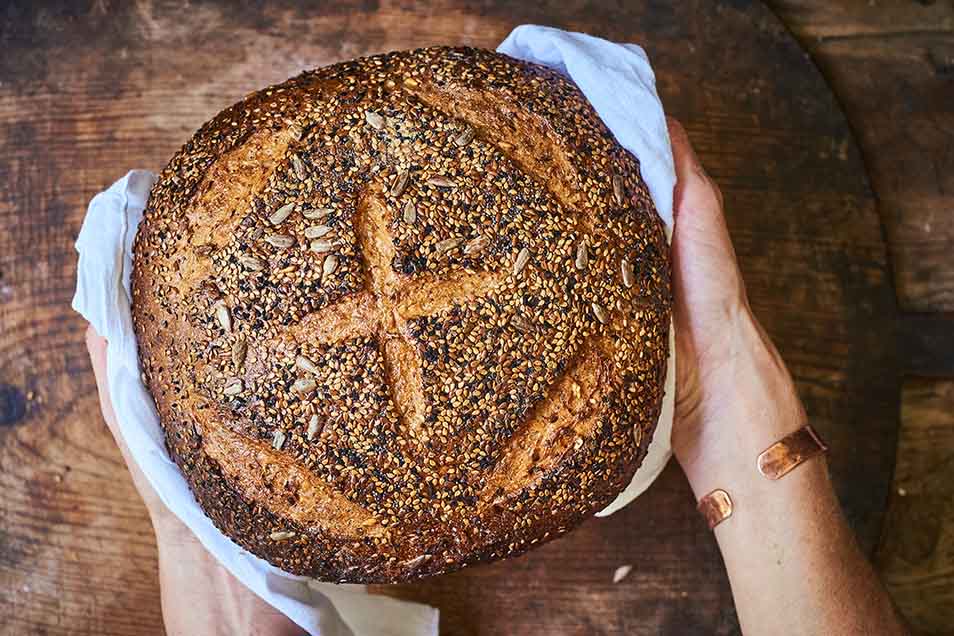 This sourdough loaf is enhanced with whole grains and a generous topping of seeds.

New to sourdough? Find the help you need for all of your sourdough baking at our Sourdough Essentials page.
Instructions
In a large mixing bowl, or the bucket of a bread machine, combine the Harvest Grains Blend and boiling water. Let cool to lukewarm

Add the fed sourdough starter and the remaining dough ingredients, and mix and knead — by hand, mixer, bread machine or food processor — until you've made a soft dough, adding additional water or flour as needed.

Cover the dough in the bowl, and let it rise until it's almost doubled, about 1 to 1 1/2 hours.

Turn the dough out onto a lightly greased work surface, and gently fold it over a few times to deflate it. Shape it into a large round.

Place the round on a lightly greased baking sheet, and cover it with lightly greased plastic wrap. Or place in a round covered baker, about 4.2-quart and 10" diameter, that's been sprayed with non-stick baking spray and sprinkled with sesame seeds or cornmeal, and put on the cover. Let the loaf rise until it's very puffy, about 1 to 1 1/2 hours. Towards the end of the rising time, preheat the oven to 425°F.

Just before baking, brush with water, and sprinkle with seeds. Use a lame or a very sharp knife to make four slashes across the top of the loaf, in a crosshatch pattern.

Bake the bread for 40 minutes. Uncover the loaf if in a covered baker, and continue to bake 10 to 15 minutes, until the loaf is golden brown and an instant-read thermometer inserted into the center registers 190°F. (A loaf baked on a baking sheet will need to bake for 38 to 45 minutes total.)

Remove the bread from the oven, let sit in the baker for 5 minutes, then turn out and cool on a rack.

Yield: 1 large loaf.
Nutrition Information
Serving Size

1 slice (40g)

Servings Per Batch

32
Amount Per Serving:
Calories

100

Calories from Fat

20

Total Fat

2g

Saturated Fat

0g

Trans Fat

0g

Cholesterol

0mg
Sodium

180mg

Total Carbohydrate

16g

Dietary Fiber

2g

Sugars

0g

Protein

3g
* The nutrition information provided for this recipe is determined by the ESHA Genesis R&D software program. Substituting any ingredients may change the posted nutrition information.
Reviews
Nice bread, huge loaf. I may try it as two next time, following some of the suggestions in other reviews. I usually follow a recipe exactly as is first time, but I did substitute in KAF's Super 10 blend for a quarter of the AP flour for more whole grain goodness (the package said it can be substituted for a quarter to half of AP flour). The bread still came out great. I would have liked more sourdough flavor, but that was a side effect of my young starter (less than 2 mos. old). I did the second proof in a brotoform and baked it on a parchment-lined sheet pan.
This is delicious! I thought I baked just as the recipe read but realized I used whole wheat flour instead of white whole wheat flour. I didn't notice until it was rising. Next time I will use the white whole wheat flour but this is delicious just as it is. I used my own mixture of seeds for the top. In my oven, I needed an extra 5 minutes without the lid of my Le Crueset cast iron pot. I used Vegaline spray on the inside of my pot and added cornmeal. It was easy to clean. The crust is perfect, such a nice crunch. The inside is moist. I will definitely be adding this to my regular baking routine. Thank you for the recipe.
Hey...This bread is wonderful! My husband loved it. This is my second attempt with this recipe. The first time the bread was good but really dense. It didn't have that "oven rise". Not sure if I did something wrong. This time, I used 4 oz of Rye Flour instead of the whole wheat and 10 1/4 oz of the bread flour instead of all purpose. I added 1 T of King Arthur's Whole-Grain Bread Improver. I also reduced the salt to 2 1/2 t (rounded) of Kosher salt instead of table salt. This is still a bit salty for my taste. The 1st and 2nd rise took only an hour each. I have a warm kitchen, about 79 deg. I baked the bread in a pre-heated dutch oven 430 deg for 30 min with lid and 10 min without lid. The only difficulty I had was the parchment paper I used to transfer the dough into the dutch oven was sticking to the bottom of the bread in some places. As one of the other reviewer stated, I also didn't know how long to knead in my Kitchenaid. I kneaded on 2 then at 4 for about 10 min total.
Just a beginner working with starter and this was the first actual bread (besides those darn yummy sourdough waffles and the Hi-Fiber english muffins! Trying to use discard!). This is a great recipe, when you are home to watch- seems our starter is VERY active in our kitchen and doubles in about an hour. The bread, is very light for a multigrain with lots of air. Even makes amazing crostini. One thing I have found tricky, though, is mastering the knead time in our kitchen aid stand mixer. Any advise?

We're so glad you've been enjoying your starter, Lisneny! When kneading dough in a mixer, we suggest using Speed 2 for five to seven minutes, or until the dough is fairly smooth, is tacky like tape, and soft like your cheek. We hope this helps! Annabelle@KAF
Flavorful, nutty, crunchy. Shared with several neighbors and they all loved it. Can't wait to make more.
I strongly recommend not using cornmeal in the bottom of the pan. I did, using the Emile Henry baker. It took a ton of elbow grease with a heavy-duty ScotchBrite pad to get rid of the cornmeal, which burned. Soaking with vinegar and boiling water didn't do much. KAF responded with a tip to use semolina flour or cream or wheat instead. The bread was delicious though!
Really great bread! Husband loves...however would love a comment. When I got up today to slice it, it was really moist. Very soft. Is this suppose to be this way? Really lovely, however if I wanted crispier would I bake on an open sheet? I used a SurLaTable covered oval cast iron baker much like the Emilie. I made two boules and placed side by side. I use KAF sour dough starter, all KAF products and weigh all my ingredients. Just curious, first time for this recipe and still a novice at sour dough breads although much older than many of you, LOL! Perhaps it was wrapped with a little warmth. Not sure why so moist!

It sounds like it might need a couple extra minute in the oven, Julianne! With sourdough, you want to aim for the interior temperature of 190°F and that should give you a moist but tender texture with just the right amount of softness. Happy baking! Annabelle@KAF
Wonderful bread with a nice sourdough tang. (I am using 2 month old starter). I didn't want a boule since we prefer sandwich loaves but wanted to try this recipe. I weighed out a little less than 2 lbs. of the dough and made it in a 9 x 5" loaf pan, reducing the baking temperatue to 375 degrees. I made 3 cute rolls with the remainder of the dough that were about 3" in diameter. I did have to add a few tablespoons of water to my dough (even though I did weigh my ingredients). Also, the dough took it's time rising but it was worth the wait!
Such a wonderful recipe. I made it one time exactly as directed, and the other cutting back the yeast and doing the first rise overnight in the fridge. Both were great. A quick question: Any thoughts on if and how one might bake this entirely with whole wheat flour, ideally non-white, rather than using a mix of white whole wheat and all purpose flour as called for in the recipe? Would I need to modify any other ingredients and/or change the rise time? Thanks in advance for any thoughts you might. have.

Neil, if you'd like to make a 100% whole wheat loaf, you can use either white or traditional whole wheat flour to replace the all-purpose (noting that it weighs less than all-purpose flour at 4 ounces per cup). After you mix all of the ingredients together, let the dough rest for 10-15 minutes before kneading. This will allow the whole grains to absorb some of the liquid and soften slightly. You may need to add 1-2 tablespoons of additional liquid if the dough feels dry, as whole wheat flour absorbs more water than all-purpose flour. The dough should have a slightly tacky feel when it's properly hydrated. The rises may proceed faster than expected, so watch the dough closely as it rises and then bake as directed. Enjoy! Kye@KAF
Made today on a baking sheet -- a huge loaf! Next time I may form into two loaves instead. I was a bit short with the fed sourdough so used 1/2 cup buttermilk to make up the difference. Went slightly less on the salt because of previous reviews; that said, still a bit salty for my taste and will use even less next time. Made up my own blend of grains and seeds, including a multigrain flake mix, sunflower seeds, millet (love!), and some seeds (sesame, sunflower, flax). Topped with poppy seeds and flax seeds before baking. The big loaf baked up in less than 38 minutes for me (used instant read thermometer), so be sure to watch the time. A great success -- excellent with wine and cheese -- that's dinner tonight! Thanks KAF.