A customized print-friendly version of this recipe is available by clicking the "Print Recipe" button on this page.
Multigrain Raisin Sourdough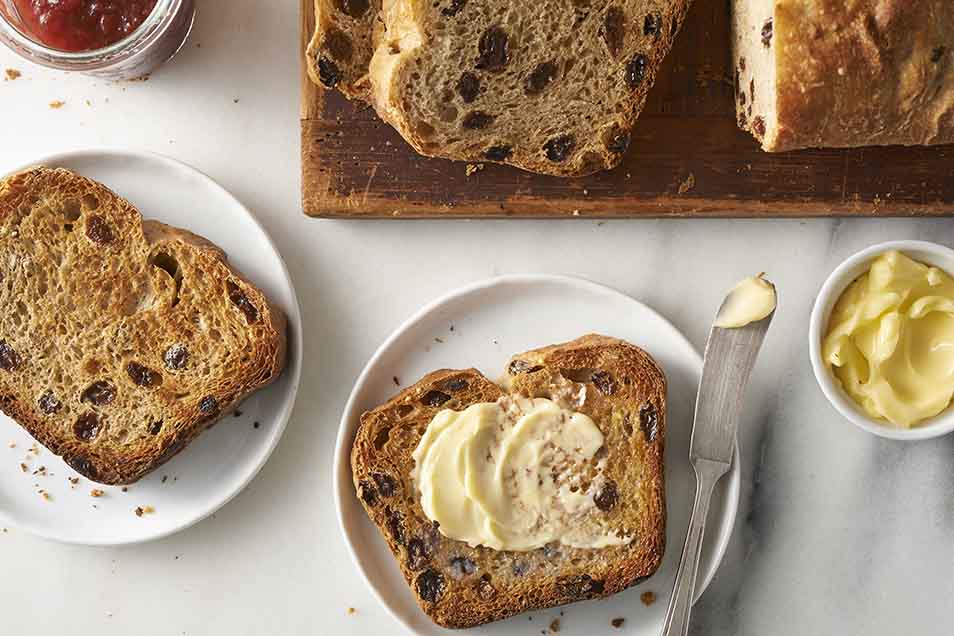 This rustic-style loaf features a gentle balance of tanginess from the sourdough, plus sweetness from the raisins. We like it for toast in particular, but slices of it also make super-tasty grilled cheese sandwiches, with the sweet raisins complementing just about any version of melted cheese there is.
Instructions
Mix and knead together all the ingredients except the raisins — by hand, mixer, or bread machine — to make a smooth dough. Add the raisins and knead until evenly incorporated.

Keeping the dough in the mixing bowl or bread machine bucket, allow it to rise, covered, until it's doubled in size, about 90 minutes.

Transfer the dough to a lightly greased surface, gently deflate it, and form it into a smooth 13" log.

Place the log into the bottom of a lightly greased long covered baker, cover the baker with its lid, and let the dough rise for 45 to 60 minutes, until puffy but not quite doubled in size.

Just before putting the loaf into the oven, slash the top several times.

Place the covered baker into a cold oven and set the oven temperature to 425°F. Bake the bread for 40 minutes, starting the timer when the bread goes into the oven.

Remove the cover of the baker and bake for about 5 minutes longer, until the bread is golden brown and its internal temperature measures 190°F on a digital thermometer.

Remove the bread from the pan, and allow it to cool on a rack.

Store bread at room temperature for up to three days, or freeze for longer storage.
Tips from our bakers
Want to substitute whole wheat flour for the Super 10 Blend? Use 1 1/2 cups (170g) King Arthur White Whole Wheat Flour + 1/4 cup (57g) mixed seeds/flaked grains of your choice (e.g., barley flakes, sunflower seeds, sesame seeds, red wheat flakes, etc.) in place of the Super 10 Blend called for.
If your oven is slow to preheat, you may find it necessary to bake the bread for an additional 5 to 10 minutes, for a total of 45 to 50 minutes.
If you don't have a long covered stoneware baker, form the dough into a round (boule) and bake it in a covered Dutch oven or bread baking crock following the same recipe instructions.
Reviews
Wonderfully simple and Tasty bread! I did divide into 2 loaves and will try tea loaves for gifts Crumble is on dry side but so delicious out of the toaster. Cut the slices thick for a soft center.
First, I have the long baker. I am happy to have another recipe that is suitable. I am also happy to have a use for "unfed" starter. I did substitute white whole wheat plus a quarter-cup of crumbs from the bottom of a bag of Kashi shredded wheat cereal. (I mix those shreds into oatmeal, too.) The bread looked just like the pictures. It was delicious and didn't need extra butter or jam. Tips: I used a parchment sling inside the bottom of the baker to make it easy to lift out without compressing the hot bread. I thought the instruction to knead to a smooth dough was vague. I used the dough hook to mix until it all came together into a smooth, thick dough (maybe a minute or so.) Next, I mixed in the raisins. It rose beautifully without 5-10 minutes of kneading. Thanks, KAF, for another winning recipe.
Agree with other reviewers, delicious bread. Looks like no one was willing to buy yet another bread baking pan. I find it a little annoying that so many kaf recipes call for yet another variety of baking pan. I'd be more willing to indulge if the shipping rates were lower. I appreciate the alternatives provided on the website. I used a pullman pan and it worked fine, though the crumb was probably a bit denser.
I followed the recommended substitution for whole wheat flour and grain blend, used KAF's harvest grains blend. I really enjoyed the texture that way, you get a little seedy crunch with the raisin. Made a loaf for dinner and my family devoured it. I will make it again becaus my kids all love it.
This bread turned out great and is so delicious. I like the generous amount of raisins and after reading reviews I refrained from adding cinnamon. The final result has such a wonderful flavor that this addition isn't needed. I baked in batard that I recently purchased. This is much easier to make and much better than a traditional cinnamon-raisin bread. Highly recommend and this is now my favorite. Envisioning toasted with butter, peanut butter or a nice cheese.
Made this on Friday. My husband is the raisin bread fanatic but "hates" sourdough. He loved this bread. I tell him I use wild yeast. I didn't have the 10 grain so I used 75% whole wheat flour/25% whole spelt flour in its place. I used 2 - 8" loaf pans so the slices would go into the toaster easily. 1 loaf is half gone, the other is in the freezer. I'll definitely make this again
I just finished a local cheddar toasted sandwich made with the multigrain raisin sourdough bread. Divine!! I can hardly keep my hands off this bread for toast with a drizzle of honey as well. I used two 8 1/2 " by 4" pans to bake for 35 minutes, and put a pan of water in the bottom of the oven set at convection 400 degrees as a previous review and it turned out wonderfully. I substituted 3/4 cup of harvest grain mix that I chopped in the food processor for part of the super 10 grain flour and made up the rest with whole wheat flour. Since my grains had been in the pantry a while, I soaked it in hot water then let cool before proceeding with the recipe. Also added 2 tablespoons of whole grain bread improver. The dough was easy to handle and rose in the minimum time stated. Love this bread!!
Ordered the Glazed long Emilie Henry to bake this and it is really so great now. Toaster sized slices, rises beautifully and so easy to serve and cut. If I use this wonderful baker just for this, it would be worth it! Did the cold oven method and perfect! Tried it as a boule, in bread pans as suggested and this is my favorite. And my go to recipe for raisin bread. 2T honey for a 13" loaf isn't much at all. We never miss the sugar & cinnamon mix with the messy rolling and it saves us calories in the end. Our favorite!
Love the flavor! Some decent air pockets, but fairly small ones. I baked my boule in a cast iron dutch oven and the loaf expanded horizontally and but not as much vertically as I'd hoped. How do I improve the spring of the loaf? It is a yeast issue? Did I let it rise too long or in too warm of a place (closer to heater than not)? Advice welcome!

Hi there, B! We're so glad to hear that you loved the flavor of this bread! Dough will take the path of least resistance, so if it's easier for the dough to spread outwards rather than up that's the way it'll go. It can be helpful to allow the shaped dough to rise seam-side up in a something like a brotform or a bowl lined with a floured tea towel. This encourages the dough to rise upwards and the boule can then be turned out onto a piece of parchment and then placed into the Dutch oven to bake in. You may also find it helpful to shape the loaf a little tighter, which can help to encourage the dough to rise upwards as well. We hope these tips help and happy baking! Morgan@KAF