A customized print-friendly version of this recipe is available by clicking the "Print Recipe" button on this page.
Multigrain Raisin Sourdough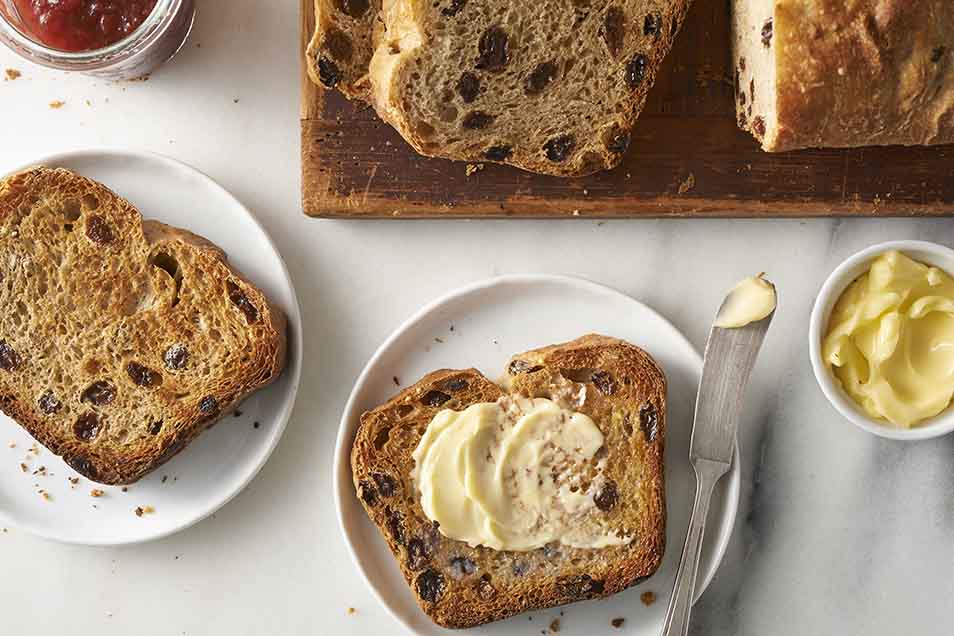 This rustic-style loaf features a gentle balance of tanginess from the sourdough, plus sweetness from the raisins. We like it for toast in particular, but slices of it also make super-tasty grilled cheese sandwiches, with the sweet raisins complementing just about any version of melted cheese there is.
Instructions
Mix and knead together all the ingredients except the raisins — by hand, mixer, or bread machine — to make a smooth dough. Add the raisins and knead until evenly incorporated.

Keeping the dough in the mixing bowl or bread machine bucket, allow it to rise, covered, until it's doubled in size, about 90 minutes.

Transfer the dough to a lightly greased surface, gently deflate it, and form it into a smooth 13" log.

Place the log into the bottom of a lightly greased long covered baker, cover the baker with its lid, and let the dough rise for 45 to 60 minutes, until puffy but not quite doubled in size.

Just before putting the loaf into the oven, slash the top several times.

Place the covered baker into a cold oven and set the oven temperature to 425°F. Bake the bread for 40 minutes, starting the timer when the bread goes into the oven.

Remove the cover of the baker and bake for about 5 minutes longer, until the bread is golden brown and its internal temperature measures 190°F on a digital thermometer.

Remove the bread from the pan, and allow it to cool on a rack.

Store bread at room temperature for up to three days, or freeze for longer storage.
Tips from our bakers
If your oven is slow to preheat, you may find it necessary to bake the bread for an additional 5 to 10 minutes, for a total of 45 to 50 minutes.
If you don't have a long covered stoneware baker, form the dough into a round (boule) and bake it in a covered Dutch oven or bread baking crock following the same recipe instructions.
Reviews
Morgan, would I cover with foil, tent with foil or leave uncovered if I used my KAF loaf pans? Would I still do a cold oven?

Hi there, Julianne! We'd suggest leaving the loaves uncovered for the majority of the bake — if they're getting too dark towards the end then you can certainly tent them with foil. You'll want to have preheated the oven, a lower temperature might be better for the un-covered loaves so we'd recommend baking them at 375°F. Happy baking! Morgan@KAF
Absolutely wonderful! Someone mentioned dense. Mine was light/fluffy, soft and so tempting! The perfect amount of raisins. I had to bake in my Sur La Table Cast Iron oblong, 13.5 X 10.5 without lid. I thought of 2 boules, but made a long one fitted into parchment lined baker, greased the baker all over. GIANT! Still laughing. I hope these freeze very well. For an old lady trying to limit her starches I had 2 slices and wanted more! GHM! So my limit for the day. Will wack in half, share with a neighbor, beg my Hubble to eat it, and freeze the other half. RUSTIC...hard to cut, so huge! Glad I have a long sharp serrated bread knife! I baked as directed for 40 min. Mine was already 190 degree so did not do the last 5 minutes uncovered. I only had 9 3/4 oz Bread flour KAF so subbed the rest with white whole wheat KAF. A great way to use sour dough and the Super 10 Blend Grains. I just wish I knew the NI on this loaf. Mucho thanks KAF! Next time would this take 2 KAF loaf pans 9 x 5 or more?

Hi, Julianne. We're happy to hear that you enjoyed this recipe! If you would like to use a loaf pan you could use two 9" x 5" pans, but the loaves might be a little on the shorter side. Two 8 1/2" x 4 1/2" might be a better fit here. Happy baking! Morgan@KAF
No super 10 blend available here in western Canada, so I substituted 8 grain cereal mix from a Canadian source and buzzed it in the food processor to make the oats smaller. No long baker, but two round-ish loaves in my clay baker worked well (a single loaf would have been way too big for two people). Turned out beautifully albeit a bit 'rustic' looking. Next time I will try adding some slivered candied ginger for a bit of sweet zing and will soak the cereal in hot water for a bit before I begin as some of the grain is a tad crunchy. Definitely a make again!
Excellent raisin bread. Delicious toasted or plain. Makes a great grilled cheese sandwich with goat cheese, apple or pear, as well as French toast with maple syrup. The crumb is soft and moist and not as tight as a sandwich bread, nor as open as sourdough. I didn't have the Super 10 Blend so substituted 116 grams of white whole wheat flour and 70 grams of 12 grain cereal mix. I added 3 tbsp of vital wheat gluten to help with the rise, and 1 tsp cinnamon, 1/2 tsp cardamom and 1/2 tsp nutmeg for a flavor boost. The dough is slightly tacky and slack. It was a lot of dough for one loaf so I removed 320 grams to make 2 rolls, and formed the remaining dough into an oblong loaf. The bread baked for 45 minutes in a clay baker, and was 205° when I took it out of the oven. The rolls were done in 20 minutes.
This came out really well. Based on other reviews, I added an extra tablespoon of honey and a tablespoon of Vital Wheat Gluten. I don't have a covered clay baker, so I used a 10x5 loaf pan with foil on top. It did dome but might have done better in a 9x5 which I'll try next time. I did need to add about 10 minutes to the cooking time. I'm not sure if that was because of my oven or the pan size. Definitely, I'll make this again.
Excellent bread, easy to work with dough. I made the dough in my breadmaker and baked it in my crock. It rose quite high; I couldn't put the lid on so I covered it lightly with aluminum foil. I used cranberries and added some of KAF Winter Spice. I also added a TBL or so of Vital Wheat Gluten. The crust was crispy and the crumb soft and delicious. A huge hit with the family. Definitely will make this one again.
I made this bread in my long covered baker following the recipe with a few exceptions: I substituted 1/2 cup Harvest Grains Blend & 1 tsp. Herbes de Provence for the 12 Grain Artisan Bread Flavour, not having any on hand I thought it might work, and used 3/4 cup each of raisins & dried unsweetened cranberries. The result was really delicious and definitely will make again. Nice recipe!
I would recommend the recipe, because I can see - talking about the consistency and shape - it worked for a lot of people. I love the flavour, it must be a great loaf, especially for breakfasts. However, I don't know where I went wrong, my dough was quite sticky, I could eventually shape it (using a tolerable amount of flour for dusting) and it even looked OK when it went into the oven, it just grew monstrous inside, drooled to the sides and turned out to be quite wet. As I come fom the Czech Republic, I made my own blend of grains and ground them. Cold this be why? If anyone can give me a piece of advice, I'll be happy. Other than that, as I've already said, I love the taste.

Grains can vary drastically in their protein content and how readily they absorb liquid; it sounds like the flour you're making at home isn't quite as strong as they flour we used to develop the recipe. You may consider using at least half King Arthur Flour brand all-purpose flour to help give your loaf some structure and rise. Add additional flour as necessary to make a smooth dough. Kye@KAF
Wonderful flavor, soft texture. I used 1 c AP flour and the rest whole wheat, sub sugar for the honey and coconut oil for the butter. I also only used 1.5 t of yeast. I only gave it 4 stars because my loaf got a little too dark on the outside even though the thermometer read 190. Not sure why. Substitutions? Also next time I would like to make it without any commercial yeast. Any suggestions as to rise times? Should I use more starter? Thanks! This is such a great forum. Carol, The dark browning was probably due to the substitutions of the honey. Honey does bake darker than sugar. In regards to not using any additional yeast, I would refer to the rise times and directions in the "Extra Tangy Sourdough Recipe". Hope this helps and Happy baking!JoAnn@KAF
This really is marvelous bread. Made as directed and baked in a long covered baker. Very high-rising, beautiful loaf.