A customized print-friendly version of this recipe is available by clicking the "Print Recipe" button on this page.
Multigrain Sandwich Bread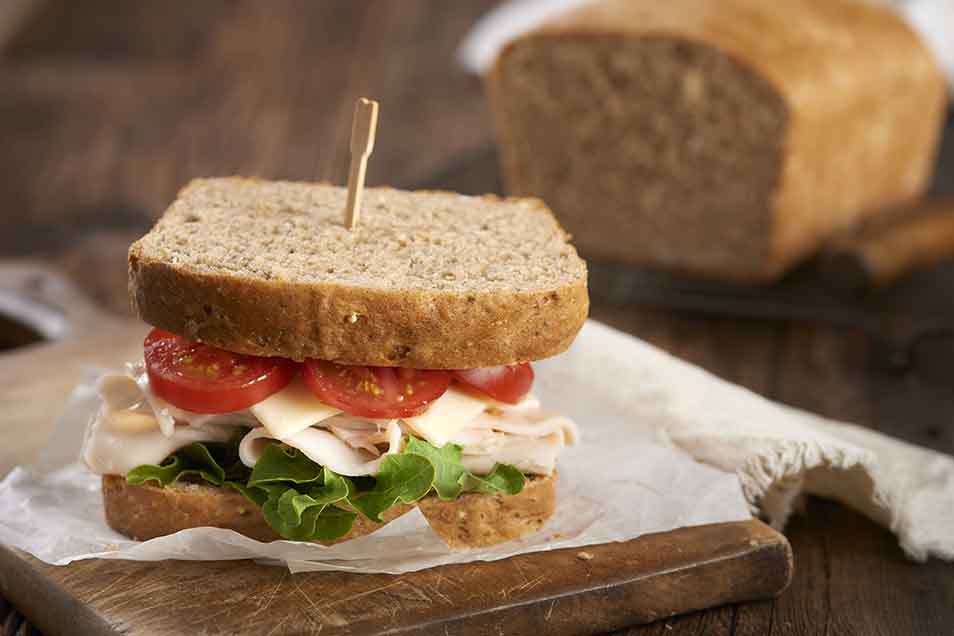 With the nubbly texture of the seeds and grains in our Super 10 Blend, this moist, dense bread is perfect for slicing and sandwiching or toasting. The mellow whole grain flavor is just noticeable enough to add an aura of wholesomeness, while the subtle sweetness offers a pleasing finish.

Recipe update: Thanks to feedback from you, our readers, we've adjusted the amount of Super 10 Blend and made some other changes to this recipe as of 9/26/18. See tips below.
Ingredients
3 1/2 cups Super 10 Blend
1 1/4 teaspoons salt
2 teaspoons instant yeast
1 1/4 to 1 1/3 cups lukewarm water
2 tablespoons molasses, honey, or sugar
2 tablespoons vegetable oil
Instructions
Weigh out your flours; you'll find their weights by toggling to "ounces" at the top of the ingredient section above. Or measure them by gently spooning them into a cup, then sweeping off any excess.

Combine the flour with the remaining ingredients, and mix and knead to make a smooth, elastic dough. This should take about 10 minutes by hand, or 7 minutes using a stand mixer on low speed. Add more water as necessary.

Place the dough in a lightly greased bowl, cover it, and let it rise for 45 to 60 minutes. It'll become quite puffy, though not necessarily doubled.

Transfer the dough to a lightly floured work surface, deflate it gently, and shape it into a 9" loaf.

Place the loaf in a lightly greased 9" x 5" loaf pan, cover the pan, and let the dough rise for 45 to 75 minutes, until it's crowned 1" to 1 1/2" over the rim of the pan.

Towards the end of the rising time, preheat the oven to 350°F.

Bake the bread for 33 to 38 minutes, until golden brown on top, and a digital thermometer inserted into the center registers 195°F to 200°F.

Remove the bread from the oven and turn it out onto a rack to cool.

When the bread is completely cool, wrap it in plastic and store at room temperature for several days; freeze for longer storage.
Tips from our bakers
Due to the high concentration of certain whole grains in this loaf, like spelt, the dough performs best with gentle kneading. Please don't use a bread machine; they tend to have kneading cycles that are too vigorous and will cause the gluten strands to tear.
Reviews
Sorry to have negative comments but I believe that this recipe should once again go back to the test kitchen. I realize that the revised recipe increased the amount of Super 10 blend than the original version but I think it uses too much, making the loaf taste like those first generation "health food" breads, that tasted as if they were available by prescription only. I feel that the flavor profile is just "blah." Also, since the recipe calls for using over a third of the bag for one loaf, it's an expensive proposition to make this bread. I also think it needs a little more oil (perhaps 3 tablespoons?) to moisten it more. FYI, I did indeed weigh my ingredients properly. Please consider reviewing and revising the recipe, although I see there are positive reviews too!

No need to apologize, Sandi — we appreciate the feedback and take it to heart. We've shared it with the recipe team as we continue to monitor this recipe to make it as user-friendly and delicious as possible. Thank you again. Kindly, Annabelle@KAF
I followed the exact measurement given for each of the ingredient on your website. I hand-kneaded the dough, all i can say, the texture was very unique compare to the usual bread. Everyone at home just loved the grainy texture and flavours of this bread. Will be using my second bag of my 10 grains flour! Thank you for sharing this recipe!
Made this recipe exactly as on the bag of Super 10 blend flour. Has an excellent taste. It is a dense bread and comes out looking more like a quick bread loaf. I let the first rise go for the lower amount, 45 minutes and the second rise was the a 60 minute rise. Next time I am going to let the first rise be slightly shorter since this type of flour will be a quick rise. Then hopefully the second rise will get more height. My first loaf did rise above the 9X5 loaf pan, but only by about 1/2 inch.
The problem is with the recipe on the bag of Super10 Blend where it is called 'super 10 Blend Sandwich Bread'. In your online recipes, you call it 'Multigrain Sandwich Bread'. There is no option to measure your ingredients by weight on the bag recipe and it lacks an oven temperature and bake time. I found this recipe on your web site when I was trying to figure this all out, as my bread was proofing. On the bag, you say to use 1 1/4 cups water at first before you try adding, perhaps, a total of 1 1/3 cups water. I did that and still wound up when th a dough that was too wet after the kneading. It rose fine on the first rise but is too wet to rise well in the 9x5 loaf pan. I'm trying to get around this by extending the second rise time. I haven't baked it eat. Will let you know how that goes. I'm mainly writing to bring to your attention that it is the recipe on the bag and of Super 10 Bled that is causing the confusion and low reviews.

Thanks for bringing this up with us, fellow baker. Our team is aware of the discrepancy between the recipe on the package of the Super 10 Blend and the online version, and we've taken the necessary steps to make sure this will be corrected on the package as soon as possible. (The online version is correct as written.) We apologize for any inconvenience this may have caused.

As for getting the best results possible with this recipe, be sure to knead the dough gently to avoid over-working the dough and shredding the gluten structure. Also, keep a keen eye on the dough as it rises. With all the whole grains that are added, it has the potential to be a quick riser. Be sure it doesn't over-proof, which can also compromise the final rise and structure/texture of the bread. We hope that with the correct recipe here, complete with ingredient weights, you're able to make the multigrain sandwich loaf you're looking for nex time. Kindly, Kye@KAF
I made this recipe off the bag, with the input from this page. And I used my Zo to make the dough. Having read the reviews, I was careful with my ingredients. The dough came out more like batter, very hard to handle, even with the lesser amount of water. But I still did not add more flour since I didn't want the heavy, dense loaf that others got. In the end, the bread didn't rise much in the loaf pan and not at all in the oven. This recipe needs a lot more work for it to be useful for average home bakers. Got any other uses for this special flour?"

Hi Trudy, thanks for sharing your baking experience with us, though we're very sorry to hear it wasn't quite as successful as you would have hoped. We shared your feedback with our test kitchen team, and we've since added a few tips to this recipe that we hope you and other bakers find helpful.

We've added a note about kneading the dough by hand or using the lowest speed on a stand mixer rather than using a bread machine, which is too vigorous. If the dough is over-worked, the finished loaf won't have the structure it needs to rise high, and the final product will be dense and heavy. Try a gentle kneading process next time to see if that helps develop the structure you're looking for.

As for using this flour in other recipes, you're welcome to try using it to replace up to 50% of the flour in your favorite recipes; it'll work especially well if you use it to replace whole wheat or whole grain flour blends. Be prepared to adjust the consistency of the dough/batter by adding additional flour or water as needed when making this substitution. We hope this helps make your future bakes with the Super 10 Blend more enjoyable. Kye@KAF
I have never had an issue with King Arthur flours bag recipes. However, this one needs development. First of all, an oven temperature is very useful (one might even say critical). Secondly, the quantity of liquid called for in the bag is woefully insufficient. In order to get any rise, yeast needs food AND water. The reviewer who was told they allowed their bread to over proof probably followed the recipe on the bag. It was immediately apparent that that recipe wasn't going to work in terms of moisture levels and the flours involved just based on what the dough did in the mixer. After adding A LOT more water (in the form of milk for keeping qualities as we just cannot eat an entire loaf of bread in a few days) and a few other adjustments and additions, I would absolutely say that this is the best bread I have ever made. It's delicious! However, that recipe is not King Arthur flour quality and will lead bakers into the land of heavy, dense, awful bread - using very expensive ingredients.

Thanks for sharing your candid feedback with us, fellow baker. We're sorry to hear you had trouble with this recipe. We'd love to provide clarity where possible: in step 6, we call for setting the oven temperature to 350°F.

As for your comments about the amount of liquid that's added, we're surprised to hear it was so far off of what was required to make the dough soft and tender. It sounds like you might be scooping your flour directly from the bag, which can compact the flour in the cup and result in too much being added to the dough. To ensure you're using the right amount, we recommend checking out the "Measuring Standards," link next to the ingredients header above. You'll see that either measuring your flour by weight using a scale, or fluffing and sprinkling the flour into your measuring cup are the best ways to ensure your recipe turns out perfectly. Kye@KAF
I havent made this yet, but wanted to know if i would be able to use 1 cup of your white whole wheat flour instead of the all purpose flour?

You're certainly welcome to, though we'd recommend adding a teaspoon or two of extra water to account for the added absorption of the whole grains. The finished loaf will be a bit denser, but very tasty. Happy baking! Annabelle@KAF
Ordered the Super 10 blend to bake for some friends who are very healthy eaters, and enjoy breads with some tooth and texture. Came yesterday, and today I mixed up this recipe right off the bag, using honey as the sweetener. Rose well, into the oven after an hour's rising (please note, KA proofreaders: no oven temp given on package recipe!), out after 35 minutes. Looks like a brick, no oven spring at all. I'm sure the Super 10 will be useful in some other recipes, probably as a smaller percentage of the total flours, but this recipe needs work. N.B.: have had terrific results with KA bag recipes in the past!

We're sorry to hear this recipe didn't produce the loaf you were hoping for, Ann. We're concerned that the loaf may have over-risen before going into the oven, so when it hit the heat, it collapsed, leaving you with a dense and probably very heavy loaf. Feel free to reach out to our free and friendly Baker's Hotline staff to help troubleshoot at 855-371-BAKE (2253) if you wanted to talk through the recipe or give some additional details so we can pinpoint where things can be tweaked. Kindly, Annabelle@KAF