A customized print-friendly version of this recipe is available by clicking the "Print Recipe" button on this page.
Multigrain Sourdough Sandwich Bread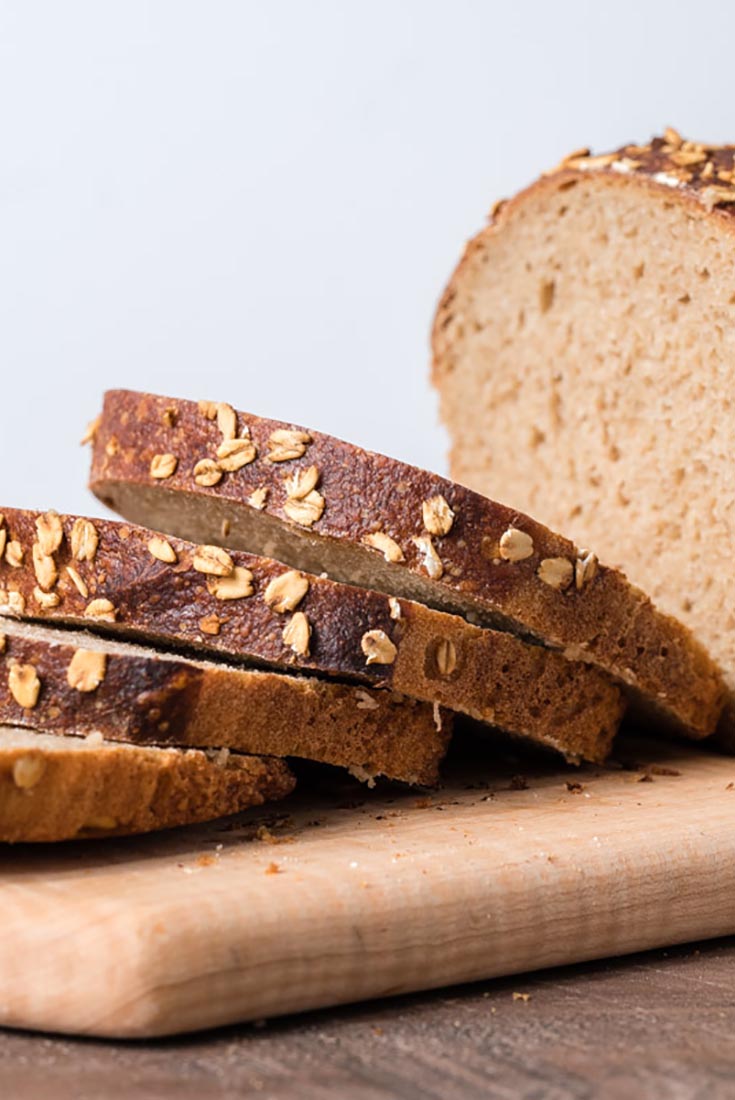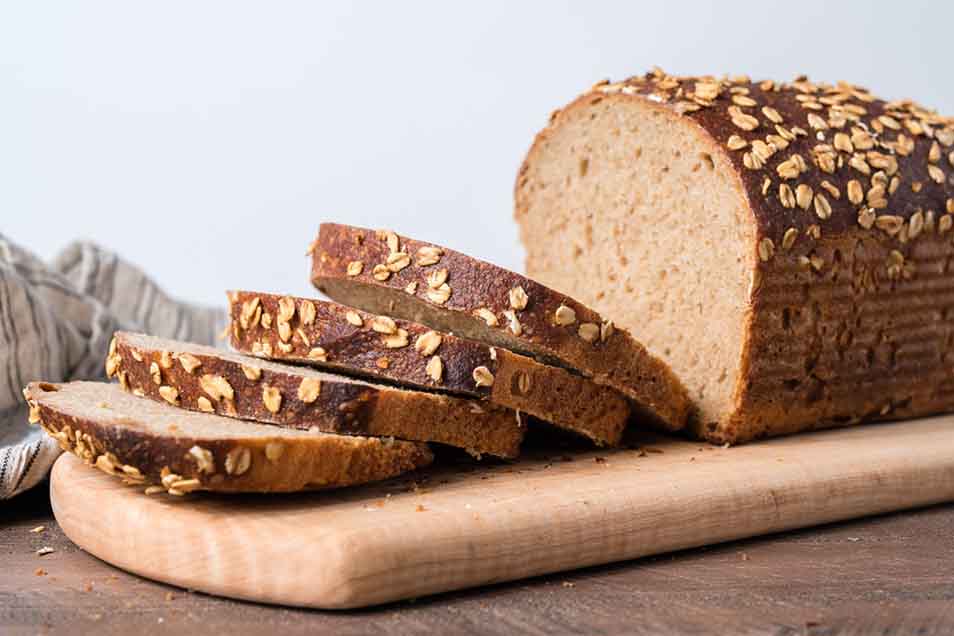 Sourdough lovers, this multigrain sandwich loaf is for you: it's got assertively tangy (sour) flavor. The majority of the flour used is whole grain, and the dough is completely naturally leavened. The intentionally tight, somewhat dense crumb is perfect for holding piled-high sandwich ingredients; and the thin, crunchy crust adds structure and bite. Our thanks to sourdough blogger extraordinaire Leo Maurizio for sharing this recipe with us.
Ingredients
Levain
1/4 cup + 3/4 teaspoon water, around 90°F
1/4 cup + 3/4 teaspoon ripe (fed) sourdough starter
Instructions
To prepare your sourdough starter for use in the levain: The levain calls for fed (ripe, mature) sourdough starter; so if you don't feed your starter every day on a regular basis, take it out of the fridge and feed it at least twice, once in the morning and once at night, before using it. If it's been refrigerated without feeding for awhile, you may need to give it several feedings over several days to bring it up to strength. Your goal is a starter that doubles in size and looks quite active.

To make the levain: The night before you want to make the dough, mix together the levain ingredients in a small, non-reactive bowl. Cover the bowl, and let the levain rest at warm room temperature, about 75°F, for 10 to 12 hours; overnight is a good plan. Your turned-off oven, with the oven light lit for a few hours before you go to bed, is probably a good rising venue if your house is cooler than 75°F.

To make the dough: About 2 hours before your levain is ready to use, start the dough. Combine all of the dough ingredients (except the salt and levain) in a bowl, mixing by hand until there are no dry areas showing. You can also do this in a stand mixer set at the lowest speed, mixing for about 1 minute.

Cover the mixing bowl and let the dough rest for 2 hours at room temperature. Note: If your levain reaches its peak during the dough's 2-hour rest, go ahead and proceed, skipping any remaining rest time.

Add the salt and specified amount of levain to the dough, and mix and knead by hand to make a tacky, soft dough that's starting to show signs of rounding into a ball. If you'd like to use a stand mixer, mix for 1 minute at the lowest speed ("stir" on a KitchenAid), and 2 minutes at the next speed up (speed 2 on a KitchenAid).

Transfer the dough to a thick-walled bowl or tub, and cover it. It's going to rise for 3 hours, 30 minutes; but you're also going to stretch and fold it three times, spaced 30 minutes apart, so don't just cover it and leave the house.

After 30 minutes, stretch one side of the dough up and over the center. Do the same with the opposite side. Turn the bowl 90°, and repeat with the remaining two sides.

After 30 minutes, repeat the stretch-and-fold. Wait 30 minutes more, and repeat again. Once you've done three stretch-and-folds, cover the bowl and let the dough rest for 2 more hours at room temperature (if your room is about 75°F), or in a warm place like your turned-off oven if your house is cold.

Transfer the dough to a lightly greased or very lightly floured work surface. Divide it in half, and pre-shape each half into a round. Let the rounds rest, uncovered, for 25 minutes.

Lightly grease two 9" x 5" loaf pans.

Shape each piece of dough into a 9" log. Place the logs into the prepared pans. Spritz the top of each loaf with warm water, and top with a sprinkle of rolled oats, if desired.

Cover the pans loosely with lightly greased plastic wrap, and let them rest at room temperature for 1 hour before refrigerating, if your schedule permits. Or refrigerate immediately, without the 1-hour rest.

Chill the loaves in the refrigerator for 14 to 18 hours.

An hour before you're ready to bake, preheat your oven to 500°F.

Uncover each pan of bread; the dough should have risen to the rim of the pan, or nearly so.

Spritz each loaf with warm water, and place in the oven. This bread does well with a lot of steam, so you can also place a cast iron frying pan in the bottom of the oven while it's preheating, then add 1 1/2 cups boiling water to the pan at the same time you place the bread in the oven.

Reduce the oven temperature to 475°F and bake for 20 minutes. Reduce the temperature to 450°F, and bake for an additional 20 minutes. Reduce the temperature once more, to 425°F, and finish baking, about 10 to 20 minutes (for a total of 50 to 60 minutes overall). The loaves should be a deep golden brown, and their internal temperature should register at least 200°F, and can go as high as 208°F to 210°F.

Remove the loaves from the oven, and turn them out of the pans onto a rack. Cool for 1 to 2 hours before slicing.

Store bread at room temperature, well wrapped, for several days. Freeze for longer storage.
Tips from our bakers
Maurizio formulated this recipe by weight, using grams. For best accuracy, weigh your ingredients in grams; you'll see an option for gram weights at the top of the list of ingredients. If you measure by volume, understand your results may be slightly different, due to an unavoidable lack of precision in converting gram weights to volume. We've also rounded off American weights to the nearest 1/8 ounce; again, gram weights are the weight of record.
This dough is very soft; professionals would call it high hydration (82% liquid). It's sticky and difficult to work with, but this stickiness is what produces its moist texture, so try not to add additional flour while kneading unless absolutely necessary.
Reviews
Terrific. Yes, it's a wet, sloppy dough. Just lightly oil you hands for the folding steps and you're good to go. I used a combo of khorasan, bread and rye flours. Took 7 minutes less to bake than expected.
I hope to bake this bread later in the week after I rejuvenate my starter. I'd like to bake it in a 13" Pullman pan. I noted that you mention using a generous 2 lbs of dough for the Pullman. My question (I apologize if it seems silly): do you recommend with the lid, or without? I'd like to use the lid (I love the Pullman shape), but I don't know how much this rises. Thanks for your suggestions!

No silly questions here! Since this particular bread likes steam so much, we'd recommend leaving the lid on for the first 2/3 of the baking time; between 35-40 minutes. Then, remove the lid for the final 15-20 minutes so the top can get nice and toasty brown. Happy baking! Annabelle@KAF
Baked a loaf and a boule. Actually got a pretty decent open crumb but didn't use diastolic malt powder so my crust was a tad pale and I think could have benefited from the extra flavor and enzymatic activity. My final product wasn't very sour and I wonder if that's why. Either way I loved this recipe and will try again with the full ingredients list.

Alexis, be sure that you're including the final rest in the fridge for 14 to 18 hours, as this gives the loaf a chance to develop the more sour flavor. You can also try adding a pinch of citric acid to your dough to coax out more tang. It's a helpful trick that many bakeries use to jazz up their sourdough bread. Kye@KAF
Any measurement change suggestions to make this fit a 13" Pullman loaf pan?

Michelle, this recipe is too large to fit in a 13" Pullman Pan. Typically pans of these sizes require about 5-6 cups of flour, so you'd need just over half of the dough in this recipe. You may consider preparing the full batch and then dividing off the amount you need (a generous 2 pounds of dough) and then baking any extra as rolls or a smaller sandwich loaf. The bake time should be extended slightly by about 5 minutes to ensure it finishes baking all the way through. Kye@KAF
The texture and flavor are terrific. Well worth the effort. This is a very forgiving recipe, however, I recommend weighing the ingredients. Added a quarter cup of sunflower seeds (could have used more). My starter was a little past prime, so I added 1/2 tsp of instant yeast as insurance. My oven is accurate, but the tops turned out borderline burned even though I reduced the 425 bake interval by 10 minutes, the Internal temp was already 206. Will shorten the bake time at each temperature the next time.
So yummy! I used freshly milled whole spelt instead of the white whole wheat flour, because I love the flavor of spelt so much. I followed the recipe exactly otherwise. Using the loaf pan makes working with this high hydration dough much easer, as it supports it in the oven so it doesn't spread so much. And the crust has an amazing flavor and crunch all around! The crumb is moist and so flavorful. My loaf had a slight blowout on the side as it rose enthusiastically in the oven, so I'll try a slash next time.
Best whole grain sourdough ever. Turned out great the first time. I should have baked it 5 minutes less then recipe said. I used honey in place of malt powder. I will be making this again soon.
Great recipe! Was nervous at first when levain didn't float, but was assured by KA bake help that it would be ok. The loaf in bread pan domed beautifully and I chose to boule the other loaf which came out great too! Beautiful burnished reddish brown! I added some poppyseeds but everything else I followed exactly. I regularly make Maurizio breads and this one did not dissapoint!
I am in the middle of making this recipe, and I tried float test of levain but it just sinks. It's bubbly and original starter floated before I mixed levain. Should it float?

This levain is relatively loose (high in hydration), so the float test isn't a reliable way to tell when your starter is ready. (Plus, it's likely to fall apart if added to water.) Instead, watch your starter closely and look for doming and active bubbles to form to indicate your levain is ready to use. Good luck! Kye@KAF
This bread is delicious. It has a wonderful sourdough tang with a nice dense crumb for sandwiches. It is also a time intensive recipe so plan ahead. It would be best to read the blog post on this bread before beginning. The pictures and more detailed instructions were very helpful. One thing that I did not see in the printed recipe was a tip for handling the high hydration sticky dough. Wet your hands when trying to handle the sticky dough. The dough will not stick to wet hands. I run my hands under the water and shake off the excess before doing the stretch and folds. It will make dealing with the dough so much easier. I will definitely make this recipe again.