A customized print-friendly version of this recipe is available by clicking the "Print Recipe" button on this page.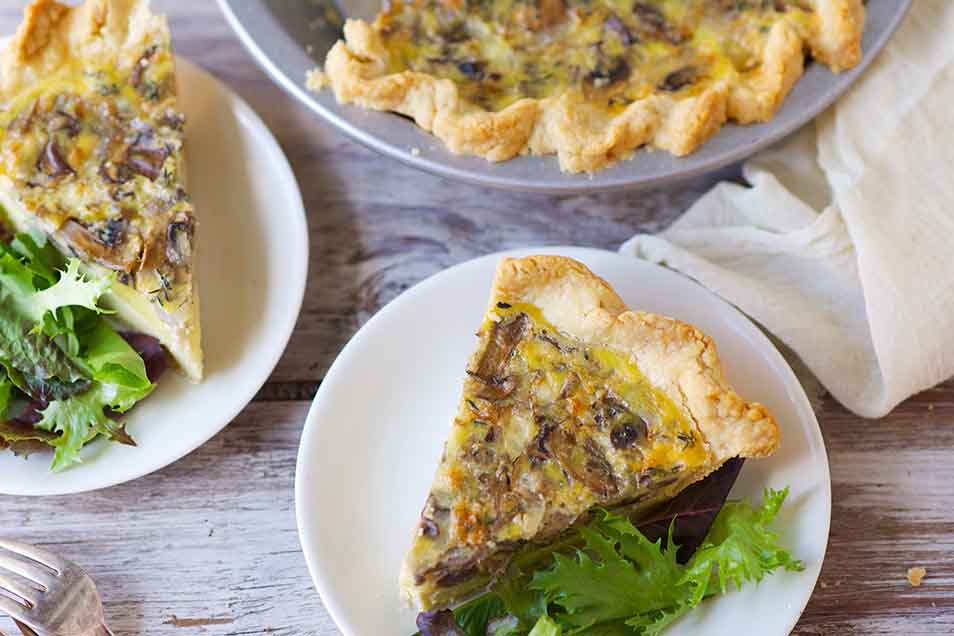 Here's a tasty dish that's perfect for breakfast, brunch, lunch — even dinner. With its savory, cheese-scented crust, and creamy, mushroom-studded filling atop a layer of sharp cheddar cheese, it's simply irresistible.
Ingredients
Crust
1/4 cup Hi-maize Fiber; or substitute 1/4 cup all-purpose flour
1/4 cup Vermont cheese powder, optional
1/4 teaspoon dry mustard
1/2 teaspoon salt
6 tablespoons cold unsalted butter, in ½" cubes
1/4 cup shredded Parmesan cheese
2 to 3 tablespoons cold water*
*If you substitute flour for the Hi-maize, increase the water by 1/2 to 1 tablespoon.
Filling
2 tablespoons unsalted butter
1 cup chopped onion; about 1 medium onion
8 ounces white mushrooms, sliced
3 large cloves garlic, peeled and finely chopped
1 teaspoon dried thyme or 1 tablespoon fresh thyme; use more or less to taste
1 1/4 teaspoons salt, divided
¼ teaspoon ground black pepper
8 large eggs
½ cup milk
1 cup shredded sharp cheddar cheese
Instructions
To make the crust: Whisk together the dry ingredients.

Work in the butter until the mixture is crumbly.

Toss in the cheese, then drizzle in the water, stirring gently until all is evenly moistened.

Pat the dough into a disk, wrap, and refrigerate for 30 minutes.

To make the filling: Heat the butter over medium heat in a large pan until foaming.

Add the onions and cook for 5 minutes.

Add the mushrooms and cook until the mushrooms start to lose their juices, about 10 minutes.

Mix in the garlic, thyme, ½ teaspoon of the salt, and the pepper. Stir to combine; remove from the heat.

Preheat the oven to 375°F.

Combine the eggs, milk, and remaining 3/4 teaspoon of salt.

To assemble the quiche: Transfer the dough to a floured surface, and roll it ¼" thick. Line a 9" pie pan with the dough, crimping the edges.

Line the bottom of the crust with the cheese, top with the mushrooms, and pour in the egg mixture.

Bake the quiche for 35 to 40 minutes, until the edge of the crust is brown, and the filling appears set.

Remove the quiche from the oven, and serve warm.

Yield: one 9" quiche.
Reviews
I was thrilled to see a quiche that uses hi-maize fiber, cheddar powder (I bought a TON!) in the crust and thyme seasoning was a major plus. That said, I read all the reviews as I was VERY concerned and confused by the 8 eggs and 1/2 cup milk. I kept checking other recipes and the blog for this one (thanks for the 160 degree info) and the egg/milk ratio still didn't make sense. . I'm a firm believer in trying a recipe as written the 1st time and adapt after that so I went against my gut and ended up with expensive scrambled egg pie that I was embarrassed to serve! . If you like the sound of the ingredients, I strongly recommend adapting the custard even on the 1st baking! Even a close look at the photo in the blog looks more like scrambled eggs then quiche to me.

Suzanne, thank you for giving this quiche a go! We're genuinely surprised that this well-loved recipe didn't do the trick for you. The ratio of milk to egg is in line with our other quiche recipes, but we'd love to find you a recipe that better suits your tastes. Please give our free and friendly Baker's Hotline a call at 855-371-BAKE (2253) so we can get an idea of what you're looking for and find a recipe that will give you the results you're looking for. Kindly, Annabelle@KAF
I made this for Christmas brunch and it was a hit! I cannot comment on crust, as I cheated with store bought, BUT, I did make the filling and everyone raved about it. I reduced thyme by half based on comments and preference. Definitely will make again.
Okay, this is delicious. I literally just baked it for first time, took it out of oven 30 mins ago and already ate two slices myself it's that dang good. Some tweaks I made based on other reviews here and my own preferences: Added more cheese than called for (6 oz Cabot extra sharp freshly grated) Added more mushrooms than called for (using one whole 10 oz bag of pre sliced frozen mixed fancy mushrooms from Whole Foods made this step really easy) Because of extra cheese, used only 1/8 tsp salt to mushrooms, omitted rest of salt in eggs/filling (cheese makes it plenty salty) Used less thyme (sprinkling of dried thyme over mushrooms, probably 1/8-1/16 tsp) Added a minced shallot to filling
I made this in a deep dish fluted pie pan and wish I had made 1.5x the crust recipe. I did blind bake it first with weights for 15 minutes and another 10 minutes without to ensure a firm crust underneath. I browned the onions well, cooked the mushrooms until they browned and dried out and also added some fresh spinach to my mushroom mix, cooked until wilted. I only used 5 eggs and just under 1 cup of cream after reading other quicje tips about egg to dairy ratios. Because my crust wasn't high enough I could only pour in 3/4 of my egg mixture. I used about 1 tsp fresh thyme and medium cheddar (not sharp) on the bottom. After all that my husband said it was the best quiche he's ever had. Next time I'll just try to make more crust so I can achieve a deeper quiche.
I've made quiches many times and decided to use this milk to egg ratio as I was out of heavy whipping cream. I am just not a fan of the texture of the quiche and the flavors seemed too salty. I will not be making this again.
This was so awesome that I ate 2 pieces right away. So yummy!!! I made this because I got a good deal on cremini mushrooms and had to use them fast. I saw the reviews from others, and only salted the crust and the eggs, and it was very good. I had Perfect Pastry Blend in my pantry so used that instead of all-purpose. Everything else the same. Awesome taste!
this recipe SUCKS A LOT it tastes HORRIBLE . I literally wasted my day on this thing . all in all,WORST RECIPE IN THE UNIVERSE

It sounds like something must have gone awry with this recipe to give you these disappointing results. We'd love to help you troubleshoot or find a recipe that's more suited to your needs. Feel free to give our Baker's Hotline a call at 855-371-BAKE(2253) for further assistance. Kye@KAF
Cool recipe! The crust was very interesting, I've never put cheese in a crust before so that was fun! I love quiche and just bought a package of mushrooms so this worked out great! I love how the mushrooms rose to the top. Very beautiful dish. You guys must have a ton of fun working in the KAF kitchens! I wish I could run away from home and join you guys ;-) This has been an awesome education in baking. Thank you very everthing.
I have made this recipe twice in the last couple months and it turned out amazing both times. My family really liked it and there were no leftovers either time. Thank you for the recipe for such a yummy Quiche!
Excellent! Into my faves file!