A customized print-friendly version of this recipe is available by clicking the "Print Recipe" button on this page.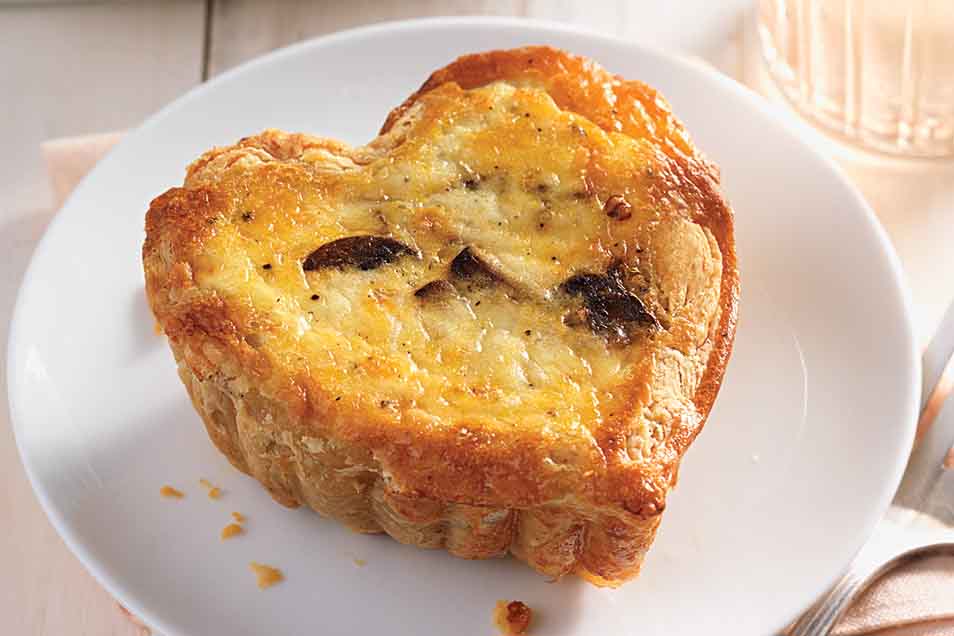 These savory little tarts are a tasty addition to the hors d'oeuvres tray, or to accompany a green salad for a light dinner.
Ingredients
Crust
1 cup (16 tablespoons) cold butter, cut into pats
1/2 cup Hi-maize Natural Fiber (or substitute all-purpose flour)
1/2 cup Vermont cheese powder (or substitute finely ground Parmesan cheese)
1/2 teaspoon salt
1/2 teaspoon paprika
1/8 teaspoon cayenne pepper or a dash of hot sauce, optional
3/4 cup shredded sharp cheddar cheese
1/2 cup ice water
Filling
1 tablespoon butter
1 cup sliced mushrooms
1 medium red bell pepper, diced
3 large eggs
3/4 cup milk or half & half
1/2 teaspoon salt
1/4 teaspoon black pepper
1/4 teaspoon dried thyme
1/2 cup shredded sharp cheddar cheese
Instructions
To make the crust: Work the butter into the dry ingredients to form an unevenly crumbly mixture.

Toss in the cheddar cheese and water, mixing until the dough is cohesive; add an extra tablespoon or two of water, if necessary.

Divide the dough in half, pat each half into a disk, wrap, and chill for 30 minutes.

Preheat the oven to 400°F.

To make the filling: Sauté the mushrooms and red pepper in 1 tablespoon of butter until the mushrooms are browned. Set aside.

Whisk together the eggs, milk, salt, pepper, and thyme. Set aside.

To set up the tarts: Roll one piece of the dough into a 10" x 13" rectangle, and cut it into twelve 3 1/4" squares.

Fit the squares into the cups of a square mini-tart pan (or cut rounds, and fit into a mini muffin pan).

Place a teaspoon each of sauteed mushrooms and peppers and shredded cheese into each cup. Fill with the egg mixture.

Bake the tarts for 18 to 22 minutes, until golden.

Remove from the oven and allow to rest for 10 minutes before removing from the pan.

Repeat with the remaining dough and filling. Serve warm; or refrigerate for up to 3 days and reheat for 10 minutes in a 375°F oven.
Tips from our bakers
To make larger, heart-shaped tarts: Prepare the dough according to the recipe instructions. Prepare the filling using 4 eggs and 1 cup of milk. Preheat the oven to 400°F and position a rack in the bottom half. Lightly grease a pan with six heart-shaped wells. Roll each disk of dough 1/4" thick, and cut out six 4 1/2" circles. Press the circles into the cups of the heart pan. Divide the vegetables and cheese evenly among the cups; fill with the egg mixture. Bake the tarts for 25 to 35 minutes, until they're golden.
Reviews
First, I think this recipe has good flavor but I didn't have much success with it considering the overwhelmingly positive reviews. I ended up having to make this recipe twice because of some serious issues, which I addressed in a second round. 1) These are called "mushroom cheddar tarts" but the amount of red pepper actually exceeded the amount of mushrooms. I adjusted this (even in the first round). 2) Make sure you put your trays onto a baking sheet with rimmed edges. The first round I had drippings going everywhere from the crust (more on that next) which made smoke in my oven. 3) The crust recipe calls for far too much fat. I'm not sure if my cheddar cheese had more fat to it than other's or what happened (I did not buy store bought shredded, I shredded my own block of cheese) but the first time I made these, there was so much fat that it caused smoke in my oven (see #2) and the crust never really baked through because it was sitting in its own fat. The second time through I decreased the butter by 1/2 of what the recipe called for, but this resulted in the crust being more cracker like instead of flaky. While the flavor was good, it wasn't what I was looking for. 4) I additionally made these the second time through in full size muffin tins as the mini muffin tins I used the first time were quite small and hard to get the filling into once the dough was in it. So all in all, I think this recipe has good bones but with the amount of time I spent making edits to still not get to an end goal I was 100% pleased with I cant say I would recommend it.

Kelsey, we're so sorry you had that experience! Dripping butter or oil usually means that your oven temperature is a touch too low, causing the butter to melt rather than bake into to the dough. It might be worth testing to see whether your oven's reported temperature is accurate, as it's common for home ovens to run either high or low. In general, your recommendation to set them on a rimmed baking sheet is a good one for baking safety overall. You might not need it, but it's good to be prepared! This is definitely a rich recipe, but if you'd like to decrease the amount of butter or cheese to your liking, feel free! The best thing about home baking is that you can always adjust things to get them exactly the way you want. Happy baking! Kat@KAF
Thank you for this recipe. I made muffin pan sized tarts. The quiche filling and the crust (in food processor) was actually very easy to make I subbed parm reggiano for the cheese powder which I do not have access to. I added sliced ham to the filling. When I cooked the mushrooms, I added shallots and seasoned well during the sautee. Our guests enjoyed them so much. I have another batch of crust ready to go, I plan to make muffin-sized again to serve half and freeze half for quick snack/treat for my son.
Great recipe! I made these in a muffin pan for a dinner party and they were a huge hit. I had some ground deer meat, which I added to the bell pepper and mushroom filling. I'm making them again this week. Wonderful!
Does anyone know if these can be made ahead and frozen? I think these would be fine to freeze. To refresh, I would thaw and then bake in oven at same temperature for 3-5 minutes. Hope this helps. For future reference, we invite you ato ask question via our Baker's Chat on the web versus asking a question under recipe review. Thanks and Happy baking!JoAnn@KAF
These are very tasty. I think that it is the crust that makes this recipe so outstanding. It has just the right amount of cheesy, flaky, crunchy. You could substitute just about anything you want for the mushroom and red pepper. I will experiment with ingredients next time but is a great base recipe. I brought these to a party last night everyone loved them.
This is my go to recipe for making a mushroom cheese pie. I have tried many different mushrooms and now like a combo of them. (sauteed first) I also add a combo of cheeses, the vermont cheddar powder, cheddar cheese and a bit of parmesean. Best winter treat ever. :) Also goes along well to potlucks if you can keep it warmer.
I first made this recipe for Valentine's Day using the heart shaped pan. Now I make them in a Mini Cupcake pan for any party that I am having or attending. They make perfect little finger foods and are always the first to disappear! This recipe never gets anything less than rave reviews every time I make it. People think I slave over them but in actuality this recipe is so easy to follow.
These Tarts were a huge hit on Valentine's Day at our friends gathering. I continually asked for the recipe. This recipe is easy to follow and the crust comes out perfect.
These were absolutely delicious. I made these as the entree for Valentine's Day. I didn't have a heart shaped pan, so I ended up making "deconstructed" tarts. For the crust, I made just a quarter recipe. After rolling, I used a heart shaped cookie cutter and got 3 nice, thick cut outs. Quarter-ing the recipe still yielded a large amount of dough! I kept the filling the same, since it was an entree, and made three servings out of it after baking in an 8X8 pan. In the oven, I put the crust on a cookie sheet on the top rack and the eggs on the middle rack. The crusts were done in about 20 minutes but the eggs took closer to 45. I would definitely make this again. The best part was clearly the crust; I'm actually considering just making that and cutting it smaller pieces as flaky "crackers"...or using it to top chicken pot pie...or the possibilities are endless!
Just made these and they were delicious. Halved the recipe and used a shallot instead of the pepper, also used the AP and parmesan subs. Didn't find them to be a lot of effort.