A customized print-friendly version of this recipe is available by clicking the "Print Recipe" button on this page.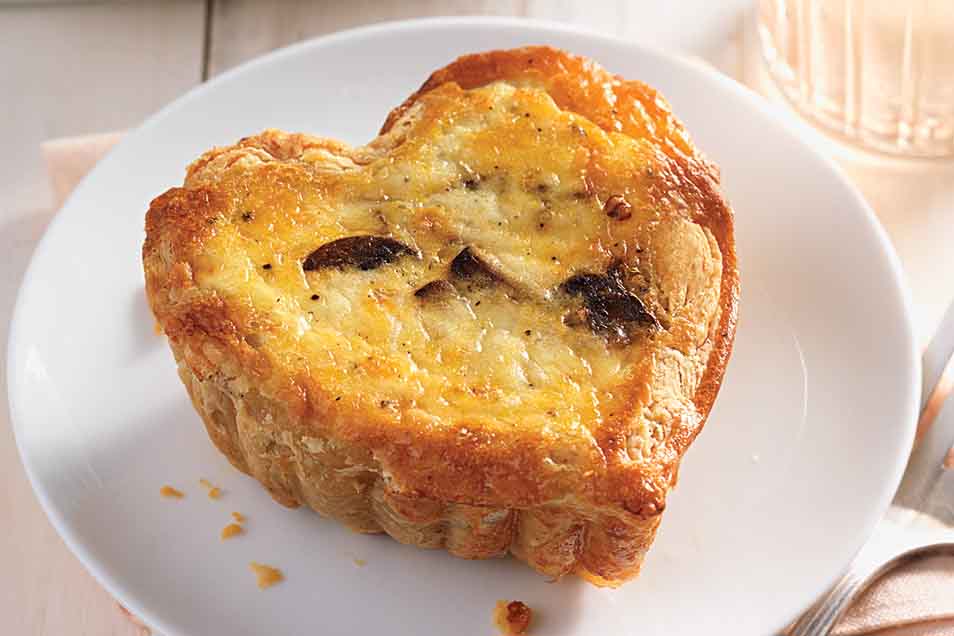 These savory little tarts are a tasty addition to the hors d'oeuvres tray, or to accompany a green salad for a light dinner.
Ingredients
Crust
1 cup (16 tablespoons) cold butter, cut into pats
1/2 cup Hi-maize Fiber (or substitute all-purpose flour)
1/2 cup Vermont cheese powder (or substitute finely ground Parmesan cheese)
1/2 teaspoon salt
1/2 teaspoon paprika
1/8 teaspoon cayenne pepper or a dash of hot sauce, optional
3/4 cup shredded sharp cheddar cheese
1/2 cup ice water
Filling
1 tablespoon butter
1 cup sliced mushrooms
1 medium red bell pepper, diced
3 large eggs
3/4 cup milk or half & half
1/2 teaspoon salt
1/4 teaspoon black pepper
1/4 teaspoon dried thyme
1/2 cup shredded sharp cheddar cheese
Instructions
To make the crust: Work the butter into the dry ingredients to form an unevenly crumbly mixture.

Toss in the cheddar cheese and water, mixing until the dough is cohesive; add an extra tablespoon or two of water, if necessary.

Divide the dough in half, pat each half into a disk, wrap, and chill for 30 minutes.

Preheat the oven to 400°F.

To make the filling: Sauté the mushrooms and red pepper in 1 tablespoon of butter until the mushrooms are browned. Set aside.

Whisk together the eggs, milk, salt, pepper, and thyme. Set aside.

To set up the tarts: Roll one piece of the dough into a 10" x 13" rectangle, and cut it into twelve 3 1/4" squares.

Fit the squares into the cups of a square mini-tart pan (or cut rounds, and fit into a mini muffin pan).

Place a teaspoon each of sauteed mushrooms and peppers and shredded cheese into each cup. Fill with the egg mixture.

Bake the tarts for 18 to 22 minutes, until golden.

Remove from the oven and allow to rest for 10 minutes before removing from the pan.

Repeat with the remaining dough and filling. Serve warm; or refrigerate for up to 3 days and reheat for 10 minutes in a 375°F oven.
Tips from our bakers
To make larger, heart-shaped tarts: Prepare the dough according to the recipe instructions. Prepare the filling using 4 eggs and 1 cup of milk. Preheat the oven to 400°F and position a rack in the bottom half. Lightly grease a pan with six heart-shaped wells. Roll each disk of dough 1/4" thick, and cut out six 4 1/2" circles. Press the circles into the cups of the heart pan. Divide the vegetables and cheese evenly among the cups; fill with the egg mixture. Bake the tarts for 25 to 35 minutes, until they're golden.