A customized print-friendly version of this recipe is available by clicking the "Print Recipe" button on this page.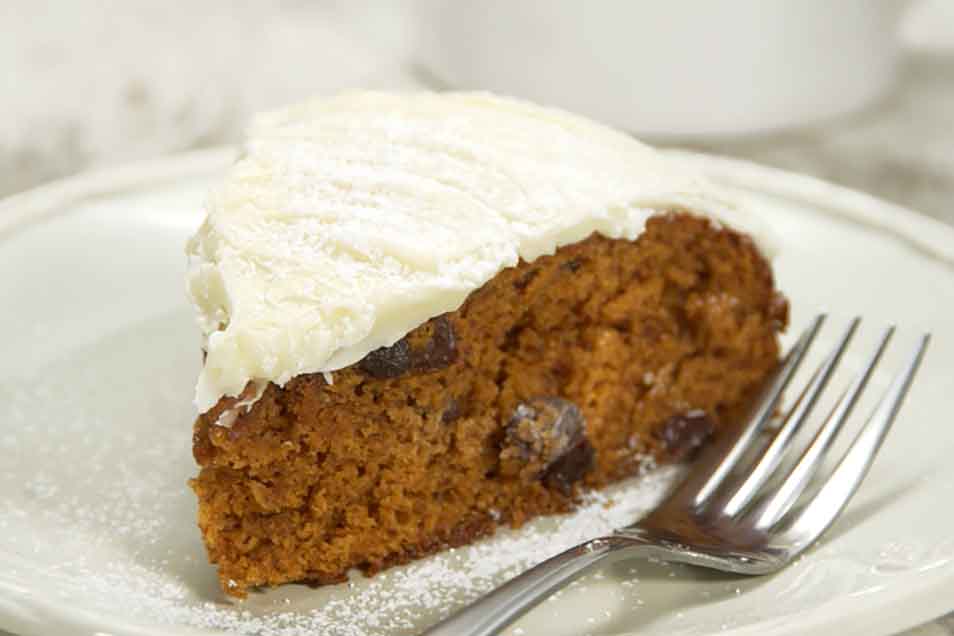 Dating back to the 1930s, this "Mystery Cake" was tremendously popular as it required very little butter and eggs, precious ingredients in Depression-era America. The flavors in this cake are rich with no true tomato taste, just the warmth of the spices and sweetness of the raisins. The cake keeps beautifully and can be enjoyed as a snack cake with no icing needed, or iced with a simple vanilla glaze to dress it up.


Ingredients
Spice Cake
4 Tablespoons unsalted butter, softened
1 cup granulated sugar
1 large egg, well beaten
1 can condensed tomato soup (Campbell's preferred) 10 3/4 ounce size
1 teaspoon baking soda
1 1/2 cups King Arthur Unbleached All-Purpose Flour
1/2 teaspoon baking powder
1 scant teaspoon ground cloves
1 teaspoon cinnamon
1/2 cup raisins, optional
Instructions
Preheat oven to 350°F. Spritz a 9" round cake pan with cooking spray. Line with a parchment circle and spritz with spray again. Cream butter and sugar in large bowl. Add egg and mix well.

Combine baking soda with undiluted soup in can. Let foam for 1 minute. Pour soup mixture into butter/sugar/egg and blend well. Mixture will look slightly curdled. This is normal.

In a small bowl combine flour, baking powder and spices. Whisk well and add to tomato soup mixture. Beat together for 1 minute on medium speed. Pour into prepared pan and bake for 30-35 minutes. Cool on wire rack and ice as desired.
Tips from our bakers
Looking to cut the fat even more? My mother's aunt's original version of the recipe calls for only 2 tablespoons of butter. The cake is slightly less tender, but still makes a very nice snack cake.
Reviews
Forgot butter all together! Now what?

Oh dear! The cake will still taste fine, it just won't be as tender and may be slightly dry. If you ever have a baking emergency, our Baker's Hotline is at the the ready at 855-371-BAKE (2253). We hope the next cake turns out a bit better! Annabelle@KAF
This was an easy and delicious cake - I didn't ice it, which made it a perfect breakfast the day after, too! I didn't have tomato soup, so I used a couple tablespoons of tomato paste with water, plus a little extra spice to replace seasoning that would have come with the soup. I also tossed in a handful of candied ginger bits and roughly chopped dried pineapple - both were delicious!
This is a cake from my childhood and it is delicious! I love to watch people try it for the first time. They are skeptical, (cake made with tomato soup) but they always love it. This is a "must make" at my house. Sweet, spicy and oh so decadent. The raisins make it marvelous (if you like oatmeal raisin cookies, this is your cake) and don't be afraid to hide some finely shredded carrot in here. It pairs very nicely. And yes, the cream cheese frosting is a necessity!
This looks and smells so gross before it's baked, so it is a hit in my house! I have a son that does not like raisins, so I added walnuts, unsweetened/grated coconut and some grated carrot. Oh, and the cream cheese icing is a must!
surprised it tasted great, I should have topped with cream cheese frosting.
I made this this morning and could not wait to cut it. It is moist and delicious. My mom use to make this years ago and although this is a little different from hers it is outstanding. The only change I made is I added a few more raisens & also chopped walnuts. I did a cream cheese frosting and the next time would go real light on the frosting or try with just a dusting of confectionary sugar. This cake really brings me back to my childhood and that is a VERY LONG TIME AGO! You rock King Arthur!! Thank you for great recipes every time!!!
If I wanted to make this cake in cupcake pans, what should I change the baking time/temperature to?

Use the same temperature, but start checking the cupcakes at 18 minutes. Laurie@KAF
This is my absolutely favorite cake. My grandma made it every year for my birthday - and I am now 69 so that was LONG ago. I do fiddle with the spices a bit according to my mood. And cream cheese frosting is a must! A great cake to make with kids! And they are amazed at how it tastes. Bravo to King Arthur for giving Tomato Soup Cake the fame it deserves!
Simple and tasty cake frosted with cream cheese icing! Yummmyyyyyy