A customized print-friendly version of this recipe is available by clicking the "Print Recipe" button on this page.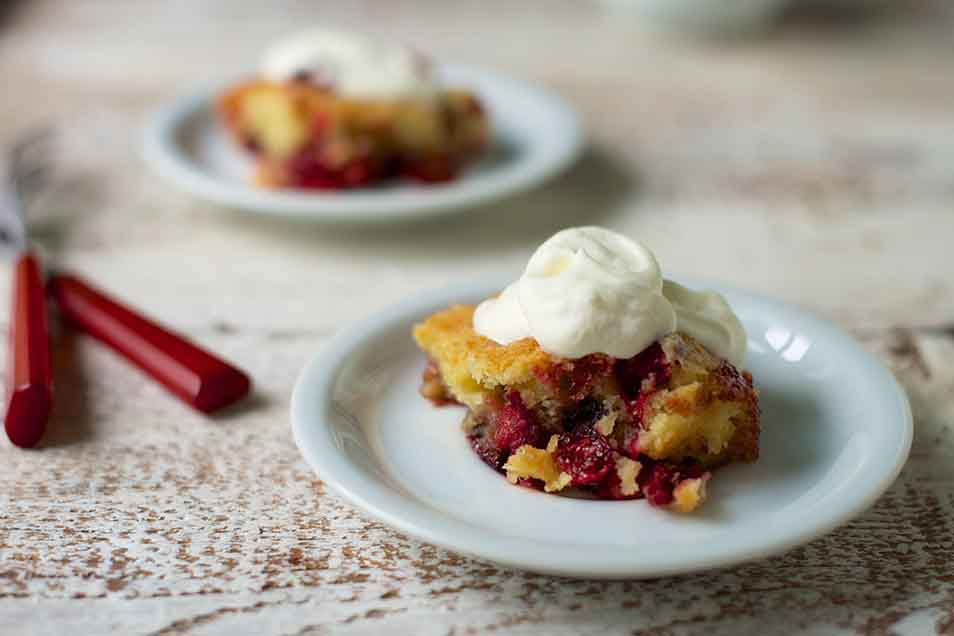 Usually called Nantucket Cranberry Pie, this ubiquitous recipe appears everywhere online, with each site revealing some very slight variation: pan size, the amount of almond extract, whether or not to chop the berries or melt the butter... This version includes our own tweaks: the addition of vanilla extract; and a sprinkling of coarse sugar on top, for delightful crunch.
Ingredients
1 tablespoon melted butter
2 cups fresh or frozen cranberries, chopped
1/2 cup chopped walnuts
1/2 cup granulated sugar
2 large eggs
3/4 cup (12 tablespoons) butter, melted and cooled slightly
1 cup granulated sugar
1/2 teaspon salt*
1 teaspoon vanilla extract
1/4 teaspoon almond extract
coarse white sparkling sugar, for topping
*Reduce the salt to 1/4 teaspoon if you use salted butter.
Instructions
Preheat the oven to 350°F. Lightly grease a 10" pie plate or 9" square cake pan. Melt 1 tablespoon butter, and drizzle it into the bottom of the pan.

Spread the chopped cranberries and nuts in the bottom of the pan. Sprinkle with the 1/2 cup sugar.

In a mixing bowl, beat together the eggs, 3/4 cup melted butter, sugar, flour, salt, vanilla, and almond extract.

Spread the thick batter over the cranberries and nuts in the pan, using a spatula or your wet fingers.

Sprinkle coarse white sparkling sugar atop the batter.

Bake the cake for 40 to 45 minutes, until a cake tester inserted into the center comes out clean of batter or crumbs.

Remove the cake from the oven. Serve warm, or at room temperature; just as it is, or with whipped cream or ice cream.
Nutrition Information
Serving Size

85g

Servings Per Batch

10
Amount Per Serving:
Calories

300

Calories from Fat

150

Total Fat

16g

Saturated Fat

8g

Trans Fat

.5g

Cholesterol

65mg
Sodium

110mg

Total Carbohydrate

38g

Dietary Fiber

1g

Sugars

28g

Protein

3g
* The nutrition information provided for this recipe is determined by the ESHA Genesis R&D software program. Substituting any ingredients may change the posted nutrition information.
Tips from our bakers
If you're using frozen cranberries, either let them thaw a bit after chopping; or add a couple of minutes to the cake's baking time.
Reviews
I baked this last night and it was delicious. I just wanted to say that I followed the recipe as written, except I used Swerve Sweetener instead of sugar in the same proportions as the recipe, and it turned out very well. Now, I have a low-sugar option for this amazing cake. Thank you!
I made the cake exactly as the recipe stated. It was delicious. Everyone that tried it absolutely loved it and requested the recipe. It is not a very thick cake and I can see how the name "pie" is often used as it does have a pie-like texture. It definitely should be served warm as the recipe suggests and the addition of a little whipped cream is never a bad idea in my opinion.
YUM! Wanted to use up some left over cranberries from Christmas and this recipe was the ticket! I used a whole bag (fresh) which was slightly more than 2 cups and followed the sugar on the cranberry but cut back on the batter. I also made it in a 10" square ceramic dish which needed a bit more time to bake. I'm not sure the coarse sugar was necessary because I topped it with whipped cream but I like to follow recipes pretty closely the first time! I will definitely be making this one again! Thank KAF!
Wow! Love, love, love this! It was so quick to prepare and everyone loved it!!! I would call it a cobbler/cake. It's not really a slicing cake. I made a few modifications. I don't like walnuts and only had KAF almond flour (which is really just ground almonds) so a spinkled a 1/3 cup of almond four on top of the cranberries before I sprinkled the sugar on top. I also love the taste of cranberry and orange together so I added a little orange extract along with the almond extract.
I made this recipe last night and followed it exactly. I even weighed all the ingredients and followed the exact baking instructions. I found the batter was not very thick as described and I wonder if that is where things started to go wrong. The cake had a good flavor, but the consistency was off. The bottom half was like eating a partially baked cake, but the cake tester came out clean. I'm not sure if this is the way this recipe is supposed to be or not. I'm giving it two stars because the flavor was good.

Thanks for reaching out to us, Kendra, and for giving this recipe a go. Is there any chance that you used a flour other than our Unbleached All-Purpose Flour? We ask because our flour has a fairly high protein content and therefore absorbs quite a bit of moisture. Describing the batter as thin and the finished cake as runny leads us to think it either needed a higher protein flour or less liquid. We'd be happy to troubleshoot further if we could get some additional details, so we encourage you to call our free and friendly Baker's Hotline staff at 855-371-BAKE (2253). Kindly, Annabelle@KAF
I reduced the amount of sugar from one cup to 2/3 cup, and the balance was perfect. However, the cake batter came out very dense. I used a dark baking pan, and the outer edge of the cake has a texture that is more like cookie than cake. Is the reduced amount of sugar the reason for the dense cake? Can I compensate by putting in baking soda? Or do you have a different recipe for the batter that I could use if I like fluffy cake that's not too sweet?

Chloe, we're sorry this cake didn't come out quite like you had hoped! Reducing the sugar shouldn't cause a very dense cake, and you can see from the comments that it worked out well for others, so we're going to search elsewhere for where your cake went awry. From your description, it sounds like your cake had too much flour, which caused it to be very dense. If you're measuring your flour by volume, we recommend trying again by weight, as this can give you a more accurate account of how much you should be using. In addition, the cake might have been somewhat overbaked, which could cause the texture on the outer edges of the cake to be more cookie-like. It's possible that your oven might be running a bit hotter than it's telling you; ovens are notoriously inaccurate about such things! If the internal temperature of the cake has reached 210°, you know that it's ready to come out. Hopefully, these adjustments should make your cranberry cake lighter and more enjoyable; no baking soda necessary! Kat@KAF
I made this to take to a party for the first time and only after talking to the Baking hotline is it revealed that it is meant to be eaten out of the baking dish, no way to turn it out unless you put parchment in the bottom. She said it is more like a cobbler than a cake. I am sure it is going to taste great.
I reduced the amount of sugar to 3/4 what the recipe called for. It turned out wonderfully! It was a perfect balance of sweet and tart, gooey and crunchy. I was not sure about adding the sugar on top of the batter but it gave the crust a nice crisp finish. Went perfect with homemade whipped cream for Thanksgiving dessert. We will definitely be making this again!
1st time making........150% fantastic. !! Did use 1c more cranberries, no almond extract-didn't have any -, grated orange zest and pumpkin pie spice/galangal with cranb. OMG so good, tangy,sweet...great balance. Oh,also used raw sugar on top.
This is fantastic and easy. I did use other reviewers suggestions to decrease sugar in cake by 1/4c, decrease butter in cake by 1/4c, and increase walnuts in cranberry mix to 1c; so delicious. I may add orange zest or CPTG orange essential oil next time to add to the yumminess. If you love fresh cranberry salad and a light dessert, you should try this.