A customized print-friendly version of this recipe is available by clicking the "Print Recipe" button on this page.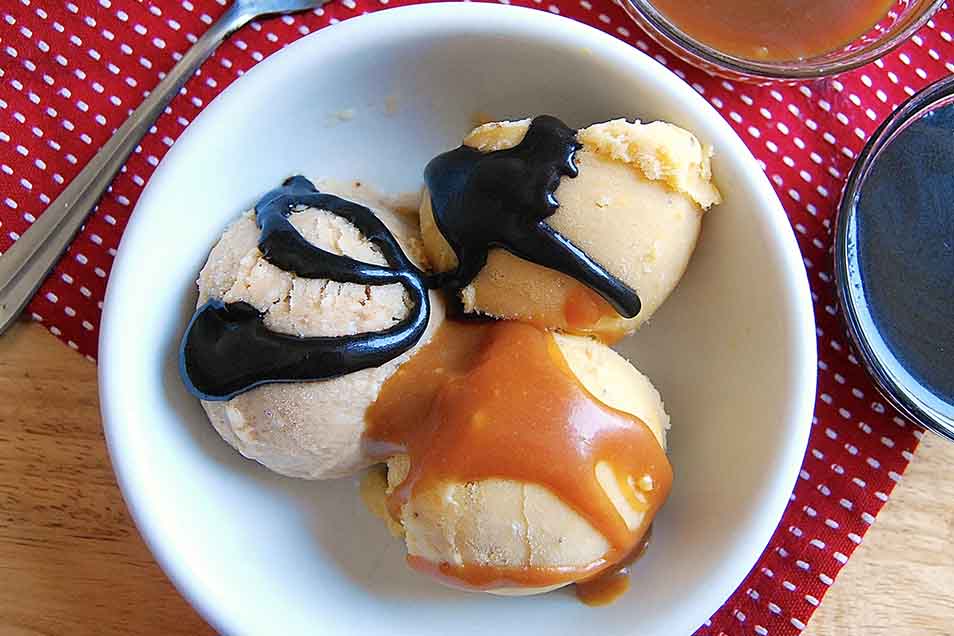 Homemade ice cream sundaes deserve rich, delicious hot fudge and caramel sauces. Do you choose 1) an inexpensive bottled topping whose taste reflects its price, or 2) a "gourmet" bottled topping whose price puts it outside your budget, or 3) a delicious, rich homemade topping whose price is "just right"? Hmmmm....

For caramel sauce, you'll start with sugar, butter, salt, and cream. Add heat. Finish with vanilla or the complementary flavor of your choice (or a spoonful of rum). The result? Thick, rich caramel sauce. The directions for this sauce look a bit fussy at first glance, but follow them carefully and you'll do just fine.

As for hot fudge, this deep-dark sauce is more suitable for discerning adults than kids, who probably won't appreciate its bittersweet bent. Made with black cocoa, espresso powder, and unsweetened chocolate, it's the perfect complement to rich, creamy vanilla ice cream.
Ingredients
Caramel sauce
1 cup sugar
1/4 teaspoon salt
2 tablespoons cold water
6 tablespoons butter, melted
1/2 cup heavy cream or whipping cream
2 teaspoons vanilla; or 1/4 teaspoon butter-rum or butterscotch flavor; or 1 tablespoon rum
Hot fudge sauce
1/4 cup (4 tablespoons) butter
1 1/2 ounces unsweetened baking chocolate
1/2 cup half & half or light cream
3/4 cup sugar
1/3 cup unsweetened cocoa powder*
1 teaspoon espresso powder, optional; for enhanced chocolate flavor
dash of salt
2 teaspoons vanilla extract
*See "tips," below.
Instructions
To make the caramel sauce: Place the sugar, salt, and water in a deep, heavy-bottom saucepan; it should be at least 2-quart capacity, as the syrup will bubble up during preparation. Stir to combine, and heat over medium-high heat, stirring to help it along, until the mixture starts to bubble.

When the mixture comes to a boil, reduce the heat to medium and watch carefully. The syrup will begin to turn golden around the edges. Shake the pan in a swirling motion to keep the syrup moving, and to prevent the edges from burning before the center colors. Stir the edges in towards the center occasionally.

After a couple of minutes, the syrup will begin to darken. If it looks like it's getting dry/crystallized on top, stir until it's syrupy again. As soon as it's a rich amber color, remove it from the heat and stir in the butter; the whole cooking process, start to finish, will probably take no more than 5 to 10 minutes, so don't walk away.

Once the butter has been absorbed, stir in the cream. Stir until smooth; don't worry, it'll seem lumpy at first, but will smooth out. Add the vanilla or flavor of your choice; butter-rum is tasty. Or stir in a tablespoon of rum.

When the sauce is smooth, let it sit in the pan for a couple of minutes before pouring it into a glass or ceramic container to cool. Cool to room temperature, and store in the refrigerator. Reheat briefly before serving.

To make the hot fudge sauce: In a small saucepan set over medium-low heat, melt the butter with the chocolate, stirring until smooth. Stir in the half & half or cream.

Whisk together the sugar, cocoa, espresso powder, and salt, and stir this mixture into the chocolate. (Whisking the cocoa with the other ingredients prevents it from forming lumps in the sauce.)

Stirring constantly, bring the mixture just to a boil, and remove it from the heat. Stir in the vanilla. Cool the sauce to room temperature, then store it in the refrigerator. To serve, reheat over low heat, or in the microwave.