A customized print-friendly version of this recipe is available by clicking the "Print Recipe" button on this page.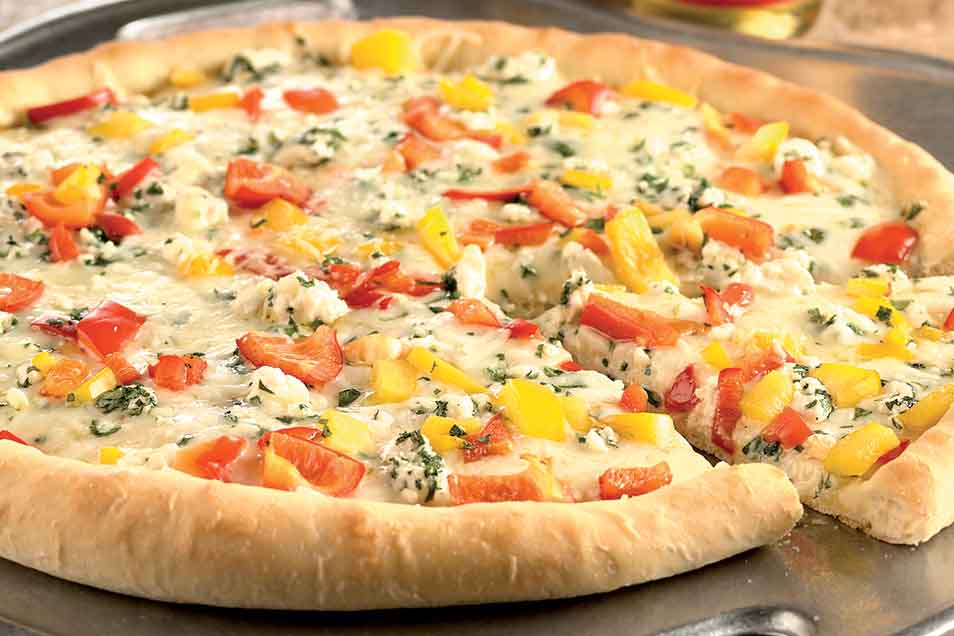 Thick crust, or thin? This pizza dough is an "all-star" when it comes to versatility, as well as taste and texture.
Instructions
To make the dough: Mix and knead all of the ingredients together — by hand, mixer, or using the dough cycle on a bread machine — to make a smooth, soft dough.

Allow the dough to rise, covered, for 45 minutes. For an extra-flavorful crust with delightful crisp-chewy texture, refrigerate the dough for 4 hours (or up to 36 hours).

Divide the dough in half. Shape each half into a 9" to 12" round (thicker or thinner crust), and place each on a piece of parchment paper cut to fit.

Cover the dough, and let it rest while you heat your oven to 500°F.

After about 30 minutes (or longer, for a taller, lighter-textured crust; or if dough has been refrigerated), use a giant spatula or pizza peel to transfer the pizzas and parchment to your hot oven stone. Or place the pizzas and parchment on a pan, and place the pan on the middle rack of your oven.

Bake for 4 minutes, then remove from the oven.

Top with your favorite toppings, return to the lowest rack of the oven (not to the stone), and bake for an additional 8 minutes, or until the crust is golden brown and the filling bubbly.
Tips from our bakers
Use a total of 3 cups All-Purpose Flour, if you don't have semolina.
Use 2 teaspoons yeast if you're skipping the refrigeration.
Reviews
Makes fantastic pizza. I use semolina and AP flour and skip the dough improver and pizza dough flavor. The crust is perfectly crunchy without approaching thin-crust flatbread style pizza which I don't care for. It also has a real flavor to it beyond just being a vehicle for toppings and cheese. I've made this several times, sometimes chilling the dough for the four hours, sometimes not. It's definitely tastier somehow (more depth?) when chilled but pretty darn good either way. I divide each batch in half - freezing one half and baking the other that day. I leave the frozen one in the refrigerator to thaw the morning when I want to bake pizza for dinner and take it out of the fridge to warm to room temp about 1 hour beforehand. No problems at all with using the frozen dough. Highly recommended.
Wow! This is the pizza crust I've been looking for! Prior to making this crust, I had never found one which had enough strength to support the fillings and still be able to pick it up and eat the slice like you can the ones from the pizzeria. I would highly recommend using the semolina; I used white whole wheat instead of all-purpose. Delicious!
Great taste, texture, chewiness, best recipe I have ever used.
This has been my go to pizza crust for several years. I think it blends best in a bread machine, which is what I use. I put it on in the morning, use it in the evening. The recipe makes a lot of dough, so I just halve it for my husband and I. I add pizza seasoning blend, pizza dough flavor (a must!), and Vermont cheddar powder to the crust. I do partially cook the crust for about 6 minutes before adding toppings, which really does help. Try not to use all all-purpose flour in the mix. It is way too dense and meh. Use pizza blend or my new go to, durum wheat. Easy, forgiving recipe for bread machines for supper that night.
I baked the crust on parchment paper on top of a pizza stone. The crust puffed up like a pita bread. Is that normal? I also used the convection option on my oven. Must admit, the oven is brand new & I'm still getting used to it. It still tasted good.
Please turn the convection off when baking your bread. Please call us at the Hotline (855 371 2253) so that we might better help you troubleshoot.~Jaydl@KAF
I feel like I need to come to this recipe's defense because I make it often with very good results. Any bread or pizza dough that you make, and I'm sure the folks at King Arthur would agree, may need to be adjusted. Don't be scared to do this! If it seems too wet then add a little flour. Too dry? Add water by tablespoon until you can work it. Actually a dough that is a little more wet can be a good thing when it comes to pizza because it will fight back less. I don't even roll pizza dough most of the time. I grease the pan and my fingers well and press it out there. You can do the same on parchment and then put the whole thing on a baking stone. I agree with the other reviewer who suggested pre baking. I do this for about four minutes if I'm using heavy toppings to stablize the crust a bit.
So nicely said, Pizza Baker! Listening to the dough or going by touch is an invaluable yeast dough "tool". Irene@KAF
This pizza crust is great for those who enjoy a chewy yet flavorful crust. The crust did not have desired crispiness I had hoped for, so I would recommend baking it for six minutes, then adding the topping. The crust tasted perfectly fine without semolina or pizza seasoning and rolled out beautifully without the crust improver. However, when making the dough, I discovered that the dough was far too dry, even when I added 1.5 cups of water. The amount of water that yielded a cohesive yet flexible dough was 12.35 oz or 1 and five sixthes of a cup.
Meg - sounds like you needed to adjust water or flour. I've been using a bread machine on dough program for mixing doughs and always reserve (and add) flour to get a proper dough ball. (This is especially true whenever I use whole wheat flours as they seem to require much more moisture. Tip: in addition to the flour reserve, always have some warm water on hand too, just in case your dough is too stiff.
Well I am not sure if KA will post my original review but the dough was way too wet! It is winter and dry here and I still had to add an extra 1/3 c. flour to get it to resemble pizza dough, I couldn't even touch it after 5+ min. mixing. I let it sit in the fridge for 15 hours. The flavor was wonderful. However, this dough is not in between thick and thin... it is really thin. Maybe because I live in Western NY where our pizza is considered thick to out-of-towners but this created a very thin pizza. Letting it sit over night was excellent so I will try another recipe that yields more dough.
I will re-do my feedback tomorrow when I see what happens. But right now I mixed the ingredients and it is rising for 45 minutes then I will put it in the fridge til dinner tomorrow. The problem is that this is very sticky, as in I can't touch this without my hands being covered in dough. I have never seen a pizza dough like this. The recipe does not specify how long to mix the ingredients for? I mixed by hand for at least 5 minutes and it looked the same as when I started, it was smooth but not very smooth. I just don't see how this will work-pizza dough is easy to handle, this as it is now is impossible, it is like glue. If I needed to mix for 10+min. or something to get the consistency right then why doesn't the recipe specify this? Smooth is a vague term.