A customized print-friendly version of this recipe is available by clicking the "Print Recipe" button on this page.
Breakfast Sandwich Pizzas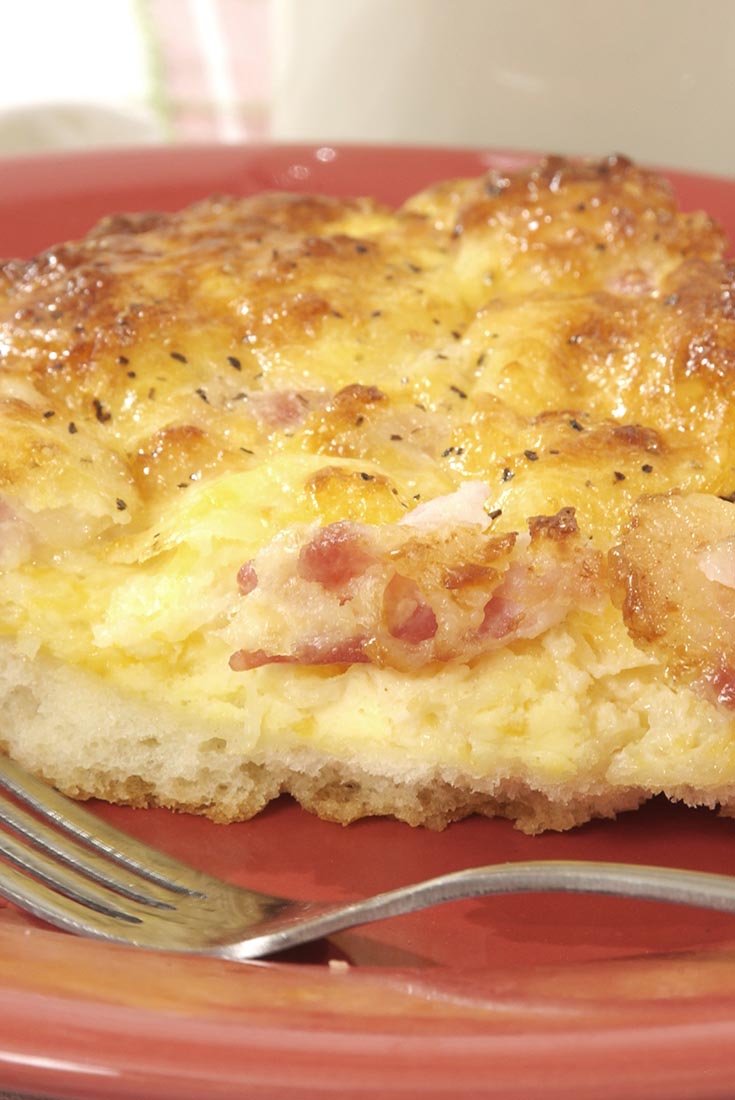 Breakfast sandwiches have become as much a part of the early morning scene as a bowl of cereal and a glass of OJ. Many of us think nothing of picking up an egg-and-cheese or bacon-egg-and-cheese sandwich along with our daily cup of coffee at the local quick-stop on the way to work. You've always been used to choosing your sandwich on an English muffin, croissant, bagel, or biscuit. Well, now comes breakfast pizza: your favorite breakfast sandwich ingredients, piled atop a chewy pizza crust.
Ingredients
Topping
4 large eggs
2 cups shredded cheddar, Swiss, or Monterey Jack cheese
8 slices cooked or uncooked bacon, diced ham, or cooked, crumbled, sausage
Instructions
To make the dough: Mix and knead together all of the dough ingredients — by hand, mixer or bread machine — until you've created a smooth, soft dough. Don't over-knead the dough; it should hold together, but can still look fairly rough on the surface.

Allow the dough to rise, covered, for 45 minutes; then refrigerate it for 4 hours (or up to 36 hours); this step will develop the crust's flavor. Make sure you have the dough in a large covered bowl, or put it into a large, lightly greased plastic bag; leave plenty of room for expansion.

Remove the dough from the refrigerator, and allow it to rest and warm up a bit while you prepare the topping.

To prepare the topping: Whisk together the eggs and cheese. Cut the bacon into 1" squares; a pair of scissors works well here. If you're using ham, cut it into bite-sized pieces. Stir the meat into the egg and cheese mixture. Refrigerate the topping while you prepare the crust.

Divide the dough into four, six, or eight pieces, depending on how large you'd like your pizza to be. One-fourth the dough will make a 5" to 6" round pizza.

Stretch and shape each piece of dough into a circle, patting it flat as best you can. The flatter the circle, the thinner the crust. Place the circles on two lightly greased (or parchment-lined) baking sheets, and allow them to rest, uncovered for 10 minutes.

Preheat the oven to 450°F.

Bake the pizzas for 8 minutes. Remove them from the oven. Divide the topping evenly among them.

Return to the oven, and bake for an additional 16 minutes on the oven's upper rack, until the topping is nicely browned. Remove from the oven, and serve immediately.
Tips from our bakers
If you don't want to use semolina, use a total of 3 cups all-purpose flour, and reduce the water to 1 cup + 2 tablespoons.
These are also good warm, or at room temperature. And yes, feel free to grab one and enjoy it in the car on the way to work!
Reviews
Scrumptious. I used a mix of KAF durum (2 cups) and French-style (1 cup) flours for the crust because I was cleaning out my freezer. I skipped the crust pre-bake, and the pizza (I used 1/4 of the dough) couldn't have come out more perfectly after baking in my countertop convection oven for just 12 minutes. I have the rest of the dough in the refrigerator.
Just made this recipe and the results we better than I expected. I let the dough rest in a plastic bag in the fridge for 24 plus hours. For 2 pizzas I cut the dough into 4 equal portions and put 2 back in the fridge for tomorrow. I pre-cooked onions, zucchini, red potato, and roasted red peppers in cast iron skillet with EVOO. Let mixture cool as I prepared the pizza rounds. During the oven pre-heat, I shredded cheddar & pepper-jack cheese, added two eggs, pizza seasoning, then added the cooled veggies. When the pizza rounds came out from the first bake, I added the veggie & cheese mixture and baked for 15 minutes. Had half for breakfast and the other for a room temperature taste test in the afternoon. Fabulous!!! Thanks KAF...... I'll be having pizza for breakfast more often.
The pizza's were yummy. The crust was a little heavy, I would love any tips to lighten it up a bit.
Five stars to any recipe that gets my little ones to eat eggs! Our whole family enjoyed this for dinner and had leftovers for breakfast the next day. This is a very easy recipe, especially if you have made the Now or Later Pizza (a similar crust, with a couple changes. See the KAF blog post if you've never made your own pizza crust!). As another review mentioned, make sure you make "edges" on your crust. I have "Pourfect" brand mixing bowls; any bowl with a spout makes pouring the topping in a lot easier. I love eggs and cheese together, and this tasty recipe will be on our menu again! I didn't have the special ingredients, which do help but go ahead and try it even if you don't have them.
I'm a pizza fan so the idea of "breakfast" pizza really caught my attention. The recipe is easy to follow; however, I would make one suggestion - don't make the crusts "flat" when you prepare the dough. It makes it hard to keep the filling on the crust when you pour it on. I made the edges a little higher than the inside, like a bowl and poked the inside of the crust with a fork to reduce bubbles. it worked a lot better and I didn't slosh filling everywhere (found that out the hard way!).
This was a super easy meal and it tasted so good on a cool morning. I only made two small ones...just for the two of us and kept the other two dough rounds in the fridge and will make individual pizzas tomorrow evening!
I can't believe that no one has rated this recipe so far! This is hands down the very best "salty (as in not sweet)" breakfast dish I have ever had. It is simple to prepare, uses ingredients you generally have on hand, and is absolutely delicious! I love that you make the dough the night before, then the next morning, all you have to do is to put it together! If you are looking for something new for breakfast, definitely give this one a try! You will not be disappointed. I have four small children, and they all love it as much as we do! We even have it for dinner on occasion!