A customized print-friendly version of this recipe is available by clicking the "Print Recipe" button on this page.
Caramel-Pecan Fudge Tarts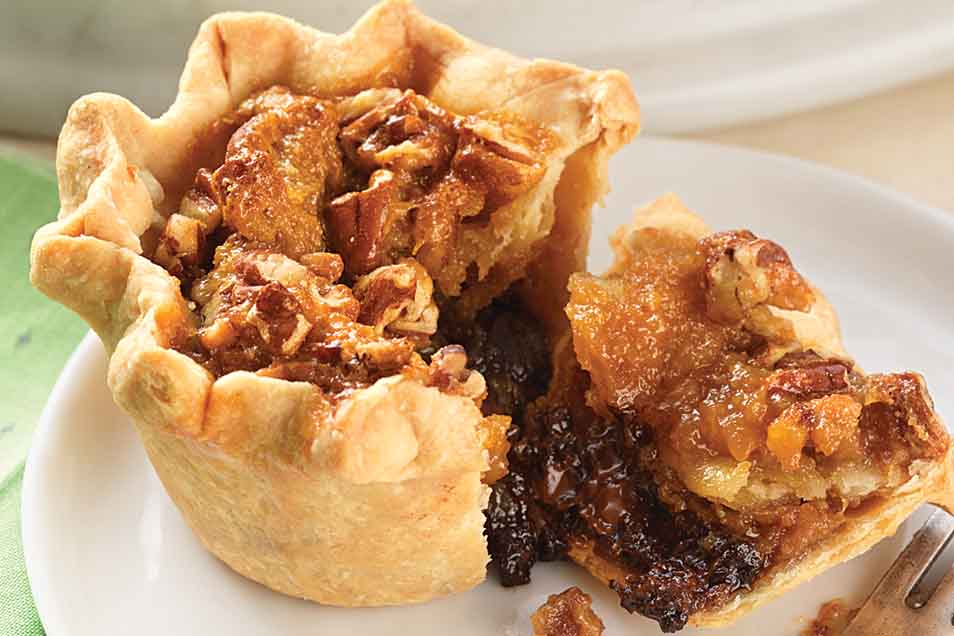 Well, this isn't exactly your typical Thanksgiving pie. But it's got a lot going for it anyway. Let's start with the ingredients: caramel, pecans, and chocolate, all wrapped up in a buttery pastry crust. No, it's not pumpkin or apple; but it still qualifies as pie.
Second, consider the presentation. This makes a dozen full-serving-sized individual tarts, far more elegant than a pie — and uses the same amount of ingredients as a pie, which may feed only 10 not-too-hungry diners.
And third, think of the transportation issues. If you're traveling for Thanksgiving, simply pop these tarts back into the muffin pan you baked them in — they'll ride safe and secure, all the way over the river and through the woods.
We offer two crust choices here; one made with King Arthur 100% Organic White Whole Wheat Flour, one made with King Arthur Unbleached All-Purpose Flour. The white flour crust tastes a bit more buttery; the whole wheat crust, more hearty. Can't decide? Make the white-flour crust recipe using half all-purpose flour, half whole wheat.
Ingredients
Whole Wheat Crust
2 cups King Arthur White Whole Wheat Flour or Premium Whole Wheat Flour
2 tablespoons buttermilk powder, optional
2 tablespoons confectioners' sugar
1/2 teaspoon baking powder
1/2 teaspoon salt
3/4 cup (12 tablespoons) butter, cold
1/4 cup orange juice
1/4 to 1/2 cup ice water
White Flour Crust
1/2 teaspoon salt
2 teaspoons granulated sugar
3/4 cup (12 tablespoons) butter, cold
4 to 6 tablespoons ice water
Filling
1/2 cup light corn syrup or dark corn syrup
3/4 cup caramel from a block (See "tips", below.)
2 tablespoons butter
1/2 cup brown sugar
1/4 teaspoon salt
2 teaspoons vanilla extract
1 teaspoon vinegar (cider or white)
3 large eggs
3/4 cup chocolate chips
3/4 cup chopped pecans
Instructions
To make the crust: Whisk together the dry ingredients in a medium bowl. Cut the butter into small cubes, and work it into the dry ingredients using your fingers, a pastry blender or fork, or a mixer until the dough is unevenly crumbly. If you're making the whole wheat crust, mix in the orange juice. For either crust, drizzle in ice water, mixing until the dough is cohesive. Grab a handful; if it holds together willingly and doesn't seem at all dry or crumbly, you've added enough liquid.

Divide the dough in half, and shape each half into a disk. Roll each on its edge along a floured work surface, as though the disk were a wheel, to smooth the edges out. Pat the disks until they're about 1" thick, wrap in plastic wrap, and refrigerate for at least 30 minutes, or for up to 2 days.

Remove the dough from the refrigerator; if it's been refrigerated for longer than an hour, allow it to warm a bit and become flexible, 15 to 30 minutes. Divide each piece of dough into six equal pieces; each will weigh about 1 1/2 ounces, if you have a scale. Gently round each piece into a disk.

Flour your work surface. Roll each disk into a 6" circle.

Press the circles of dough into the ungreased wells of a standard muffin pan, either metal or silicone. Crimp the edges of crust that extend above the wells of the pan. Refrigerate the tart shells while you prepare the filling.

Preheat the oven to 350°.

To prepare the filling: In a small saucepan set over low heat, or in the microwave, heat together the corn syrup, caramel, butter, sugar, and salt, stirring until the mixture is smooth and the caramel and butter are melted, but barely warm. Remove from the heat, and stir in the vanilla and vinegar, then the eggs, beating until everything is well combined.

To assemble the tarts: Sprinkle 1 tablespoon chocolate chips in the bottom of each tart shell. Add a scant 3 tablespoons (a scant 2 ounces) caramel filling; a scone or muffin scoop works well here. The filling should come to within about 3/8" of the top of the pastry. Sprinkle 1 tablespoon chopped pecans atop the filling.

Bake the tarts for 40 to 45 minutes. The tarts will puff up and become golden brown and bubbly. Remove them from the oven (they'll sink down; that's what they're supposed to do), and serve warm, or at room temperature.

Store for up to 5 days, covered and refrigerated. Freeze for up to one month.
Tips from our bakers
The filling can be made using individual caramel candies instead.
Assemble one tart first, so you can see how much filling to add without it overflowing once you add the pecans. If you have leftover filling, bake it in a custard cup.