A customized print-friendly version of this recipe is available by clicking the "Print Recipe" button on this page.
Chocolate-Dipped Vanilla Biscotti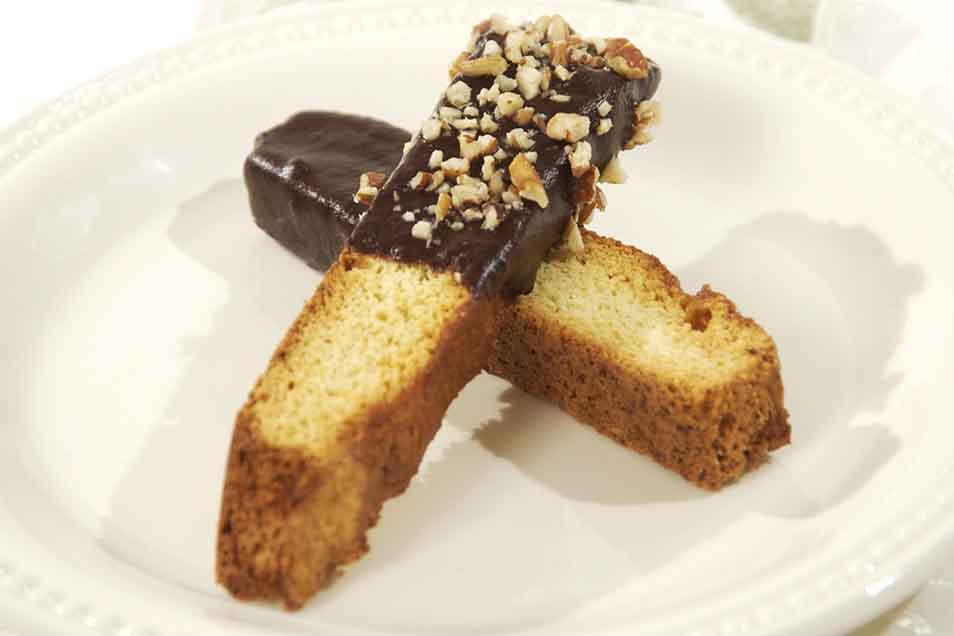 These American-style biscotti are lighter and more tender than their Italian counterpart. Though not particularly suited to dunking in coffee or wine, they're appreciated by kids and older people, or anyone whose idea of a cookie runs more towards something tender and crunchy, rather than the rock-hard biscotti favored in Italy. Extra fat (in the form of butter) and extra leavening, for lighter texture, Americanize these Italian favorites. Three kinds of vanilla are used here: vanilla extract; vanilla bean paste, a thick, syrupy vanilla extract that includes vanilla bean seeds for extra flavor and enhanced appearance; and vanilla syrup, to give the cookies' edges a crackly-crunchy finish. Use vanilla extract in place of the vanilla bean paste, if desired.
Ingredients
Biscotti
3/8 cup (6 tablespoons) butter
2/3 cup sugar
1/4 teaspoon salt
2 teaspoons vanilla bean paste
1 teaspoon vanilla extract
1 1/2 teaspoons baking powder
2 large eggs
2 tablespoons vanilla syrup (optional, for brushing on the crust)
Chocolate Dip
1 cup chopped semisweet or bittersweet chocolate or chocolate chips
1/2 cup heavy cream
finely chopped nuts (optional)
Instructions
Preheat the oven to 350°F. Lightly grease (or line with parchment) one large (about 18" x 13") baking sheet. Or lightly grease a 12" x 5 1/2" biscotti pan.

To make the biscotti: In a medium-sized bowl, beat the butter, sugar, salt, vanillas, and baking powder until the mixture is smooth and creamy.

Beat in the eggs; the batter may look slightly curdled.

At low speed of your mixer, add the flour, stirring until smooth; the dough will be quite soft and sticky, but should hold its shape when you drop it from a spoon.

Transfer the dough to the prepared baking sheet, and shape it into a rough log about 14" long. It will be about 2 1/2" wide, and about 3/4" thick. If you're using a biscotti pan, simply press the dough into the pan.

Brush the top of the dough with vanilla syrup, if desired.

Bake the dough for 25 minutes. Remove it from the oven, and allow it to cool on the pan for 10 minutes. If you've baked in a biscotti pan, turn it out of the pan onto a baking sheet (no need to grease it) after 10 minutes.

Reduce the oven temperature to 325°F.

While the dough is still warm, slice it in 1/2" to 3/4" slices. Slice on the diagonal for longer biscotti; cut straight across for shorter cookies. When you're slicing, be sure to cut straight up and down, perpendicular to the pan; if you cut at an angle, biscotti may be thicker at the top than the bottom, and they'll topple over during their second bake.

Set the biscotti upright (on edge) on the prepared baking sheet.

Return the biscotti to the oven, and bake them for 45 minutes, tenting with foil after 30 minutes.

Remove them from the oven, and transfer them to a rack to cool.

To make the chocolate dip: Place the chocolate and cream in a microwave-safe bowl, and heat in the microwave until the mixture is very hot.

Remove, and stir until the chocolate melts and the mixture becomes smooth. Don't stress about this — as you start to stir, the mixture will look as though it'll never come together; just keep stirring, and pretty soon you'll see the chocolate and cream becoming a nice thick sauce. If there are chocolate pieces that haven't melted, despite your stirring, return the bowl to the microwave briefly. You can also make the dip in a saucepan set over very low heat.

Dip biscotti halfway in the chocolate, and set on a parchment-lined (or waxed paper-lined) baking sheet to set.

Sprinkle with chopped nuts while the chocolate's still soft, if desired. Once the chocolate has set, store biscotti airtight, to preserve their texture.

Biscotti can be stored at room temperature for one week; for longer storage, wrap airtight and freeze.