A customized print-friendly version of this recipe is available by clicking the "Print Recipe" button on this page.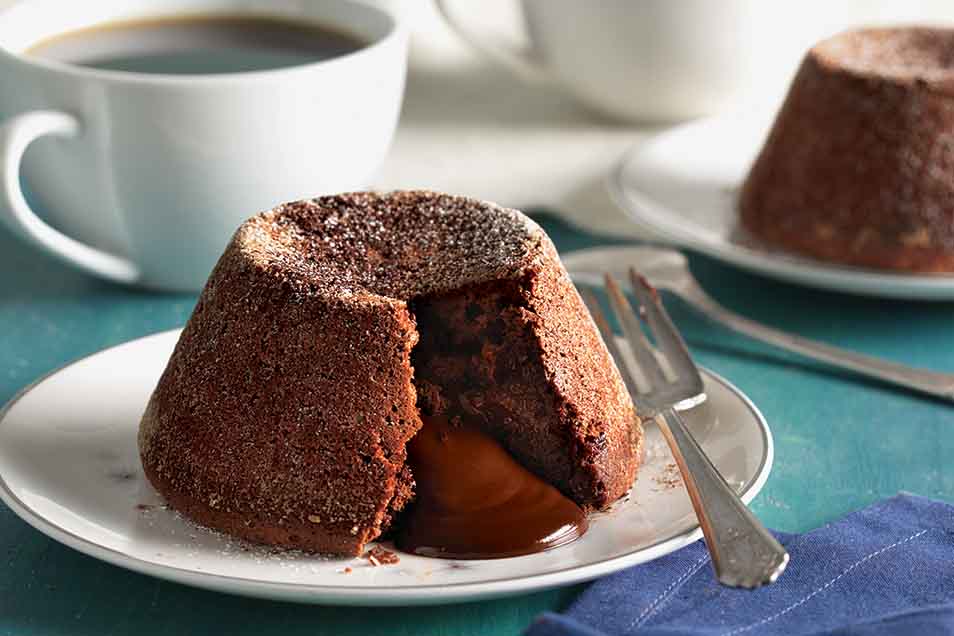 These individual chocolate cakes, served warm from the oven, contain a delicious surprise: their own molten chocolate-fudge center, which oozes out when the cakes are cut open. The center cools and solidifies as the cakes cool, so be sure to serve these warm if you want the true "lava-like" effect.
Ingredients
Filling
1/3 cup semisweet or bittersweet chocolate
2 tablespoons hazelnut praline paste + 1 tablespoon butter; or 2 tablespoons butter
1 tablespoon light corn syrup
Cakes
1/4 cup toasted hazelnut flour or almond flour, for the pan
1 cup semisweet or bittersweet chocolate
7 tablespoons butter
1/3 teaspoon salt
4 to 5 drops creamy hazelnut flavor or cappuccino chocolate flavor, optional
1 tablespoon vanilla
1 tablespoon water
4 large eggs, separated
1/2 cup toasted hazelnut flour, almond flour, pecan meal, or finely ground hazelnuts or almonds
1 cup sugar
Instructions
To make the filling: In a small cup set over hot water, or in the microwave, melt together the filling ingredients.

Stir until smooth, then cool in the refrigerator until the mixture is solid enough to form into balls. Form six balls, set the balls on a plate, and place in the freezer for 30 minutes (longer is OK).

To make the cakes: Preheat the oven to 350°F. Lightly grease an extra large muffin tin (often referred to as "Texas-size" or "big bun"), each cup about 4" wide x 2" deep, and sprinkle with hazelnut flour or almond flour.

In a double boiler or the microwave, melt the 1 cup (6 1/2 ounces, 184g) chocolate. Stir in the butter until it's melted and the mixture is smooth.

Add the flavoring oil, vanilla, water, egg yolks, flour, nut flour, and 1/2 cup of the sugar. Stir until well blended.

In another bowl, beat the egg whites until frothy. Add the remaining 1/2 cup sugar gradually and beat until soft peaks form.

Fold half the egg white mixture into the chocolate mixture, being sure to get all the way to the bottom of the bowl. Gently fold in the remaining egg whites.

Place a heaping 1/2 cup of mix into each muffin cup. Gently smooth the batter, and put one frozen filling ball in each cup. Top with the remaining batter.

Bake the cakes for 20 to 25 minutes; they'll puff up, and crack along the top. Remove the cakes from the oven and turn them out onto a cooling rack. Serve immediately, with raspberries and whipped cream or ice cream.
Tips from our bakers
In this recipe the pecans and or hazelnuts contribute a stronger flavor than almonds will (almond flour is the mildest of all the nut flours). When substituting almond flour for either of those two nut flours, if you would like a noticeable almond flavor, we suggest that you add 1-2 drops bitter almond oil or 1/4 teaspoon almond extract.
Reviews
So delicious and easy to make! We have food allergies in the family, so I didn't use the almond flour or flavorings - I just used KAF all purpose flour. They turned out incredible! I made them for valentine's day and they were a huge hit with my family. I served them with a scoop of French vanilla ice cream and it was divinely decadent. I will totally make these again :)
I used the recipe from the catalogue rather than online so I didn't see the note about the almond flour...anyway I used oat flour because I had no nut flours. The cakes came out a tad dry (maybe the oat flour) but were still epic! This was very easy. I used the bundt heartlet cake pan and whipped these up for valentines day. Very chocolately, very delicious! I will try again at a later date with almond flour, if still dry I will try a bit more water! I recommend using the guittard bittersweet onyx wafers!