A customized print-friendly version of this recipe is available by clicking the "Print Recipe" button on this page.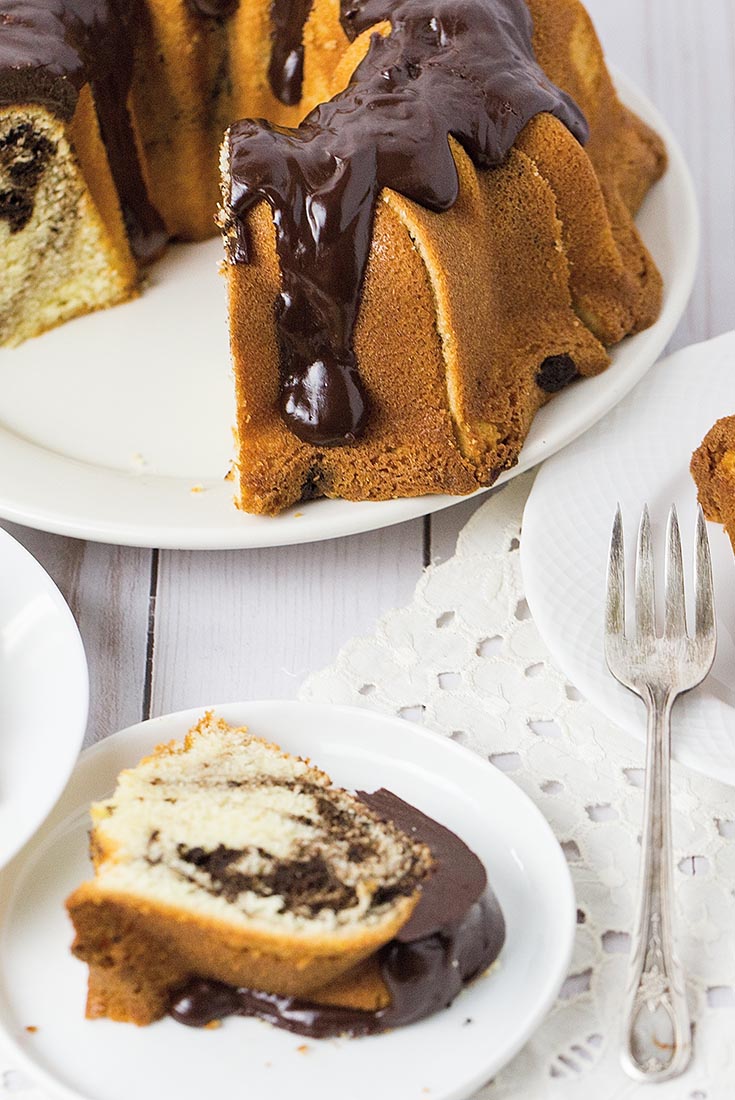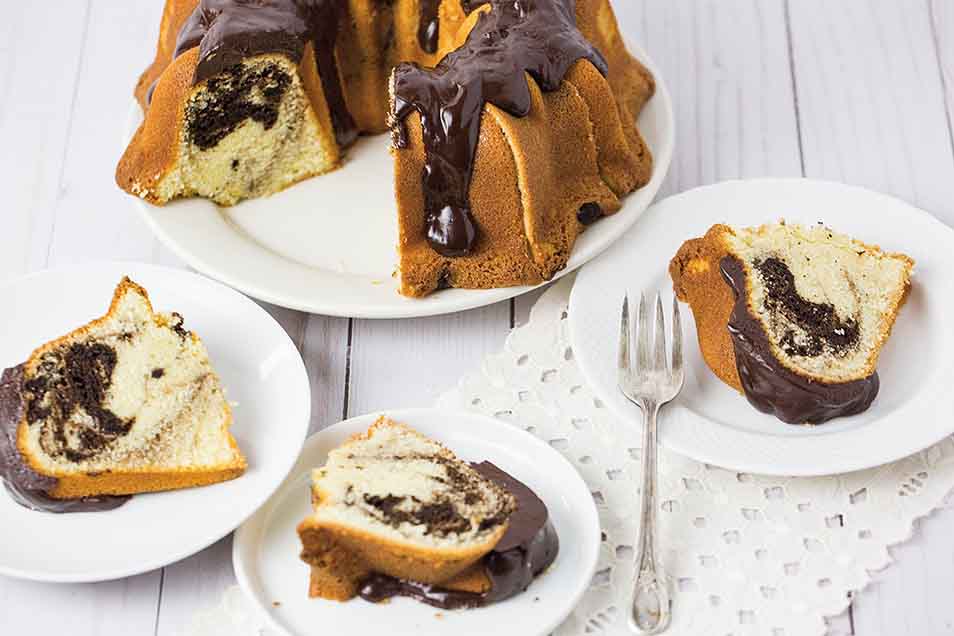 This recipe uses a can of Chocolate Schmear to make an easy chocolate swirl in the center, and glaze for the top of the cake.
Ingredients
Glaze
1/4 cup heavy cream
the rest of the Chocolate Schmear (half the can)
Instructions
Preheat the oven to 350°F and grease a 9- to 10-cup bundt-style pan.

Beat the butter until soft and fluffy. Mix in the salt, sugar, flour, Hi-maize (or flour), baking powder, and coconut powder to make a stiff batter.

Add the flavorings, milk, and 1 egg. Beat well. Continue to add the eggs one at a time, beating well after each addition, to make a fluffy batter.

Spoon 1/2 cup batter into a bowl and mix with 1/2 can (a heaping 1/2 cup) Chocolate Schmear. Reserve the remaining Schmear for the glaze.

Spoon the remaining batter into the prepared cake pan. Drop spoonfuls of the chocolate batter on top of the coconut batter and swirl together.

Bake the cake for 45 to 55 minutes, until a cake tester inserted into the center comes out clean. Remove the cake from the oven, and after 5 minutes turn it out to cool on a rack.

While cake is cooling, make the glaze. Heat the heavy cream just to a boil, and stir in the remaining Schmear. Stir until smooth, heating gently as necessary to make a pourable glaze. Drizzle over the cake, and let rest until the glaze has cooled and is set.

Store, loosely covered, for 5 days at room temperature, or freeze for up to 3 months.
Tips from our bakers
If you don't have the Schmear on hand, you can make your own ganache and use it instead.
Reviews
I have made this cake by request for my wife for the last 3 birthdays! Best cake ever!
Delicious cake recipe. I have been looking for a marble cake recipe and came across this coconut marble cake recipe and had to try it. I used homemade ganche in place of the chocolate schmear, and used flour in place of the Hi Maize fiber. I topped it with homemade ganache as well. It turned out delicious.
This really isn't a rating of the recipe, because I have not yet baked it. I do have a question, though. My husband loves coconut, and I was wondering if I could add some shredded coconut, maybe a half-cup or so, to the part of the batter that the Chocolate Schmear is added to. It seems like it should work to me, and I know he would appreciate the actual coconut being in the cake, rather than just the flavoring. I have all of the ingredients called for in the recipe, and I will probably make it as soon as I hear whether or not it will work to add shredded coconut! Thanks in advance!
Coconut in the filling sounds really good and I think that would work well. And how about some flaked coconut on the top of the glaze while you are at it! Elisabeth
Hi! Is this enough batter for one "tall" cake baked in a 13x9x2 metal pan? I need a sturdy marble cake recipe for a Harry potter birthday kit. It requires to bake 2 13x9 cakes & cut one in half and layer those two halves on top of the one 13x9.
I am not a novice baker, but I have never heard of Schmear chocolate so I am assuming that this is one of your fantastic products. At any rate, looking at the picture of the cake, the Schmear looks like a really thick chocolate or fudge glaze. Because I have all kinds of chocolate at home (except the Schmear chocolate), I was wondering if you could tell me how I could replicate it so I can make it? I basically need to know what it is and what are some of the ingredients so that could perhaps do a Google search on something similar.. I'll be honest, I really do appreciate making my own cakes, frostings, fillings and glazes myself. I absolutely love cooking and baking and my ego wants to take full credit for everything on the cake...:), Thank you in advance.
You may use the following ganache recipe and the instructions for whipping it. http://bit.ly/rNbKHC This will be similar but not exactly like the shmear. ~Amy
Very Delicious Cake with a hint of coconut and chocolate flavor. The consistency is very much like pound cake. The cake tends to dry out on the cut edges that are exposed to the air. The only subsitute was the 1 cup of Hi Maize protein flour which I substitued for all purpose flour. Not too sweet and just sturdy enough for coffe. Made this cake for work.
Looks really delicious, will try recipe. But is there a way to make it in a round cake pan?
Yes, you could bake this as 2 round 9" layers. It does need to be in two pans, as this cake is too dense for a single layer cake. Happy Baking! MJR @ KAF