A customized print-friendly version of this recipe is available by clicking the "Print Recipe" button on this page.
Crunchy Coconut Chocolate Bars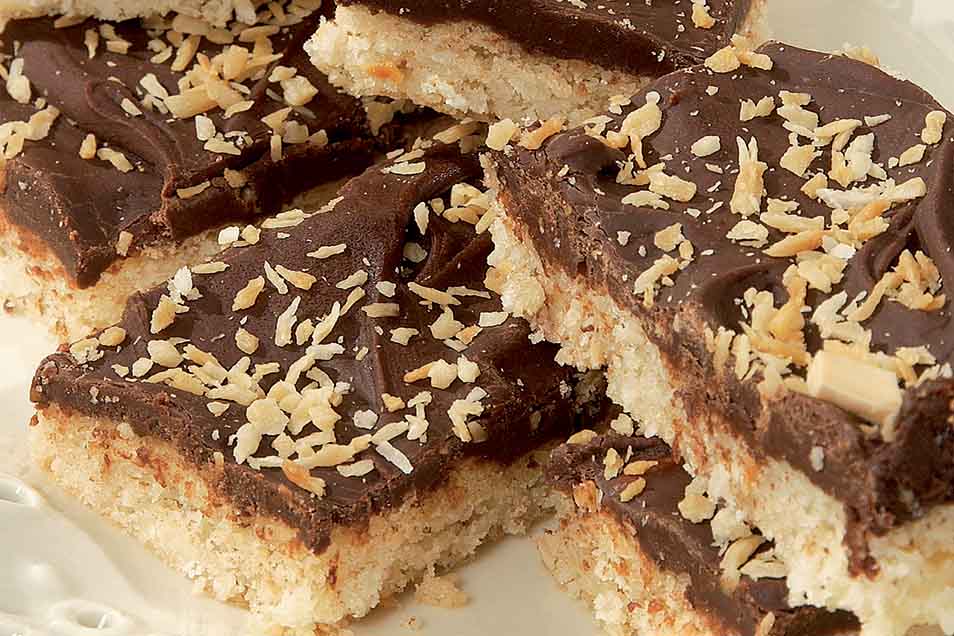 The chocolate-coconut flavor combination is a long-time favorite.
Ingredients
Topping
2 cups chopped semisweet or bittersweet chocolate, or 2 cups chocolate chips
One 13-ounce can sweetened condensed milk
toasted coconut or toasted chopped almonds (optional for garnish)
Instructions
Preheat the oven to 350°F. Lightly grease an 18" x 13" baking sheet.

To make the crust: Beat together the butter, coconut milk powder, sugar, corn syrup, vanilla, coconut flavor, and salt until fluffy.

Blend in the baking powder, flour and coconut.

Press the dough into the pan, pricking it all over with a fork.

Bake the crust for 15 to 18 minutes, until it's lightly browned and puffed.

Remove it from the oven and cool while making the topping.

To make the topping: Melt the chocolate and sweetened condensed milk together over low heat. Stir until shiny.

Spread over the warm crust, and sprinkle with toasted coconut or toasted almonds, if desired.

Cool for several hours before cutting into bars.

Store, covered, at room temperature for a week, or freeze for up to 3 months.
Reviews
This recipe was easy to follow and the results were amazing! Family loved them! Only change I made was using parchment paper to line the pan with. Made for easy removal of cookies from the pan. Thus, easy clean up too!
This recipe is amazing! I cannot stop eating them. It is simple to make and makes many bars. Perfect for the school bake sale, or when you need large quantities. I made the recipe without the coconut flavoring and they were still fantastic. Highly recommend.
These bars were very easy to make and tasted delicious. They were a great addition to my holiday cookie platter.
This recipe makes a lot of bars and it is a good thing, since they are delicious. If you like chocolate and coconut these are for you. I have made them several times for parties and am always asked for the recipe.
This recipe turned out perfectly - i was thrilled with the results. For the topping i used unsweeted, organic flaked coconut which I had toasted in the oven at 375 for about 7-8 min. the chocolate layer i used a mix of callebut milk and semi-sweet. It's easy to dump all the base dough into a half-sheet pan then gently press it in the pan (also used a mini-rolling pin to help smooth). Overall an incredibly easy recipe with delectable results. Fabulous job KAF!
Hi, i'm from southern India and I love baking especially foreign baked goods like bars and squares(which are very rare here), sweet breads, stuffed savoury breads,etc. Tried out this recipe with the available items here and both my family and friends liked it. I feel the chocolate-coconut combination is a superb one. I have a general question about bars and squares. I stored these in air-tight containers in the refrigerator when I made it. How long can they generally be stored and in what way will they last the longest time possible? Thanks for this wonderful recipe!
If it is really hot in your area, the refrigerator is the best storage place. They would be good for 7 to 10 days in the refrigerator. Most bars freeze well also, for extended storage. mary @ KAF < /strong> /strong>