A customized print-friendly version of this recipe is available by clicking the "Print Recipe" button on this page.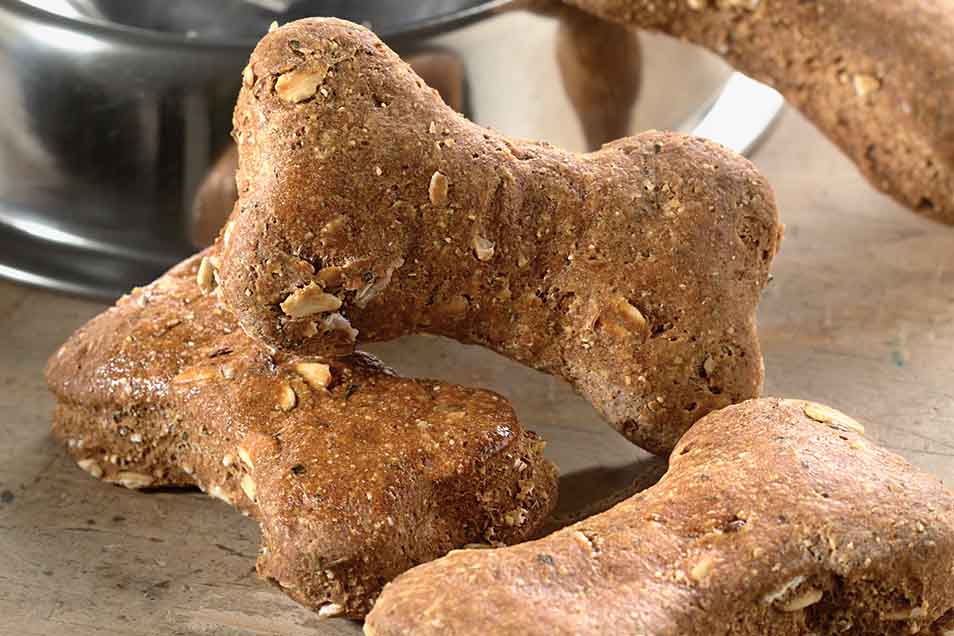 Traditional dog biscuits made with meat for flavor, and whole grains for added nutrition.
Ingredients
1 1/2 cups (about 3/4 pound) chopped beef liver or chicken breast
2 1/2 cups water or low-salt beef or chicken broth
2 1/2 teaspoons instant yeast
2 cups cornmeal
1 3/4 cups rolled oats
1 cup soy flour
1 cup Baker's Special Dry Milk or nonfat dried milk
3 large eggs, plus 1 large egg for glazing biscuits
1/4 cup milk or water
Instructions
Rinse the liver or chicken and cut it into small pieces. Combine the meat and water or broth in a saucepan.

Bring to a boil, then cover the pot, lower the temperature and simmer for 15 minutes, until the meat is thoroughly cooked. Set aside to cool.

Use a food processor, immersion blender or a meat grinder to purée the mixture. Or strain off the liquid, reserve it, and mince the meat as finely as possible.

Place the remaining dry ingredients into a large bowl and mix well. Add the 3 eggs and the puréed mixture along with the reserved liquid.

Knead the mixture for 5 to 10 minutes, until the dough holds together. You may need to add extra liquid or flour depending on the texture of the dough. It should be stiff, but not feel like "cement."

Return the dough to the mixing bowl, cover it, and let it rest for 30 minutes. Preheat your oven to 300°F and grease or line with parchment paper two or three baking sheets.

Working with about one-third of the dough at a time, roll it out to 1/4" to 1/3" thick, then cut it into the size biscuits you want (our dog biscuit cutters work well here.) The biscuits don't spread, so you can place them close together on the baking sheets.

Beat the remaining egg with 1/4 cup water or milk, and brush it over the biscuits. Bake the biscuits for 1 hour. Remove them from the oven and bake the second batch.

After all the biscuits are baked once, crowd them onto the amount of baking sheets that will fit into your oven. The biscuits may be overlapped. Bake for 1 or more hours at 225°F until they're hard and dry.

Cool completely, then wrap well. Keep about 1 week's supply in a cool and dry place, and freeze the remaining for longer storage.
Reviews
Hi. What could I use in place of the soy flour?

Looking to replace the soy flour, Rebecca? Then consider using 1 cup of oat flour instead. You may need to add a few tablespoons of additional liquid since oat flour is quite absorbent but do so only if the dough seems stiff or dry. Your pup is going to love the homemade treats! Kye@KAF
I was looking for a very hard/crunchy dog biscuit (think Milk Bone) for my two large dogs. This recipe was exactly what I was looking for and the dogs love them. I just cut them fairly large, baked them and then broke them into smaller pieces while still warm.
I made a double batch the first time, didn't think I would ever be done with this project ! Well worth the effort though. I used a large dog bone shaped cutter. Which added to the bake time. I used a food processor to puree the liver. I also used the blood in the container in place of some of the water. Both my dogs loved these. They would disappear an go into the kitchen an sit by cabinet where their treats were. Only treat they do that with. I had enough bones for at least 2- 1/2 months. I froze 3/4th of them and pulled more out as needed. Worked well. This is a great winter project since the oven is on for such a long time. Gas ovens do heat up the kitchen alot.
Well, I can't say if they are good or not but my dogs did like the biscuits. I am really happy that they do have to take the time to chew them, which regulates how fast they eat the treats. I think this recipe yields alot of dough so I froze the majority of it. And it's pretty time consuming but I am happy to know the ingredients that went into them.
Can't really rate yet, but, looks like a five. Do have a question, help, I don't have liver, but, way too many chicken breasts. Would other meat/poultry be a viable substitute?

Feel free to replace the beef liver with raw chicken breasts (still use 3/4 lb) and treat it the same way--simmer it with the garlic and water for 15 minutes. Chicken is actually gentler on dogs' digestive tracts than beef, so this swap will make your pooch happy. As always, a word of caution- it's best to check with your pet's veterinarian to be sure that this recipe is a good dietary choice for your dog. Happy biscuit making! Kye@KAF
My dog are now biscuit snobs! That is fine with me since I know everything going in their tummies with this recipe. I just have one question can I use coconut milk powder instead of the non fat dry milk. Friend puppy is lactose intolerant and I'm still learning the ins and outs of what I can tweak.
Those lucky dogs - the next thing you know, they'll be barking for a tropical vacation near coconuts? Happy baking! Irene@KAF
Hi - is it possible to convert this recipe into the kind where you can switch from volume (cups etc) to weight (oz)? It's very handy in your other recipes but not available in this one.

Unfortunately, some of our older recipes (as you can see on the page from before 2008) don't have weights attached to the recipe, but you should be able to use our handy-dandy ingredient weight chart on our online learning page to determine what the weights should be. Happy Baking! Jocelyn@KAF
I haven't tried this recipe because one of my dogs is allergic to chicken. I think that must leave out recipes with eggs. Are there any dog biscuit recipes without eggs??
Please contact your veterinarian to find out if you must keep your dog's diet free from eggs. ~Amy
My beagle is allergic to corn and corn products. Can I substitute semolina for the corn meal? I will use vegetable stock (and/or vegetable juice I accumulate from canned veggies) for the chicken stock. Beagle Bailey is allergic to carrots as well. I will re-evaluate the recipe after I have made it. Having three hungry dogs in the house I need to conserve on store bought and must know what ingredients are going into them.
You should be able to replace the cornmeal with semolina. What a lucky pack of dogs you have!~Jaydl@KAF
Garlic is actually not good for dogs (or cats), and can cause red blood cell damage and GI problems. You can sometimes get away with small amounts, but I would cut the garlic way back to limit exposure (or leave it out altogether), particularly if you intend to feed your dog a lot of these.