A customized print-friendly version of this recipe is available by clicking the "Print Recipe" button on this page.
New England Anadama Bread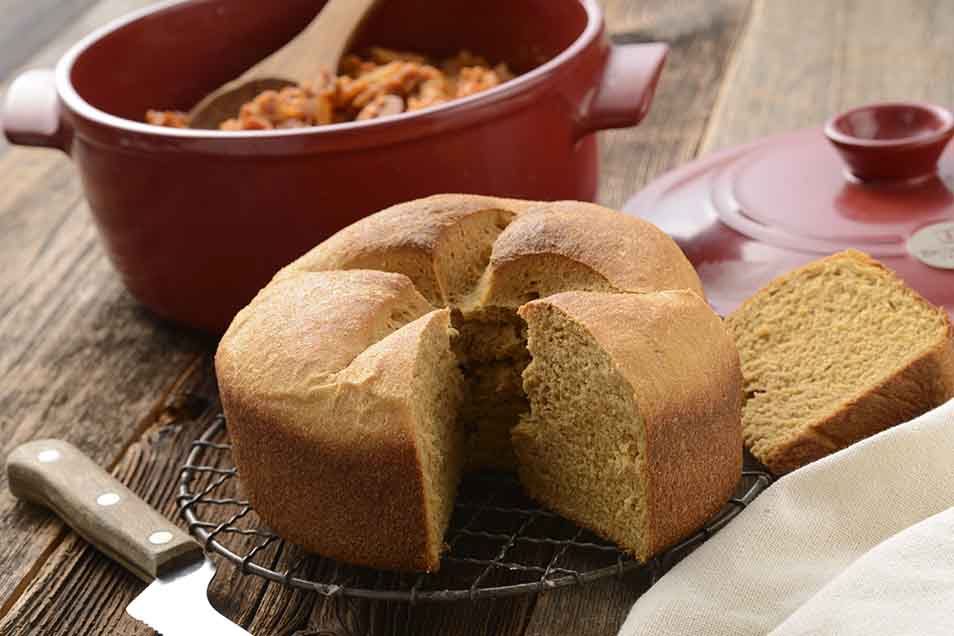 There are many versions of how this bread came into being. They're all similar, but each varies slightly. The general consensus is that a New England woman named Anna provoked her husband — some say through laziness, others say from baking the same bread daily, or for not finishing her bread-baking. The husband either threw a bag of cornmeal at her and missed, but spilled it into the dough; or he grabbed cornmeal instead of flour and tried to finish her bread. He muttered, "Anna, damn her!"

The story's origin may be confused, but this simple loaf of flour, cornmeal, yeast, and molasses has graced New England kitchens for years. This hearty bread is great for sandwiches, and good with any number of soups.
Ingredients
3/4 cup yellow cornmeal
1 1/4 teaspoons salt
3 tablespoons butter
1/4 cup dark molasses
1 cup to 1 cup + 2 tablespoons boiling water*
1/4 cup Baker's Special Dry Milk or nonfat dry milk
1 cup King Arthur Premium or King Arthur White Whole Wheat Flour or white rye flour
2 1/2 teaspoons instant yeast
*Use the greater amount of water in the winter, or under dry conditions; the lesser amount in summer, or when it's humid out.
Instructions
Whisk together the cornmeal and salt.

Add the butter and molasses to the bowl.

Pour in the boiling water, stirring until the butter has melted and the mixture is smooth. Let the mixture cool to lukewarm, about 15 minutes.

Mix in the dry milk, flours, and yeast. Let the dough rest for 20 minutes; this gives the flours and cornmeal a chance to absorb the liquid.

Knead the dough for about 7 minutes at medium speed of a stand mixer, until it's smooth. It'll be somewhat stiff, but still fairly sticky on the surface. Cover the bowl, and let the dough rise until it's just about doubled, about 1 hour.

Gently deflate the dough, and shape it into an 8" log. Place the log in an 8 1/2" x 4 1/2" loaf pan. (Want to bake a round loaf? See "tips," below.) Cover the pan, and let the dough rise until the center has crested at least 1" above the lip of the loaf pan, about 90 minutes.

Towards the end of the rising time, preheat the oven to 350°F.

Bake the bread for 35 to 40 minutes, until a digital thermometer inserted into the center registers at least 190°F. You may want to tent the bread loosely with aluminum foil for the final 15 minutes of baking, if you prefer a lighter crust.
Tips from our bakers
Some variations of this bread include rye flour. Substitute 1/2 cup white rye flour for 1/2 cup of the whole wheat flour, if desired.
For a round loaf, as pictured above, shape the dough into a ball and place it in a lightly greased 3- to 4-quart Dutch oven.
Reviews
I measured all the ingredients and it rose quickly and had good oven spring. I'm really happy with the loaf. My husband is about to make a tuna fish sandwich with the bread as suggested by another reviewer. Might just be a marriage made in heaven. I'll definitely be adding this to my rotation of sandwich bread.
I've always had trouble with this one. Today's came out tasty, but dense. Is it s'pozed to be that way? If I wanted it less dense, how might I modify the recipe?

We're glad to hear that today's bake came out well, flavor-wise, David. Anadama bread should be on the pleasantly dense side. If you'd like to lighten it up, be sure to use the greater amount of liquid given in the range, and also try measuring your flour by weight if you're not already doing so. One of the most common reasons why bread turns out dry and heavy is because too much flour is used. Try clicking on the "Measuring Standards," link next to the ingredients header above. You'll see that either measuring your flour by weight using a scale, or fluffing and sprinkling the flour into your measuring cup are the best ways to ensure your recipe turns out perfectly. We hope this helps, and happy baking! Kye@KAF
I've baked all kinds of breads for over forty years. KA recipes abound in my recipe box, but this one needs a little revision. I make it for two loaves (doubled) and use 1 cup rye flour and 1 cup white whole wheat flour (again, double recipe)but I've learned over the years that rye flour and whole wheat flours can be fussy about rising, so I also add 1/2 cup (for the double recipe) of wheat gluten. I also skip the dry milk addition and add a cup and a half (again for a double recipe) of buttermilk. I find with the cornmeal and whole grain flours, this extra moisture is needed to make a good textured dough and a good rise. I've never had a rising issue with this bread since doing this. One other cautionbe sure that cornmeal mixture with the boiling water is truly lukewarm. Anything hotter is going to kill your yeast and result in a flat, no-rise dough.
I bake bread every week, usually your always-perfect King Arthur Whole Wheat - so I think of myself as someone who knows what I'm doing as a baker! This time I decided to try Anadama, and like some others, I just found it way too dry even though I measured 'fluffily.' I added a bit more water, but clearly not enough. It has barely risen in two hours, and although it smells good, it is clearly not going to be a nice big loaf as I had hoped. Now that I've read a dozen comments, I see that more water might have helped, and I wonder if it'd be helpful to address this frequent issue in the recipe itself. (The dough was clearly shaggier than the whole wheat bread as I kneaded, but I thought that might just be normal for Anadama.) Thanks; I love your site and this is a disappointment.

Thank you for sharing your feedback with us, Nancy, in such a helpful way. We appreciate you noting that you measured your flour using the recommend method and you still had trouble with the dryness. It may be that in the dry winter months, a few tablespoons of additional liquid is required to make this bread rise to its fullest. We've asked our Recipe Team to bake a few variations of this recipe to see what proves to be most successful. We'll be sure to update the recipe accordingly if necessary. Kye@KAF
Have tried this recipe twice and both times the dough did not rise and the gluten did not develop, instead remaining a hard lumpy texture. On the second time I tried adding additional water as discussed in the comments but had the same result. I'm a proficient baker and love anadama bread so am disappointed that this recipe has not worked for me. The dough has a lovely taste and the number of 5 star reviews mean it definitely works well for others, but unfortunately has not resulted in an edible final product for me.

Thanks for reaching out, Susan. Based on what you've been seeing in your dough, it sounds like some extra flour is being packed into the measuring cup. For ideal measurement accuracy when not using a scale, we recommend fluffing the flour with a whisk or spoon, sprinkling it into the measuring cup, and scraping off the excess. Using this method should create a loaf as the recipe intends, and we hope the next one comes out great! Annabelle@KAF
I've tried to make this recipe twice before I tried King Arthur's version and failed miserably. I did have a few hiccups. The dough was a dry but I added a bit of water as per the suggestion and it worked out fine. It also took a look longer for the dough to rise but being zero degrees outside I assume my house was colder than normal. Patience paid off. The loaf turned out great. This will be a great for my huevos rancheros!
Great loaf of bread. Rose *really* fast in the pan (probably due to weird weather plus maybe a kitchen full of happy yeasts--have been baking a lot of bread in there lately!) and I had to rush to get the oven pre-heated in time to bake it. We loved it warm with butter and honey and it makes great toast too.
This is the second time I have made this bread, and have been disappointed in the results. Bread did not rise at all (and yes, yeast was fresh). I got identical results (not good) from both times with this bread.

We have a full team of friendly bakers on the hotline who are here are ready to help, Jayne. We'd love to hear more about your ingredients and methods so we can come up with a way to improve the results of this classic New England favorite, Anadama Bread. Give us a call when you're ready to chat: 855-371-BAKE(2253). Kye@KAF
Made the sourdough version of this bread in the 200th anniversary cookbook. I really like this bread. Makes great tuna fish sandwiches. I enjoy it just toasted with butter to. I will be making this again and again. If you make the sourdough version, make sure you have plenty of time. Started the bread at 9 am and it did not go into the oven until 10:30 pm that night.
My Mom always made Anadama bread. My husband had never had it until he met my Mom. I bake alot but never much with yeast. Well my Mom has passed and I decided I would give it a try. Although nothing will compare to mom's, I must say I am very pleased with the outcome as is my husband. i will definately be making this again... and soon, as the first loaf disappeared so quickly.