A customized print-friendly version of this recipe is available by clicking the "Print Recipe" button on this page.
New Hampshire Maple-Walnut Scones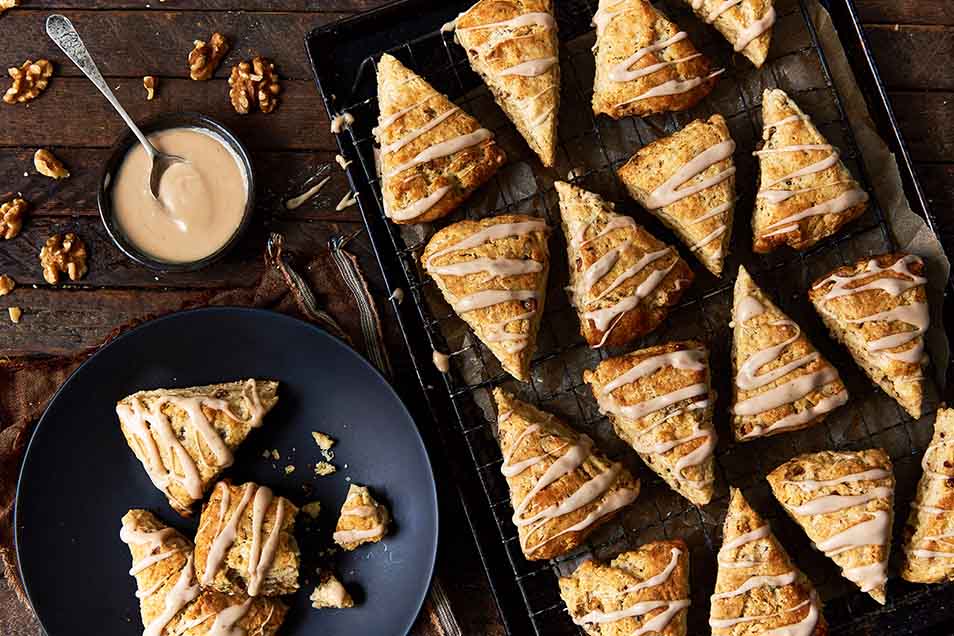 These scones feature the subtle flavor of real maple syrup, both in the scones themselves, and in their glaze.
Ingredients
Glaze
1 cup confectioners' sugar
pinch of salt
1/4 cup maple syrup, grade B (dark) preferred
1/4 teaspoon maple flavor, optional but good
Instructions
To make the scones: In a large bowl, combine the flour, walnuts, baking powder and salt.

Work in the cold butter until the mixture resembles coarse crumbs.

In a separate bowl, combine the milk, maple syrup, and the maple flavor.

Add the wet ingredients to the dry ingredients and mix until you've formed a soft dough.

Flour a piece of parchment (if you have one) or your work surface generously, and scrape the dough out of the mixing bowl onto the parchment or work surface. Divide the dough into three equal pieces.

Working with one piece at a time, gently pat the dough into a circle about 3/4" thick.

Leave the circles on the parchment, and transfer it to a baking sheet. If you're not using parchment, gently transfer the circles to a lightly greased baking sheet.

Using a sharp bench knife or rolling pizza wheel, divide each dough circle into eight wedges.

Gently separate the wedges so that they're almost touching in the center, but are spaced about an inch apart at the edges.

Preheat the oven to 425°F. Place the pan of scones into your refrigerator to chill while your oven is heating, for about 20 to 30 minutes. This will help their texture. If there's no room in your fridge, simply let them rest on the counter while your oven preheats.

Bake the scones for 15 to 20 minutes, or until they're golden brown.

Remove them from the oven, wait a couple of minutes, then gently separate the scones with a knife (they'll be very fragile), and carefully transfer them to a cooling rack.

To make the glaze: Combine all of the glaze ingredients, stirring until smooth.

When the scones are cool, drizzle them with the glaze.

Store any leftover scones, well wrapped, at room temperature for several days. Freeze for longer storage.
Tips from our bakers
The walnuts are tastier if you toast them before chopping. Place walnut pieces in a single layer in a flat pan and toast them in a preheated 350°F oven for 7 to 9 minutes, or until they smell "toasty" and are beginning to brown.
This recipe comes to us courtesy of Barbara Lauterbach, cooking teacher, proprietor of the Watch Hill bed & breakfast in Center Harbor, New Hampshire, and a long-time King Arthur spokesperson — and, more importantly, friend.
Real maple syrup has wonderful but elusive flavor — thus our recommendation to augment it with maple flavor.
Reviews
Very easy to make and absolutely delicious. I used dark maple syrup as well as the maple extract which boosted the flavor. The scone itself is tasty but the glaze made it 5 star. I made the glaze as written which was good but then added milk to thin it out so I could dip the scones rather than drizzle. This would be great with pecans too.
Fantastic maple scone recipe. I added only 1/2 cups of butter by accident and it turned out perfectly. Definitely don't forget to continue chilling the dough. I chilled the flour mixed with the butter and then after I mixed in the wet ingredients and then again after I cut the scones.
This was my first time ever making scones from scratch. I am not a scratch baker at all. Totally a newbie... so I didn't know that it's best to keep all the ingredients as cold as possible. I used room temp butter. My maple syrup wasn't very cold. I toasted the walnuts so they were still warm when I worked them in.. I ended up with a sloppy wet ball of mushy goo because all the butter melted. I worked a bunch more flour into it until it was shapable and my scones were okay.. The second batch I did some research and learned that all the ingredients should be cold cold cold, and that the dough should be refrigerated for at least 20 min effort rolling out. Following that advice, these scones were absolutely amazing. I think it would be great if you put some tips for new bakers in the recipe. Cold ingredients and cold-resting makes this recipe epic.
Wow! Great recipe. Definitely roast walnuts. Also I would recommend taking 1 cup of real maple syrup and slowly boiling it down to 3/4 cup, this will enhance the flavor (this will take about 20 mins on low flame/heat). I also agree with using vanilla instead of maple flavor. Let scones cool completely before glazing. Also, leftover glaze taste great in your coffee/tea!
I made these with toasted pecans instead of walnuts (because I didn't have any walnuts in the house). They got rave reviews from everyone at work. They were the most tender scones I've ever made. This one is a keeper!
The yield is cited 16 scones. The recipe calls for 3 circles cut into 8 slices each. That equals 24. So, what is it: 16 or 24, 3 circles or 2 circles? Thanks

Thanks for pointing out this discrepancy, Alice. Our apologies for the confusion! We'll be sure to get the two suggestions aligned asap. In the meantime, feel free to either make 16 larger scones by dividing the dough into two larger discs, then cutting each into eighths, or 24 smaller scones by dividing the dough into three discs, and then cutting each into eighths. The larger scones may take a bit longer to bake (closer to 20 minutes), but we'd suggest checking them first around 15 minutes to be safe. Happy baking! Mollie@KAF
Not sure why any recipe would state 2/3 cup ...butter. I would no more use "shortening" in a scone batter than I would use snails. 2/3 cup butter is almost impossible to cut/measure. The measurement should be in the recipe. Not fun to have to google this - especially when nothing is consistent about what 2/3 cup butter equals in tablespoons. Then I had to call to see if I could use cream instead of milk. Yes you can. Not sure why this info is not in the recipe.

Jane, we measure both vegetable shortening and butter in cups when using volume, unless it's a small amount (less than 1/4 cup), in which case it will be listed in tablespoons. Most sticks of butter have volume conversions listed right on the package for you. 2/3 a cup equates to 1 stick plus a little over 3 tablespoons of butter. As for your note about cream, this isn't included in the recipe because we recommend using milk to make the dough--it gives the scones the perfect balance of richness and lightness. If you'd ever like to make adjustments to meet your needs, we hope you'll do just as you did and give our Baker's Hotline a call. Happy baking! Kye@KAF
I have been making these scones for many years. They will be bland when first made. But, I wrap them individually and freeze them. When I have company, I take some out to thaw for 20 minutes or so and then heat them in the toaster oven. I always get compliments on the scones. Freezing seems to bring out the flavor.
I love the KAF reviews because it seems we are a group of dedicated, experienced bakers - which means most of us don't follow the recipes! This must drive the KAF staff nuts from time to time... I decided to make scones because I had some buttermilk to use, so I used two teaspoons each of baking powder and baking soda - I think 2 1/2 powder / 1 1/2 soda would also work, but I was being lazy. I used KAF organic whole wheat white flour (my go to flour for anything other than delicate cakes), and also started with a cup of maple syrup which I reduced until just before soft ball, for added maple flavor. I did not have maple flavoring, so I used a teaspoon of vanilla. The results were fantastic - delicate sweet maple flavor, the toasted walnuts lent a wonderful richness (so do roast them), light delicate texture, slightly crusty with soft interior. Great scones!
I'm a big fan of maple walnut. So when I saw this recipe I could not wait to try it. I have to say I was surprisingly disappointed. I could not taste the maple and it was very bland. I followed the directions to the letter.
I am sorry this wasn't to your liking. Feel free to increase the syrup to 3/4 cup and the maple flavoring to 1 1/2 or 2 tsp. I hope you will try this again. ~Amy