A customized print-friendly version of this recipe is available by clicking the "Print Recipe" button on this page.
New Hampshire Maple-Walnut Scones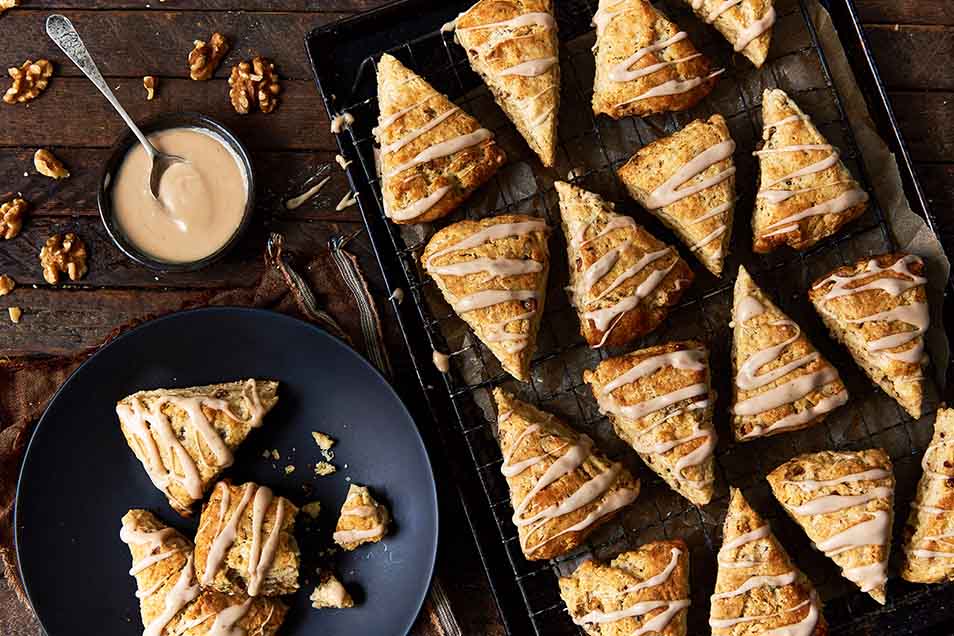 These scones feature the subtle flavor of real maple syrup, both in the scones themselves, and in their glaze.
Ingredients
Glaze
1 cup confectioners' sugar
pinch of salt
1/4 cup maple syrup, grade B (dark) preferred
1/4 teaspoon maple flavor, optional but good
Instructions
To make the scones: In a large bowl, combine the flour, walnuts, baking powder and salt.

Work in the cold butter until the mixture resembles coarse crumbs.

In a separate bowl, combine the milk, maple syrup, and the maple flavor.

Add the wet ingredients to the dry ingredients and mix until you've formed a soft dough.

Flour a piece of parchment (if you have one) or your work surface generously, and scrape the dough out of the mixing bowl onto the parchment or work surface. Divide the dough into three equal pieces.

Working with one piece at a time, gently pat the dough into a circle about 3/4" thick.

Leave the circles on the parchment, and transfer it to a baking sheet. If you're not using parchment, gently transfer the circles to a lightly greased baking sheet.

Using a sharp bench knife or rolling pizza wheel, divide each dough circle into eight wedges.

Gently separate the wedges so that they're almost touching in the center, but are spaced about an inch apart at the edges.

Preheat the oven to 425°F. Place the pan of scones into your refrigerator to chill while your oven is heating, for about 20 to 30 minutes. This will help their texture. If there's no room in your fridge, simply let them rest on the counter while your oven preheats.

Bake the scones for 15 to 20 minutes, or until they're golden brown.

Remove them from the oven, wait a couple of minutes, then gently separate the scones with a knife (they'll be very fragile), and carefully transfer them to a cooling rack.

To make the glaze: Combine all of the glaze ingredients, stirring until smooth.

When the scones are cool, drizzle them with the glaze.

Store any leftover scones, well wrapped, at room temperature for several days. Freeze for longer storage.
Tips from our bakers
The walnuts are tastier if you toast them before chopping. Place walnut pieces in a single layer in a flat pan and toast them in a preheated 350°F oven for 7 to 9 minutes, or until they smell "toasty" and are beginning to brown.
This recipe comes to us courtesy of Barbara Lauterbach, cooking teacher, proprietor of the Watch Hill bed & breakfast in Center Harbor, New Hampshire, and a long-time King Arthur spokesperson — and, more importantly, friend.
Real maple syrup has wonderful but elusive flavor — thus our recommendation to augment it with maple flavor.