A customized print-friendly version of this recipe is available by clicking the "Print Recipe" button on this page.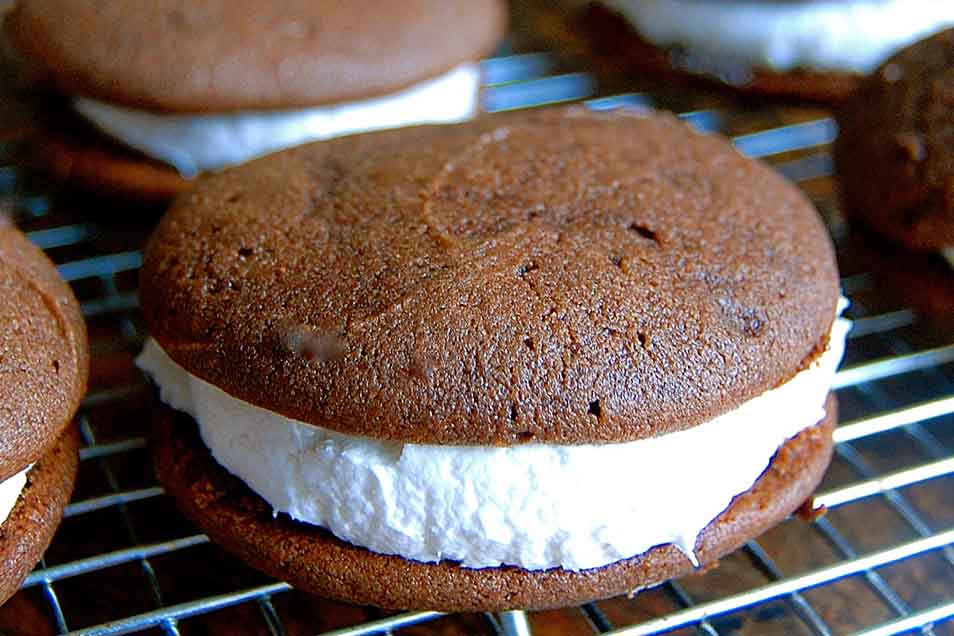 OK, we understand if you're not from particular pockets of America (northern New England, east-central Pennsylvania...), you probably don't know what a Whoopie Pie is. Well, read on...
Ingredients
Chocolate Cakes
1/2 cup shortening
1 cup brown sugar, firmly packed
1 large egg
1/4 cup + 2 tablespoons baking cocoa or 3 tablespoons each black cocoa and baking cocoa
1 teaspoon baking powder
1 teaspoon baking soda
1 teaspoon salt
1 teaspoon espresso powder, optional; for enhanced chocolate flavor
1 cup milk
1 teaspoon vanilla extract
Filling
1 cup shortening
1 cup confectioners' sugar or glazing sugar
1 1/3 cups Marshmallow Fluff or marshmallow creme
a heaping 1/4 teaspoon extra-fine salt or the salt of your choice dissolved in 1 tablespoon water
1 1/2 teaspoons vanilla extract
Instructions
To make the cakes: Preheat the oven to 350°. Lightly grease or line two sheet trays with parchment paper.

In a large mixing bowl, cream together the shortening, sugar and egg. In a separate bowl, whisk together the cocoa(s), flour, baking powder, baking soda and salt. Stir the vanilla into the milk.

Add the dry ingredients to the shortening mixture alternately with the milk/vanilla mixture, beating until smooth. Drop the dough by the 1/4-cupful, onto the prepared baking sheets, leaving about 2" between each cake.

Bake the cakes for about 15 minutes, or until they're firm to the touch. Remove them from the oven and cool completely on a rack.

To make the filling: Beat together the shortening, sugar and marshmallow, then stir in the salt and vanilla.

To assemble the pies: Turn the cakes over, so the flat side faces up. Spread the flat side of the cakes with the filling; top with the flat side of the remaining cakes.

Store for several hours at room temperature; refrigerate, covered, for up to 3 days.
Tips from our bakers
Want to make more, smaller whoopie pies? Scoop the batter in balls a bit smaller than a golf ball; a slightly heaped tablespoon cookie scoop works well here. Bake the pies for 13 to 14 minutes, cool, and fill. Yield: 17 smaller (2 3/4" to 3") whoopie pies.
Reviews
Yummy. Paired with your Marshmallow Spread recipe, super good.
Could you make this using the filling from the recipe for "Whoopie Pies" that is on your sight? I don't want to go buy marshmallow creme or fluff.

Go for it! Annabelle@KAF
My family being from Maine I am very familiar with whoppie pies, never had a good recipe to make an original tasting pie. I wanted to make these for a party but this recipe wouldn't give me the number of pies. I decided to make smaller pies using the recipe but measuring out the batter into 24 cookies (use a heaping tablespoon). For the filling I increased the filling 1 1/2 times. Worked great! Only bad thing was, no leftovers! Love your recipes!
Doubled the recipe and got great feedback - would make again.
I'm from the south so needless to say I have never had a whoopie pie until today. I volunteered to bring a dessert to a small party and thought this would be the perfect opportunity to try something new. This recipe did not disappoint. I actually did follow the instructions exactly as they are written - no substitutions or altered measurements or cooking times . The cookies are very light and fluffy and pair up so well with the filling. Everybody told me how well the whoopie pies tasted and I didn't have to ask twice for people to take the leftovers home with them. I would highly recommend this recipe if your a whoopie pie newbie like me.
I am originally from Maine and grew up thinking my Mom made the best whoopie pies. Over the years I've tried many times to make her recipe and for some reason it never turned out as good. I've been looking for a replacement and think I've found it with this one. I followed the recipe with the exception of decreasing milk to 1/2 c. and adding 1/2 c. left over coffee. They are very light and airy. I used a different recipe for the filling because I'm not a fan of marshmallow creme. They were excellent! I will make again for sure!
**Bake at your own risk!** I doubled the cream because I knew I'd want to overfill. I refrigerated the remaining & used to make chocolate chip cookie sandwiches several days later. Mmm! Needless to say I opted not to view the scale at my Drs appt 3 days later! Easy to make especially if you use the digital scale for weighing measurements. I read this tip in a bread recipe & what a difference it's made it my results. Invest in a small kitchen scale & your baking will improve 2-fold =}
Yummy and easy. Pretty sweet but that's OK. Used my small ice cream scoop that I use for cookies (I think about 2 tablespoons) and wound up with 14. Had to bake an extra 4 minutes because they stayed soft, but they were great. (I may have over-beat them with stand mixer.) Thanks for yet another great recipe. I wrapped half of them individually with plastic wrap, put in a freezer bag to keep my husband from eating them all up at once -lol- and they were perfect after defrosting. Will definitely make again.
Can coconut oil be used instead of Crisco in whoopi pie filling

Coconut oil melts at 76 degrees, so it might not hold the shape of the filling well. Laurie@KAF