A customized print-friendly version of this recipe is available by clicking the "Print Recipe" button on this page.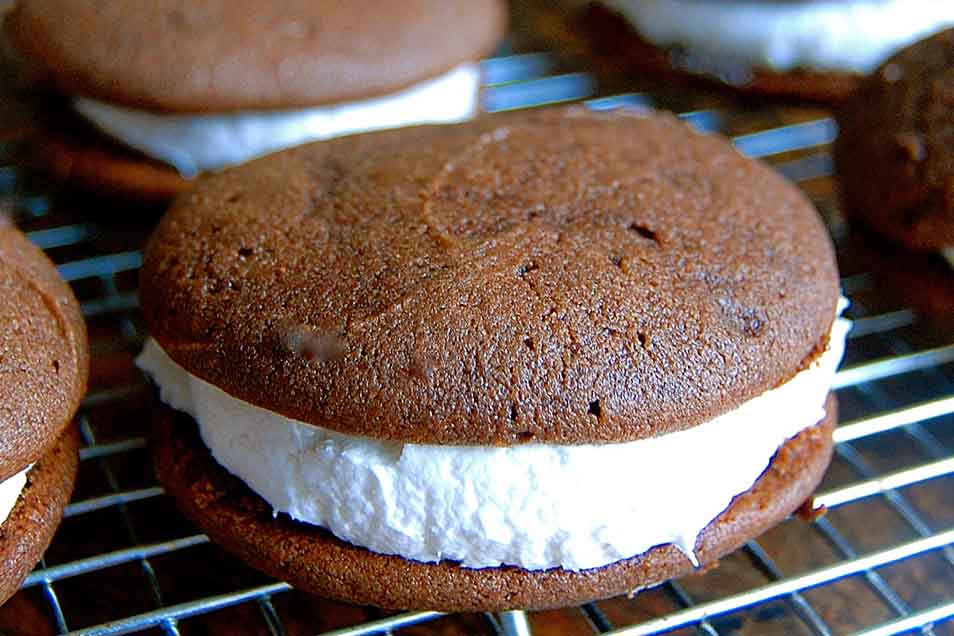 OK, we understand if you're not from particular pockets of America (northern New England, east-central Pennsylvania...), you probably don't know what a Whoopie Pie is. Well, read on...
Ingredients
Chocolate Cakes
1/2 cup shortening
1 cup brown sugar, firmly packed
1 large egg
1/4 cup + 2 tablespoons baking cocoa or 3 tablespoons each black cocoa and baking cocoa
1 teaspoon baking powder
1 teaspoon baking soda
1 teaspoon salt
1 teaspoon espresso powder, optional; for enhanced chocolate flavor
1 cup milk
1 teaspoon vanilla extract
Filling
1 cup shortening
1 cup confectioners' sugar or glazing sugar
1 1/3 cups Marshmallow Fluff or marshmallow creme
a heaping 1/4 teaspoon extra-fine salt or the salt of your choice dissolved in 1 tablespoon water
1 1/2 teaspoons vanilla extract
Instructions
To make the cakes: Preheat the oven to 350°. Lightly grease or line two sheet trays with parchment paper.

In a large mixing bowl, cream together the shortening, sugar and egg. In a separate bowl, whisk together the cocoa(s), flour, baking powder, baking soda and salt. Stir the vanilla into the milk.

Add the dry ingredients to the shortening mixture alternately with the milk/vanilla mixture, beating until smooth. Drop the dough by the 1/4-cupful, onto the prepared baking sheets, leaving about 2" between each cake.

Bake the cakes for about 15 minutes, or until they're firm to the touch. Remove them from the oven and cool completely on a rack.

To make the filling: Beat together the shortening, sugar and marshmallow, then stir in the salt and vanilla.

To assemble the pies: Turn the cakes over, so the flat side faces up. Spread the flat side of the cakes with the filling; top with the flat side of the remaining cakes.

Store for several hours at room temperature; refrigerate, covered, for up to 3 days.
Tips from our bakers
Want to make more, smaller whoopie pies? Scoop the batter in balls a bit smaller than a golf ball; a slightly heaped tablespoon cookie scoop works well here. Bake the pies for 13 to 14 minutes, cool, and fill. Yield: 17 smaller (2 3/4" to 3") whoopie pies.