A customized print-friendly version of this recipe is available by clicking the "Print Recipe" button on this page.
No-Bake Peanut Butter-Chocolate Squares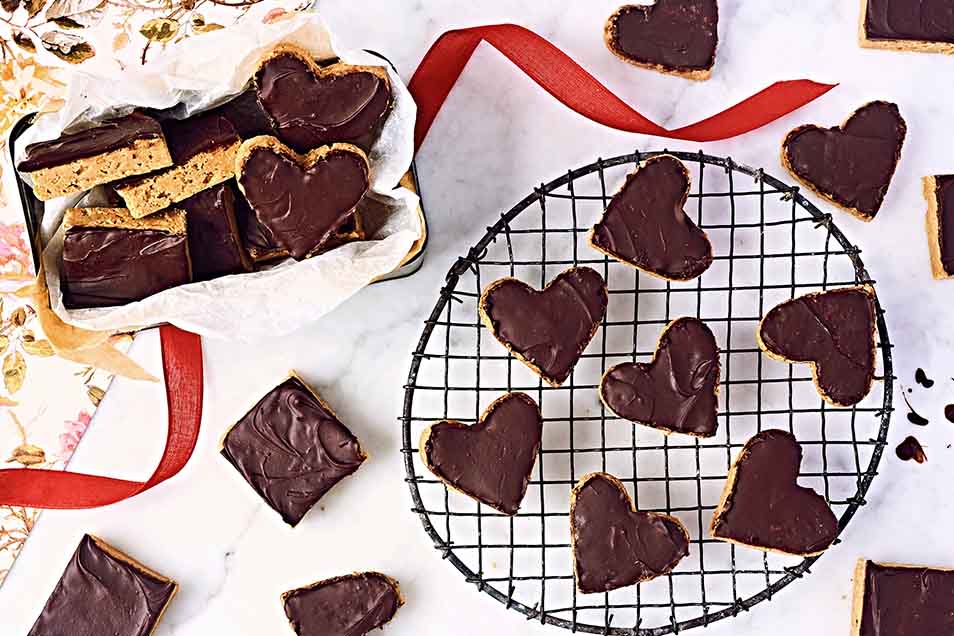 This is one of those home recipes that emulates almost perfectly a store-bought treat: in this case, peanut butter cups.
Ingredients
1 1/2 cups graham cracker crumbs
1 cup butter, melted
2 1/2 cups confectioners' sugar
1 cup peanut butter, crunchy or smooth
1 cup chocolate chips
Instructions
In a large bowl, combine the graham cracker crumbs, butter, confectioners' sugar, and peanut butter. Mix until well combined.

Spread the mixture in a lightly greased 9" x 13" pan. Chill in the refrigerator for approximately 10 minutes.

While the peanut butter layer is chilling, melt the chocolate chips, in a microwave oven or in a double boiler on top of the stove. Spread the chocolate over the peanut butter.

Cut the bars into squares, or use a 1 1/2" to 2" heart cookie cutter to cut them into hearts. Leave them in the pan. Return them to the refrigerator to chill for at least 1 hour.

Store well wrapped at cool room temperature for several days; freeze for longer storage.
Reviews
This is a win in our house! I substituted in British "digestives" cookie (or biscuit, as it were) crumbs for the graham cracker ingredient and it is delish.
Ooooooh gosh, this recipe is soooo good! It's ridiculously easy and my friends say it is addictive. I agree - I really don't like sweets any more, but I had a bag of leftover pieces in the freezer (I made hearts for Valentine's Day) and they somehow ended up in my mouth. Often. Just made a batch yesterday and they will be delivered to the recipient posthaste, lest I eat them all myself!
Wow, this is what I've been missing out on?! The graham cracker crumbs take them to a whole new level! And probably a new pant size, these are worth it though.
It was so good i made it like in the recipe but i want to cut down on the fat can i do it with oil / applesauce? any suggestions ...

Hi Gomz, the butter is a key ingredient in these no-bake squares because once the butter cools, it solidifies and helps keep all the ingredients together. Another suitable option would be coconut oil, which also becomes semi-solid at room temperature. (It's worth noting that coconut oil is also a fat, so it won't reduce the amount of overall fat in the recipe, but you can use it in combination with the butter if you're hoping to use a variety of ingredients.) Kye@KAF
First, the flavor is fantastic. So delicious. I did follow other people's advice and reduced the shortening to 3/4 cup and the sugar to 1 cup. But it came out very, very soft so much so I had to freeze them to cut them into squares. Further, they need to be kept frozen to retain the square shape. Not sure what went wrong. I can only think that perhaps it was the brand of peanut butter I used - all natural, no additives but was very soft.

So glad you loved the flavor, Cindy! While other bakers have reported success reducing the sugar, 2.5 cups to just 1 cup is a big shift and will affect more than just the flavor. The textural balance that we achieve with the recipe written as is will no longer hold up. If you're interested in reducing the sugar, we'd suggest cutting it by less next time (say 1/2 cup). If that works out well for you, try cutting another 1/2 cup the time after that. In this way you'll be able to arrive at the balance of flavor and texture that works best for you, while avoiding any disappointment. Mollie@KAF
I made these exactly as written and they came out great. They taste just like Reese's and are so easy to make. I like that they are so simple with few ingredients and that you can choose ingredients that fit with your diet, i.e. low sugar, all natural, etc. I cut them with bunny cutters for Easter. They were a hit!!
I followed other people's advice and reduced the sugar to 1 cup and the butter to 3/4c. I ended up adding 1/2 Tbs of butter to the melted chocolate chips to make it creamier and easier to spread. It was a huge hit!
I've made this recipe many times to take to various potlucks, using either peanut butter or biscoff. It is easy and always a hit. I'm wondering how to make a chocolate frosting that would be shiny rather than the matte look of the melted chocolate chips? What makes some chocolate frosting shine?

Rosemarie, to add a bit of shine to your chocolate icing, add about 1-2 tablespoons of corn syrup once the chocolate is melted and you've added the heavy cream. Give our Chocolate Ganache recipe a try. It makes a wonderful frosting! Kye@KAF
Made these squares today for the first time today. My family loves them! I cut the sugar back to a little under 2 cups. The great thing with this recipe is you can easily cut the sugar to suit individual taste without ruining the texture. I plan to make this again with 1 and a half cups of sugar and I think that will be perfect for us. Thank you for a great super easy recipe!!!
I made this recipe previously, exactly as written. It is easy and was a big hit. For a Christmas party a few days ago, where i knew there would be someone who was allergic to peanuts, I used Biscoff cookie butter/spread instead of peanut butter. They were really delicious; maybe even better than the peanut butter version. Everyone liked them!