A customized print-friendly version of this recipe is available by clicking the "Print Recipe" button on this page.
New Orleans Pecan Pie Bread Pudding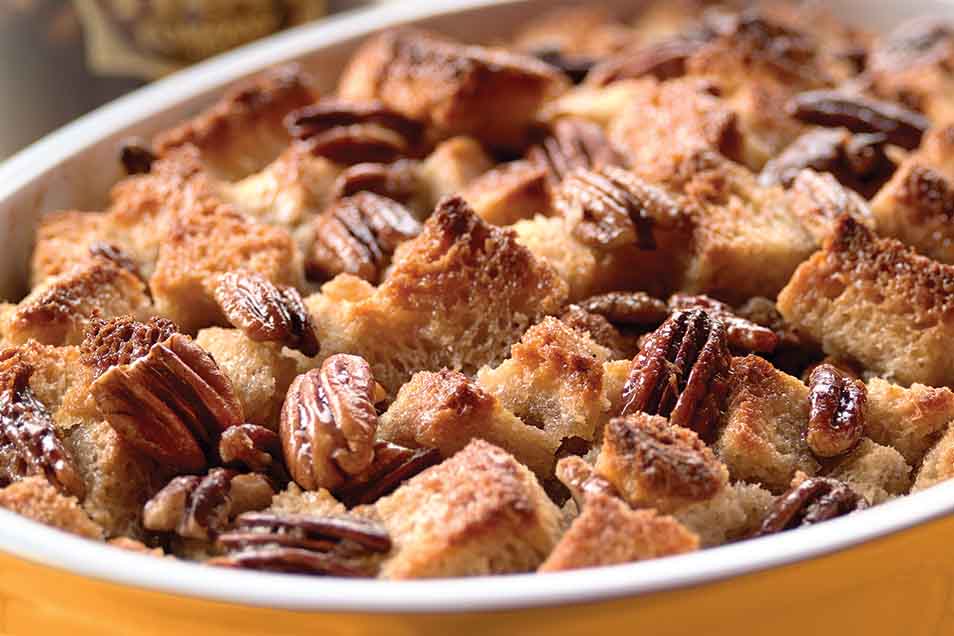 This sweet, creamy, nutty pudding was universally loved when we put it out for taste-testing.
Ingredients
11 to 12 cups bread, 3/4" cubes, tough crust removed
1 jar Pecan Pie in a Jar
1/4 cup butter, melted
6 large eggs
3/4 cup half & half or cream
Instructions
Butter a 2-quart baking dish.

Microwave Pecan Pie in a Jar for 1 minute; carefully remove it from the microwave.

In a large mixing bowl, whisk together the melted butter, eggs, and half & half or cream.

Whisk in the pecan mixture. Scoop off most of the pecans, and set them aside.

Add the bread cubes to the milk/egg, and mix lightly to combine.

Pour the mixture into the dish; it may mound slightly.

Spoon the pecans over the top of the pudding.

Let the mixture sit for an hour or so at room temperature, or overnight in the refrigerator, covered. Just before baking preheat the oven to 350°F.

Bake the pudding for 45 to 55 minutes, uncovered, until the top is browned and the middle springs back when lightly pressed.

Remove the pudding from the oven, and serve warm, topped with ice-cream or whipped cream. Or, as they do in New Orleans, with whiskey sauce!

Yield: 8 to 10 servings
Tips from our bakers
How big a loaf of bread do you need to make 11 to 12 cups of bread cubes? A 1 1/2-pound loaf, with its crusts removed, should be just about right.
Don't have Pecan Pie in a Jar? I tried the recipe using my favorite Pecan Pie filling recipe, increasing the eggs to 6 to cover the 6 eggs in the original recipe and it works just beautifully!
Reviews
I increased the half and half to a full cup and it was great. I used the sweet bread recipe from the Sonata of Sweet Breads class from the baking school and it makes a huge difference! Great flavor!
It was good, but it was a little dry. I'm going to make it again with 2 cups of Cream instead of 3/4 cup to see what happens.
This recipe is probably great but I wish it was put on the websight with the ingredients and measurements for the pecan pie filling included. I know they are trying to sell the filling in a jar, but I would have liked to have had the option of making this recipe without it,
Sorry, totally my error for forgetting to include the information. I've updated the blog and the recipe with hints on how to use your favorite pecan pie recipe. Thanks for keeping me on my toes! ~ MaryJane