A customized print-friendly version of this recipe is available by clicking the "Print Recipe" button on this page.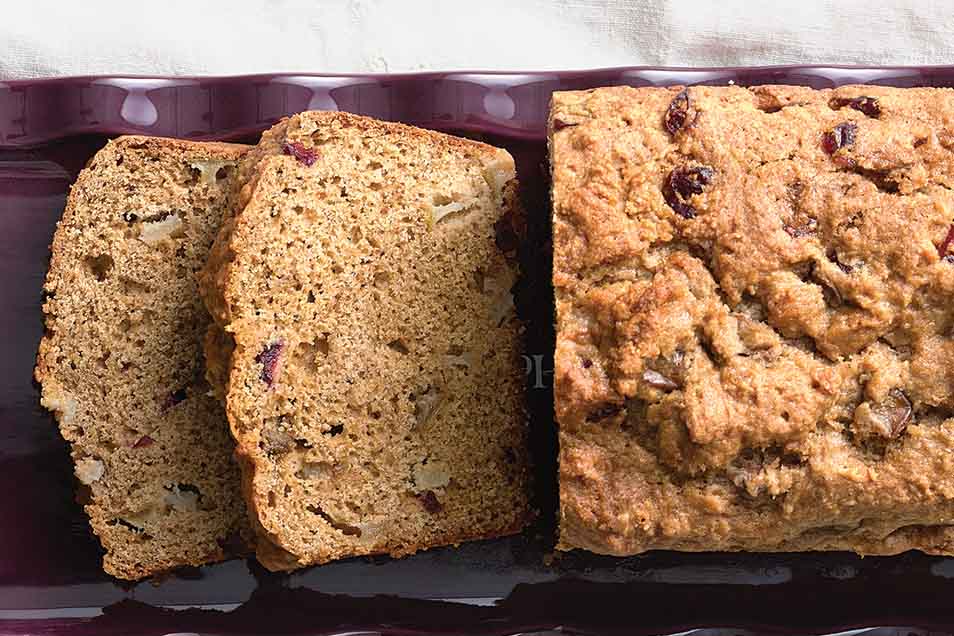 This tasty quick bread, with its extremely low fat and sodium contents, absence of cholesterol, and healthy dose of fiber, is made with whole-wheat flour for added goodness. But don't be put off by its "good-for-you" ingredients; this bread is every bit as tasty as its two close relations, zucchini and banana bread, but much better nutritionally. And at only about 110 calories a 1/2-inch slice, it's good for your diet, too.
Ingredients
1/4 cup molasses
1/4 cup honey
1 large egg white
1 cup buttermilk
2 tablespoons vegetable oil, such as canola
1 3/4 cups King Arthur Premium 100% Whole Wheat Flour
1/2 cup wheat bran
1/2 cup packed brown sugar
1 teaspoon baking soda
1/2 teaspoon salt
2 cups finely chopped fresh hard pears
1/2 cup chopped walnuts
Instructions
Preheat the oven to 350°F. Lightly grease a 10" x 5" or 9" x 5" pan.

Mix together molasses, honey, egg white, buttermilk and oil.

Mix flour, bran, sugar, baking soda and salt; add all at once to wet mixture.

Stir in chopped pears and walnuts.

Scoop into pan, and place in the oven.

Bake at 350°F for 60 to 70 minutes, until bread tests done (cake tester inserted in middle of loaf comes out clean).

Cool, then wrap and store at room temperature for 4 days, or freeze for up to 3 months.
Reviews
If you like molasses than you will love this bread. Very easy to make and super moist but I found the molasses overwhelmed all the flavors. Next time I will try it with just honey.
I can't believe how moist and delicious this bread is.
I tried this recipe to use some of my too many pears and will make it again. It is a simple bread, not a fancy cake, nice with coffee or tea. Because I did not have any buttermilk, I used sour milk. I used a whole egg because I didn't want a yolk left over. And I used less sugar. I think I would prefer it with the addition of cinnamon and cloves but it is good without.
Excellent quick bread with an intense molasses flavor. I baked mine in a 10x5 pan, and it was fairly low-slung; next time, I'll use a 9x5 pan.
Surprisingly Delicious! I made one slight change because I couldn't find a plain wheat bran, so instead, I found a product called COCO WHEATS made by MOM Brands. COCO WHEATS is still a bran product, just cocoa added. It was a winner since my family loves chocolate!
Delicious bread! I used honey because couldn't find molasses, but it tasted wonderful. Only made this to use up pears before they spoiled. I left peels on (less waste) and couldn't even tell. Very moist, sweet, and healthy. I'll definitely make this again. Thank You!!!
This is a fantastic recipe, moist with the pears holding their shape. Tried goat cheese as an accompaniment. Everyone just loved it. Definitely will make it again!
I diced the pears and my bread turned out fantastic. This bread smells strongly of molasses and tastes wonderful buttered.
This is a great recipe. One slice will satisfy your craving for something sweet. The whole wheat flour, wheat bran, fresh pears and walnuts help to make this cake....oops, i mean bread, a healthy dessert. This cake/bread is moist, too. I made two changes: I added one teaspoon of vanilla extract and I used a small Bundt-type pan to bake it. (I do not seem to have any luck with loaf pans so I avoid them whenever possible.) The baking time was 40 minutes at 350°. The shortened bake time may have occured because of the type of pan I used. The only step I would do differently: finely chop the pears. I used the large end of a box grater and the pears are shaved and I would prefer them diced.