A customized print-friendly version of this recipe is available by clicking the "Print Recipe" button on this page.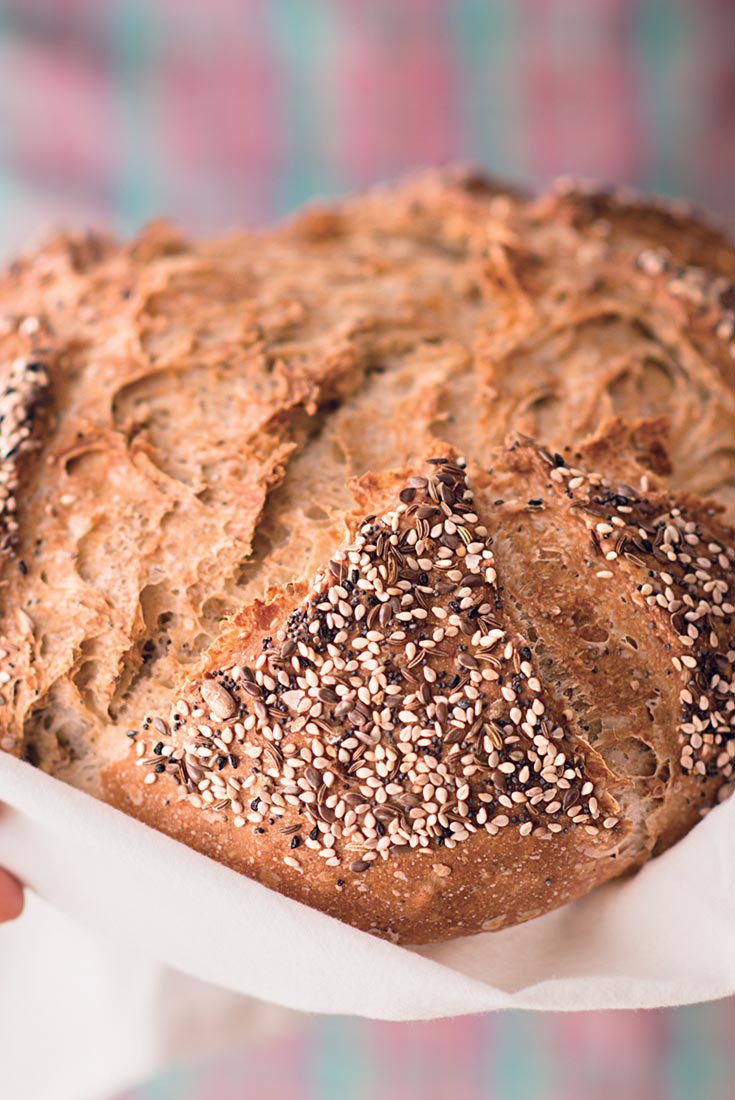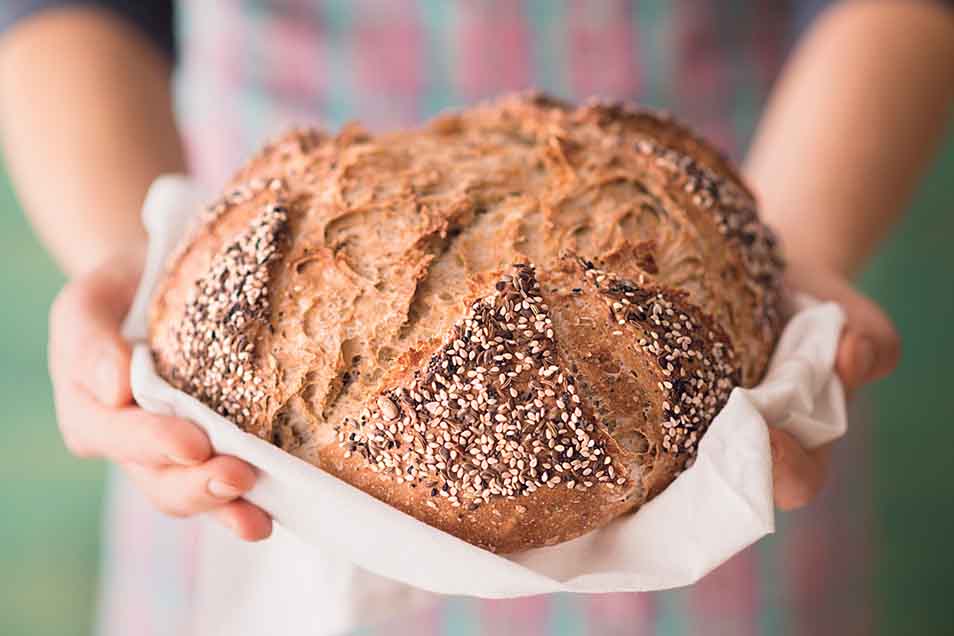 This sourdough loaf is enhanced with whole grains and a generous topping of seeds.
Ingredients
Topping
1 large egg white, whisked until frothy
1 to 2 tablespoons artisan bread topping or your favorite blend of seeds
Instructions
In a large mixing bowl, or the bucket of a bread machine, combine the fed sourdough starter and 1 cup of the water, mixing until smooth.

Add the remaining dough ingredients, and mix and knead — by hand, mixer, bread machine, or food processor — until you've made a soft dough, adding additional water as needed. Note: If you're using a bread machine, program for the manual or dough cycle. Check the dough's consistency after 7 to 10 minutes of kneading; it should be smooth and elastic. Adjust as necessary with additional flour or water.

Cover the dough in the bowl, and let it rise until it's almost doubled, about 1 to 1 1/2 hours.

Turn the dough out onto a lightly greased work surface, and gently fold it over a few times to deflate it. Shape it into a large round.

Cover the loaf with lightly greased plastic wrap, and let it rise until it's very puffy, about 1 to 1 1/2 hours. Towards the end of the rising time, preheat the oven to 425°F.

Just before baking, brush with the beaten egg white. Sprinkle with seeds. Use a lame or a very sharp knife to make several slashes across the top of the loaf, asterisk-fashion.

Bake the bread for 20 minutes, then reduce the oven temperature to 350°F and continue to bake for an additional 15 to 20 minutes, until the loaf is golden brown and a digital thermometer inserted into the center registers 190°F. Remove the bread from the oven, and cool it on a rack.

Store bread at room temperature, well wrapped, for several days; freeze for longer storage.
Reviews
Wow, great tasting, 1st time using KAF Artisan Bread Topping, will use that product again. Also used KAF Sourdough Starter I would recommend this product also. As far as the Bread goes, I did substitute the 26g pumpernickel flour, 74g Harvest Grains Blend with 100G Spelt Flour. On the second rise I used a Brotform Proofing Basket. Guten Appetit, an all Die Hobby Baeker. One Review mentioned Health issues because of the Instant Yeast! How can you turn this into full use of the sourdough starter? Is it as easy as using an additional 100G of starter, and Increasing the rise times? As in the Extra Tangy Sourdough Bread?

Hi Bert, we're so glad you enjoyed the Artisan Bread Topping! To make a yeasted recipe into a sourdough recipe may take a bit of trial and error. As a general guideline, you can swap out 4 oz flour and 4 oz water in the recipe with 8 oz of ripe bubbly starter. And you're correct that the rising times would increase. Some recipes may work better using twice the amount of starter, so swapping out 8 oz water and 8 oz flour with 16 oz ripe starter, but it may take some experimentation in the kitchen to get the loaf to rise and taste the way you'd like. Happy sourdough baking! Annabelle@KAF
Real Sourdough bread doesn't use "instant yeast". Defeats the entire health aspect. b

Sorry this isn't the sourdough recipe you're looking for. Check out our Extra-Tangy Sourdough Bread without yeast. And in the future, if you have a question or comment about a recipe, please feel invited to call, email or chat. The recipe review is an area where bakers can give feedback on recipes they've tried, not recipes they are opposed to. Thanks! Bryanna@KAF
This makes fantastic (dare I say perfect?) bread. I mixed it in my bread machine, and followed the recipe exactly except that I didn't have the Artisan Bread Topping so I just used more of the Harvest Grains blend for the topping. It will certainly become a standard in our kitchen.
Mine didn't get quite as dark as the recipe photo, but it was clearly done. Fabulous nutty flavor. Fantastic bread.
it has dried yeast, it is not a sourdough, merely sourdough flavour

John, if you are looking for recipes that are leavened using only sourdough, give our Extra-Tangy Sourdough bread recipe a try. It's full of flavor and uses only wild yeast. Happy baking! Kye@KAF
This has become my go-to sourdough bread recipe. It comes together quickly and easily and makes a beautiful loaf. It rises rather fast for a sourdough. The first time I made it I didn't watch it closely enough at the beginning and it got away from me. We had a very light loaf.
Thanks KAF! We have a winner! Made this tonight with the starter-starter to be tossed or given to a friend. I made dinner rolls. Supplemented the 3 1/2 cups AP flour with 1/3 cup pumpernickel and 1/3 cup rye then added a couple tablespoons dill pickle juice. The recipe made 8 good sized rolls and were just as silky inside as they could be. Delicious.
Wow! Wonderful recipe! I baked it in my brand new bread baking bowl, topped it with sesame and poppy seeds. It was picture perfect when it came out of the oven, and tasted fabulous with only a little butter on top. This was my first attempt at a sourdough bread, using my very first sourdough starter, made with lots of help from the sourdough starter blog. Complete success! Thanks!
Made this as directed using AP flour and Harvest Grains Blend and it turned out beautiful. My husband says this is one of the best tasting loaves ever.