A customized print-friendly version of this recipe is available by clicking the "Print Recipe" button on this page.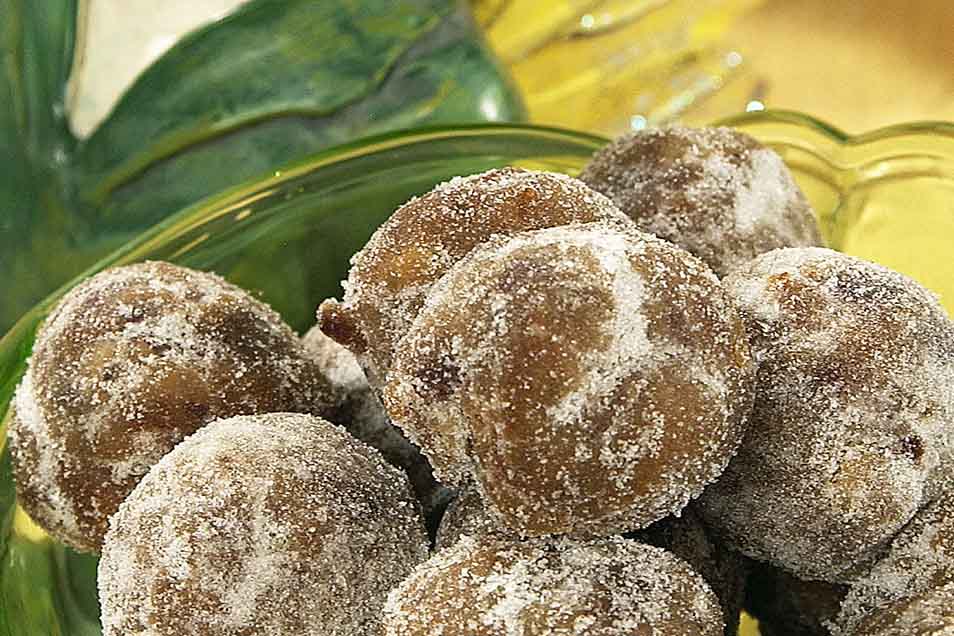 How can visions of sugarplums dance in your head — when you have no idea what they are?! The original sugarplum (about the size of a prune-plum, thus the name) included a core of seeds — often caraway — coated with up to 12 separate layers of sugar syrup. Our version, loaded with rum-soaked fruit and toasted nuts, is quite a bit more interesting.

Like fruitcake (which they resemble quite a bit in taste), they stay moist, soft, and flavorful for weeks.
Ingredients
Fruit
2 cups dried fruit (See "tips", below.)
3 tablespoons brandy or rum
Batter
1/4 cup (4 tablespoons) butter
1/2 cup brown sugar
1/4 teaspoon salt
1/4 teaspoon cinnamon
1/8 teaspoon ground allspice or 1/4 teaspoon ground ginger
1/8 teaspoon nutmeg
1/4 teaspoon baking powder
1 large egg
2 tablespoons boiled cider, or light or dark corn syrup
2 tablespoons light or dark corn syrup
1/2 cup chopped toasted pecans or walnuts, toasted and cooled
Instructions
Finely chop the fruit in a food processor.

Combine with the liquor, cover, and let rest overnight. Or speed things up by microwaving the fruit and liquor (in a covered bowl) for about 1 minute, until the liquid is very hot. Leave the fruit covered, and let cool to room temperature.

Preheat the oven to 350°F. Lightly grease (or line with parchment) two baking sheets.

Combine the butter, sugar, salt, spices, and baking powder, then beat in the egg, scraping the bowl.

Add the flour, then the cider, syrup, fruit (with any remaining liquid), and nuts.

Drop the dough by teaspoonfuls (a teaspoon cookie scoop works well here) onto the prepared baking sheets.

Bake for 12 minutes; the cookies will look soft, and will just be starting to brown on the bottom.

Remove the cookies from the oven, and let them cool on the pan for 5 minutes.

While the cookies are cooling, place the sugar in a medium-sized plastic bag.

While the cookies are still hot, gently squeeze them into balls.

Place cookies in the bag, 6 or 8 at a time, and shake gently until they're coated with sugar.

Place on a rack to cool.

Store airtight for several weeks. If you've stored cookies for awhile, shake with sugar again just before serving, if desired.
Tips from our bakers
Use just one favorite dried fruit, or an imaginative combination. We like cranberries, apricots, pineapple, and a touch of crystallized ginger.
Variation: Want to add another layer of flavor (literally) to the sugarplums? After squeezing them into balls, roll them in a shallow pan of flavored syrup to coat; you'll need about 1/3 cup of syrup. Try vanilla, pomegranate, white ginger, black currant, or the flavor of your choice. Place them on a rack to dry. When they're still tacky but no longer wet, coat in sugar as directed above, and wrap well to store.