A customized print-friendly version of this recipe is available by clicking the "Print Recipe" button on this page.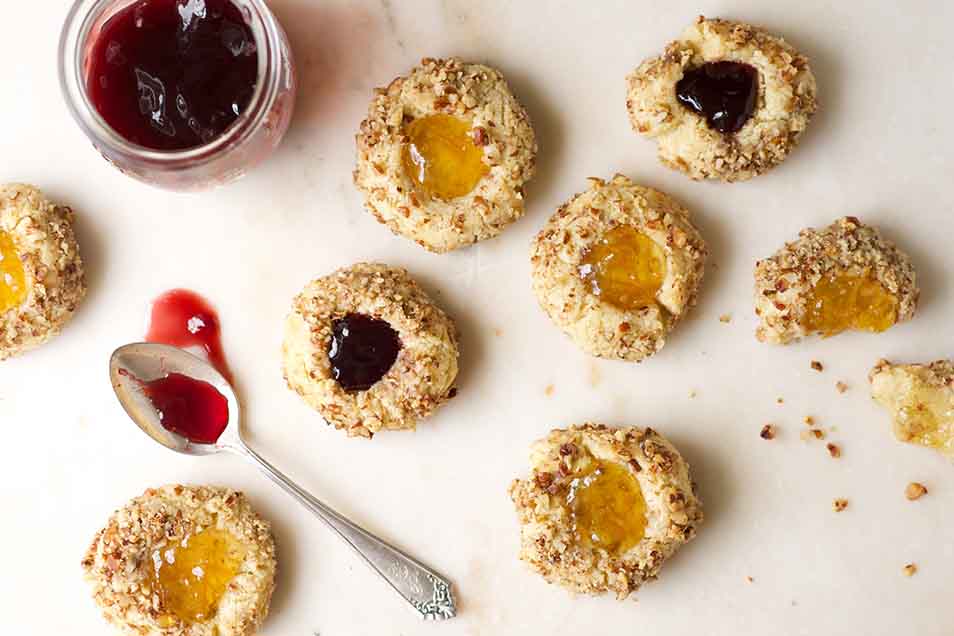 These cookies are crisp, buttery, nut-studded, and can cradle all kinds of imaginative fillings in the depression in their tops. You can fill them with festively colored icings for the Fourth of July, or reach for the jam at holiday time. Other delectable choices include soft caramel, or melted chocolate. Find all those three-quarters-empty jam jars on the refrigerator door, and put them to good use. Oh, and did we mention a simple dab of honey-sweetened peanut butter?

Baking gluten-free? For great results, substitute King Arthur Gluten-Free Measure for Measure Flour for the all-purpose flour in this recipe; no other changes needed.
Ingredients
1 cup (16 tablespoons) unsalted butter
1/2 cup granulated sugar
1/2 cup brown sugar, lightly packed
2 large eggs, separated
1 teaspoon vanilla extract
1/2 teaspoon salt
1/2 cup almond flour or pecan meal
2 1/2 to 3 cups King Arthur Unbleached All-Purpose Flour or Gluten-Free Measure for Measure Flour
3/4 to 1 cup finely diced chopped nuts
3/4 cup icing, jam, or the filling of your choice
Instructions
Line two baking sheets with parchment paper, or use a non-stick baking sheet; greasing the pans isn't sufficient to prevent sticking.

In a large bowl, beat the butter and sugars until very light.

Beat in the egg yolks, vanilla, and salt.

Add the nut flour and the lesser amount of all-purpose flour, stirring until well blended. If the dough seems too sticky, add just enough additional flour to make it workable.

Cover and chill the dough for an hour.

Preheat the oven to 350°F.

While the dough chills, cover the egg whites and leave them out of the refrigerator to warm up to room temperature.

In a small bowl, whip the egg whites until they're foamy.

Break off pieces of dough and roll them between your palms to form 1" balls.

Dip the balls into the egg whites, and roll them in the chopped nuts. Place the cookies about 2" apart on the prepared baking sheets.

Bake the cookies for 8 minutes, then remove them from the oven.

Make a deep thumbprint in the center of each cookie.

Return to the oven, and bake until they're a light, golden brown, about 4 to 6 minutes.

Remove them from the oven, and transfer them to a rack to cool.

Fill the thumbprint with the filling of your choice, using about 1/2 teaspoon for each. *See "tips," below.
Tips from our bakers
We love to flavor the icing to match its color. Add a drop or two of our extra-strong flavors for intense fruit taste: for red, white, and blue, use cherry, coconut, and blackberry flavors, but choose your own favorites. Remember, a little goes a long, long way, so add carefully, tasting as you go.
Reviews
These are delicious! I've made theKAF raspberry lemon thumbprint recipe a number of times and really love them but they tend to spread . So I decided to try this recipe. This one was great about NOT spreading and I loved the almond flavor from the almond flour/meal. Based on another review, I skipped rolling the cookies in nuts because I had been cooking and baking for 3 hours already before starting these. I was tired. :) Even without the nuts, they were fantastic. I had a cinnamon apple jelly from Trader Joe's that I used to fill the cookies. I like the flavor of thumbprint cookies when you bake the jam in them. So I baked 8 minutes per recipe , made the thumbprints, filled the cookies and then did the final bake. Doing this caused me to need to add an additional couple of minutes on to the baking time but I prefer the way the jam sets up when it's baked in the cookie rather than added afterwards. These will be me go to thumbprint recipe from now on . I'm looking forward to trying them with nuts as well.
These cookies are the best! & while I don't usually weigh in with advice, using the back of a small melon baller creates the perfect divot.
Delicious little cookies! Very easy to make, too.
These cookies are delicious - my whole family agreed these are the best ever. The recipe as given, with 2 1/2 c GF all purpose flour, made 2 dozen 2 1/2 inch cookies. I did use the chopped nuts - walnuts and strawberry preserves on one dozen and almonds and blackberry jam on the other dozen. Chopped peanuts and strawberry jam would be amazing, if you can eat peanuts. The only thing I did differently was to slightly flatten the dough balls before the first 8 minutes of baking, then put the jam on the cookie before the last (in my case, since the cookies were bigger thank the recipe called for) 6-8 minutes of finishing.
Nut allergy. do i have to use almond flour

We'd recommend using the recipe called Lemon-Raspberry Thumbprints instead, fellow baker. You can omit the lemon rind from the dough if you want the cookies to have a basic sugar cookie base, and feel free to fill them with your favorite kind of jam. Happy baking! Kye@KAF
Favorite thumbprint recipe. Easy and tasty! What could be better?
I also added extra almond flour and slightly reduced the white flour, and left off the nuts (because I didn't have any at home). I also used 2 eggs, because I only have small eggs: one whole and one yolk only. And the dough is kind of hot, honestly! so I used a tool to make a nice little print in the dough. A knife handle. Very yummy! I will try again with more tweaks. The raw dough is good too (don't tell!)

I love these cookies. The egg white nut coating is so crispy and good. I recently made them gluten free by increasing the almond flour to 3/4 cup and replacing the all purpose flour with brown rice/potato starch/xanthan gum (similar to KA's all purpose gluten free blend). They spread a bit more (are better with a longer rest in the fridge) and are slightly crumblier, but quite delicious.
My husband goes absolutely NUTS for this recipe. (ba-boom-CHICK!) I actually double the amount of almond flour and nix the almond coating; i feel like the coating is mostly a presentation thing and not much of one, but the extra marzipan-like flavor in the cookie is excellent. These taste great with a tall glass of milk and have quickly become my husband's favorite cookie, even replacing the Cooking Cooking Light™ Linzer cookie recipe he adores. For people who love almonds and jam, this recipe is pretty much the zenith of amazing.