A customized print-friendly version of this recipe is available by clicking the "Print Recipe" button on this page.
Turkey Pot Pie with Biscuits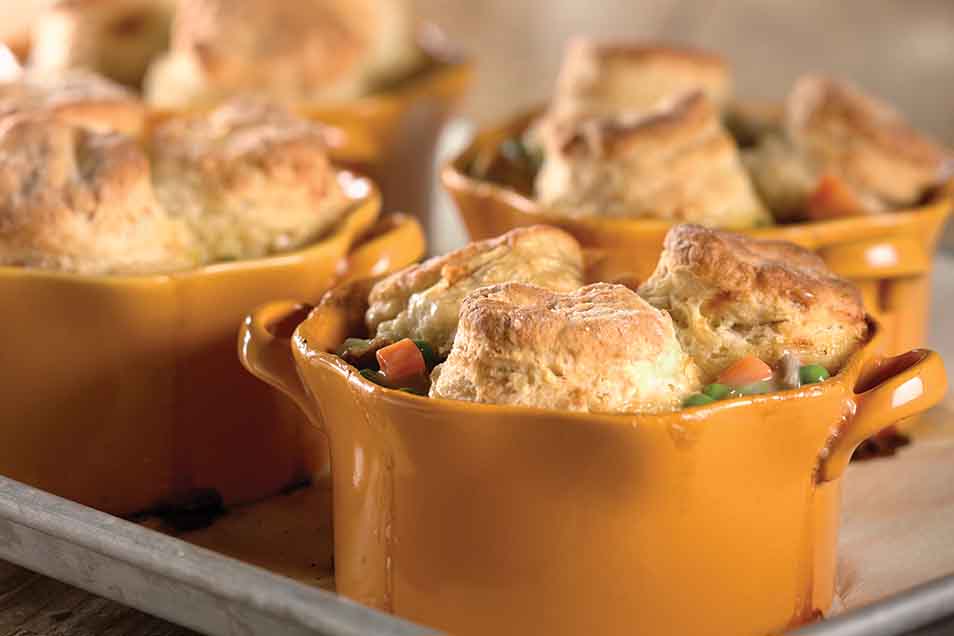 Do you think making chicken or turkey pie is a long, arduous process? Think again. A few simple steps are all that stand between you and a family-sized pan of luscious poultry and vegetables in cream sauce, topped with tender biscuits. And, don't think that the word "pie" automatically means getting out the rolling pin. In this case, you're making a biscuit topping, which can simply be patted into a rectangle before cutting. (Feel free to smooth it out with your trusty rolling pin, though, if you just can't resist!)
Ingredients
Chicken
3 pounds boneless turkey or chicken thighs (or about 6 cups leftover cooked chicken or turkey)
1 teaspoon salt
4 cups water
Filling
3/8 cup (6 tablespoons) unsalted butter
1/4 cup + 2 tablespoons King Arthur Unbleached All-Purpose Flour
1/2 teaspoon salt
2 1/2 cups chicken broth (canned is fine, or make your own)
1 1/4 to 1 1/2 cups milk or half & half; use the lesser amount for a thicker sauce
1 1/2 cups (half a 1-pound bag) frozen peas and carrots, thawed
1 1/2 cups frozen small white onions, thawed
1/2 teaspoon salt, or to taste
1/4 teaspoon coarsely ground black pepper
1/4 teaspoon dried thyme
2 tablespoons dry sherry (optional)
Biscuit Topping
4 teaspoons Maine Bakewell Cream (See "tips", below.)
2 teaspoons baking soda (See "tips", below.)
1 teaspoon salt
1/2 cup (8 tablespoons) unsalted butter
1 1/3 to 1 1/2 cups cold milk or half & half
Instructions
To prepare the chicken: Place the chicken thighs and salt in a deep saucepan.

Add the water; it should cover the meat (if it doesn't, add more). Bring the water to a boil, reduce the heat to low, and cover.

Simmer the meat for 10 minutes, then turn the heat off (leave the cover on), and let it rest for 35 minutes, until it's cooked through. This gentle method of cooking the meat will keep it nice and moist.

Remove the meat from the pot, and spread it on a platter to cool.

Preheat the oven to 450°F. Lightly grease a 2- to 3-quart casserole dish, 9" x 13" baking pan, or equivalent.

While the meat is cooling, make the filling: Heat the butter over medium heat until it's melted.

Add the flour and salt, and stir to combine.

Gradually pour in the 2 1/2 cups broth, whisking constantly.

Cook and stir the sauce over medium heat until it comes to a boil, then reduce the heat and simmer it for 5 minutes.

While the sauce is simmering, discard the skin (if any) from the meat, and tear the meat into 1" pieces.

When the sauce is ready, add 1 1/4 cups of the milk or half & half, the meat, vegetables, salt, pepper, thyme, and sherry. Stir to combine.

Understanding that the sauce will thicken a bit as the pie cooks, add additional milk or cream, if desired, until it's the thickness you like.

Bring the mixture to a simmer, then spoon the filling into the prepared dish. Place the dish in the oven, and let it cook as you prepare the biscuits.

To prepare the biscuits: In a medium-sized bowl, whisk together the flour, Bakewell Cream, baking soda, and salt.

Work the butter into the dry ingredients until the mixture is crumbly, using a pastry fork or pastry blender, your fingers, or a mixer.

Add 1 1/3 cups of the milk all at once, stirring quickly to make a cohesive dough; if the dough seems too dry, add the remaining milk.

Turn the dough out onto a well-floured work surface, and knead it 5 or 6 times to smooth it out.

Roll and pat the dough about 3/4" thick. Cut it into about 10 circles, squares, or whatever shape you like; our hexagon cutter makes short work of this task.

Remove the pan from the oven, and place the biscuits atop the meat and vegetables, gently pressing them down a bit.

Bake the pie for 15 to 18 minutes, until the biscuits are golden brown and the filling is bubbly. Check to make sure the biscuits are done inside. If they're not (or if the filling doesn't seem hot enough), tent the pan with aluminum foil, and bake for an additional 10 to 15 minutes, until the biscuits are cooked through, and the filling is hot.

Remove the pie from the oven, and allow it to cool for 10 minutes before serving.

Cool and store in the fridge for up to 5 days, or freeze for up to 3 months.
Tips from our bakers
Or substitute 4 teaspoons baking powder, omitting both the Bakewell Cream and the baking soda.
Reviews
I have made this recipe many times over the years, and it is awesome. My husband LOVES this since it is the ultimate comfort food. The biscuits do soak up quite a bit of the liquid, so I make extra "gravy" (same sauce as for the pie) to pour over the top of each serving. I make this in a Le Creuset Dutch Oven - 5 quart size. If you want more liquid and do not want to make extra, I suggest topping the mixture with half of the biscuits and baking the other half separately. It is truly delicious ... just follow the recipe.
Wonderful comfort food for a cold winter night! As one reviewer did, I also made the biscuits separate from the sauce. I baked biscuits in the morning and, in the evening, cooked the sauce/meat/veg mixture on the stove top and spooned over the biscuits. Yummy! I added a little finely chopped kale to sneak in some extra greens and there were no complaints :)
This recipe has never failed me! I've made it with Turkey after Thanksgiving, with chicken on wintery nights when I want something warm and comforting, and now that I live off an almost entirely vegetarian menu, I've made it sans meat. (added potatoes, and added any other vegetable that sounded like a good idea). It's a go to recipe that I almost know by heart at this point!
I looked at several recipes for a pot pie with a biscuit topping that didn't use a mix. This was very good. Everyone loved it and I will probably use the biscuit recipe again for other dishes. Should have checked my favorite baking sit in the first place!
This pot pie recipe was perfect. I used chicken, and added some diced potatoes, frozen peas, corn, beans, and instead of the biscuit top just made a nice flaky pie top! So good. I would have preferred biscuits but the boyfriend insisted on regular top! I made it in 2 two quart dishes and it worked out good. I added about another 1/2 cup of milk before dividing them up. Thanks kaf:)
Great Recipe..We really enjoyed it.
I personally thought it needed a bit more flavor, so I added some celery salt and onion powder.
The taste was amazing, but really for me this was stew with biscuits on top of it, not a pot pie per se.
My husband halved this recipe because we're feeding just the 2 of us. He used leftover turkey, mostly dark meat. Even though he added more milk, we found our preference to be more saucy than the end result. The pearl onions (I think) were too much. They were too large and dominant in the finished pie. My recommendation is to halve the amount of pearl onions, and to cut each onion in half.
I halved this recipe and fed it to my husband last night. I used buttermilk for the milk and everything worked perfectly - although I did use more veggies etc.