A customized print-friendly version of this recipe is available by clicking the "Print Recipe" button on this page.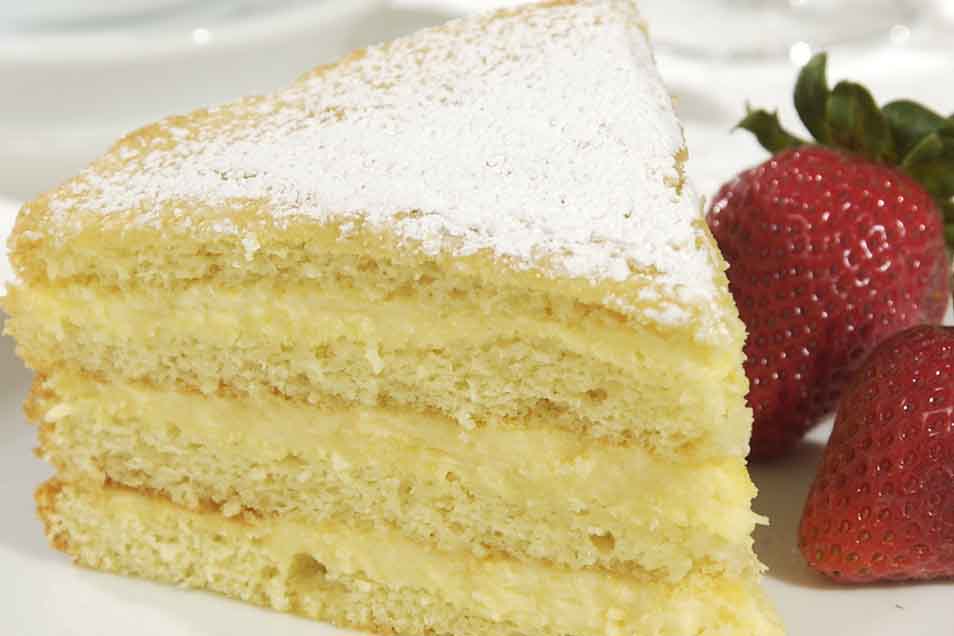 This recipe was inspired by a 1904 recipe for Washington Pie, which is a pie in the same way Boston Cream Pie is a pie — in other words, not a pie as we now know it, but a filled cake. In fact, Washington Pie is nearly identical to Boston Cream, aside from the fact it's made in four thin layers instead of two thicker layers; and it's served with fresh fruit, not topped with chocolate icing. In addition, we took the easy way out by making a filling based on pudding mix, rather than the traditional cooked custard.
The original recipe, which can be found in The White House Cookbook, says, "In summer time, it is a good plan to bake the pie the day before wanted; then when cool, wrap around it a paper and place it in the ice box so as to have it get very cold; then serve it with a dish of fresh strawberries or raspberries. A delicious dessert." Indeed.
Ingredients
Filling
1 small package instant vanilla pudding mix
1 cup milk (See "tips", below.)
1 cup heavy or light cream (See "tips", below.)
2 teaspoons vanilla extract
1/4 teaspoon almond extract
Topping
confectioners' sugar or glazing sugar
Instructions
To make the cake: Preheat the oven to 350°F. Lightly grease two 8" round cake pans. If desired, line them with parchment, and grease the parchment.

Beat the eggs and sugar at high speed for about 3 minutes, until they're golden and creamy looking. Beat in the baking powder, salt, vanilla, and almond.

Heat the butter and milk until the milk is steaming.

Stir the milk and butter into the batter until thoroughly combined, then stir in the flour, again until everything is thoroughly combined.

Spoon the batter into the pans. Bake the cakes for 25 minutes, or until they're a very light brown on top and a cake tester or toothpick inserted into the center comes out clean.

Remove them from the oven, and after 10 minutes turn them out of the pans onto a rack to cool.

To make the filling: Prepare the pudding mix according to the directions on the package, using your choice of milk or cream and stirring in the vanilla and almond extracts as directed. Set it aside, or refrigerate, if you're not going to use it immediately.

When the cakes are entirely cool, split each one in half around the equator, to make four 8" layers. Place one layer on a serving plate, cut side up. Spread with 1/3 of the filling. Place another layer atop the filling, and spread with half the remaining filling. Top with a third layer, and spread with the remaining filling. Top with the final layer, smooth (not cut) side up. Gently press down on the cake to settle it, and to help spread the filling right to the edges.

Wrap plastic wrap around the circumference of the cake, folding it across the top as well, so that the cake is completely enclosed in wrap. Refrigerate overnight, or for up to 2 days.

Just before serving, sift a heavy layer of confectioners' sugar atop the cake. Slice and serve with fresh berries or sliced peaches.
Tips from our bakers
You'll need 2 cups of liquid. Use all milk (anything from skim to whole), all cream, half and half, or a combination of any — the richer the milk/cream you use, the richer the filling.
It's easy to make your own filling instead of using the pudding mix. See our recipe for Pastry Cream as a starting point.
Reviews
I made this "pie" for pi(e) day. March 4. It's more like a cake than a pie. But delicious by any name! I baked it in a dark pan so it browned more than the picture. Leaving it overnight in the fridge and topping it with powdered sugar, you can't tell the difference. I topped it with fresh blueberries and strawberries. I'll definitely make it again.
OMG!! My mother used to make this when I was growing up in the 60's & 70's! Washington Cream Pie was exactly what we called it. Mom used to do it in two round layers and did make her own cream filling added atop a layer of strawberry jam, but other that that, it's the exact same dessert! Simply dusted with powdered sugar. Mom's no longer with us and I haven't thought to make this in years. I'll have to try this version and compare the results with my Mom's recipe and report back. I loved this cake and requested it often when I was growing up. Yum!!
Despite not being able to find 8" cake pans at any of my local stores, I chanced it and used 9". I shortened the baking time 5 min, and the layers were a bit thin but the cake still turned out wonderfully! I used 1 1/2 cups heavy cream and 1/2 skim milk for the filling and it tasted like expensive pastry cream. I served it with blackberries and strawberries - it was perfect, received many compliments.
I made this cake for my Birthday and loved it, but I did tweak it a little. When filling the pans I weighed them to ensure equal amounts of batter (this recipe doesn't make much batter and doesn't raise much). To half them after cooling I dusted the counter top with powdered sugar and sat one layer on the sugar, dusted that layer with powdered sugar and placed the next layer on it. This gave me better height to use a cake leveler to cut the layers. Then invert the layers to cut the bottom cake. Made the cake as recommended but used ¼ of the cream for each layer and topped the top layer with pastry cream as well. Then I cut strawberries in half and laid them overlapping at the tips on the pastry cream. I took aluminum foil and folded it in thirds length wise to make a long cuff to fit around the entire cake overlapping at the ends pulling tight to seal the edge, use paperclip to secure it. Then using "Dr.Oetker Red Glaze" (find on internet) glazed the strawberries and let is cool for about two hours. Remove the cuff gently and serve with whipped cream. Everyone loved it, moist cake – pastry cream – fresh strawberries, who wouldn't? Thanks KAF for making my birthday special!