A customized print-friendly version of this recipe is available by clicking the "Print Recipe" button on this page.
Wearin' o' the Green Muffins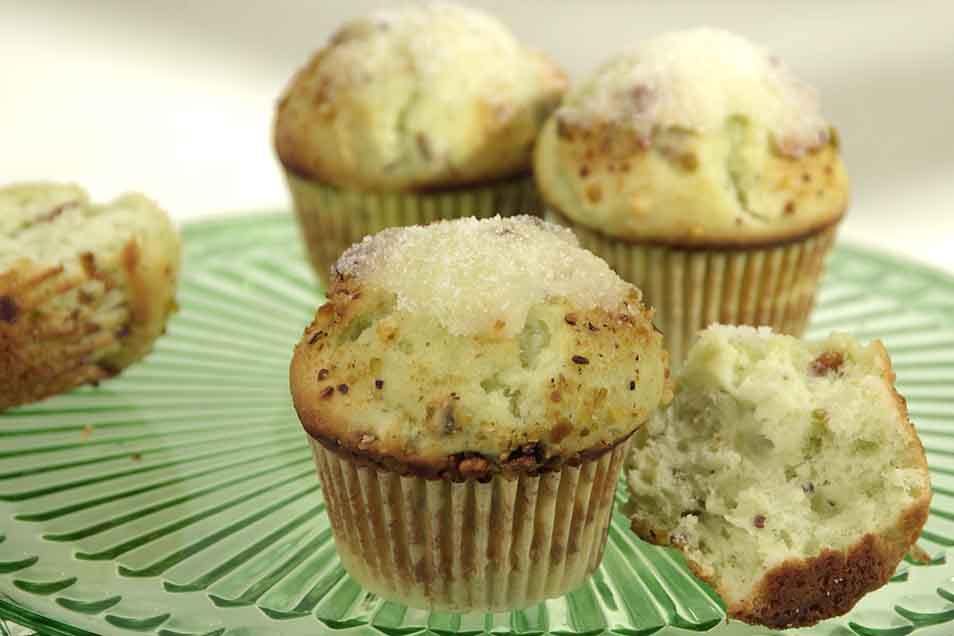 Looking for something festive to bake for St. Patrick's Day? These pistachio muffins are a lovely shade of pastel green. The flavor and color of the muffins comes mainly from pistachio instant pudding mix, which actually doesn't contain any pistachio at all, but is flavored the way people have come to expect "pistachio" to taste. Add real chopped pistachios, and some bottled pistachio flavor, to enhance their taste nicely.
Ingredients
Batter
1/4 cup (4 tablespoons) butter
1/2 cup sugar
3.4 ounce package instant pistachio pudding mix (See "tips", below.)
2 large eggs
2 teaspoons baking powder
1/8 teaspoon pistachio flavor, optional
1/2 teaspoon salt
2 1/2 cups King Arthur Unbleached All-Purpose Flour
1 1/4 cups milk
1/2 cup shelled, coarsely chopped pistachios
Topping
3 tablespoons melted butter
1/4 cup sugar
1/8 to 1/4 teaspoon pistachio flavor, to taste
Instructions
Preheat the oven to 425°F. Line a muffin tin with 12 paper or silicone muffin cups, and grease the cups with non-stick vegetable oil spray; this will ensure that they peel off the muffins nicely.

In a medium-sized mixing bowl, cream together the butter, sugar, and pudding mix until smooth.

Add the eggs, beating for several minutes and scraping the bowl, until the mixture is smooth and shiny.

Beat in the baking powder, pistachio flavor, and salt.

Gently beat the flour into the butter mixture alternately with the milk, beginning and ending with the flour and making sure everything is thoroughly combined.

Stir in the pistachios, saving out 2 tablespoons to sprinkle atop the muffins, if desired.

Spoon the batter evenly into the prepared muffin cups, sprinkling with the reserved nuts.

Bake the muffins for 20 minutes, or until they're starting to brown around the edges and a cake tester inserted into the center of one comes out clean. Remove them from the oven, and let them cool for a couple of minutes, or until you can handle them.

While they're cooling, melt the butter.

Combine the sugar and pistachio flavor in a jar with a lid, and shake vigorously to combine thoroughly.

Use a pastry brush to paint the top of each muffin with the butter (or dip the top of each muffin in the butter), then sprinkle with (or dip muffin top in) the pistachio sugar. Allow the muffins to cool on a rack.

Store, well-wrapped, for up to 4 days, or freeze for up to a month.
Tips from our bakers
When selecting a pudding mix, you may find that national brands give you better green color than store brands.
Reviews
This recipe came out super dense and pasty. Good flavor, but the texture is off. I'm going to take partial blame for this because I baked them in large muffin tins, rather than regular size ones and so I think everything got thrown off. Can you tell me how to adapt them to be large muffins? It took 9 minutes longer to bake through and because the temp was so high the edges and bottoms got burned spots on them. I'm not sure that caused the pastiness of the dough though. Help? Advice? My boyfriend loves pistachio muffins and I want to try again. KAF is always my go to for recipes and they are always awesome.
Quick breads should be stirred only until ingredients are moistened, even when you are adding the flour and milk alternately. It's fairly easy to overstir and create tough, dense muffins. Another way to create more tender muffins is to use pastry flour or even cake flour blend to make a softer baked result. Bigger muffins than standard? Reduce the heat by 25' and test by touching the top of the muffin for spring back. Happy baking! Irene@KAF
These are fun, high-rising muffins with a pleasingly moist crumb. Flavor is nice, but I think that, next time, I'll do as a previous reviewer did and add some chocolate chips.
this muffins were very dry.. any help why?
I'm sorry to hear these muffins turned out so dry for you. It's easy to add too much flour to a recipe when measuring flour by volume, and this could have caused the dry result you experienced. For best results we recommend fluffing the flour, spooning the flour into the cup, and then leveling the cup. If you'd like more help troubleshooting this recipe, please give our Baker's Hotline a call at 855-371-2253(BAKE). We're here every day 8am-9pm EST through the holidays. Barb@KAF
These muffins are not our favorites, they came out of the oven very well raised, the recipe is easy to follow, but they did'nt meet our expectations. I'm a five stars rating guy with almost every KAF suggestion. I think this recipe is an exception to the rule. But I'm always very happy baking with KAF.....
I made this to take to the St. Patrick's Day parade with us. I wanted to make green bread, but was pretty sure my kids would protest. My kiddos loved this recipe and keep asking me to make it again and again. We add a handfull of chocolate chips & a dot of green food coloring, then pour it all into a loaf pan (just our families preference). Fun, easy, love it.
These muffins didn't have the depth of pistachio flavor I wanted even after I added 1/4 cup of Love'nBake Pistacio paste when creaming the sugar. I also increased the pistachio flavoring to 1/4 tspn. and increased the nuts to 2/3 cup. The muffins were moist and my husband said he liked them but I knew he was being kind. I wouldn't make them again because the ingredients are pricey and not worth the effort. The best pistachio muffins I've ever eaten were purchased at a supermarket deli. Go figure!!
I'm sorry you were disappointed with the recipe. I believe the key ingredient is the pudding mix as it lends that flavor most people have come to expect with pistachio flavored baked goods. ~Amy @KAF